See Kate Sew partners with Gugu Guru once again to share a fantastic DIY tutorial.
This time? A ring sling baby carrier!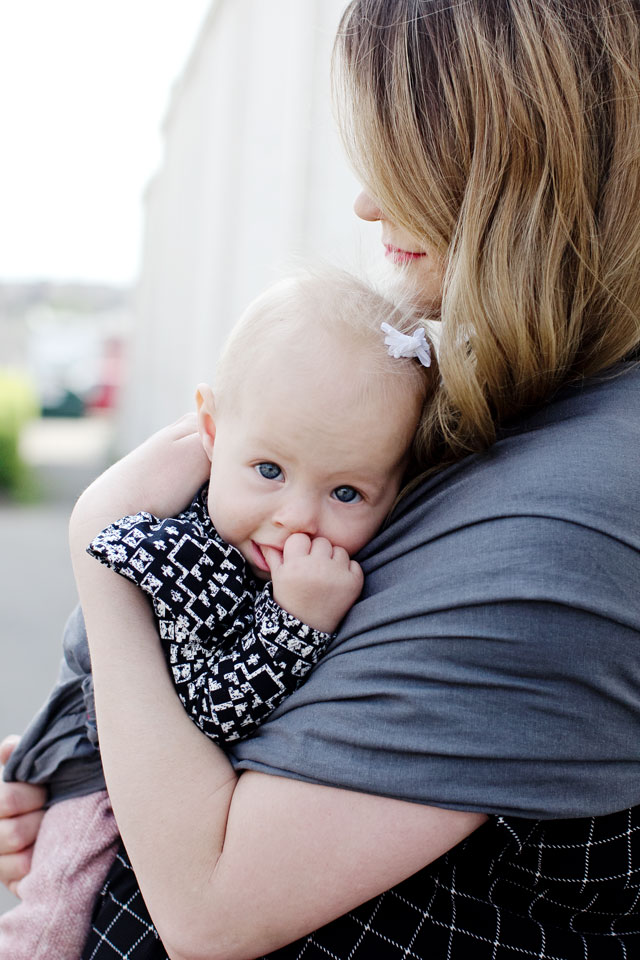 I'm excited to be here today in this adorable Loyal Hana nursing dress! I love this dress so much, it's a lightweight crepe fabric with a cute grid all over. I think crepe is perfect for postpartum because it doesn't stick to you like a knit dress would! I don't necessarily like clothing sticking to me right after I have a baby.
It's a loose shift style with ZIPPERS down both sides. They are invisible zipper that you can't see unless you look super closely! They zip down for nursing access right on the sides. I always miss wearing dresses so much when I'm nursing so this one is just perfect!
I also love how postpartum friendly the style is! It's loose enough to give you a bit of room but the cut is super flattering! Loyal Hana has quite a few cute nursing styles, including an adorable jumper! This dress is the Cybelle Box Plaid Dress. I think the best part about this dress is that it doesn't scream "NURSING DRESS" so you can wear it after you're done nursing. Total wardrobe investment piece!
Today I'm sharing a tutorial for making a ring sling baby carrier! This is a totally simple sewing project, it would make a great FIRST sewing project if you've never sewn before! It's all straight stitching and simple materials! You can even pick a fun ring color!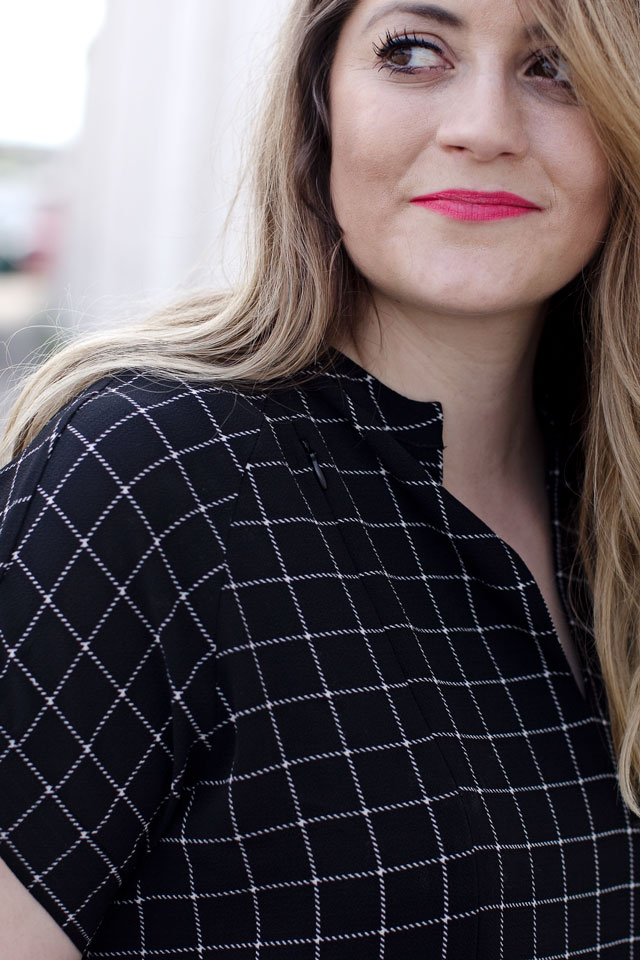 Disclaimer: This item is not intended to support a child; only to redistribute the weight of the child on your body. Please keep your hands on your child at all times to ensure safety. This DIY ring sling is a fun accessory to create and use at your own risk.
Materials:
-3 yards linen or linen blend fabric. Editor's note: the weight of the fabric needs to be taken into consideration as well. Not all linens are an appropriate choice for a ring sling.
–Sling Rings
-matching thread
Instructions:
1. Cut a piece of linen 30″ by 2.5″ yards. Fold under 1/4″ inch on all edges and press. Fold under 1/4″ again on all edges to create a clean finish. Stitch.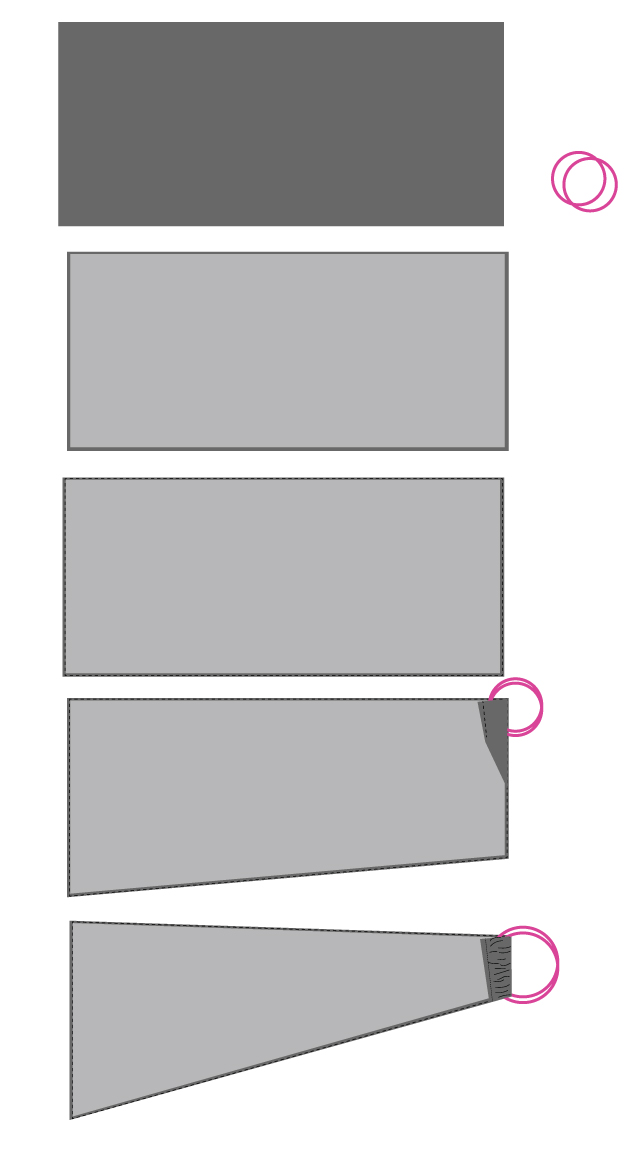 2. Slip the rings into one side of the sling. (Make sure you are putting BOTH rings in!) Fold over 1″ of the sling edge and sew as you continue slipping the rings into more and more of the sling. Scrunch it up as you go, holding the folded fabric as straight as you can. When you get to the end, backstitch. Stitch over the stitching 3 separate times, backstitching at the ends each time.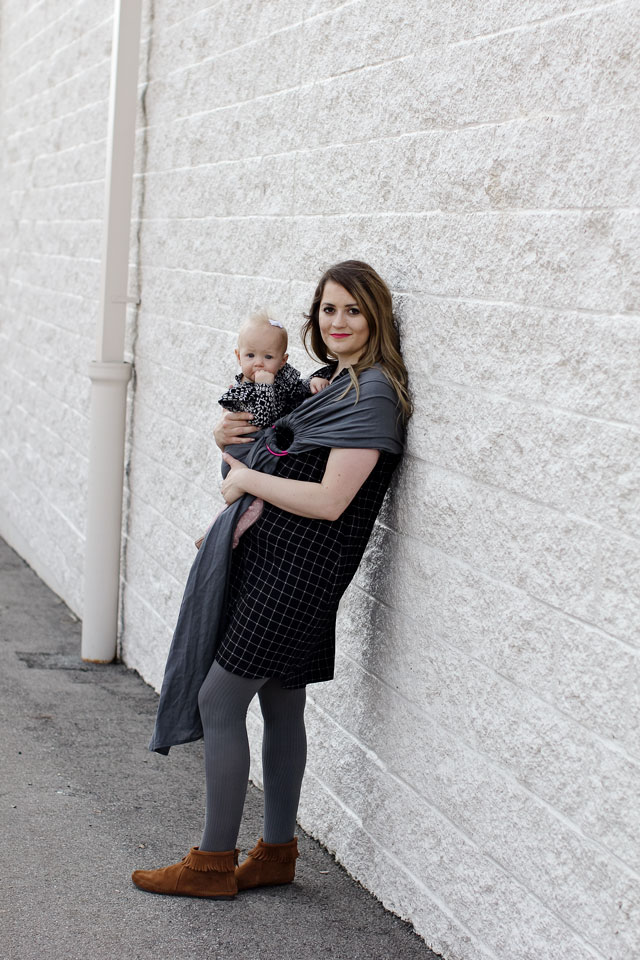 And you're done!
To use the sling, wrap around your shoulder and slip the other end of the sling through the middle of both rings and then over the first and under the second. Pull it tight and slip that baby bum in the sling. This type of sling works best with a hand on baby to stabilize.
Note: The ring sling is not intended for newborns and is suitable for older babies that just need a little closeness sometimes!
For more baby sewing tutorials, visit me at SeeKateSew.com!