We know that it can seem overwhelming to register for everything you may need for a baby; so, we've broken all the necessities down into your Top 5 Must Have Essentials for every category you may need. Today we're covering the Top 5 Must Have Essentials from Fisher-Price; don't forget to add them to your registry!
See also: Top 5 Must Have Essentials for Baby's Nursery, Top 5 Must Have Essentials for Baby's First Flight; Top 5 Must Have Essentials for Baby's First Night Home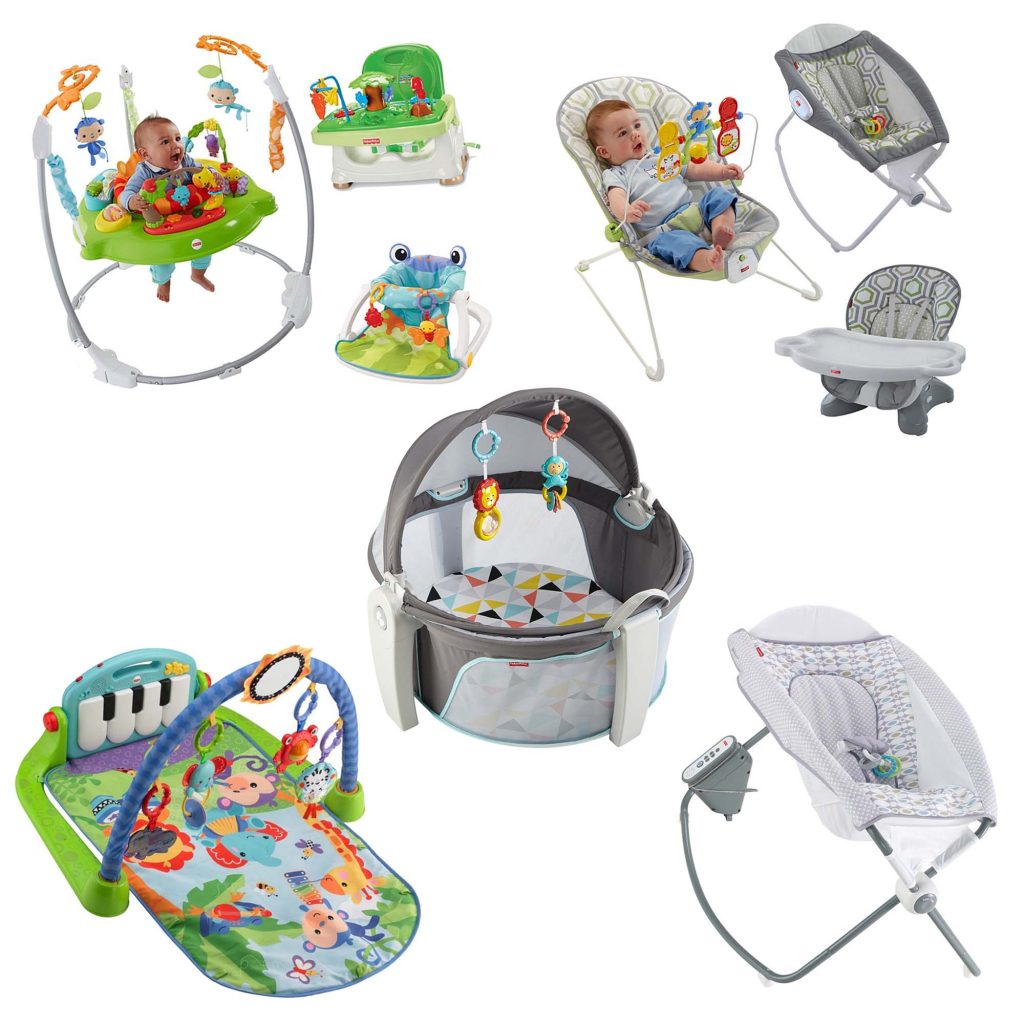 1. Baby Gear Gift Set: Okay, we're cheating a little here, but this deal is too good to pass up! It's some of our favorite baby items all wrapped up in one handy package. Heading to a baby shower? This makes an awesome gift, and you're getting a super good deal on it all. Plus, the Rock N' Play and Space Saving High Chair are essentials on our Budget Baby Registry, so you know you're making a smart investment with this set. It includes the Rock N' Play, the Bouncer, and the Space Saving High Chair.
Also seen in: Budget Baby Registry; Newborn Lockdown; Single Mom Registry
2. Ultimate Baby Shower Gift Set, Rainforest Collection: Another gift set we had to mention as an essential is this rainforest set, complete with the Roarin' Rainforest Jumperoo,  Rainforest Healthy Care Booster Seat, and Sit Me Up Floor Seat. We especially love the floor seat, as it is a wonderful transition piece for babies learning to sit up. It's a fantastic way to have baby join the crowd from early on.  The Rainforest Jumperoo is a must-loved item on the Gugu Guru team and fantastically interactive for baby, as well.
3. Kick and Play Piano Gym: With four ways to play, this musical toy grows with your little one! From laying and playing, to tummy time and sitting up, busy activities at each stage are just the beginning of the fun. Baby's in charge of the action as her little kicky feet activate music. Moveable toys overhead encourage batting and grasping, including a hippo teether, elephant clackers, rollerball frog and more. When it's time to change modes, move the arch down for tummy time or let baby sit up and entertain you with a piano concert. Remove the piano and take the fun on-the-go. Includes long and short play modes with up to 15 minutes of music. This is also a great way for older siblings to interact with the new baby!
4. On-The-Go Baby Dome: We love this baby dome for so many reasons! It essentially has two functions – a play space and a comfy napping spot, perfect for when you and baby are on the go! This is ideal for families who love to travel, as it folds up flat and can be stored under a hotel bed or in the back of a car. However, this is also an ideal piece of baby gear for small-space living, as you can easily move it around the house and it folds up when not in use. Plus, we love the modern look of it! 
5. Auto Rock N' Play Sleeper: At nighttime and naptime, the inclined sleeper lulls baby to sleep with relaxing music and sounds – plus hands-free rocking all night long! And when baby's ready to play, use the songs, sound effects and linkable clacker toy to keep baby busy and entertained. The extra-deep seat and breathable mesh sides make the Auto Rock 'n Play Sleeper a dream for baby to stay in day and night. And it's lightweight and portable to make it easy for mom and dad to bring along on vacation, to grandma's and grandpa's, the babysitter's or anywhere! The pad is machine washable and dryer safe. Please note that although many parents have found success with using the Rock 'N Play in lieu of a bassinet, the AAP encourages parents to not allow babies to fall asleep in a car seat, swing, Rock 'n Play, or other non-sleep-approved device.
Also seen in: Budget Baby Registry; Minimalist Baby Registry