Today's "Instagram Mom" presents pregnancy as a glowing, happy time in a woman's life. Images of fingers making heart shapes over perfectly round bellies and super fashionable maternity OOTDs fill our feeds, making our ovaries cringe with joy. But let's get real: from acne to ill-fitting clothing to a raging case of hemorrhoids, pregnancy is more often filled with deeper struggles than just a constant craving for cronuts. The ABCs of #PregnancyProblems is an illustrative guide on what to really expect when you're expecting your bundle of joy. We break it down for you in a digestible letter-by-letter format.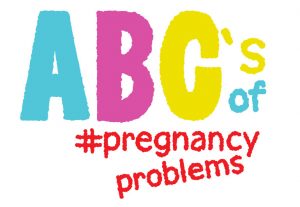 Read on about acne during pregnancy along with tips to manage blemishes and breakouts from our friends at MommyMD Guides and then enter to win a Complete Acne Control Kit from Belli skincare!
"P' is for Pimples
Pregnancy affects every part of your body, and your skin is certainly not immune to changes. On one hand, all of the extra blood in your veins might be giving you a lovely, rosy complexion, and the extra hormones might make your skin smooth and shiny. A few lucky pregnant women have less acne during pregnancy. But more commonly, pregnancy wreaks havoc on your skin, and it often causes skin to break out.
If you usually get acne before your period, you're more likely to break out while you're pregnant too. As your hormone levels change, it can trigger increased oil production. Pesky pregnancy pimples can appear on your face, and also on your neck, shoulders, and back.
Here are a few simple solutions for pregnancy acne:
Drink plenty of water. It might help to flush oil and bacteria from your pores and prevent pimples.
Do not take any prescription medications while pregnant, including those for acne, without the approval of your doctor or midwife. Accutane (isotretinoin) in particular is extremely dangerous in pregnancy, as it can cause serious birth defects.
Because your skin is an organ and anything you put on it is absorbed into your body, you must be very careful about what you put on your skin during pregnancy. Products containing retinol are especially worrisome, and they should not be used during pregnancy. Instead look for teratology-screened products that contain lactic acid and/or sulfur.
If all else fails, invest in a good cosmetic foundation made from natural ingredients (that do not have links to birth defects) and cover the acne up with makeup. (The team at Gugu Guru loves BeautyCounter's Dew Skin Tinted Moisturizer and Touchup Skin Concealer Pen.)
We are huge fans of Belli skincare here at Gugu Guru.  Belli skincare uses teratology when formulating its products, which is the process of screening out any ingredient with even a remote link to birth defects and/or miscarriage.  Not only are Belli products safe – they WORK plus they smell amazing and make any pregnant or new mom feel totally pampered.
Belli is giving away a Complete Acne Control Kit (valued at $95) to one lucky Gugu Guru reader. Enter here to win:
a Rafflecopter giveaway

About the author: Rallie McAllister, MD, MPH, is a mom of three sons, a family physician, and coauthor of The Mommy MD Guide to Pregnancy and Birth, in Lexington, KY.