It's the season for gifts, but also the season for giving back – which is why we're so excited to share our holiday gift guide for baby, mama, and toddler in which all of the items featured here have a giving back component. The gift guide has a wide variety of prices, sizes, and themes, so you're sure to find something special for all the mamas and babies in your life. Plus, head to the bottom of this post for a mega-giveaway to win all of the products mentioned here!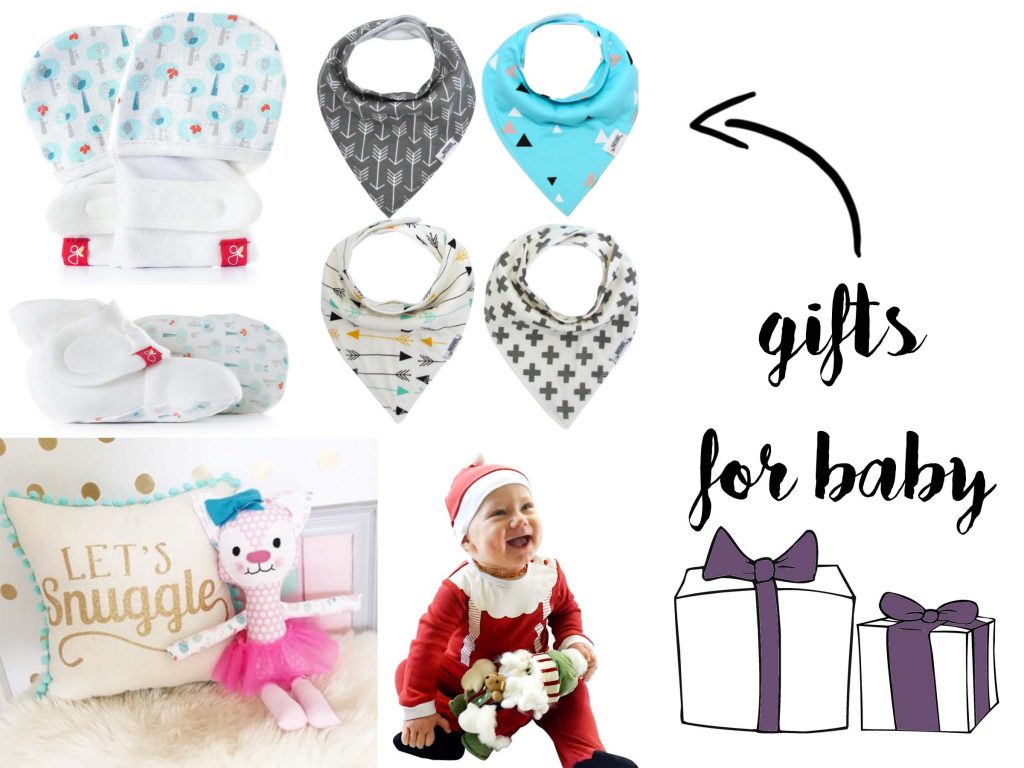 goumigiving aqua boots + goumigiving aqua mitts: These boots feature a signature two-part closure system remains secure to keep baby's feet warm and adjusts to fit as baby grows; the machine-washable, 70% bamboo/30% organic cotton blend is breathable, naturally antimicrobial and environmentally sustainable. The mitts feature a high contrast pattern on the reverse side which stimulates infant brain and eye development; their signature two-part closure system ensures scratch and germ protection and allows adjustable fit as baby grows. The company was created by long-time friends, Lili Yeo and Linsey Ebuen, mamas on a mission to improve the lives of those around them, locally and globally. With every purchase the company donates 10% of proceeds and 100% of proceeds from the goumigiving print directly in supporting efforts that protect children and invest in improving the lives of girls globally. 
Matimati Baby Bandana Bibs: Matimati bandana bibs are completely functional and utterly stylish! These bibs are super absorbent; each bib is made with two layers of fabric to increase absorbency. The front of each bib is made from 100% organic cotton, and the back layer is made from super absorbent polyester fleece. They feature modern and stylish prints, too. Through Matimati Baby's "drooling for a purpose" campaign the brand donates a percentage of all sales to Chain Reaction, a non-profit organization that fights human trafficking in Asia by rescuing and restoring children that have become victims.
Live Sweet Shop: Looking for simply adorable and lovely gifts for the baby or toddler this year? We're fans of all the stuffed animals, dolls, blankets, clothing and more from Live Sweet Shop – which is created and founded by Lindsey Bonnice of Live Sweet Photography. A portion of proceeds of each purchase from their shop is donated to a help a family in need fund their adoption. 
Fayfaire: Looking for adorable onesies to give as gifts? Look no further than Fayfaire! Their funny baby and toddler onesies and shirts are a must-have item this winter and a perfect holiday or baby shower gift. Their unisex Christmas onesie is perfect for family photos this year! Fayfaire is an official brand partner of Miracle Babies charity and donate one onesie to every family that has a baby in the NICU. Miracle Babies helps support the families financially so they can spend as much time as possible with the baby.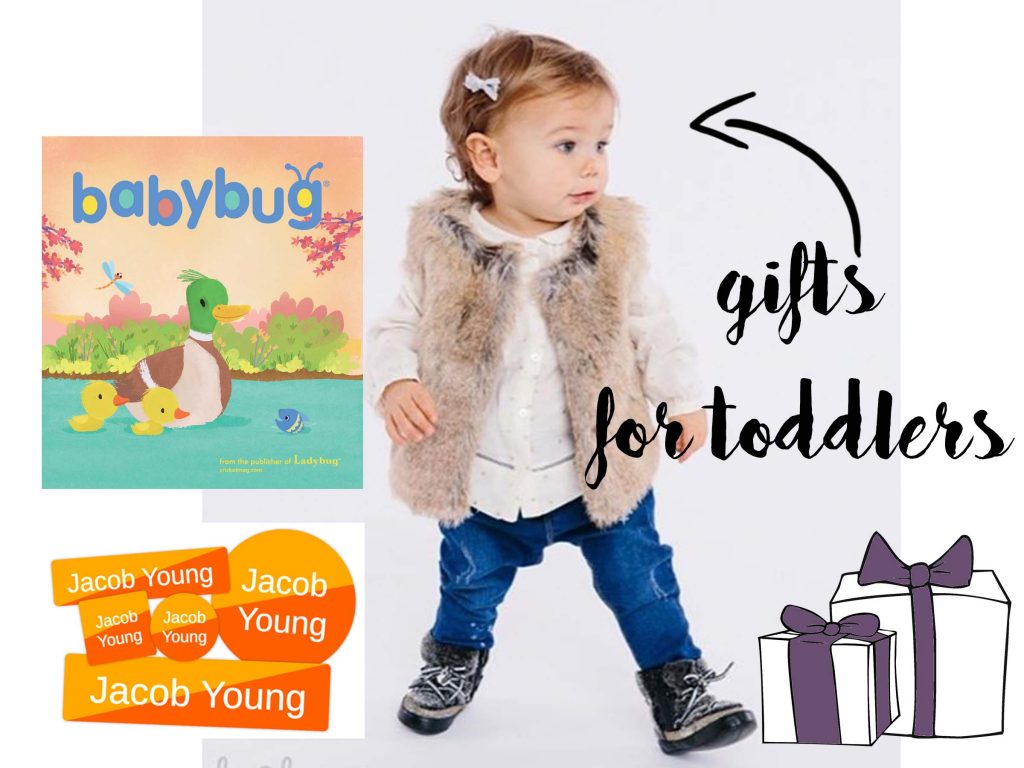 BabyBug or LadyBug Magazine: With their adorable illustrations and one-of-a-kind stories, your toddler will love receiving an annual subscription to a magazine just for them! This holiday season, Cricket Media is supporting Libraries without Borders and the Parent-Child Program; if you buy a one-year subscription of BabyBug of LadyBug for $29.95, you can choose which one of the charity group's which will then also get a free subscription. 
Kid's Shoes: Get your toddler a fun pair of shoes this holiday season and do some good, too!  KidsShoes.com has taken a fresh approach to giving back this holiday season with their #KidsHelpingKids campaign, which encourages children to become aware and involved in giving back to the community and less fortunate. Together with iSow, a youth-centered online platform that allows children to sign up for goals instead of goods, KidsShoes.com has pledged to donate the first dollar to the child's charity of choice after creating their profile throughout the holiday season.
Name Bubbles: Every child needs waterproof labels with their name for school, camp, and activities, so why not give back and do some good while purchasing an everyday essential? Currently, each time consumers purchase a label from their limited edition Orange is for Orphans series, $1 will go back to the Miracle Foundation. Name Bubbles' ongoing support will help bring life-changing care to the world's orphans.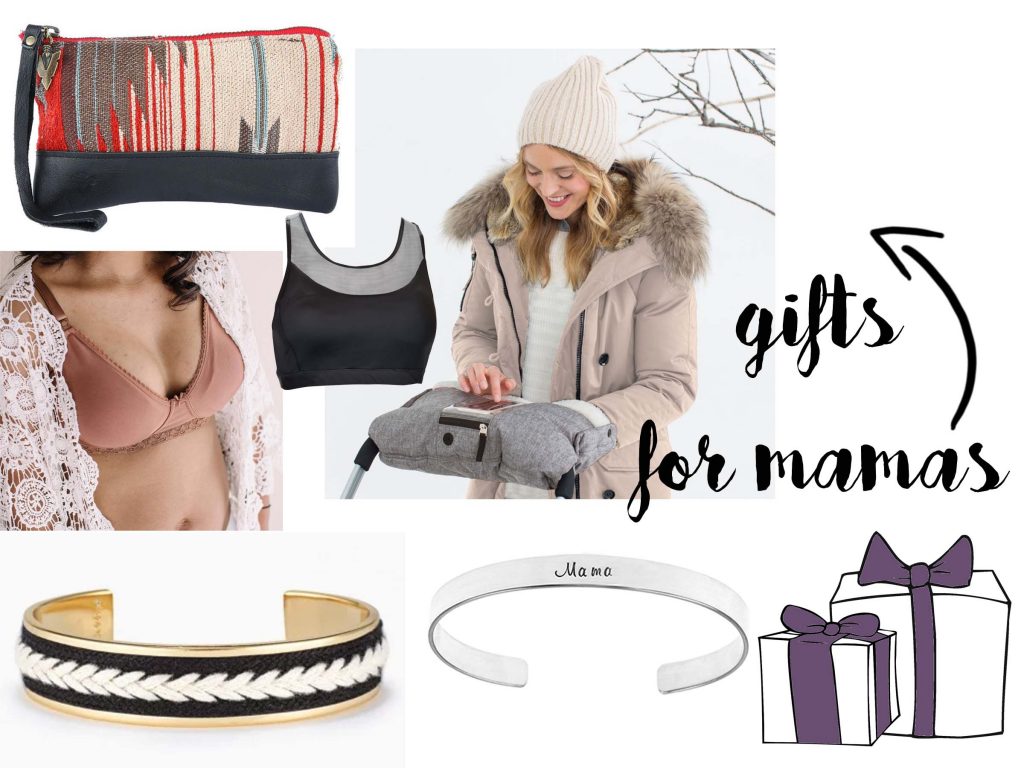 Vaalbara Pouch: This handwoven fabric pouch is bound to become a mama's best friend because it fits in your back pocket! It features a distressed black leather bottom and wristlet  lined with recycled plastic bottle material; each piece is one of a kind. A portion of every sale goes to the non-profit SurfRider Foundation, dedicated to keeping our beaches and oceans clean.
YooToo Nursing Bra: yootoo's bras are not only totally user friendly, but comfy and stylish, too! The cotton knit material is super stretchy and conforms to your body at every stage in your body, pre-pregnancy, pregnancy, and postpartum. The yootoo bra's breathable, luxury cotton fabric provides the comfort you need and supports you morning, noon & night without the need for underwire. yootoo donates a portion of every purchase to Every Mother Counts to help ensure that all women have access to quality maternal healthcare.
Nashelle Jewelry: As a new mom, a special piece of jewelry means so much – especially an adorable "mama" cuff! Plus, Nashelle donates one plate of food for each item sold, so you're giving back while receiving a very special piece of jewelry which is sure to become a family heirloom.
Kitt Allen Sports Bra: For the active mama in your life, you'll want to grab a Kitt Allen Sports Bra. Kitt Allen creates well-crafted, customizable, comfortable, irresistibly sexy bras, lingerie, swimwear, and sports bras for cancer survivors, women who support the cause, and beauties of any size and kind. 10% of each sale goes to organizations working on breast cancer research and providing support to survivors and to those who are fighting.
Skip Hop's Cold Weather Line: Skip Hop, known for their stylish and innovative baby products are also known for doing good in the world! This year, gift the mama in your life pieces from their cold weather collection  – a footmuff, handmuff, and carseat cover for baby. Skip Hop works in conjunction with Good + and helps sponsor their events, hosts stroller drives, and donates over 1600 bags over the course of a year, which go to benefit families in need at events hosted at local hospitals and pediatric centers. 
Stella & Dot's Illuminate Cuff: If you're looking for a real showstopper gift for a special mom in your life, check out the Illuminate Cuff from Stella & Dot. Made from malleable gold-plated brass cuff with a beautiful hand woven braid pattern, the interior is embossed with the names of all the important ladies in your life: MERE – SOEUR – FILLE – MOTHER – SISTER – DAUGHTER – MAMA – SCHWESTER – TOCHTER; which translates to Mother, Sister, Daughter in French, English, and German. Stella & Dot donates all net proceeds from the Illuminate Cuff to Every Mother Counts, a global non-profit dedicated to making pregnancy and childbirth safe for every mother founded by supermodel Christy Turlington Burns.
Enter below to win the mega cause-driven registry holiday gift guide giveaway, which includes:
One (1) pair of Goumigiving mitts and one (1) pair of Goumigiving booties
One (1) set of Matimati bandana bibs
$50 credit to Live Sweet Shop
One (1) Santa suit onesie from Fayfaire
One (1) annual subscription to Ladybug or Babybug magazine
One (1) pair of shoes from Kid's Shoes
One (1) set of labels from the Orange is for Orphans series
One (1) pouch from Vaalbara
One (1) Yootoo nursing bra
One (1) Mama bracelet from Nashelle 
One (1) Kit Allen sports bra
One (1) Skip Hop footmuff, one (1) Skip Hop handmuff and one (1) Skip Hop car seat cover
One (1) Stella & Dot's Illuminate Cufff