It seems as though the classic baby bottle shape has become iconic in our culture, however, the standard bottle doesn't always work for little mouths and tummies. Comotomo has revolutionized the bottle world with the realization that most baby bottles were designed for ease of the parents, instead of the baby! They completely redesigned the entire structure of the bottle and nipple to mimic the natural design of a mother's breast and help ease baby into bottle feeding, while making it easy on their mouth, stomach, and your hands, too.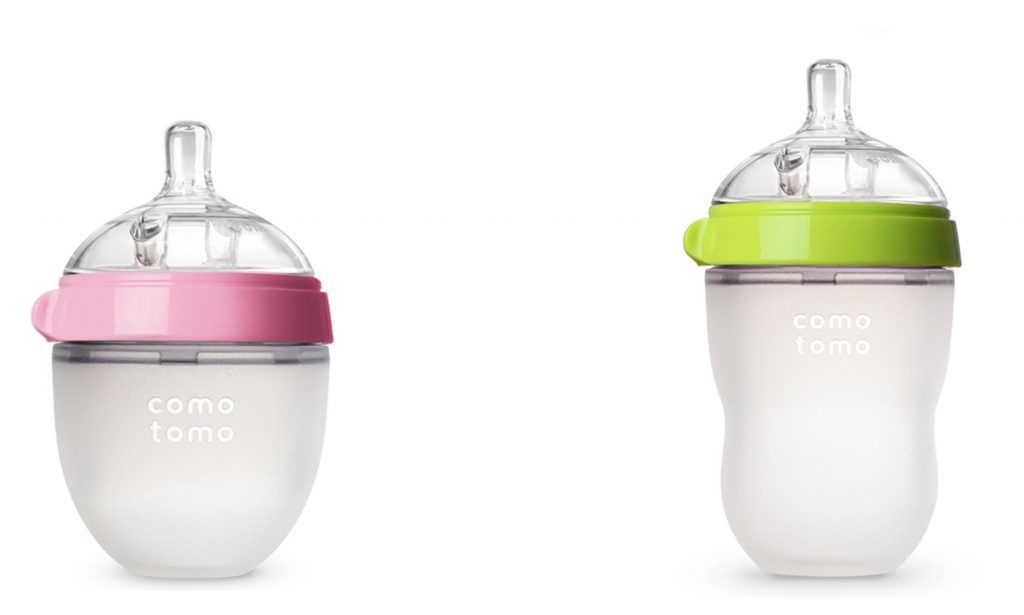 Simply put: Comotomo bottles are created to mimic the mound shape and nipple feel of the breast, but the design and attention to detail throughout the creation of the bottle is completely unique to Comotomo. One of the concerns new moms have is that by giving a breastfeed baby a bottle, they will not be able to latch to the bottle because of nipple confusion. The standard nipples on bottles are often created in a shape which is difficult for a small baby to properly latch on to. However, the silicone nipples from the Comotomo bottles are designed to mimic the breast shape, and therefore help your baby "latch onto the bottle." For a mama going back to work (or going to the grocery!), it's important to know that the baby can properly feed from a bottle. As Comotomo says, "The wide-mound design and the soft silicone nipple help your baby seamlessly transition back and forth from the breast to bottle!" Often, moms who decide to formula feed worry that they won't experience a breastfeeding-bond with their baby, but the Comotomo bottles offer the soothing, soft, and comforting experience to formula fed babies as well. Because of its silicone soft skin, mama and baby can comfortably cuddle up to feed, without any cold, hard bottles in the way.
The nipples also feature anti-colic vents – by designing them into the nipple, there are no more parts to wash and clean. Win! The vents are designed to ensure that the baby is sucking formula and not air, therefore reducing the chance of colic and fussiness. This is wonderful for formula feeding because often formula forms little bubbles when shaken up to mix; these bubbles, when ingested, can cause gas and fussiness, however, the Comotomo air vents are specifically designed to prevent this from happening.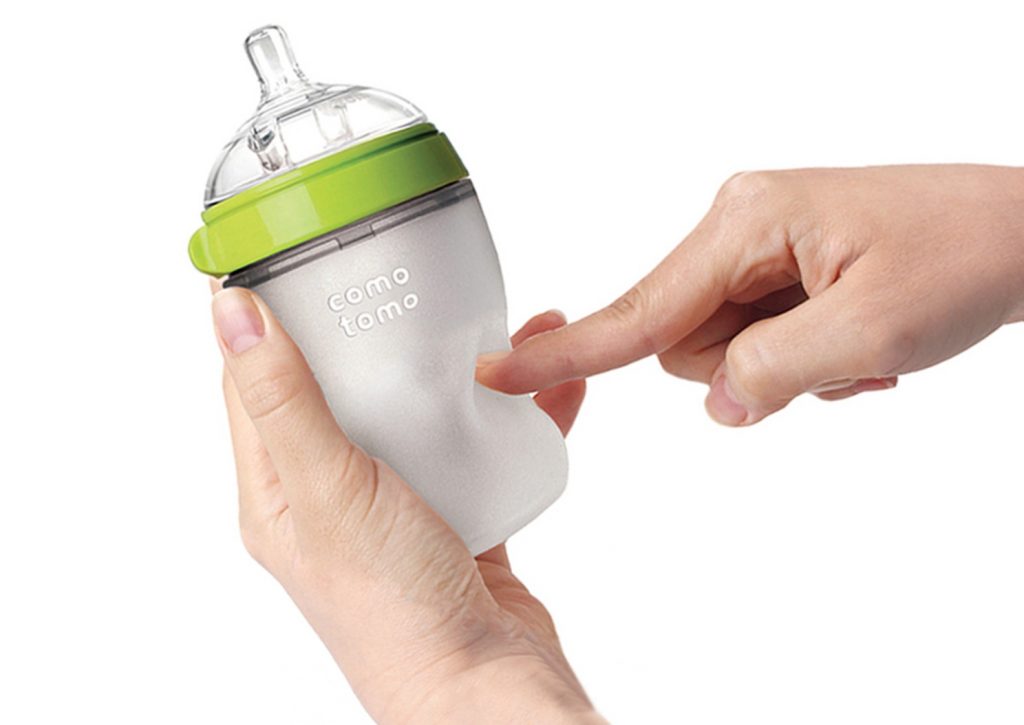 The actual bottles are unique in that they are made from medical grade silicone and…soft! Since a baby's hands are so small and it takes them so long to learn to grasp, Comotomo realized that if they create soft and squishy bottles, a baby is much more likely to be able to learn to hold their own bottle. Furthermore, the soft and skin-like texture of the bottle is much more comforting to a baby than hard plastic or glass. The softness of the bottle has a soothing feel; when you're feeding formula to the baby in the middle of the night, there will be no cold bottle pressed against your baby's skin.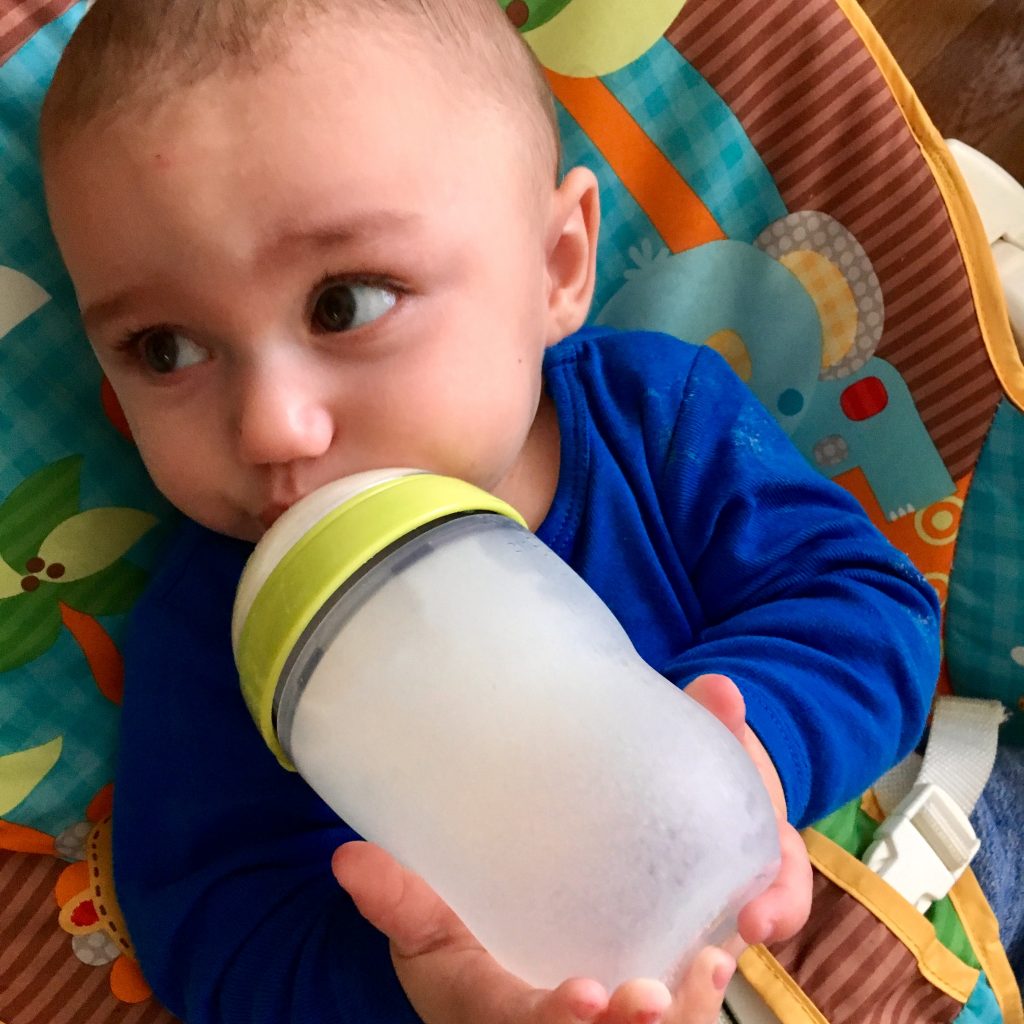 Comotomo bottles are wonderful for formula, as their necks are wide, which means you can easily measure and dump formula powder (or liquid) into the bottle without spilling powder all over, causing your measurements to be off. Comotomo has parents in mind too – when it comes to washing these bottles, the wide neck and opening makes it possible to simply wash them by hand or in the dishwasher – no more need for a tiny bottle brush! Comotomo strives to make feeding a joyful occasion for both the baby and parent; by mimicking nature as closely as they have, Comotomo is allowing for baby to drink naturally from a bottle, and for a parent to know that their baby is feeding in the best way possible.
Follow Comotomo on Facebook, Instagram, Twitter, and Pinterest. 
Enter below to win a three month's supply of the Earth's Best Organic Formula, a Comotomo Bottle Starter Pack, a BabyBjorn Bouncer, $125 to Finn + Emma and a Newlie Louise Bag!