Babies tend to make a mess…wherever they are and whatever they're doing. Feeding to your little one from a bottle may seem like a harmless and clean activity, but after she's done eating and covered in formula, you'll be wishing she had been wearing a bib. Many people think of bibs as a necessity for babies who are starting solid foods and beyond, however, bibs are a must have item for bottle feeding babies too!
We're big fans of the reversible bibs from Finn + Emma. Finn + Emma is a 100% organic baby clothing, toys, play gyms, and accessories one-stop-shop. Finn + Emma is a blend of classic and contemporary, modern and whimsical, stylish and utilitarian baby items, all of which are free from any toxic chemicals. Finn + Emma believes that beautiful and healthy baby items can be both sustainable and stylish; there is no need to sacrifice style to keep your baby safe from chemicals!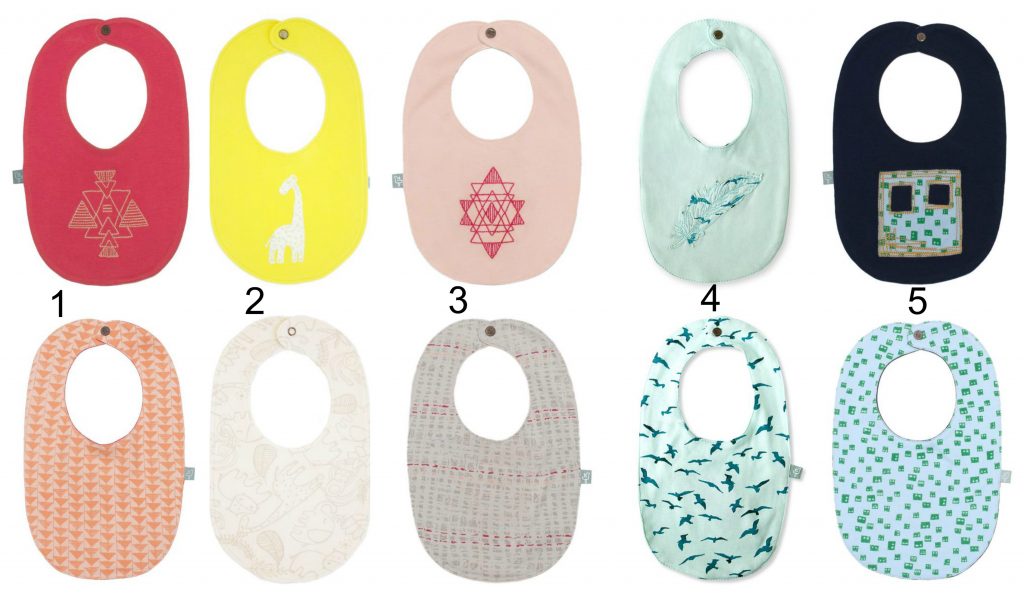 1. Triangle Bib; 2. Jungle Bib; 3. Scribble Bib; 4. Bird Bib; 5. Robot Bib
When picking a bib for your baby, keep in mind that the fabric will be close to their skin and mouth, so you'll want to choose the cleanest, most safe and organic materials. Also, many babies end up teething on their bibs, so the material will be in your baby's mouth. Many baby bibs are made with plastics or coatings, but the reversible Finn + Emma bibs are 100% G.O.T.S. certified organic cotton with eco-friendly inks and dyes. Their snaps are lead and nickel free, too. These bibs are not only safe for baby's skin, but super soft and easy to wash as well. With a pattern on each side, you can switch up the design at each feeding and not get bored by the same old image over and over.
Bottle feeding babies are often known for their dribble – it's not always easy for a little mouth to keep up with a hungry tummy, so often, babies suck a little too much formula and some dribbles out. With a baby's skin being so sensitive, it's necessary to quickly wipe the formula away and catch any excess with a bib. Since the Finn + Emma bibs are so soft, you don't need to worry about wiping away dribble all the time. One of the sweetest moments of parenthood is the "milky smile" – when your baby stops sucking their bottle to give you an amazing grin. After you take a photo and call for your spouse to come see, you'll notice you're covered in formula! By having the bib on the baby, the bib will take the brunt of the excess formula and you won't have to change your shirt. Of course, we all know babies spit up, and you can't always lunge for the burp cloth, so we recommend having this soft bib on baby for feedings to keep everyone and their clothing a little cleaner.
Follow Finn + Emma on Facebook, Instagram, Twitter, and Pinterest. 
Enter below to win a three month's supply of the Earth's Best Organic Formula, a Comotomo Bottle Starter Pack, a BabyBjorn Bouncer, $125 to Finn + Emma and a Newlie Louise Bag!