If you haven't heard of Mama & Little, you need to check out this line of modern, ultra fashionable silicone teething jewelry – completely safe for your littles to touch, tug, and teethe on. See some of our favorites from the line here and then enter to WIN a $50 store credit to the Mama & Little shop.
Founded by fab mom Arleene Taylor, who saw a need for fashionable and safe teething jewelry, Mama & Little launched in 2014. An innovator in the category, Mama & Little introduced the first silicone hexagon-shaped bead and it has since become the brand's trademark style.  Mama & Little's geometric collection has truly changed teething jewelry into something totally un-boring for the modern, hip mama! (Also notice the necklaces are designed with their signature exposed cord along the neck; no beads there means they won't catch your hair while being worn – talk about innovation!)
Gugu Guru doesn't just love Mama Little's fresh approach to silicone teething jewelry, we also love that the pricing fits all mamas's budgets.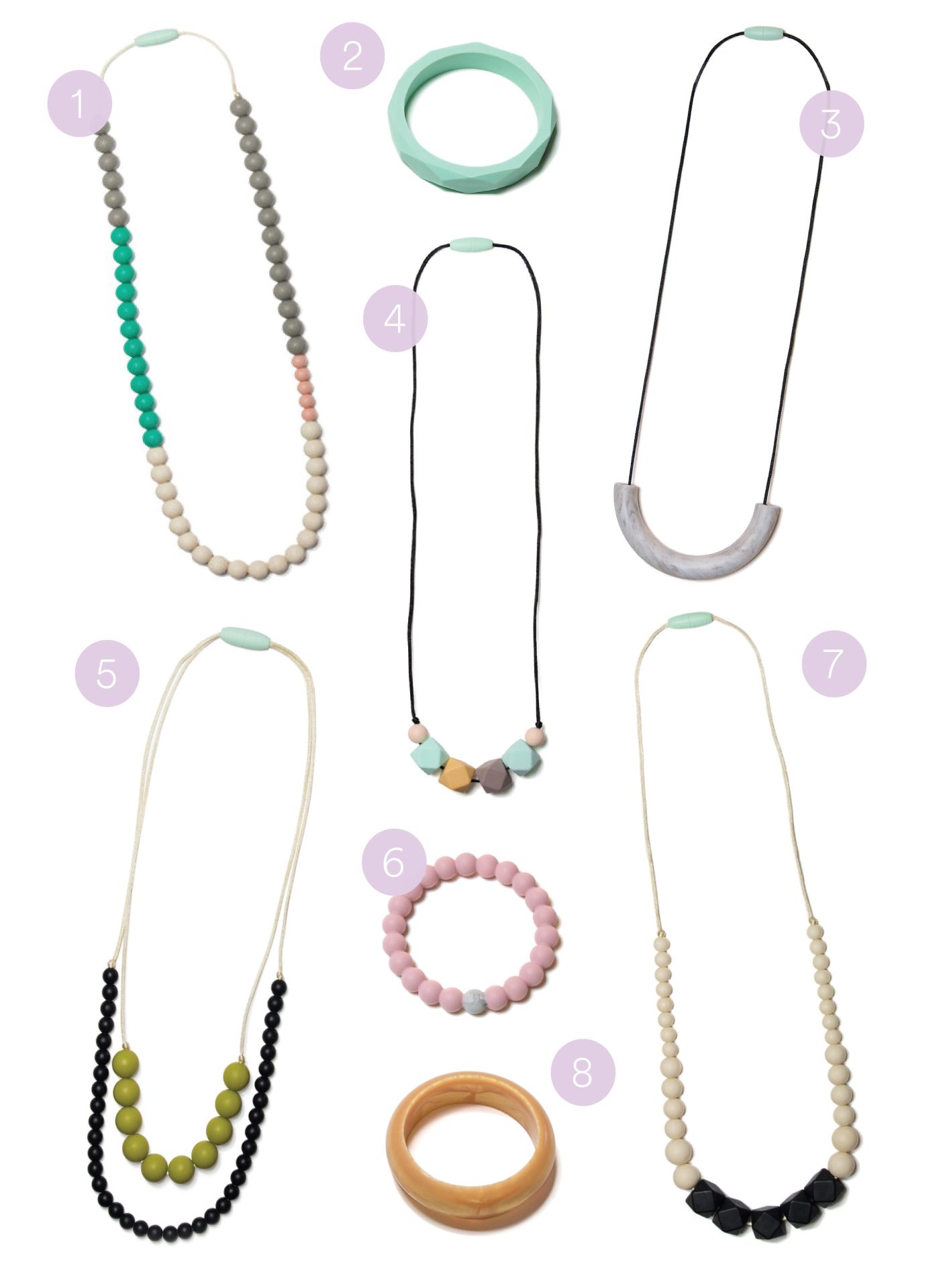 Here are some of our favorites:
1. OLIVIA SILICONE TEETHING NECKLACE- MERMAID ($25) The Olivia is funky and fun with its modern color block design in colors that both you and your little will drool over. Perfect as a nursing necklace to keep your little focused and those little fingers from pinching!
2. FINLEY SILICONE TEETHING BANGLE- SWEET MINT ($10).You'll never wear a more functional accessory! Our Finley silicone bangle has a faceted geometric texture that makes it a great addition to your bracelet stack and the perfect teether. Hand it to your squirmy little next time you're at the changing table or shopping cart.
3. ALEXA SILICONE TEETHING NECKLACE (Starting at $22.50). The very first of its kind, a unique crescent-shaped silicone pendant necklace that sets the trend for the modern mama! The Alexa silicone teething pendant is made of flexible silicone in the perfect size your baby will love to hold, bend, and bite! Our dual-sided pendant features a textured dot pattern along the back to help soothe baby's gums and ease teething discomfort.
4. NICOLE SILICONE TEETHING NECKLACE- SWEET MINT ($22.50). Our Nicole necklace with a scrumptious color way of Cream, Honey, and Sweet Mint in our signature silicone hexagon beads will have your little drooling! This minimalist design really lets them show off, adding a modern color palette to your every day. They have the perfect texture to ease your little's sore gums, sweet relief! Hip style and functionality, dual-purpose genius.
5. DEILA SILICONE TEETHING NECKLACE- SWEET PEA & BLACK LICORICE ($25). Classy, sassy and a little bit bossy- that's how mamas roll! This necklace says it so you don't have to. Get the layered look with our Deila double-strand teething necklace. This fashion-forward color combo will bring all the compliments to the yard.
6. LINDA SILICONE TEETHING BRACELET- ROSE QUARTZ($10). Our classic Linda beaded bracelet gets an update! A solid silicone bracelet with a beaded design- it's the one-size fits all, easy to put on and take off, perfect little teether! The beaded design and smooth, flexible texture massages baby's gums and its compact size is perfect for their little hands to hold.
7. SOL SILICONE TEETHING NECKLACE($25). Sol is a bold, modern design that will style up anything you wear it with, even your little's drool. Five of our signature silicone hexagon beads in Black Licorice take center stage balanced by a subtle gradient of round Cream beads. An instant classic you'll find yourself wearing even when you're not around your little!
8. GOLDIE SILICONE TEETHING BANGLE($10). Add a dose of pretty shimmer to your day with Goldie. Our bangles are 100% silicone that is firm-yet-flexible, just right for your teething little's gums. Let it shine on its own or stack it with our other bracelets!