With the Grammy Awards this weekend, we rounded up the children's albums up for an award – and, if you head to the bottom of this post, you can enter to win all of these albums! Have you listened to any of the Grammy nominated albums below? Interested in hearing more? Stream samples from all of the nominees here!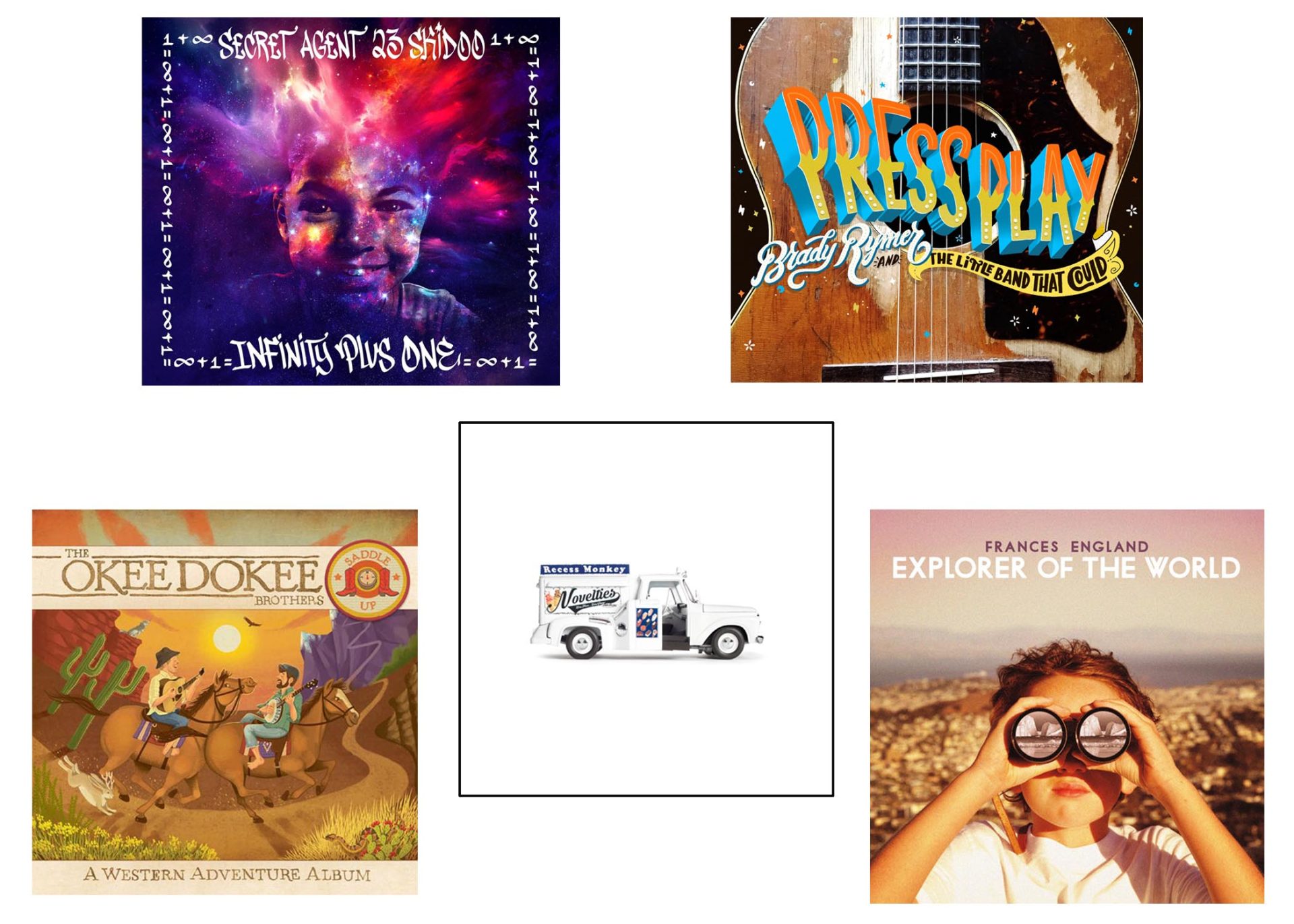 Secret Agent 23 Skidoo, Infinity Plus One: His albums and shows are a cornucopia of creativity, mixing a wide spectrum of genres into multi instrumental, musically sophisticated, lyrically intelligent house party classics. With an authentic feel that resonates from packed park jams in the South Bronx to sold out shows at The Smithsonian, 23 Skidoo is the pioneer of positive family Hip Hop music.
Brady Rymer and the Little Band That Could, Press Play (read our review of Press Play!): If you're looking for some music to make your soul feel good, we highly recommend Brady Rymer's Press Play album. It's a modern Americana mashup! They borrow a little R&B from Stax Records, nod to Aretha's gospel roots and stir in some Everly Brothers-style harmonies to cook up a tasty musical stew for your family. Chock full of music inspired by funk, roots, jazz, and Americana, you won't be able to control your tapping feet while blasting this CD.
Okee Dokee Brothers, Saddle Up (read our review of Saddle Up!): The Okee Dokee Brothers' music, a mix of Americana, bluegrass and old timey, is adorably infectious and lyrically beautiful. Justin and Joe are amazingly positive influences on a new generation of musicians and children; parents, you'll fall in love with their music too, and we guarantee you'll be listening in the car after you drop the kids at daycare!
Recess Monkey, Novelties: Drew, Jack and Korum are three teachers who make kid's music that grows out of their days in their classrooms. They continue to be praised across the country for singable, danceable songs that parents enjoy as much as their kids. Praised by People, Time, USA Today, The New York Times and NPR for their pitch-perfect understanding of what gets kids excited, Recess Monkey is known for prolific album output, high-energy shows and laugh-out-loud funny lyrics that capture the essence of being young.
Frances England, Explorer of the World (read our review of Explorer of the World!): Francis England started out her musical career by writing a simple CD for her son's nursery school in 2007; since then, she her music has taken her to venues such as Lollapalooza and Austin City Limits. With a gift for capturing the wonders, simple pleasures, and beauty of childhood, Frances frames her music in ways both children and parents can appreciate. Her sparkly, acoustic pop songs are both catchy and heartfelt. Explorer of the World is her fifth album, and a wonderful way for parents and children to enjoy music together.
Enter below to win all of these Grammy nominated albums!