Picking out teethers, pacifiers and dental health products for your little one can be confusing, there are so many options to choose from! Teethers, pacifiers, and dental health products are not only a baby essential, but make a wonderful baby shower gift. Scroll down to see our top picks for teethers, pacifiers and dental health picks for babies.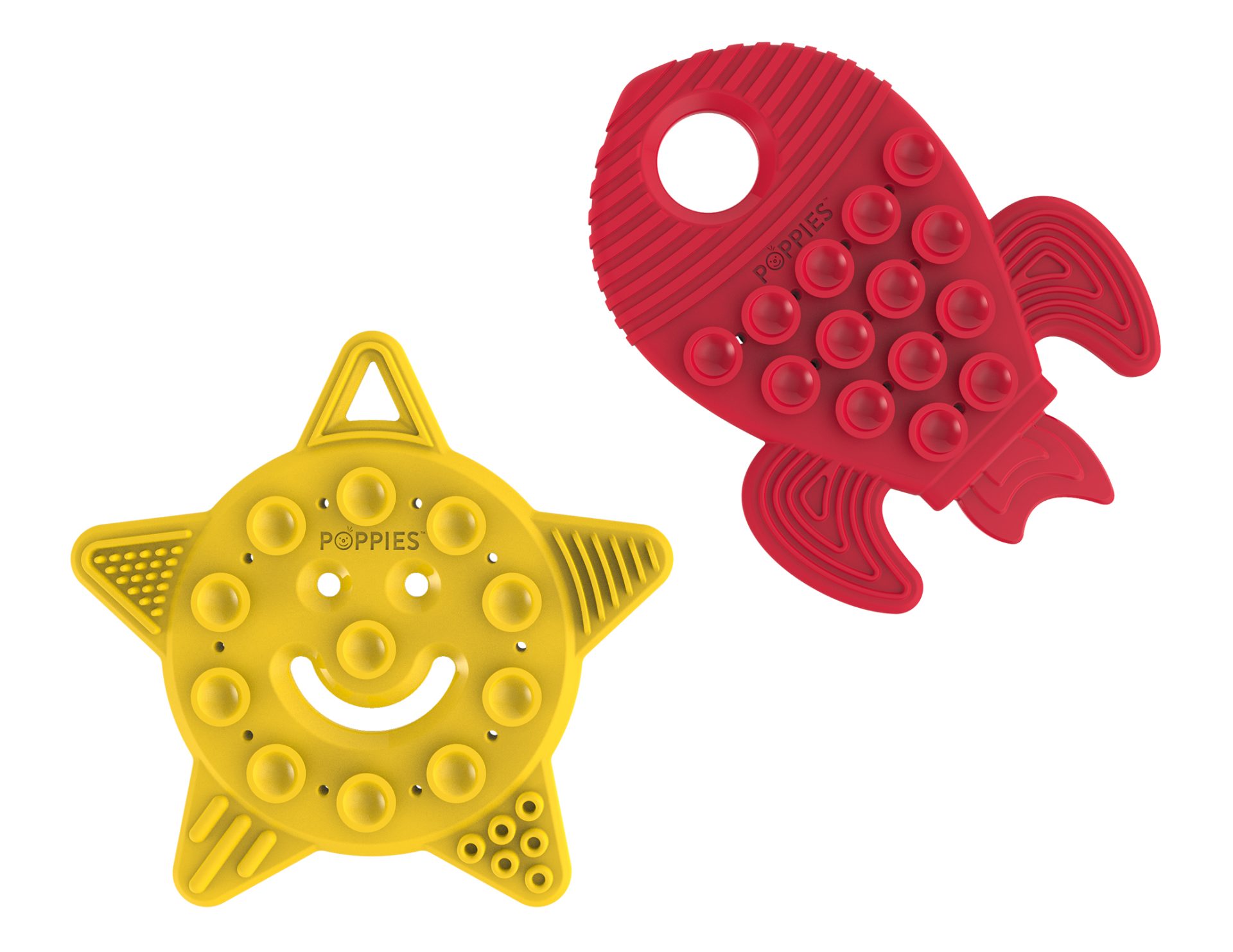 Poppies Teethers: Teething can make a baby fussy, which means it's no fun for the whole family – and Poppies is here to make teething fun again! Made in America, Poppies Teethers feature their signature sunshine and rocket teether, which are both easy to clean and light enough to clip onto their clothing. Plus, Poppies' teethers' patented design means that no moisture will be trapped in it, preventing growth of mold – which is something many new parents don't even know what to look for! Why are Poppies teethers different? So many reasons! For one, their patented design, which is BPA and PVC free, combines properties of a teether with the properties of a toy to increase a child's physical and cognitive development. Not only is your baby going to use Poppies to teethe, but their teether will help your little one grow in so many healthy ways! The Poppies' teethers feature suction cups and many different textures and shapes, so your little teething baby will be distracted by the fun of teething. Enjoy free shipping the week of February 25th with code GUGUGURU.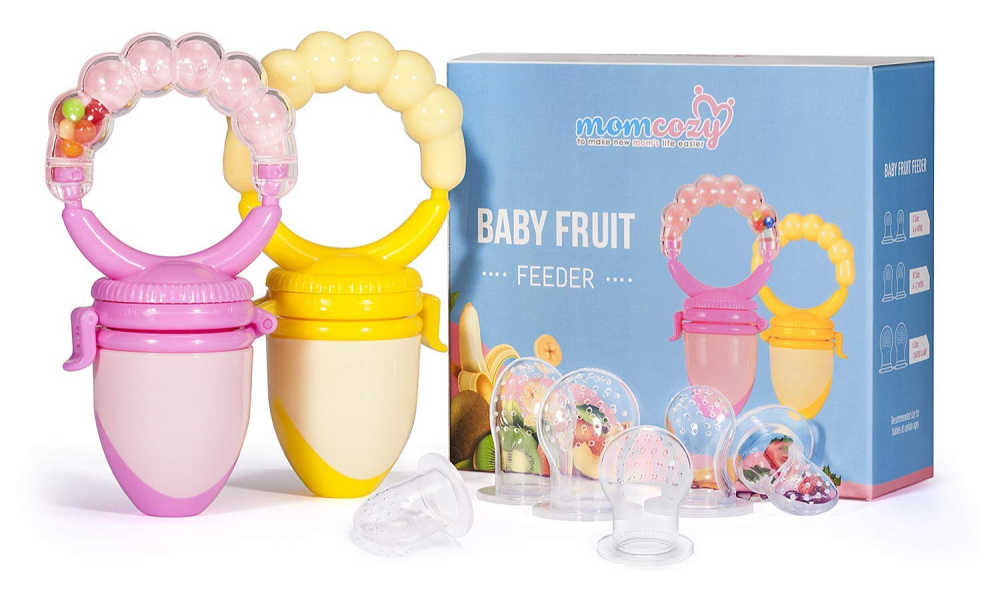 MomCozy Baby Fruit Feeder: We are huge fans of multi-purpose products, and when we came across the Baby Fruit Feeder from MomCozy, we knew we had to share it with you. The Baby Fruit Feeder is not only a teether or baby toy, but is also a pacifier for baby and most importantly, a baby food feeder! When it comes to using the Baby Fruit Feeder, it's a fantastic way to introduce your baby to a variety of foods. Use the feeder with fresh or frozen fruits, grains, meats and vegetables. Plus, the foods help to soothe the discomfort of the baby's early teeth, massaging the gums, exercise oral muscles and promote healthy teeth development. Plus, you can make this as comfortable as you need for your baby, because it features a turning knob for custom adjustment of teat length to squeeze the fruit juices out. The rattle handle becomes a stimulating toy for baby and makes feeding and teething time fun and playful. We think the MomCozy Fruit Feeder also makes a fantastic baby shower gift, as it comes in an adorable package which includes 2 feeders and 6 silicone sacs / teats for different ages of babies (2 of large size, 2 of medium size and 2 of small size). Use code P9A% for $2 off your order.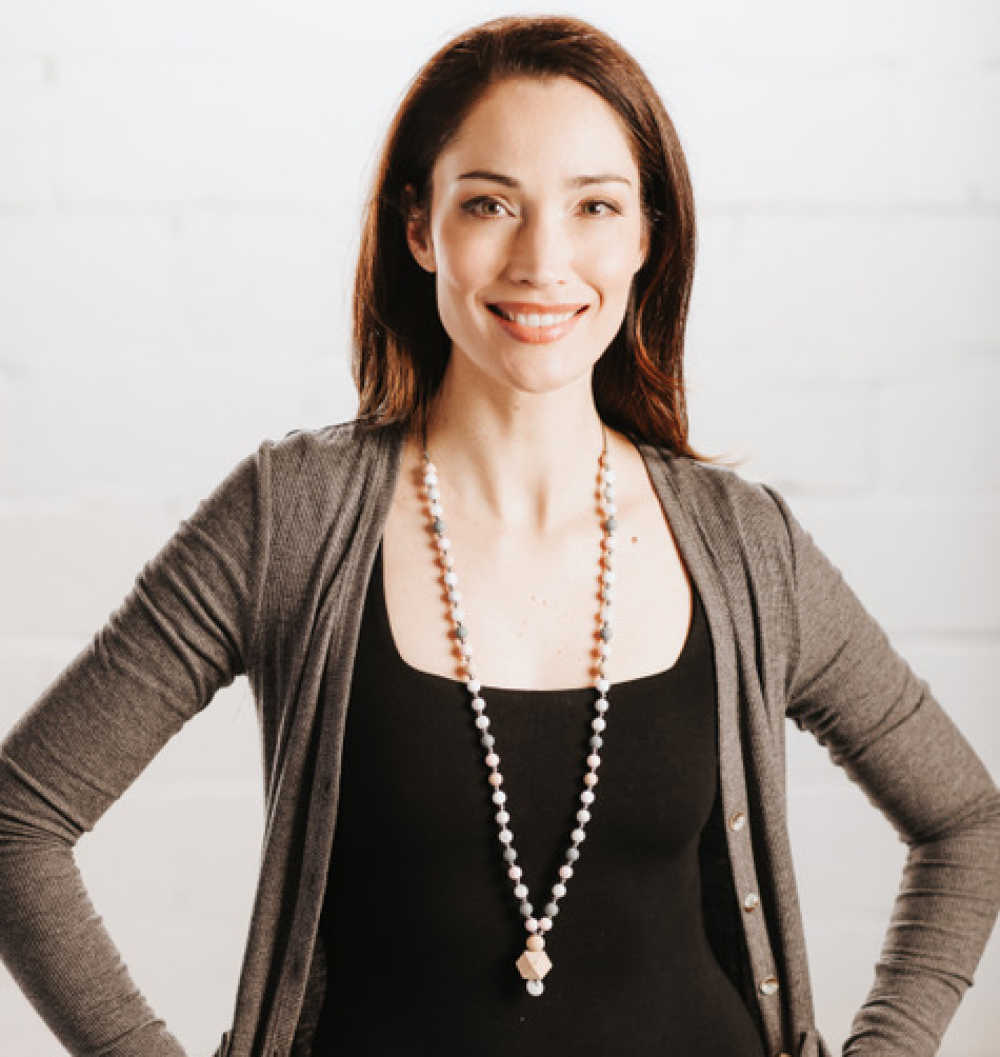 Anjie + Ash Teething Necklace: If you're going to be dealing with a teething baby, why not do it in style? We're obsessed with these uber fashionable teething necklaces from Anjie + Ash. The Anjie + Ash Harmony Necklace is made from silicone and beechwood and is both a statement necklace for mama and a teether for your little one. Unique to the Anjie + Ash jewelry, the extra long necklace length allows for baby to comfortably play with the teether part of the necklace, either chewing on it, or using it as a distraction during nursing or downtime. Plus, mamas don't have to worry about their neck with the Anjie + Ash necklace, as the patented magnetic safety clasp allows Mom to relax as the necklace will release if baby tugs become too strong. This prevents the necklace from getting damaged and Mom's neck from pain! The Anjie + Ash necklaces make amazing baby shower gifts, as they are a gift for both mom and baby and brings a little style into mom's life.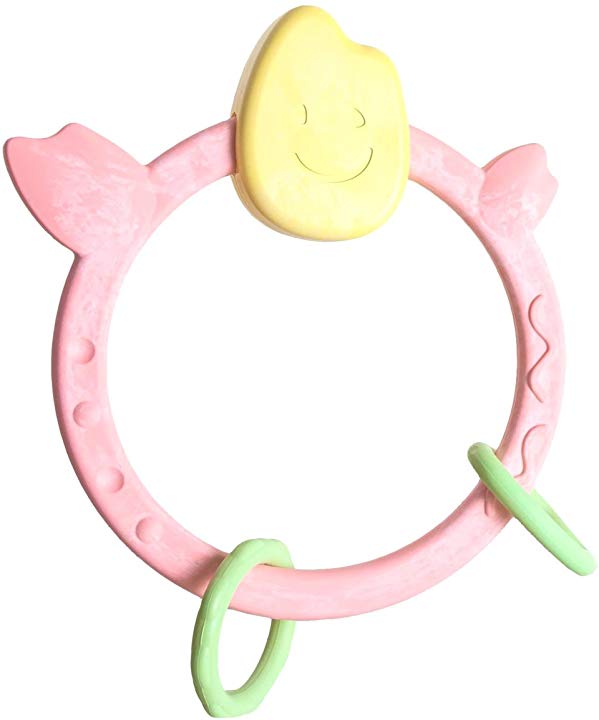 Mochi Teethers: If you're looking for a unique teether for your little one, check out Mochi Teethers from People Toy Company. What makes these teethers unique? Each Mochi piece is made with rice harvested in Japan and then mixed with a unique blend of special ingredients to create their 100% safe and sustainable Mochi rice-plastic. The Mochi series was developed with this unique Japanese rice-plastic technology, and interestingly, uses 51% rice in their teether construction. There are no toxic paints or adhesives used in Mochi series, giving you peace of mind knowing the first toy your infant puts in their mouth is 100% green and 100% fun. Mochi prides itself on earth-to-home craftsmanship. In fact, you can even smell the aromatic notes of fresh rice grains as soon as you open the packaging. The Mochi Teethers would make a unique and green baby shower gift which is sure to delight any parent-to-be!
Interested in other gift guides? Check out some of our recent ones: 
Thank you to Anjie + Ash, MomCozy and Poppies for making this sponsored post possible – we are so appreciative!