Hey New Mamas and Mamas-To-Be!
Do you like to be refreshed with delicious iced tea?
Do you like to drink said delicious tea with both pre- and post-natal healthy benefits?
Oh and do you like healthy tea that you don't have to sit around waiting until it steeps?
Then do we have a tea for YOU…
Introducing Hey Mama Teas
Hey Mama's mission was "to find the safest, naturally caffeine free, organic, and tasty ingredients that provide support to expecting and nursing Moms." And they accomplished that in four wonderful flavors…and more.
What we love about Hey Mama Teas is the convenience factor.  The teas are bottled and ready to serve. This is key to a new mom who wishes to keep her milk supply up but doesn't want the hassle and the wait time of hot tea that needs to steep.  Furthermore, most babies are born in the summer time (there's a little fun fact for ya!) and who wants to be sipping a hot cup of tea in sweltering conditions?  Not us. And certainly not when we're about to pop.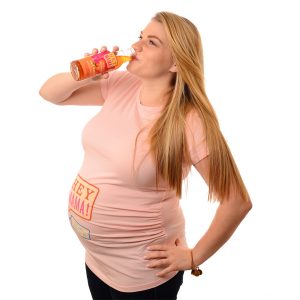 Hey Mama Tea comes in four delicious flavors in the cutest names: Lemon Glow, Minty Morning, Life's A Peach and Raspberry Divine. Our personal favorites are Peach and Raspberry but all were truly delicious.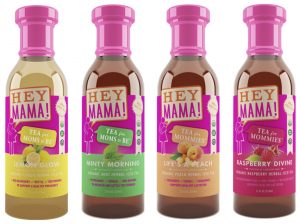 Straight up – we also like the personality of this brand and its founders – a couple inspired to create the products by their own pregnancy as well as in-depth experience in the health & wellness beverage market.
If you are a big tea drinker, Hey Mama offers subscribe and save packages through their Stork deals (12, 24 or 36 bottles delivered per month).
Have we tempted your tastebuds yet? Check out their website at https://myheymama.com and enter to win a variety of Hey Mama teas in our giveaway below: