We have added some amazing new products to Gugu Guru's personalized baby registry database this week and we're excited to share just a few with you here.  This week we're focused on products great for traveling families. These new products are curated and added by our in-the-know team of baby experts, as well as by other parents like you.  And, as always, we don't accept payment to be added to Gugu Guru; all of our product picks are totally unbiased.
Bonus: scroll down to the bottom of this post for a special giveaway of some of this week's new additions.
Pack It Up
From our Pack It Up category, we bring you travel must-haves for the whole family.  For mom, this genius Poppet Classic Black Travel Cardigan, which folds into its own attached water-repellent pocket. And, since the weather outside is getting frightful, we love these 7AM Enfant Stroller WarMMuffs to keep your hands toasty while strolling. Looking for safe skincare in convenient travel sizes? Look no further than this organic Travel Set from Grateful Naturals. (Includes organic deodorant in your choice of scent – score!)  Mom can then keep everything nice & organized when she's on the move with the Organization System from The Mother Load.
PRODUCT WIDGET – ID: 584c485104527277a90f43c0
PRODUCT WIDGET – ID: 584c5252428ba049e665f10f
PRODUCT WIDGET – ID: 584eb7bc428ba0349665efde
PRODUCT WIDGET – ID: 584c5252428ba049e665f10f
For the babe, this winter we are loving the 7 A.M. ENFANT Blanket 212 evolution –  the ultimate baby bunting product that will keep your child warm and dry from head to toe. Equipped with zippered length and width extensions, this footmuff grows with your child plus adapts to any stroller or car seat and converts into a large blanket.
PRODUCT WIDGET – ID: 563a777b633636280a1c0600
A great gift idea for your traveling tot, the LulyZoo Toddler Lounge is a portable travel bed, play mat and plush pet for on-the-go adventure. Comes in so many cute animal designs Elephant, Lion, Hippo, Ladybug and Zebra.
PRODUCT WIDGET – ID: 584dbfb7f3e6912df1ce7ee0
Just in time for holiday travel! Enter to WIN a LulyZoo Toddler Lounge in the animal of your choice, a 7 A.M. ENFANT Blanket 212 evolution in the color of your choice and a Mother Load Organization System in our giveaway – a value of $324.00!

a Rafflecopter giveaway

And remember, if you don't see something you want on Gugu Guru, you can add any product from any website – that's part of how we build our database.  Simply click the link under the "Add To Registry" button":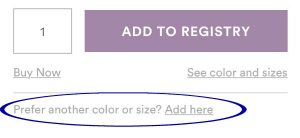 or below the Publish button on the Registry Manager page: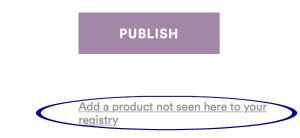 Each week, we will be posting some of our favorite picks from Gugu Guru's unique registry categories so be sure to check back with us regularly so you don't miss any of these cool finds for your family!