We have added some amazing new products to Gugu Guru's personalized baby registry database this week and we're excited to share just a few with you here.  New products are curated and added by our in-the-know team of baby experts, as well as by other parents like you.  We keep our eye on the pulse of the industry so you don't have to. And, as always, we don't accept payment to be added to Gugu Guru; all of our product picks are totally unbiased.
Bonus: scroll down to the bottom of this post for a special giveaway of some of this week's new items.
Diaper Bags – We are particularly excited about the new diaper bag additions this week. From Lily Jade to Pottery Barn to Fawn Design, we've added diaper bags that are being buzzed about the most among new moms everywhere. Here are just a few we love:
PRODUCT WIDGET – ID: 5831dd2359841f1ab4c12df6
PRODUCT WIDGET – ID: 5832ea44428ba0406969735b
PRODUCT WIDGET – ID: 5831d1ca428ba0406c696e7d
PRODUCT WIDGET – ID: 55cb3cc06336361f62050d00
PRODUCT WIDGET – ID: 5831d90904527235fb65a4a1
PRODUCT WIDGET – ID: 5831db84f3e691391291bbcd
PRODUCT WIDGET – ID: 5831d4e259841f1ab4c12d67
Microfashion – From layette to accessories and other fashion must haves for bebe, Microfashion is where we add product recommendations for your mini's style. Here, just some of our picks from across our style and budget categories:
PRODUCT WIDGET – ID: 5832e228f3e691390e91bc81
PRODUCT WIDGET – ID: 5830d87a428ba04069696d7b
PRODUCT WIDGET – ID: 5830d69259841f1aaec12ac6
PRODUCT WIDGET – ID: 583194862505ed44ffde1f6a
PRODUCT WIDGET – ID: 583197eb2505ed44ffde1fb1
PRODUCT WIDGET – ID: 5832efc0f3e691390e91bcc8
PRODUCT WIDGET – ID: 5832f52ef3e691390e91bd0f
Pack It Up – Whether down the street to your in-laws' house or a flight across the pond for an adventure, our Pack It Up category gives you suggestions for portable, packable finds for your travels. This week we've added the travel bag for the enormously popular DockATot deluxe size dock.
PRODUCT WIDGET – ID: 5832e02a428ba040696972d0
And remember, if you don't see something you want on Gugu Guru, you can add any product from any website – that's part of how we build our database.  Simply click the link under the "Add To Registry" button":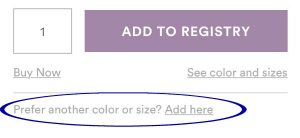 or below the Publish button on the Registry Manager page: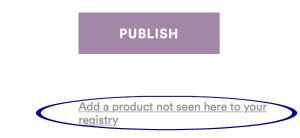 Each week, we will be posting some of our favorite picks from Gugu Guru's unique registry categories so be sure to check back with us regularly so you don't miss any of these cool finds for your family!