The Gugu Guru team are huge fans of the ever lovely Lisa Loeb; when her Nursery Rhyme Parade album came out, we jumped to listen to it, and today we're beyond excited to be the very first to introduce you to her brand new 30-minute collection of music videos for Lisa Loeb's first ever children's album with Amazon Music, Nursery Rhyme Parade! We featured Lisa a while back in our New Music for Your Registry Roundup, so we're thrilled to be introducing you to another wonderful way to watch and listen to such adorable and educational children's music. Nursery Rhyme Parade, with its soothing sounds and educational tunes was released on October 16, 2015; the album has since received awards from the American Library Association (Notable Children's Recordings), Kids First!, NAPPA, and Parents' Choice Foundation Awards. Like what you see here? Don't forget to add it to your registry, for a new baby, first birthday, or beyond!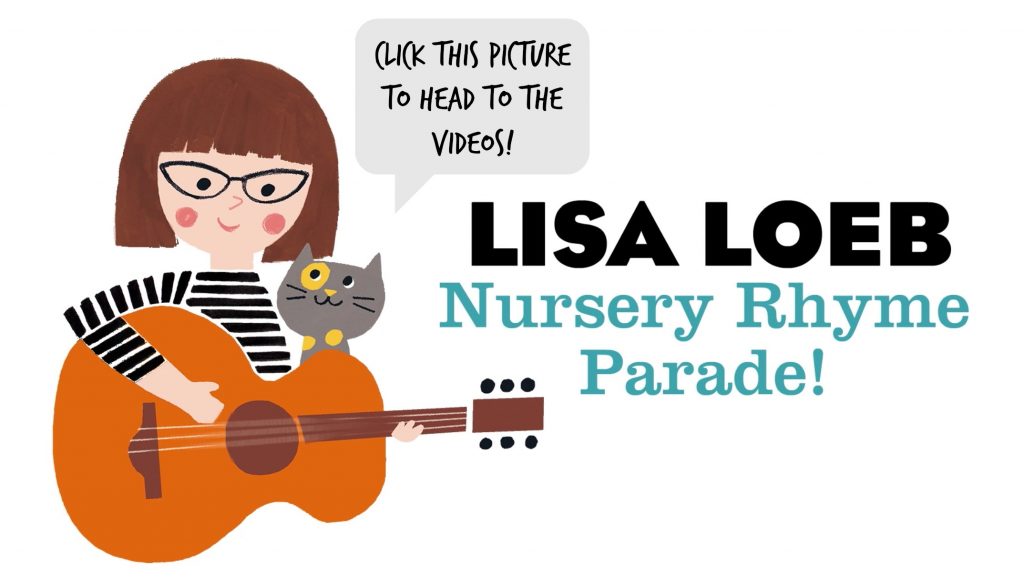 The videos feature Lisa Loeb performing select rhymes and songs from Nursery Rhyme Parade!, drawing viewers in with her welcoming performance style. Lisa's authenticity and musicianship shine through her performance, making it easy for children to sing and play along. Guest artists include singer-songwriter Renee Stahl (of Renee and Jeremy fame), with scenes of young children playing, acting out some of the songs, and doing traditional hand movements to go with some songs and rhymes. Lisa interacts with her own children Lyla and Emet on "This Little Piggy" and "Star Light, Star Bright."
Nursery Rhyme Parade! features 37 familiar nursery rhymes, and grew out of Lisa's own parenting experience. When her two children were toddlers, Lisa would read and sing along to rhymes from their collection of nursery rhyme books. As she shared these classic poems and songs with her kids, Lisa wondered if she remembered the melodies correctly. The nursery rhyme recordings she found were often gussied up with multi-track arrangements and sing-songy vocals. Nothing captured the way Lisa remembered her own parents and grandparents reciting and singing nursery rhymes. At Lisa's concerts for families, she noticed that kids responded enthusiastically whenever she sang a familiar children's song. "There's a lot of satisfaction and comfort in singing along to songs you know. That's even true for grown-ups," she notes.

Lisa enjoys working with Amazon Music. "As an independent artist, it's wonderful to find new ways of sharing my music, and they reach an incredibly wide audience. As a parent, I love the convenience of selecting music from Amazon. The company offers fans easy and fun ways to discover and enjoy new music." The Amazon Music Original album, Nursery Rhyme Parade!, is currently available for digital download, physical purchase on Amazon Music, and streaming on Amazon Music Unlimited and Prime Music at amazon.com/NurseryRhymeParade.
We're so excited about these new videos that we're giving away a copy of Nursery Rhyme Parade – enter below to win!
a Rafflecopter giveaway