It's official: Pumpkin Spice Season is upon us! We thought it would be fun to round up some of our favorite pumpkin spice products for mama and baby – plus, head to the bottom of the post for a fun giveaway!
For mama:
Pumpkin Scrub – Cinnamon + Vanilla, Birchrose + Co: Ultra luxe blend of gently exfoliating pumpkin enzymes + organic brown sugar with hydrating coconut oil for smooth, supple skin. Natural plant oils lend an aromatic essence as comforting as a latte in the fall, for your most radiant skin. With all natural ingredients, this scrub is safe for even the most sensitive of mama skin!
Pumpkin Bourbon Jar Pie, Jam Jar Bakery: You know when the baby wakes up a thousand times in the middle of the night and all you want is something delicious and sweet to eat? But oh, you don't want to leave a mess for the morning either? We have the perfect solution for you: Jar Pies! This seasonal favorite pie in a jar features a shortbread crust, pumpkin pie topped with house-made bourbon syrup. Yum!
Pumpkin Spice Mug: While sipping your morning coffee on two hours of sleep isn't preferable, at least you can do it from a cute mug, right?
Diaper Bag in Orange Pumpkin: We're loving this burnt orange messenger bag; it can be used for work or as a chic diaper bag! Made from canvas and cloth, it is super easy to clean and holds everything you'll need for baby and mama.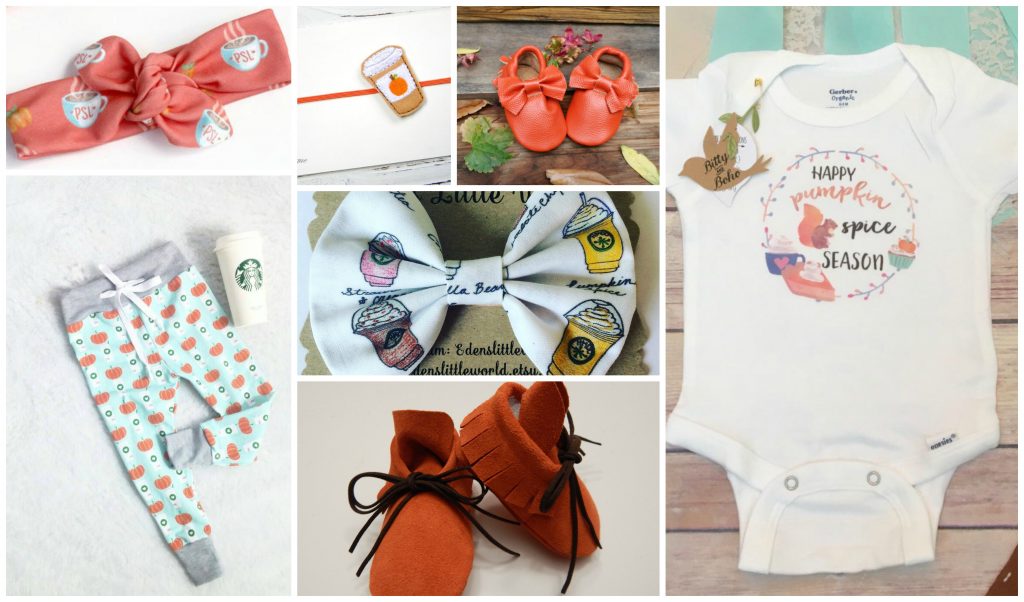 For baby:
Like what you see here? Enter below to win the Pumpkin Spice Latte Knotted Headband, the Pumpkin Spice Latte Baby Headband, a jar of Birchrose + Co Pumpkin Scrub, 4 Pumpkin Jar Pies, the Bitty + Boho Pumpkin Spice Season Onesie, and the Starbucks Drink Bow!