Continuing our series on pregnancy struggles, we turn our focus to the letter "X" for X Marks the Spot with your stretch marks. Up to 90 percent of pregnant women develop stretch marks. The odds are not in your favor. Here Rallie McAllister, MD, MPH, mom of three, a family physician, and coauthor of The Mommy MD Guide to Pregnancy and Birth talks about the #PregnancyProblem of Stretch Marks and what might help.
There's simply not much you can do to prevent stretch marks in pregnancy. When you gain weight, your skin is forced to expand, and collagen breaks down and shows through the top layer of your skin as red, pink, or purple indented streaks—stretch marks. Their medical name is striae distensae.
You're most likely to get stretch marks on your breasts, arms, tummy, and hips. As with so many things, genetics play a part. If your mom had stretch marks, you're likely to get them too. Plus, the older you are when you get pregnant, the more likely you are to get them.
You might not be able to prevent stretch marks, but you might be able to minimize them. Here are a few things to try:
Keeping your weight gain steady and gradual might help to minimize stretch marks.
Drinking lots of water might help because it keeps your skin supple and well hydrated.
Eating plenty of fruits and vegetables, which are high in antioxidants, might provide the nutrients that your skin needs to repair and heal.
Keep skin hydrated by applying products with clinically proven ingredients like Gotu Kola and Vitamin E. This should also help with dry skin.
Ask your partner for a massage! (You're welcome!) Massage can increase blood flow to the area to stimulate the healing process.
If your stretch marks itch, apply some pregnancy-safe belly oil or cream to the area.
During pregnancy, make sure products are teratology screened – the process of reviewing scientifically researched ingredients avoiding ingredients with known links to birth defects or miscarriage.
While nursing, you will want to look for products that are LactMed screened – the process of utilizing the LactMed database and avoiding any ingredients that could be harmful if passed through breastmilk.
Some topical lotions and potions, including steroid creams, are dangerous to use during pregnancy. If you do get stretchmarks, there are skincare products that do contain ingredients, like darutoside and registril, that have been clinically proven to reduce the appearance of stretch marks. The good news is that stretch marks might also fade all on their own, usually to a pale silver, after your baby is born. Try to consider them a badge of honor.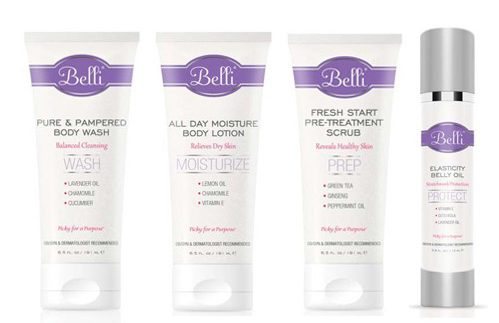 While no one can guarantee 100% stretch mark removal, Belli skincare offers a stretch mark cream that may help. Stretchmark Minimizing Cream uses scientifically researched ingredients to help decrease the appearance of existing stretch marks.
When pregnant, Elasticity Belly Oil uses ingredients that are scientifically reported to help with stretch mark protection so you hopefully won't have stretch marks after pregnancy.
Like what you see? Belli skincare is offering a chance to win a Stretch Mark Protection Kit ($88 value!), including Pure & Pampered Body Wash, Fresh Start Pre-Treatment Scrub, Elasticity Belly Oil and All Day Moisture Body Lotion.
Thank you to our sponsor Belli skincare!