Things can get busy with a newborn and there is no doubt moms already have their hands full. From their own postpartum care to baby's care and maintaining some semblance of balance within their home, the last thing any mom needs is something else that's going to require them to be hands-on. Now imagine if they could pump breastmilk completely hands-free or nurse with ease?
Kindred Bravely created their Hands-Free Pumping Bras with the busy mom in mind. Their all-in-one bra offers multiple layers of comfort with its soft nylon, polyester, and spandex blend that is gentle on both mom's and the baby's skin. The innovative EasyClip system has one clip for the pumping layer of the bra and another for the nursing layer, allowing moms to unclip each layer separately so they can breastfeed and pump at the same time without issue.
The Kindred Bravely Hands-Free Bras are designed to fit all standard breast pump flanges, such as Medela, Evenflo, Philips Avent, Lansinoh, Motif, Hygeia, Freemie, Willow, and Spectra, so there's no need to remove the bra while pumping. Best of all? The bra fits snuggly over the flanges to prevent spilling milk. Moms can pump while going about their tasks with peace of mind. The bra is fitted with a thin layer of padding to ensure there is no restriction to the flow of breastmilk when pumping and this padding can be removed if needed.
Comfort is a top priority for the Kindred brand and they delivered in this design. In addition to the extremely soft fabric, the stretchy material of the Kindred Bra fits your postpartum body and is ideal for all-day wear. The straps are fully adjustable making it easy for you to find the right fit for your comfort. The Hook-and-Eye closure makes it easy to put on or take off, giving busy moms one less thing to struggle with throughout the day. They offer a wide range of sizes from S – XXL, with busty options, fitting sizes 30B-44I, and all sizes come with a bra extender so moms can adjust to their body's changes during pregnancy and postpartum.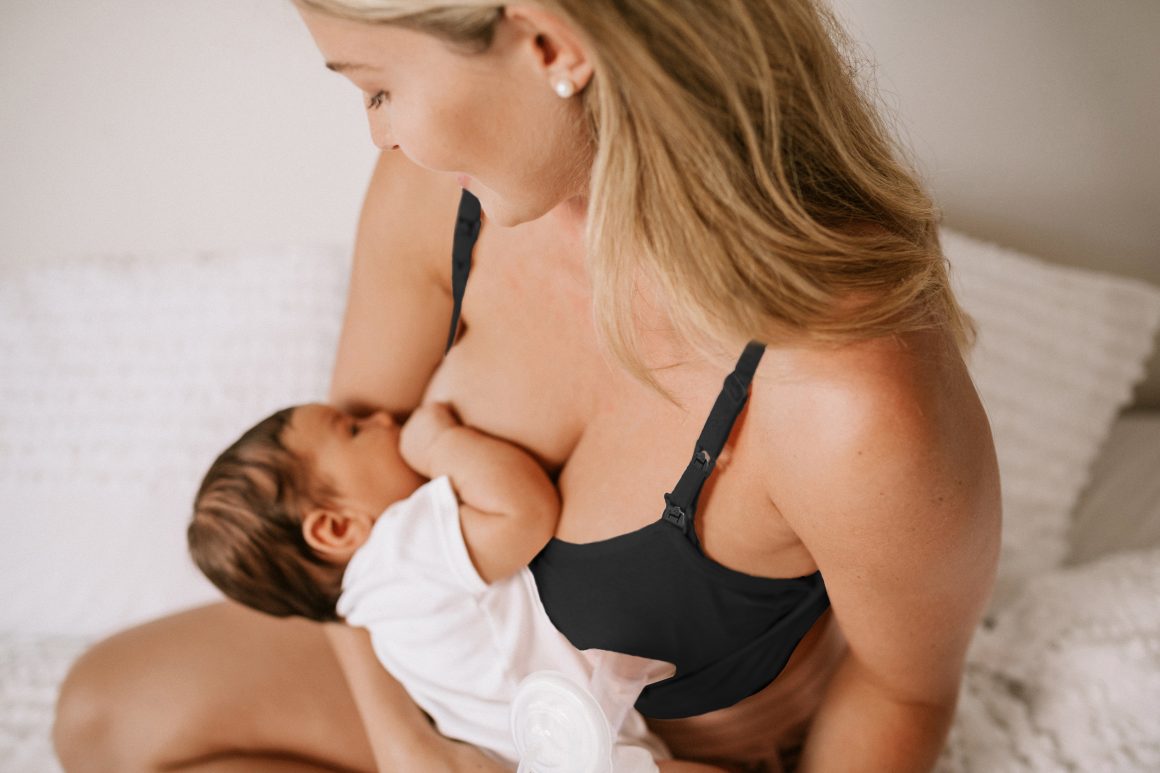 Kindred Bravely bras can be hand-washed with a gentle detergent or washed in a lingerie bag on a delicate cycle in the washing machine then line dried. Lucky for moms, there's no underwire to be concerned about when machine-washing. They do advise wearing breast pads in order to avoid stains, especially when using ointments or lanolin products. For moms who are concerned about leaking, Kindred Bravely also offers Ultra Absorbent Reusable Nursing Pads that can be worn with their bras.
There's so much to adjust to with a newborn – from coping with this great change to navigating breastfeeding and keeping on top of your daily tasks. With Kindred Bravely Hands-Free Pumping Bra, multitasking like a mother can be done in comfort! As a bonus, moms get 20% off their first purchase with the coupon code – GUGUGURU20.
Thank you to Kindred Bravely for making this sponsored post possible.