When we were preparing for our baby's arrival, we tried to keep in mind what we did on a daily basis. We live in the city, but frequently visit family in the suburbs, and wanted baby gear that could work well in both locations. The Maxi-Cosi Coral XP has been a perfect fit for our lifestyle.
The four different carrying options allow me to keep my baby close to me no matter where I'm going. When I make quick stops to pick up take out, grab a few things at the market, or run errands, I only have to take the lightweight inner carrier of the Coral XP and carry my baby using either the handles or cross-body strap. I've found these to be way more comfortable than the traditional handle found on other infant car seats, too.

When we visit our family, we simply attach the Maxi-Cosi Coral XP to our stroller and take long walks. At home, we have to climb a few flights of stairs to get to our apartment, so being able to wear the lightweight carrier while having another hand free to bring up our bags or groceries is super helpful. I really appreciate the super soft PureCosi fabrics the Coral XP has since I prefer not to have added flame retardant chemicals on my baby gear. In general, the fabrics are easy to clean and retain their original color and softness even after a couple post-blow out washes. The canopy is a breathable material and provides ample sun protection.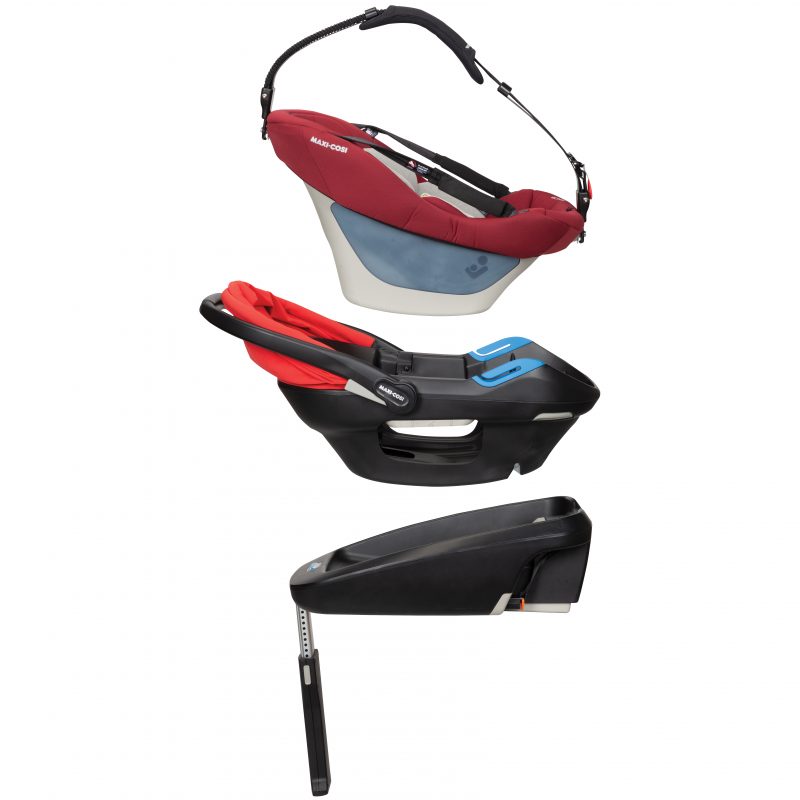 The base is easy to install: the retractable LATCH connectors hooked right onto the anchors in my Jeep Grand Cherokee. I love how you can hear the LATCH tighten as you push the base down! We've installed the base using the seatbelt instead, and it was simple to do. The Coral XP's belt path feature has been especially convenient for when we use a rideshare service to get around. The color-changing safety indicators around the base make me feel confident that it's installed properly every time. There's plenty of room between the passenger seat and the Coral XP and we'll be able to comfortably fit another car seat when the time comes for baby #2. The load leg is an added safety feature that we've used from the start: we really wanted an infant car seat that offered this!

Overall, the Maxi-Cosi Coral XP has been the perfect choice for our family and has made our day-to-day life so much easier. We absolutely love it and will definitely recommend it to our family and friends!
Thank you to Maxi-Cosi for making this sponsored post possible.