With so many baby carriers and wraps on the market, it can be hard to choose which one will work best for you and your baby. We've compiled a list of structured, hybrid, and wrap-style baby carriers to help you make a decision. No matter which baby carrier you choose, know that your little one will love the close contact with you and other care providers.
Best Wrap and Ring Sling Baby Carriers
Baby K'tan Print Baby Carrier – $59.95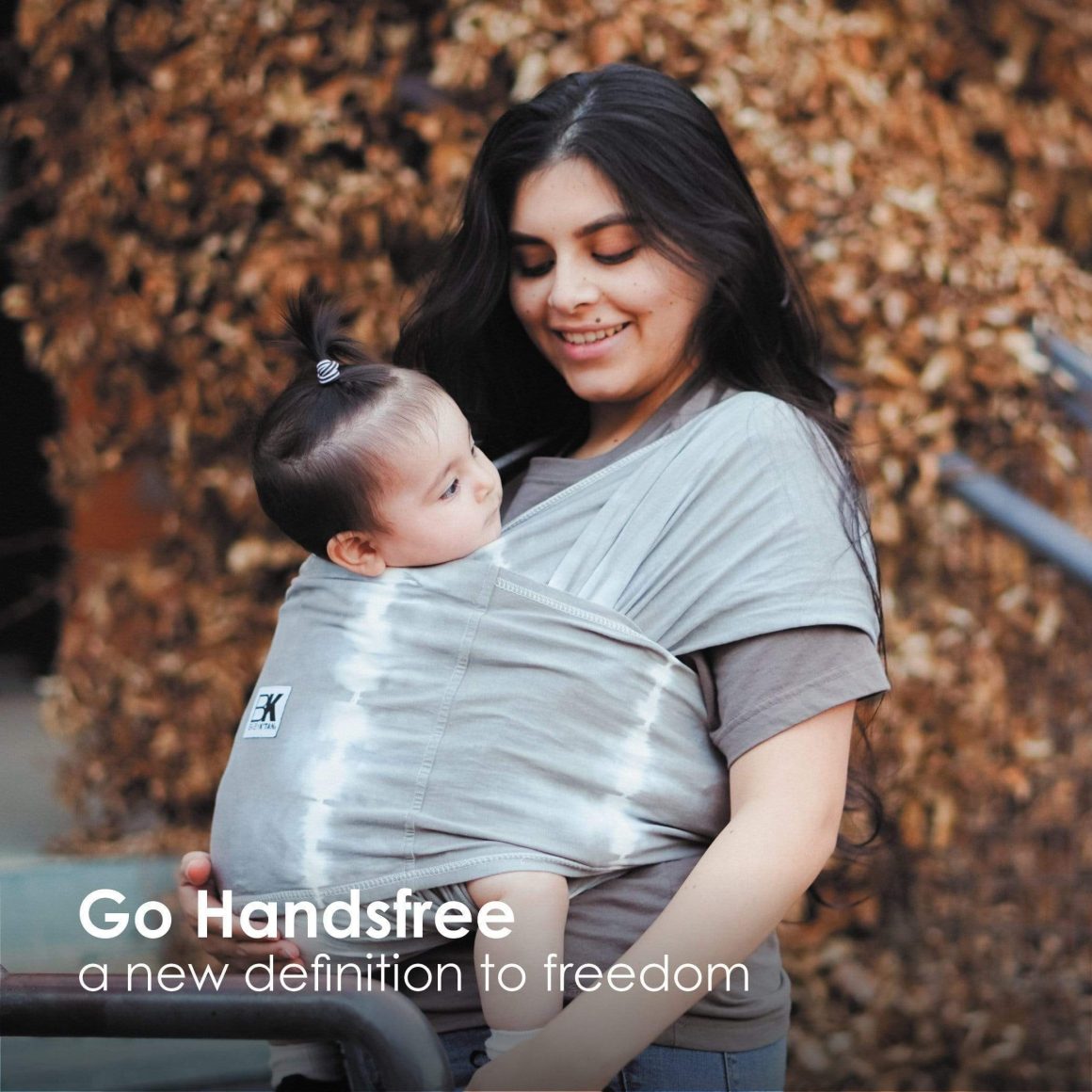 You'll love the way the Baby K'tan feels and acts like a wrap carrier—without the wrapping. You simply pull this baby carrier on like a t-shirt, and you're good to go! You can wear your baby in five different positions with this one carrier. It will hold infants and babies weighing between 8 and 35 pounds. With no buckles, snaps, or other connections, you don't have to worry about catching baby or yourself on anything. We shared the grey and white tie-dye print as it's on-trend right now, but there are a number of different prints, colors, and fabrics in our store! You can also read more about the ergonomic benefits of the Baby K'tan on our blog.
Sakura Bloom Ring Sling – $140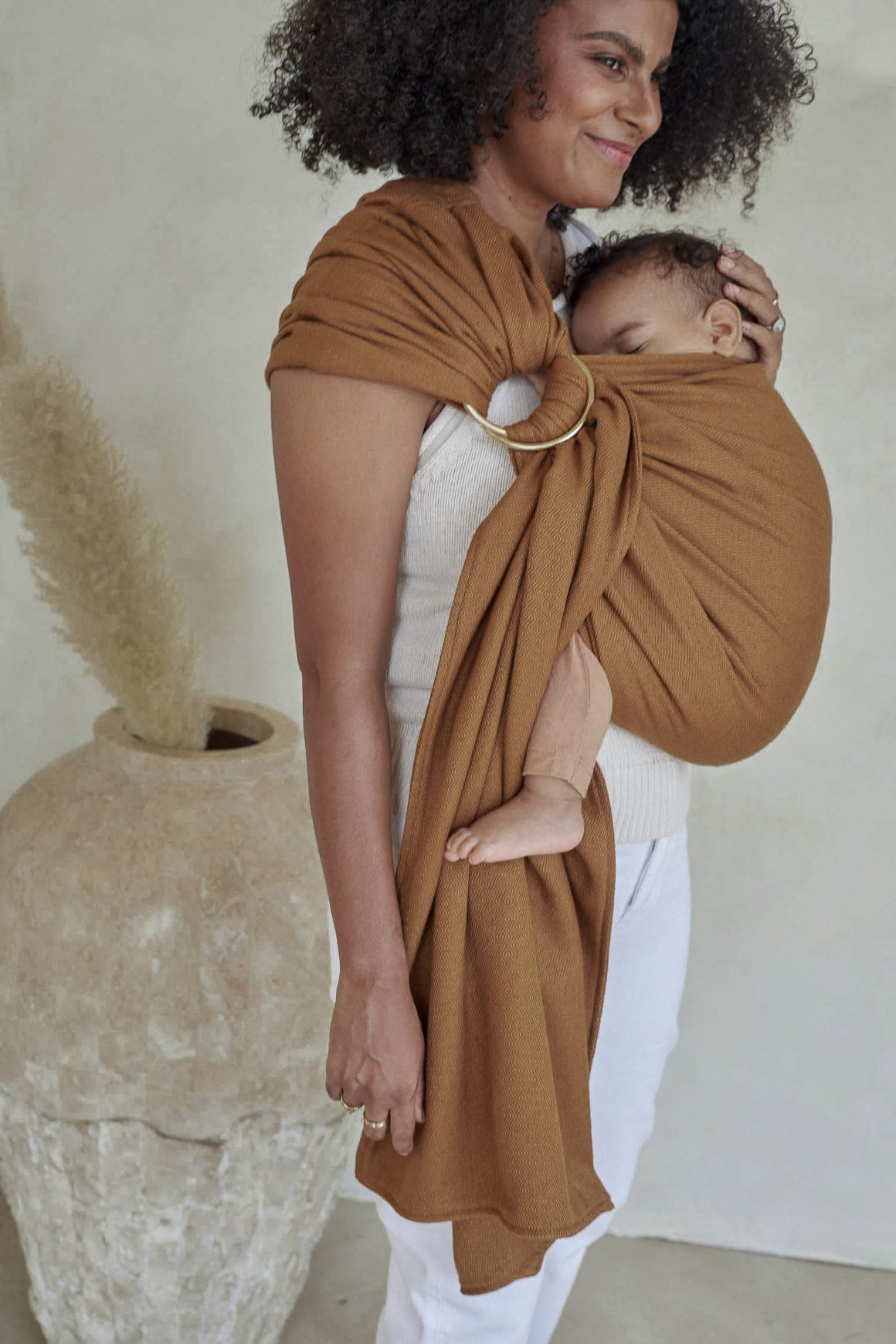 The Sakura Bloom is a top-of-the-line ring sling, a baby carrier that fits across one shoulder and allows you to carry in a variety of positions. We linked the bamboo version here because the fabric is cooling against your little one's skin, perfect for warmer temperatures. Additionally, the Sakura Bloom comes in a variety of fabrics and prints. Just a warning, if you fall in love with this style of carrier, you're going to want the Mr. Blue Skye desert inspired print. This carrier is designed for babies ranging from 7 to 35 pounds. Lastly, the tail of a ring sling can double as a breastfeeding cover when you want to be more discrete.
Moby Wrap Featherknit Wrap – $49.99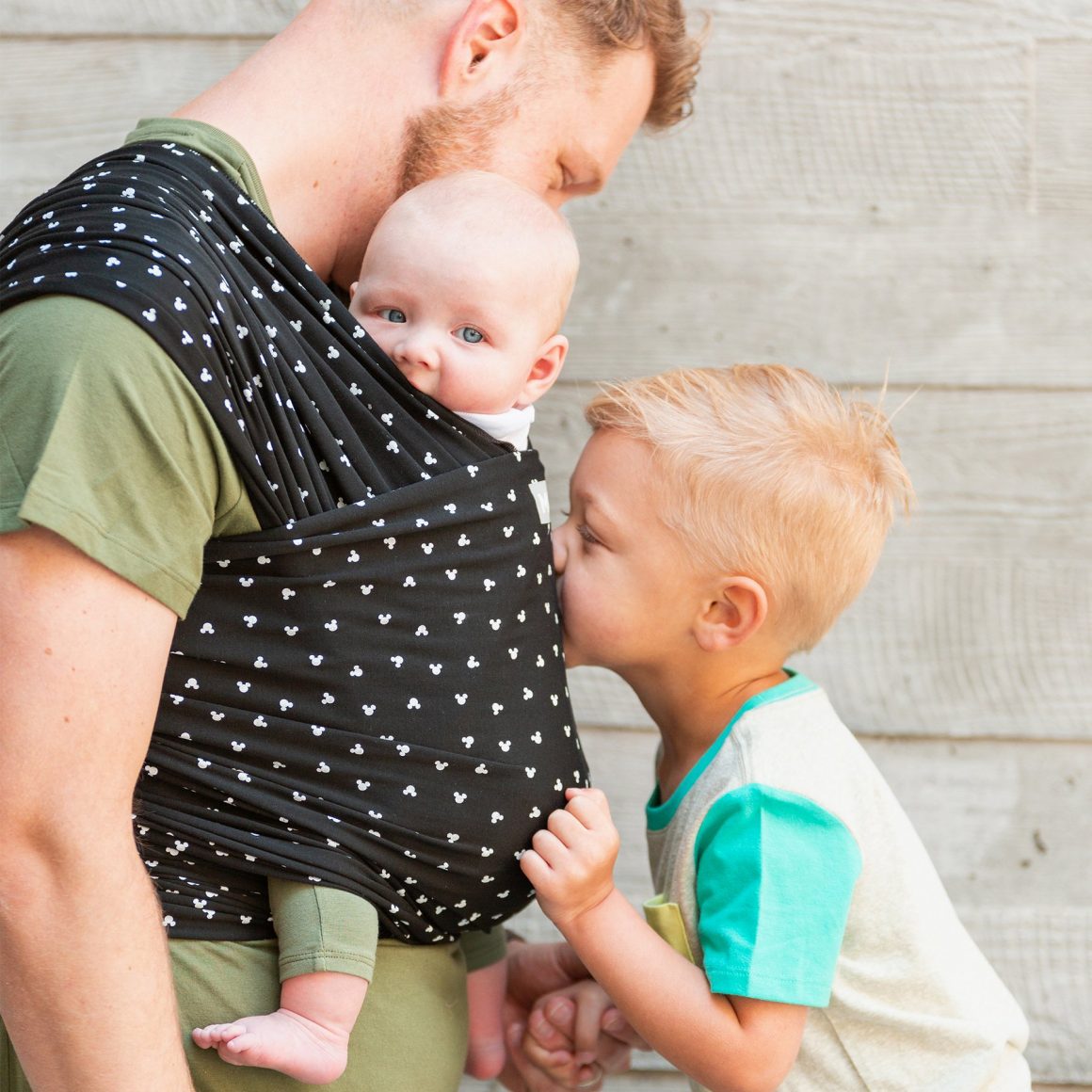 The Moby Wrap feels incredibly lightweight and comfortable for both you and baby. We love that you can just toss this wrap directly into the washing machine to clean up any messes. It will grow with your baby from 8 to 33 pounds. We chose the Micro Mickey print for two reasons: The black and white print is versatile and goes with everything, and a subtle Mickey Mouse is sure to brighten your day.
Solly Loop Carrier – $125.00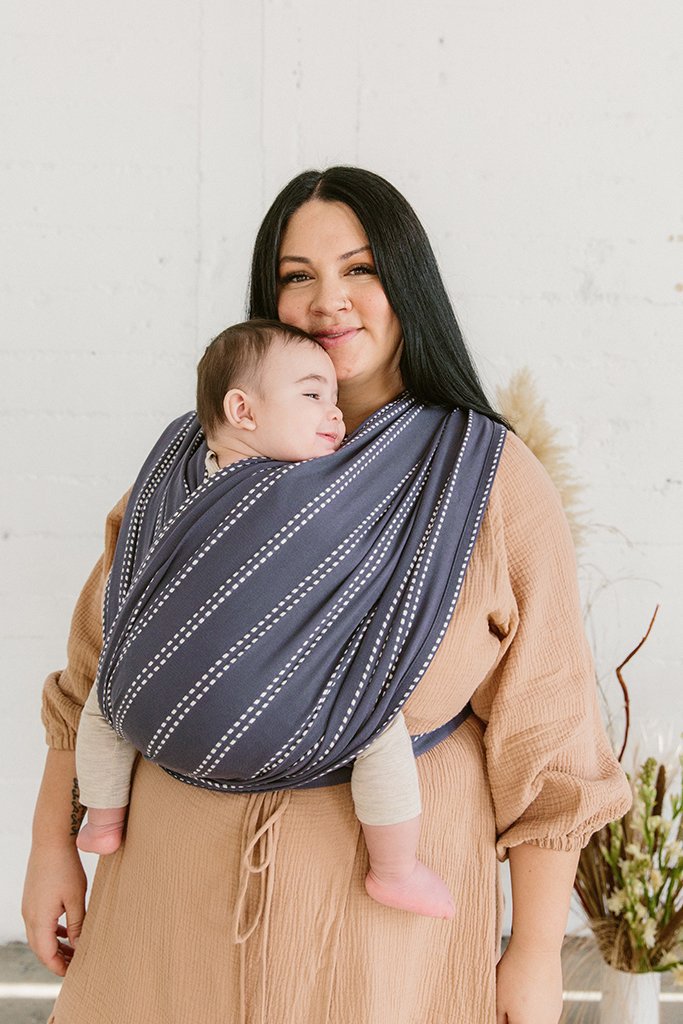 In keeping with the wrap theme, the Solly Loop Carrier is a beautiful and comfortable option. The Loop Carrier can hold babies between 15 and 45 pounds, making it a great option for older babies and toddlers. They also have a traditional wrap to carry babies between 8 and 25 pounds, but we wanted to share an option for extended babywearing. The Loop features a unique sewn-in ring design to combine the easy use of a sling format with the support of a wrap-style baby carrier. This one also comes in a variety of fabrics, and you'll love the Baltic Stripe for a classic look.
Boppy ComfyFit Baby Carrier – $50.00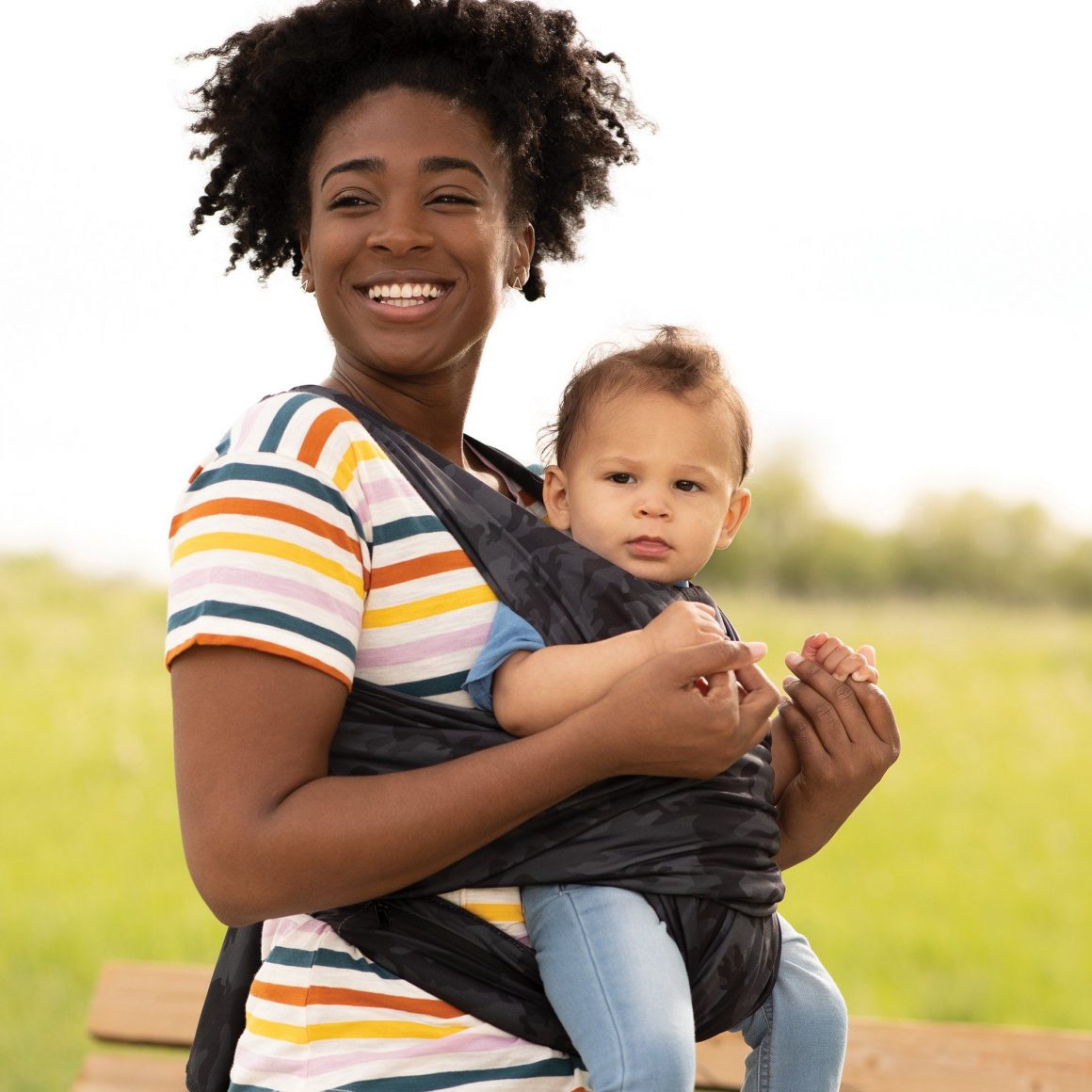 If you like wrap style carriers and want to try another one, you'll definitely want to grab the Boppy ComfyFit. You'll love the compact design in addition to the fact that it comes with a Stash n'Go pouch to store it in when you're not using it. You can throw the pouch in your purse or diaper bag. The adjustable waist belt also features a storage pocket, perfect for keys, a binky, and more. This baby carrier is ideal for babies between 8 and 35 pounds. Plus, that black camo print is definitely on trend for the year.
Best Structured Baby Carriers
Ergobaby Omni 360 Baby Carrier All-In-One – $179.00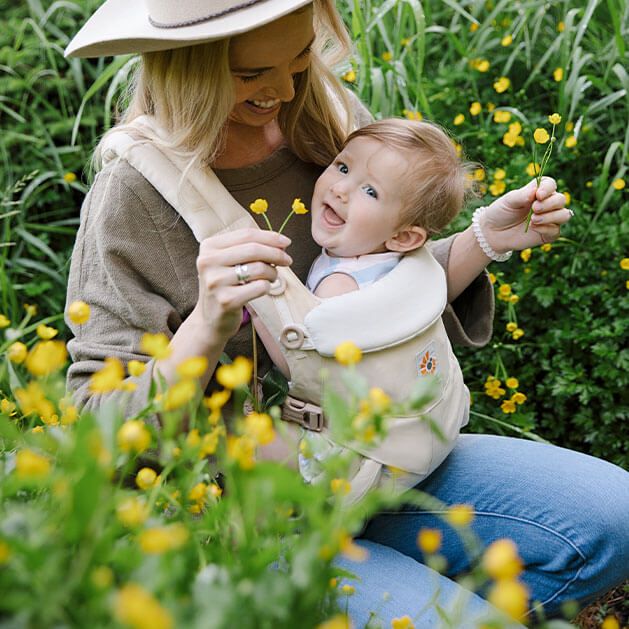 The Omni 360 is the Cadillac of baby carriers. You can carry your baby in all positions with one carrier: front carry facing the parent; front carry facing out; hip carry; and back carry! You will appreciate the way you can adjust the straps by length as well as the crossable straps to help you find the best possible fit. Your back will also appreciate the lumbar support. This baby carrier is newborn ready, working for babies between 7 and 45 pounds. It comes in a variety of colors and prints as well.
Tula Free-to-Grow Baby Carrier – $159.00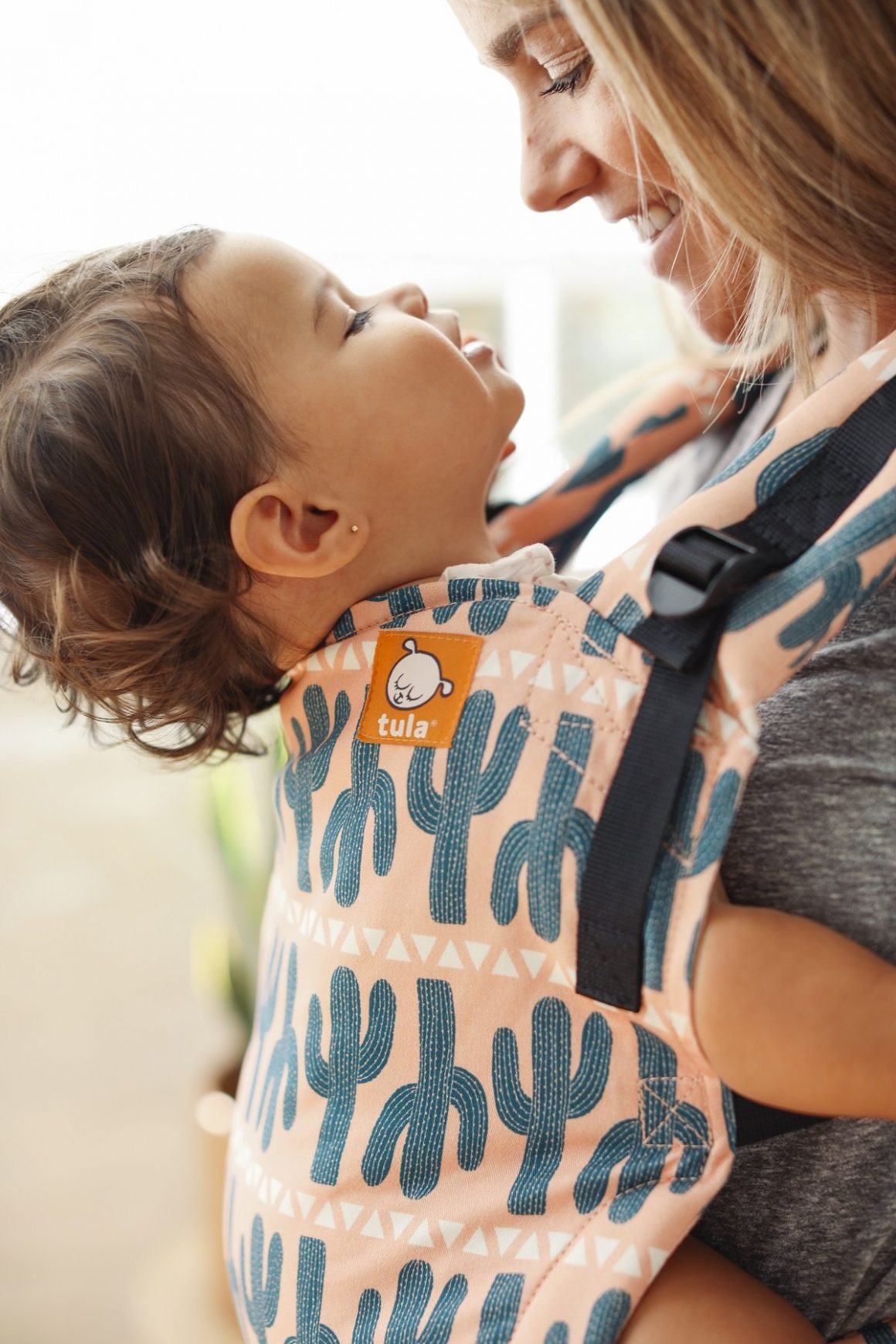 The Tula Free-to-Grow will grow with your baby from 7 to 45 pounds. Thanks to the adjustable nature of this carrier, no infant insert is needed. It features breathable material in a variety of super cute fabrics. You can pick anything from more neutral solids to this super cute pink cactus print. Additionally, like other carriers, you can carry your little one in a variety of positions. Check out our tips on how to breastfeed while wearing a Tula as well.
JP Outdoor Co. Co-Pilot Day Pack – $189.00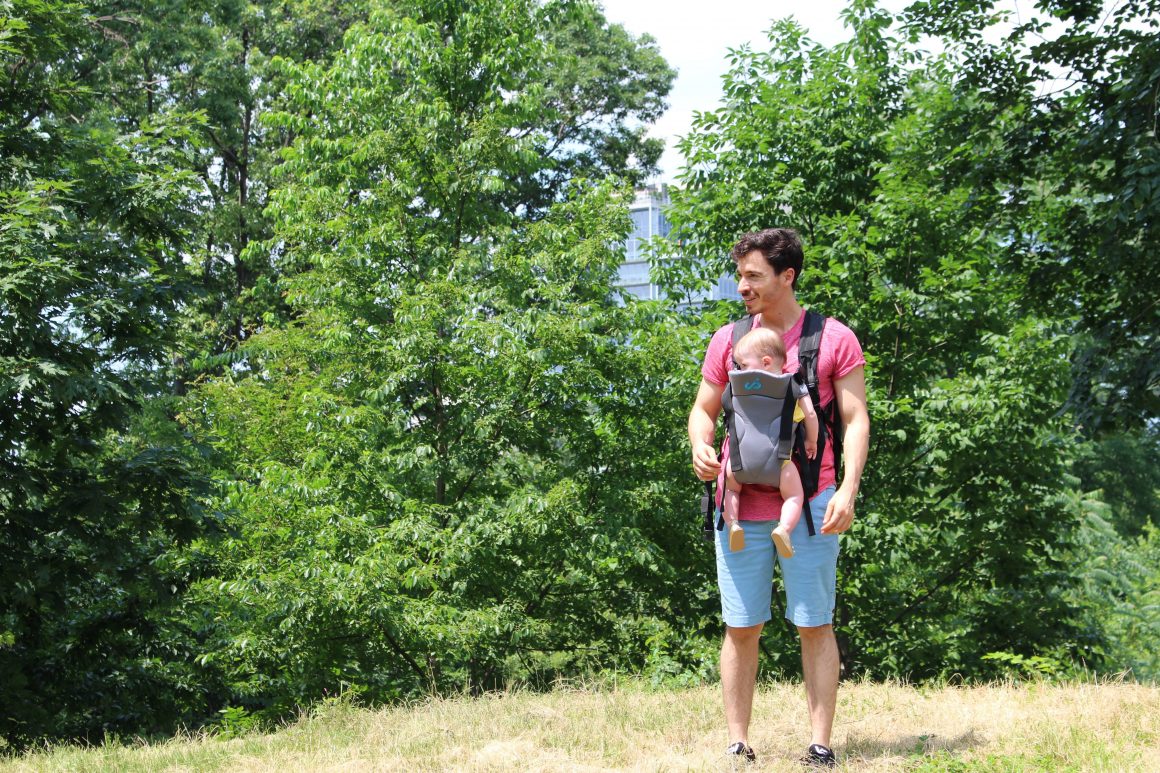 If you're more of the adventuring type, you're going to want to grab a JP Outdoor Co. Co-Pilot. In additional to keeping your baby close on your next hike, this setup comes with a backpack that fits all of your gear as well as your baby's important items. You'll love the built-in changing station when you need to take care of business on the trail. This baby carrier will hold babies between 8 and 30 pounds.
Babybjorn Mini – $99.99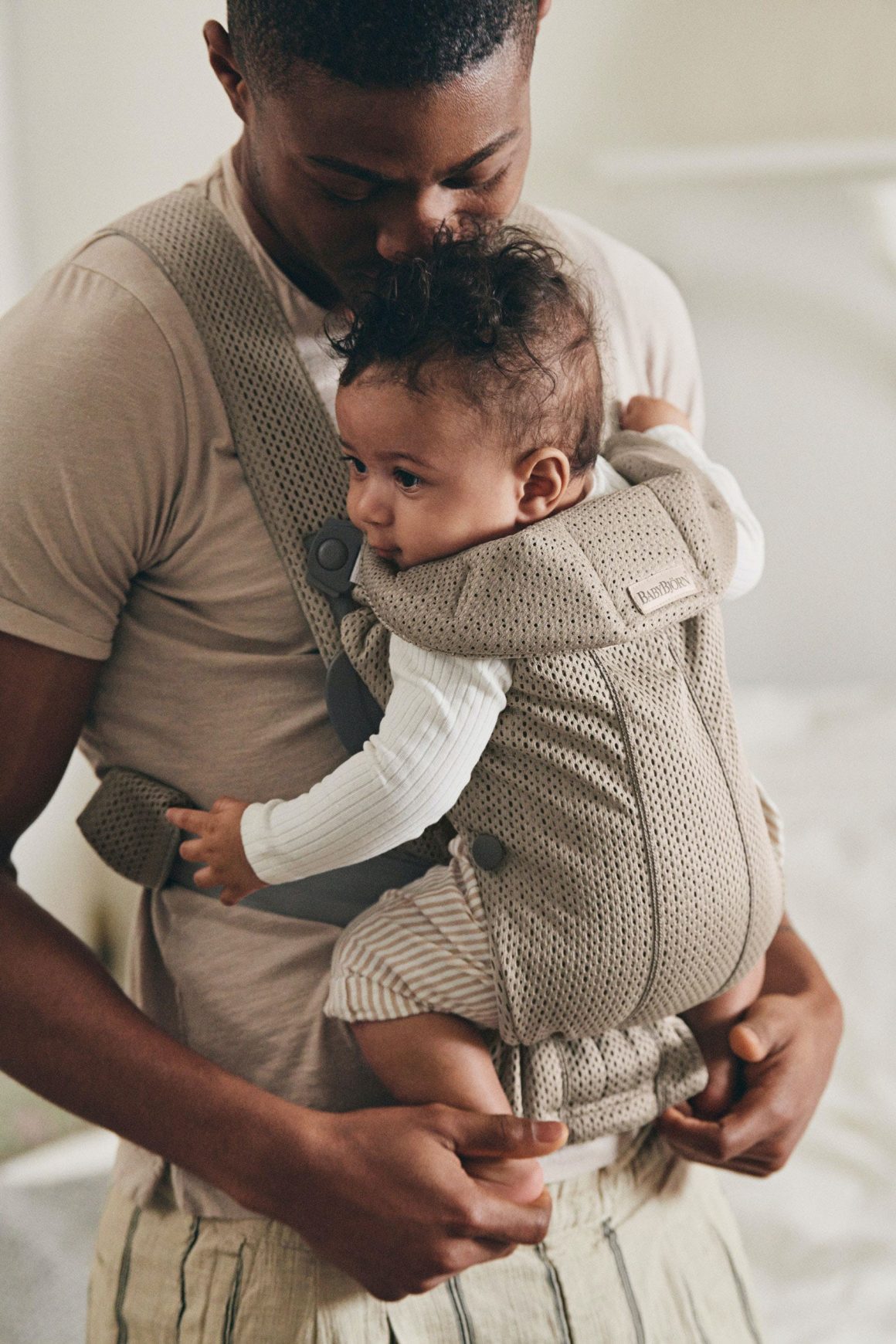 If you're looking for a baby carrier that you can use from day one, the Baby Carrier Mini should be packed in your hospital bag! Your baby can be worn facing you between 7 and 10 pounds and can then face forward from about five months of age until they hit 24 pounds. This handy baby carrier comes in 3D Jersey, Cotton, and 3D Mesh, as well as a variety of colors.
Again, no matter which of these fantastic baby carriers is your best fit, your baby will love being close to you. Whether you're walking, cleaning, or even working out while babywearing, you'll be creating a close bond for years to come.