It's almost that time of year! While everyone is a little stressed about the gift buying, new and expecting parents are by far the most stressed. No need to fear, because there are so many gifts that'll benefit any child and their whole family!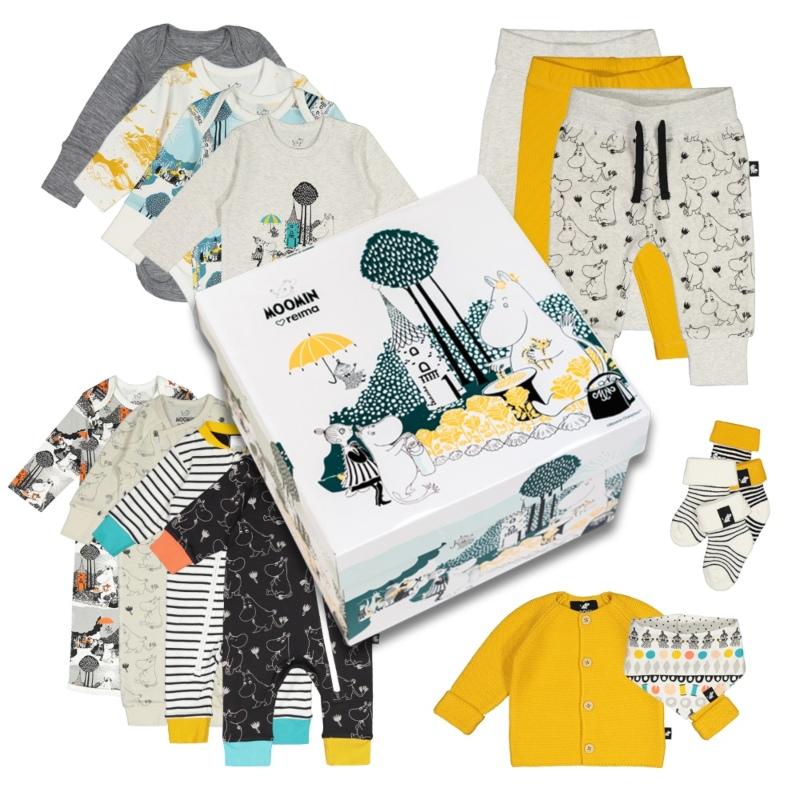 Reima Baby Kit $199.95
A starter kit full of magic for your little miracle. The Reima Baby Kit is a collection of all of the essential wear your baby will need during the first six months. It includes 17 pieces of hand-picked premium Nordic designed Moomin baby items – a wonderful way to start your journey into parenthood!
Reima Honeycomb Baby Snowsuit and Sleeping Bag $139.95
Attention expecting parents, baby clothes shopping just got a whole lot simpler. Winter clothes are always such a hassle, having to choose between style and functionality. Luckily, Reima has created a stylish mixture of a baby snowsuit and a comfortable sleeping bag with coffee bean fabric. Coffee bean fabric is made up of tiny particles of coffee to form into a honeycomb structure to keep the little ones even warmer! It comes in sizes 0 – 12 months, prevents the formation of odors, and has an anti-static function.
Reima Gotland Snowsuit $149.95
Prepare for the best winter coat for any toddler! The award-winning Gotland snowsuit is the perfect combination of warm, insulted material and fashionable colors. The fully waterproof snowsuit comes with a detachable faux-fur-trimmed hood that repels dirt and rubble, a waterproof finish, an insulated seat, and durable silicone foot loops to keep little one's ankles from the cold! The snap buttons and removable and adjustable hood make it easy for parents and comfortable for baby. Available in sizes 9 months – 3T.
Reima Myytti One-Piece Fleece Overall $49.95
Both affordable and functional, this warm, fleece suit is the perfect gift for any little one in need of some extra warmth. With a sporty, geometric print, and warm material, it is a comfortable staple for any child's autumn and mid-winter wardrobe. Available in sizes 9 months – 3T.
Crane 1 Gal. 4-in-1 Top Fill Drop Cool Mist Humidifier with Sound Machine $54.99
Both a humidifier and sound machine, this is exactly what every new parent needs. With an award-winning design and performance, the appliance has 500 sq. ft. of coverage and 24-hours of soothing moisture to help relieve the effects of cold and flu symptoms. The sound machine comes in three settings such as white noise, rain, and ocean waves. Along with being highly functional, the aroma tray and nightlight settings can entertain any small child! Good smells and color-changing lights, what more could they want? Use code HELLOBABY for $10 off and free shipping on drop and adorable humidifiers on crane-usa.com (exp 12/31/2020).
TWELVELittle Luxe Diaper Clutch In Black Croc $79
For moms looking to make a fashion-forward statement, the Luxe Diaper Clutch is the perfect functional, but beautiful accessory. Made completely of vegan leather and harsh chemical-free, it comes in two chic designs and can be carried as a clutch or crossbody using the detachable webbing strap. The interior organization designed to hold diapers, baby wipes, and a sippy cup. Perfect for the chicest of moms! Use code GUGU20 for an exclusive discount!
GooseWaddle Oxford Puppy Bundle $100
This fabulous collection is great for any newborn or toddler, especially the ones whose favorite colors are green and blue! Use code SAVE$10 for $10 off the plush! This set includes:
Super Soft Plush Puppy- super squishy and oh-so-cuddly, it is the perfect stuffed animal for any child
Blue Knit Blanket- designed with the softest fabrics for any newborn that loves to snuggle up
Blue Wooden and Silicone Teether- made with the softest silicone and natural oak wood to aid sore gums of any toddler
Popsicles and Stripes Bib 2 Pack- with an adorable design and soft bamboo muslin, it is the perfect shield for any messes
Thank you to Reima, Crane, TWELVELittle and GooseWaddle for making this sponsored post possible.