Spring has finally arrived for much of the country! For those of you in the Midwest, like myself, it really felt like we might not ever reach Spring. However, it has slowly (yet surely) arrived! Along with the whole team at Gugu Guru, I want to be one of the first to extend our army of Moms a Happy Mother's Day! Here are a number of products to help you continue doing what you do best; care for your kiddos! For loads of our other favorites, please check out our Explore page!

Loulou Lollipop Royal Gifts: Now that Meghan and Harry have welcomed their little prince, we want to make sure you're appropriately stocked up! Loulou Lollipop has two excellent gift options for the 'royal minis' in your life. Both the Castle Muslin Swaddle and the London Muslin Quilt are made from high quality muslin, which softens with each wash. Easy to take on the go and wash when needed, these will last forever!

Belli Skincare: You've probably heard us mention Belli Skincare before, because it is SO amazing! We love that they use only high quality items in their products, which are safe for pregnancy, nursing, and beyond. Belli Skincare is free from harsh chemicals, synthetic fragrances, artificial dyes, parabens, gluten, phthalates and preservatives. Check out some of our favorites, including the Stretchmark Minimizing Cream, the Elasticity Belly Oil, and the All Day Moisture Lotion.

Dreambaby Strollerbuddy StrollAway Over the Door Hanger: Families who are tight on space often complain that they have to make stroller sacrifices so that they can safely store their stroller when not in use. Look no further! With a 50lb weight limit, Dreambaby's Strollerbudy StrollAway will hold keep nearly any stroller safely contained. While not in use, it will even fold flat to stay out of the way!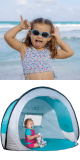 Bblüv Sölar and Sunkitö: Two great products for fun in the sun from bblüv! Sölar are an excellent choice for sunglasses for your baby, toddler, or small child. Available in three fun colors, these flexible sunglasses will protect your little one's eyes from harmful UV rays. Pair your glasses with the Sunkitö tent, which will keep your little one safe while taking a break from your busy day outside. We love that this tent will protect you from the sun, sand, and mosquitoes for snacks, naps, or quiet time!

Summersalt's Mama + Minis Swimsuit Collection: Not only are their products adorable but we love Summersalt's celebration of women and diversity! Their new Mama + Minis line is meant to encourage moms to spend that time outside and in the water with their littles! Plus the pops of color are refreshing and fun!
Please note that these opinions are 100% my own and I have not received any products in exchange for placement in What's New on Gugu!
Like what you see? Check out some other What's New on Gugu posts:
What's New on Gugu: April 3, 2019
What's New on Gugu: April 10, 2019
What's New on Gugu: April 17, 2019