Your baby is growing leaps and bounds and seems to be ready for something more than their play mat and activity gym. But what? The next milestone step would be an activity center. Like the mats and gyms, the options can feel a little overwhelming when you're first researching. That's why we've rounded up a few of the best to help you make an informed decision.
Best Grow With Me Activity Center
Skip Hop Baby Activity Center –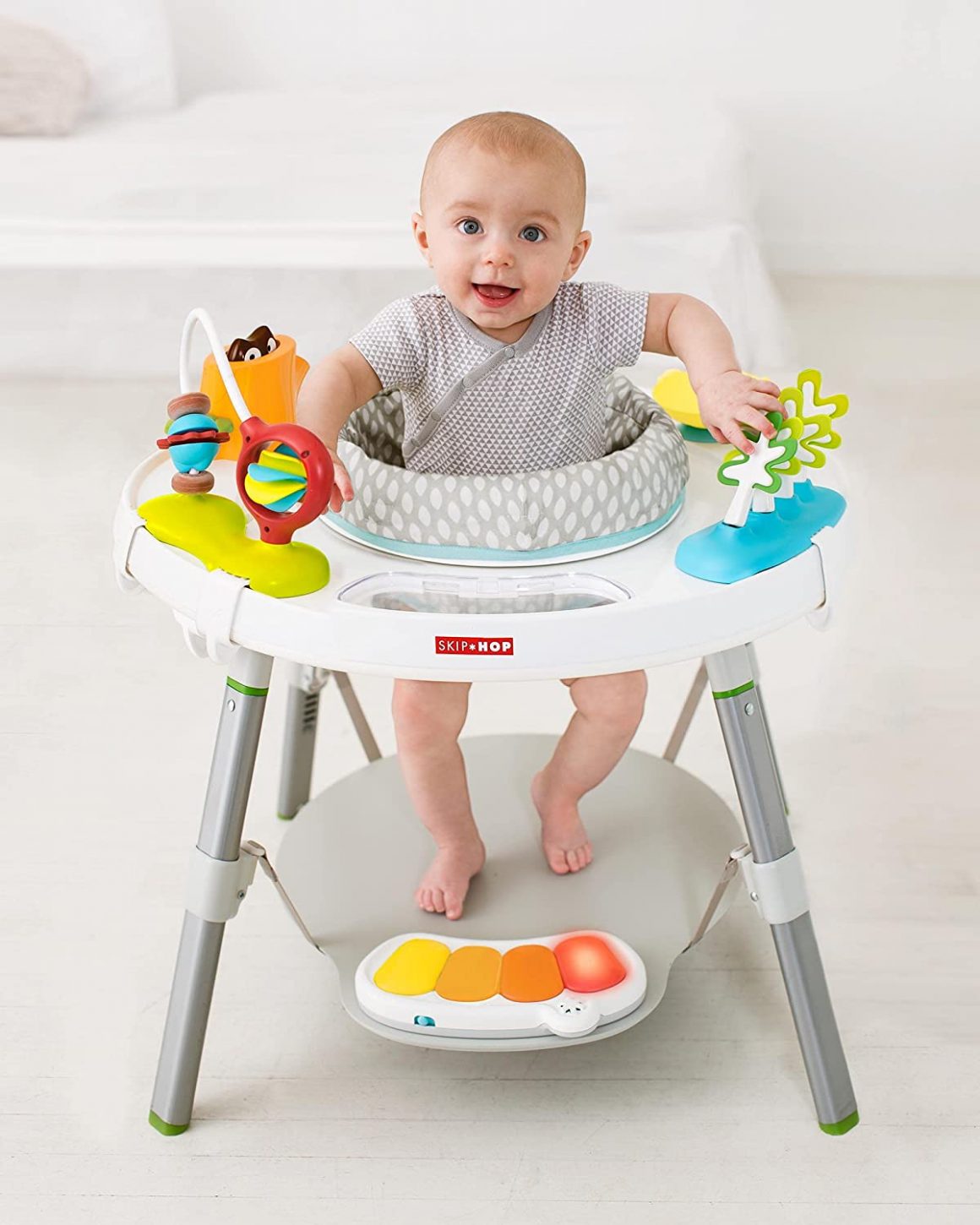 Starting around four months of age, your baby will love the Skip Hop Activity Center. They can keep on enjoying the many bells and whistles for years to come as it grows with them. Stage one has a 360-degree rotating seat in the middle to keep them busy and entertained. As they begin cruising, you can use it as an activity center where they can learn and move. Lastly, the center converts to a sturdy table on which your toddler can play with any toy, eat or create beautiful masterpieces.
Best Jumper
Fisher-Price Animal Wonders Jumperoo –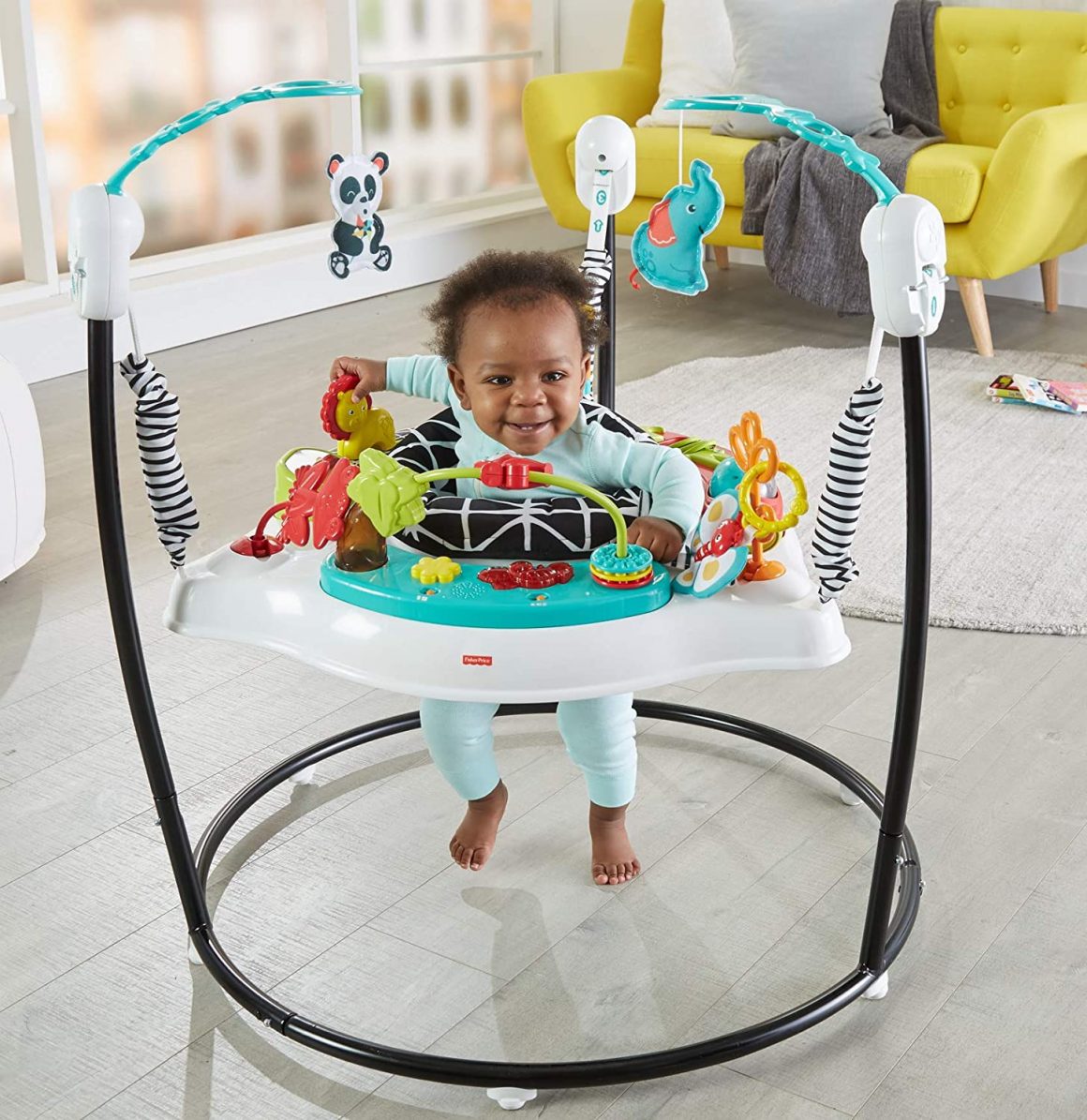 If you've got a happy legs baby—you know the kind whose legs are always pumping and jumping—this jumper is for you! It has three height adjustments to grow with your baby. The seat also turns 360 degrees, allowing them to play with all of the toys and keep an eye on you. You'll appreciate that the seat is removable and washable for life's inevitable mess. Another version of their Jumperoo made our must-have baby gear list from Fisher-Price as well.
Best Wooden Activity Center
Manhattan Toy Deep Sea Adventure Activity Center –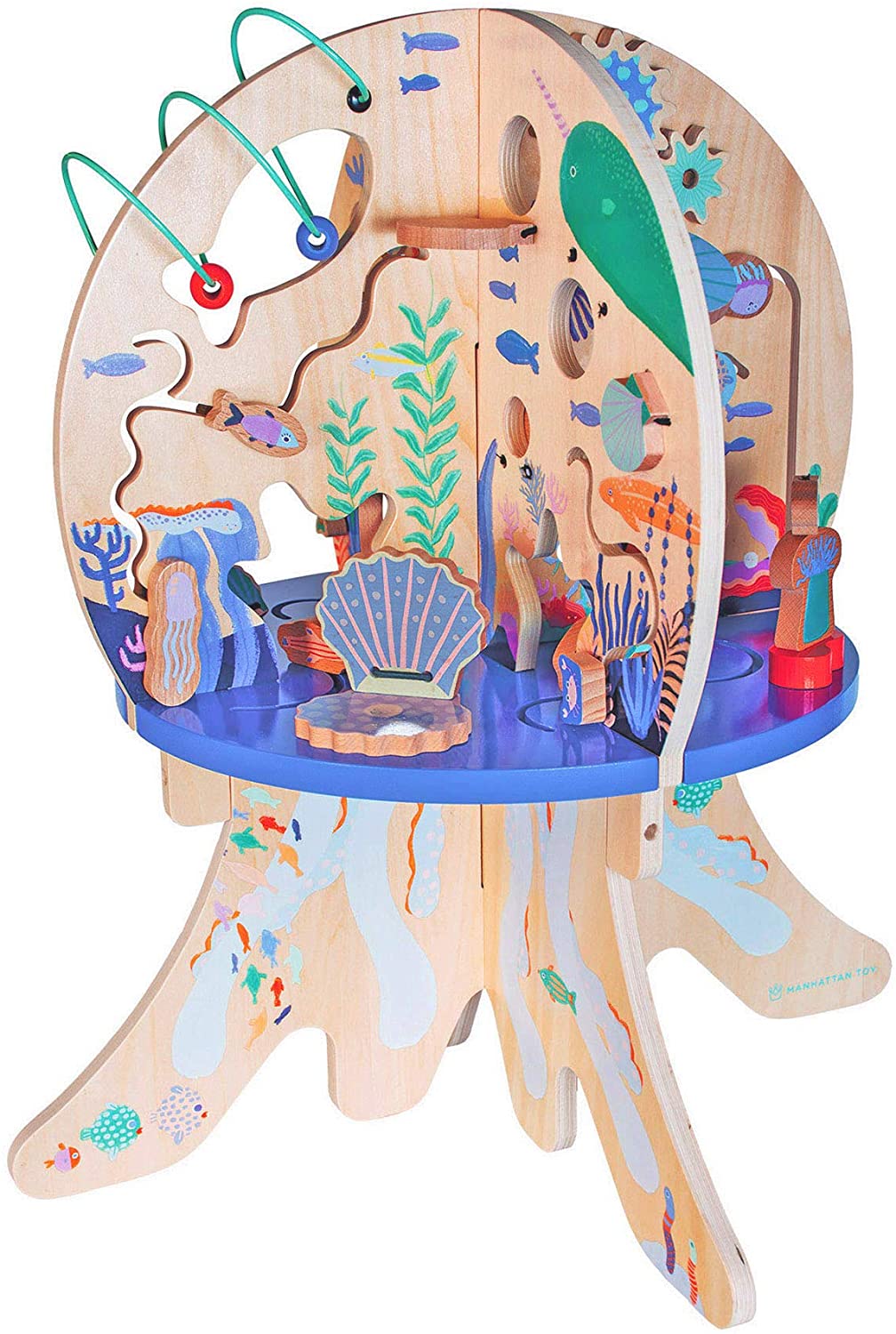 This activity center is a stunner. The underwater theme combines beautiful imagery with lots of things to move, play with, and learn. You'll appreciate how it fits into almost any room. Your little learner will love cruising around the circular table and maneuvering the 9 tracks and 21 gliders.
Best Musical Activity Center
LeapFrog Little Learning Center –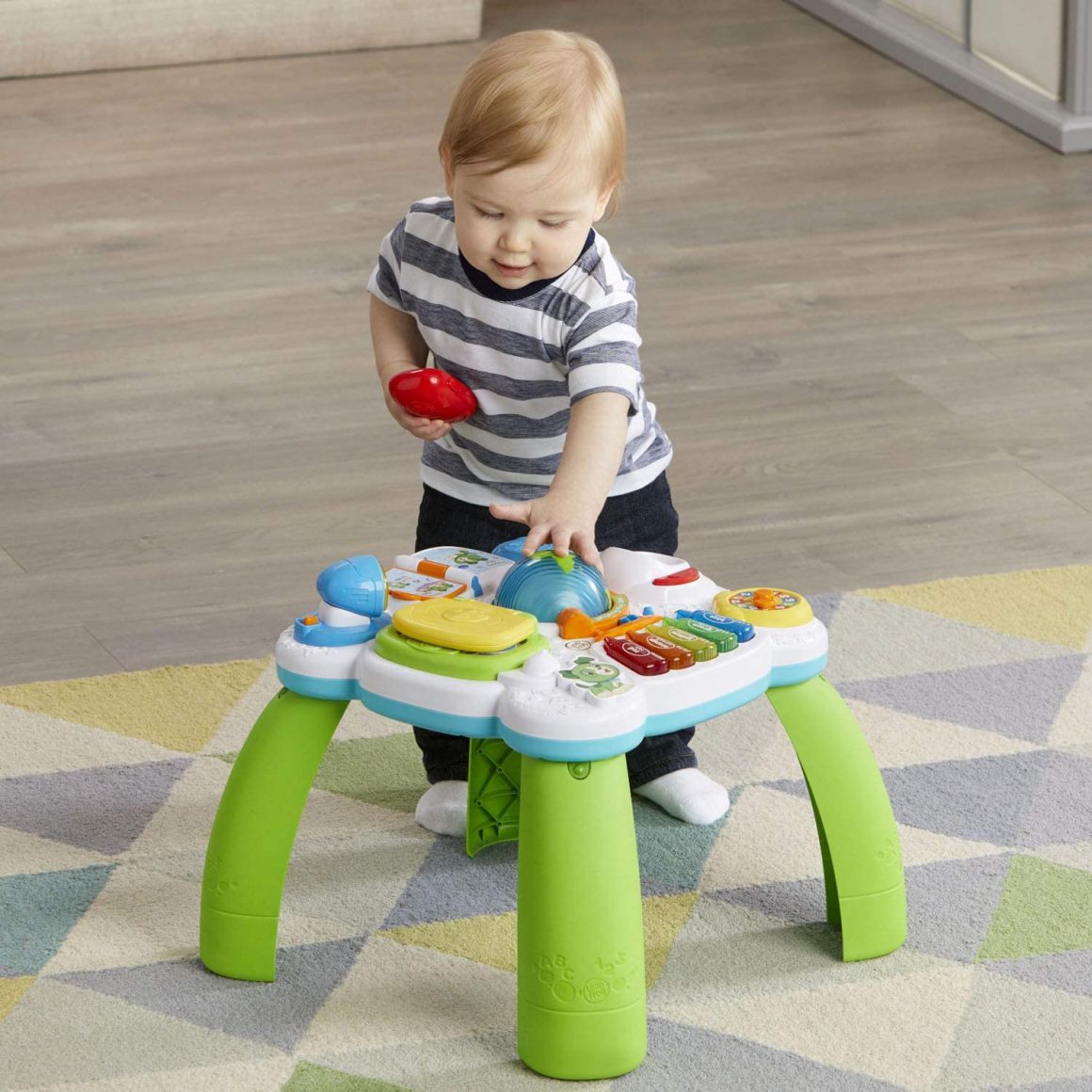 We could also dub this one our Best Table on a Budget! This classic activity center has had little kids moving and grooving for over a decade. You'll end up humming the tunes as your toddler waddles around, pressing buttons. They'll learn everything from colors to shapes to numbers, all set to cute little tunes.
Most Unique Design
Baby Einstein Around We Grow 4-in-1 –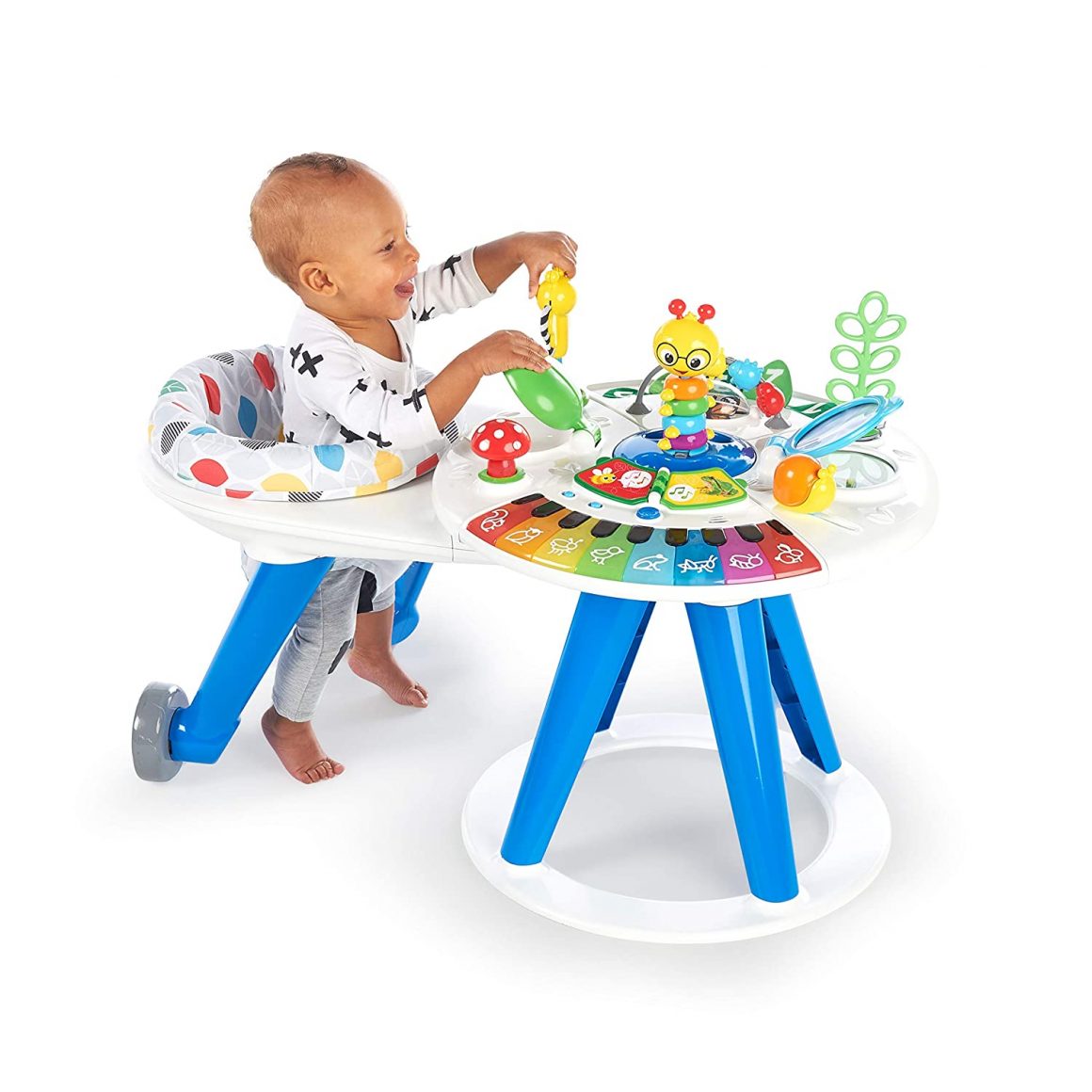 This unique design sits your baby on the outside of the activity table and they can maneuver the seat in a circle to play with the toys. It's a different perspective on the concept. Your little one can learn and play for years as the seat is removable once they can walk on their own. We love toys that grow alongside our babies!
No matter what you choose, your growing baby will enjoy the new sights and sounds offered by an activity table. You'll enjoy watching them learn, play, and experience their expanding world.
Looking for more Product Must Haves?
Registry Dilemma: Bouncer or Swing?
Diapering Station Must Haves
Swaddle Blankets? Wearable Swaddles? Sleepsacks?