Whenever the team at Gugu Guru wants to get inspiration for events and celebrations or simply see what's trending, we visit Envelopments. A one-stop shop for all of your creative and beautiful invitations, birth announcements and more, Envelopments' philosophy is that celebrations feed your soul. In this post, Envelopments shares some of their favorite and most popular Baby Shower invitations. Which one is your favorite? Let us know in the comments!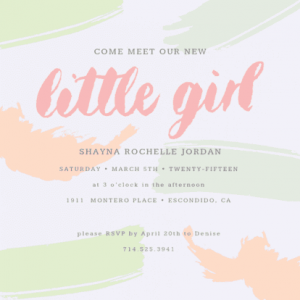 For the Boho Parents: Brush Dance Baby
This watercolor inspired invitation and its feathery aesthetic features splashes of soft colors, culminating in a whimsical hand-painted feel. Available in two "color stories," a pastel theme, and a bolder theme, both of which are gender neutral and customizable.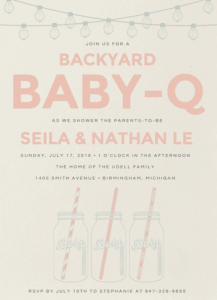 For the Hipster Parents: Baby Q
Backyard barbecues are all the rage for baby showers right now; this hipster-inspired invite features both the ever-popular mason jars and a festive string of lights. With two different "color stories" to pick from, parents can customize this invite to create the perfect color scheme for their style.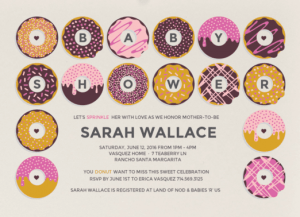 For the Trendsetter Parents: Donut Drizzle Babies are sweet, and so are donuts – why not pair the two? This invite, which comes in both pink/brown and yellow/blue "color stories" is a delicious way to remind people that they "donut" want to miss out on a sweet celebration!