They say necessity is the mother of invention, and that seems to be the case for our top baby swaddle pick, the Love to Dream Swaddle. When founder Hana-Lia Krawchuk had her first child, she quickly realized that he slept better with his arms up, out of the constraint of the baby swaddle; after much research and reading, she found that medical science suggests that babies really can sleep better if they have access to their hands for self-soothing. Using her skills as an experienced fashion designer, Hana spent many hours, days and weeks refining, simplifying, sampling and resampling the very first version of the signature Love to Dream Swaddle UP baby swaddle. By the following year, Swaddle UP hit the stores, and the Love To Dream story had begun.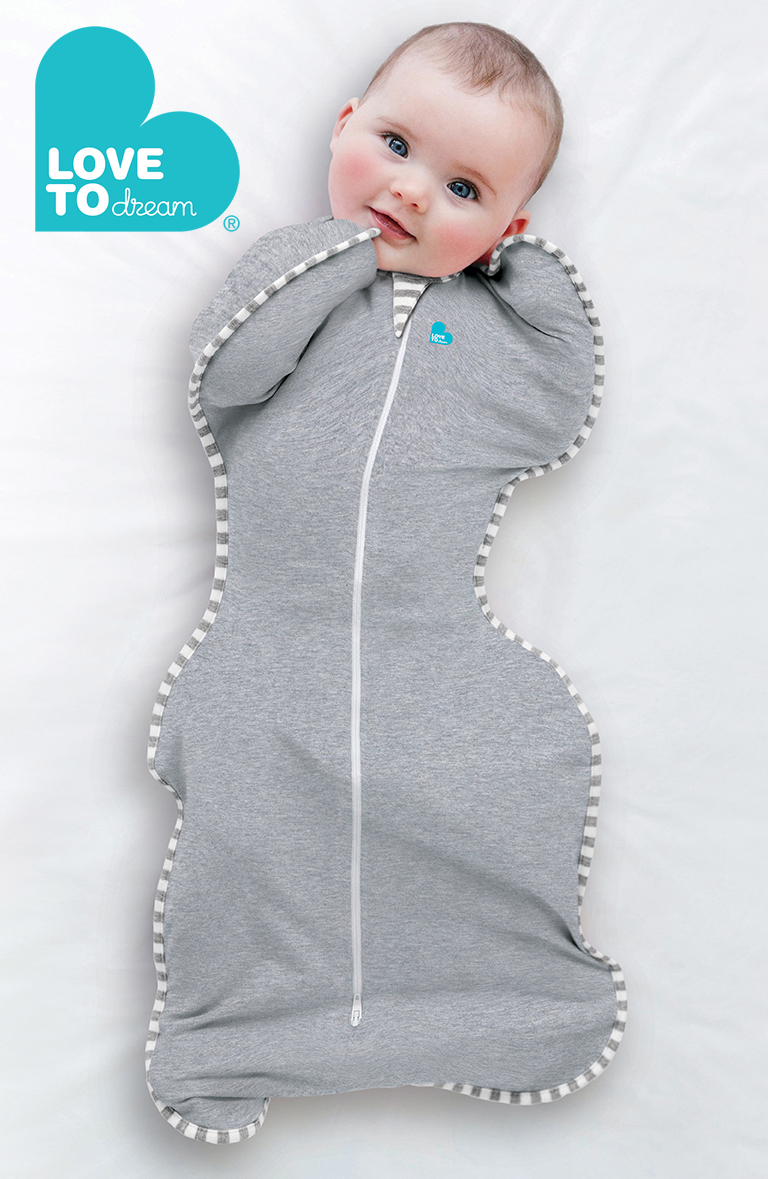 So, what makes the Love to Dream Swaddle UP Original baby swaddle different than other baby swaddles? Simply put, the Love To Dream Swaddle UP Original is the only zip-up swaddle that allows babies to sleep in the natural position with hands safely up in the wings. Allowing babies to sleep safely with their arms up may actually help babies sleep better – and when babies sleep more soundly, the whole house does! This baby swaddle is revolutionary for helping babies sleep longer and more soundly. For, the way babies settle themselves to sleep is by sucking on their hands and gently rubbing their cheeks; this is called self-soothing, and this helps baby fall back asleep, and makes for a better sleep for parents as well. By having their hands safely out of the swaddle, babies can help themselves self soothe back to sleep.

Love to Dream has recently released their limited edition Swaddle UP Rainbow pattern created to celebrate Rainbow Babies. $5 from every purchase will be donated to First Candle, a charity dedicated to reducing SIDS and providing bereavement support for families.
A baby swaddle is also known for keeping babies feeling snug, as they did in the womb, and the Love to Dream Swaddle UP mimics that feeling as well. The snug fit over the torso makes babies feel secure, as in the womb, and helps to calm their natural startle reflex. From waist down a hip-healthy design allowing hips and legs to flex naturally, so baby can comfortably move around without the worry of anything near baby's face, such as a blanket. Since their hands are covered, but accessible, the Swaddle UP baby swaddle is ideal for babies with sharp little fingernails since they can soothe themselves by rubbing their cheeks without the worry of scratching themselves. Parents love the Swaddle UP Original because it allows for babies to have access to their little hands and can suck on them, rub their hands on their face, and thus self-soothe.
Love to Dream didn't just consider parents when creating Swaddle UP baby swaddles, however, they also created it to make life easy on the family, too! The Love to Dream Swaddle UP baby swaddles feature a genius two-way zipper for easy diaper changes; this means you don't need to take the baby out of the baby swaddle for those dreaded middle of the night diaper changes – simply zipper and you're good to go back to sleep. Plus, a traditional baby swaddle can be a little tricky to master at times, which means you run the risk of someone swaddling the baby incorrectly; however, the Swaddle UP baby swaddle is easy to put on and off for family members, babysitters and others. There is no learning curve as with traditional swaddling with a blanket, and there are no worries about unraveling when baby sleeps.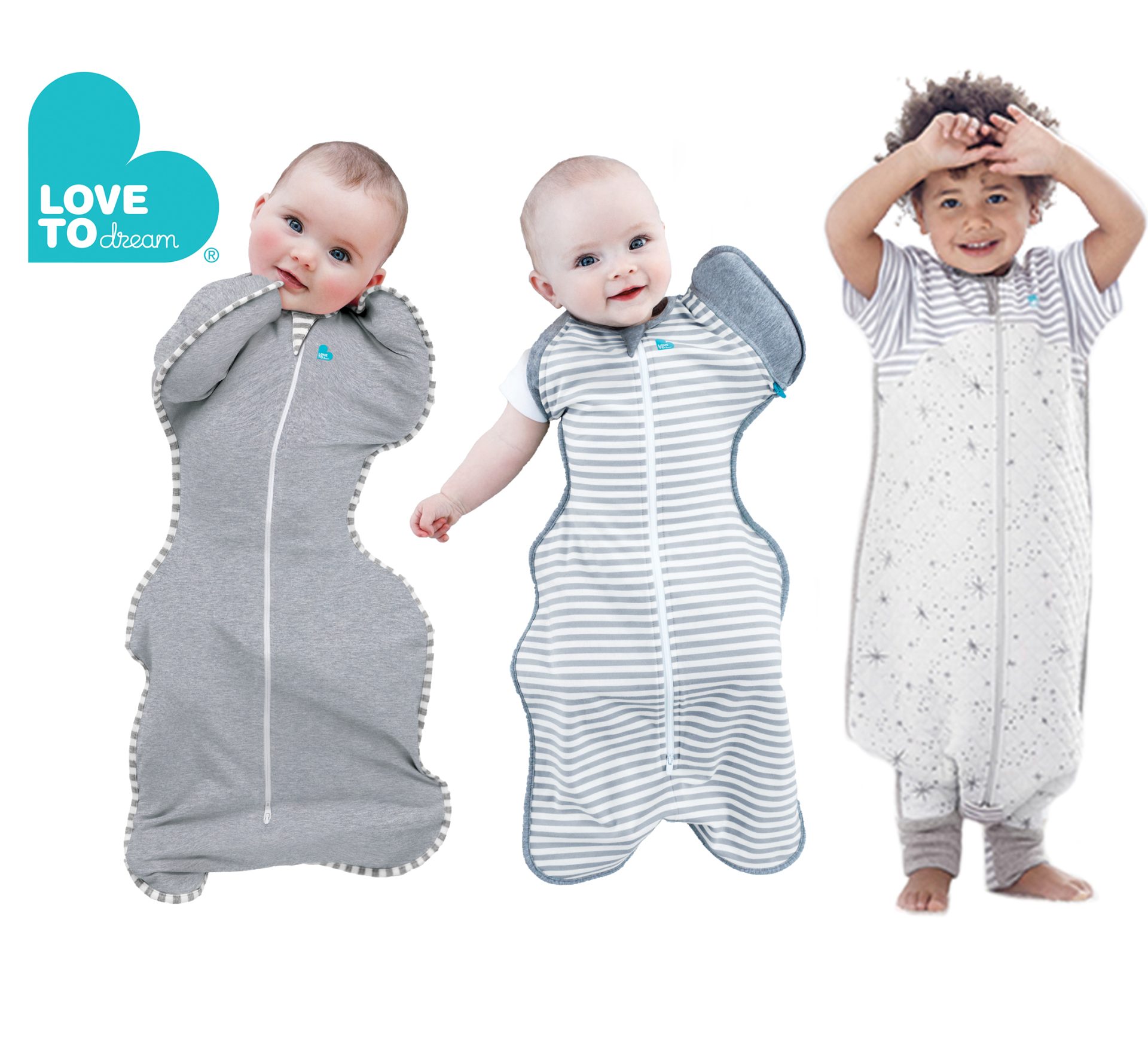 Love to Dream not only makes baby swaddles for infants, but can grow with your child as well. The Love To Dream Swaddle UP™ 50/50 (Stage 2) features zip-off wings, so as baby gets older and doesn't need to be as tightly swaddled, they can have their hands free; and the Love To Dream Sleep Suit and Sleep Bag (Stage 3) of the Love To Dream sleep system are a safe way your toddler can sleep without getting overheated or worry about blankets. If you're going to be adding swaddle blankets to your baby registry, skip the traditional blanket and opt for the Love to Dream Swaddle UP baby swaddle, as it will not only help baby sleep better, but make your life easier, too!
Find the Love to Dream Swaddle at Target here.
You can find Love to Dream on Instagram and Facebook, too. Looking for the best diaper pail to add to your registry? See why we love the Dékor Diaper Pail.