The Child Restraint Systems finalists for the JPMA 2020 Innovation Awards have arrived – in style! These child restraint systems are the best of the best to ensure baby is safe and sound on all of your adventures.

WINNER! CYBEX Sirona S CYBEX's new Sirona S is the first convertible car seat in the U.S. to feature an innovative 360° rotatable seat with a load leg. Its innovative rotating feature makes switching between rear-facing and forward-facing positions quicker and easier than ever by eliminating the need for re-installation and providing a convenient entry/exit position that reduces uncomfortable lifting for the parent. The Sirona S load leg stabilizes the seat and can significantly reduce crash forces. The Sirona S also features SensorSafe™ technology that syncs with a caregiver's smartphone to provide alerts when a child is left unattended after the car turns off, a child unbuckles themselves, or the ambient temperature around the child becomes too hot or too cold. Get it here>>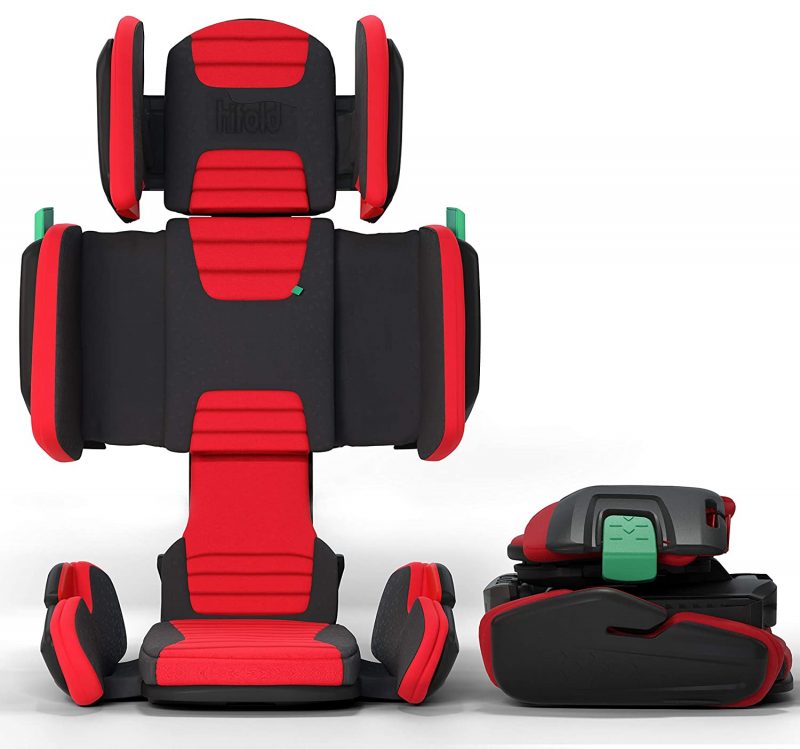 Child Restraint Systems Finalist: Carfoldio hifold the fit-and-fold booster The hifold fit-and-fold car booster seat is the world's most adjustable and portable booster seat. The unique ""multi-fit"" technology adjusts independently for height, head width, body width and seat width to 243 individual settings. This ensures optimal belt fit and comfort for children of all body shapes and as they grow. hifold is also the world's most portable highback booster. The "multi-fold" system allows hifold to easily fold down for portability and storage. hifold comes with a built-in carry strap and at only 10 lbs is easy to carry around. hifold is regulated in the US (NHTSA standard FMVSS 213) and in every country worldwide (Australia is still pending), so it is ideal for taking anywhere on vacation. Get it here>>

Child Restraint Systems Finalist: Safe Traffic System, Inc. Ride Safer Travel Vest The Ride Safer Travel Vest is an alternative to child seats and booster seats for children 3 years old and up. Very light, portable, easy to use and convenient, Ride Safer Travel Vests offer an alternative to heavy and bulky car seats and booster seats for parents and caregivers on-the-go. Taxi, Uber public transportation and air travel is made much easier. It is certified as a Harness under FMVSS 213 so it can be used with a lap-only seat belt with a tether or with a lap and shoulder belt with, or without, the tether legally in all 50 states plus many countries worldwide. Get it here>>
Child Restraint Systems Finalist: Maxi-Cosi Coral XP Infant Car Seat Designed for giving you an extra hand. Carry your baby with ease, comfort and convenience. The Coral XP is the first-ever integrated car seat and carrier system and was built for helping parents move about with ease. The Coral's revolutionary Lightweight Inner Carrier can be seamlessly removed from the car seat's Outer Shell. And, with a specially designed, first-of-its-kind cross body flex-strap, the Coral lets you go through your day with ease, so you can get things done, and pinch those cheeks every chance you get. Watch the Maxi-Cosi website for a launch!

Child Restraint Systems Finalist: Britax® B-Free Premium Travel System with Endeavours Infant Car Seat (Clean Comfort) Travel in luxury, wherever you go with the B-Free Premium Travel System. The stroller is made with a stain-resistant, Nanotex-treated fabric, and a wicking seat liner that's removable for easy cleaning. Plus, the leatherette handlebar is stylish & adjustable. The expandable canopy is ventilated for a cooler ride, and the no-rethread harness easily adjusts as your child grows. When you're ready to roll, fold the stroller in seconds with one hand. The Endeavours Infant Car Seat combines trusted Britax Safety with stain-resistant Nanotex technology, wicking fabric and extra padding for a clean, cool, comfortable ride. SafeCenter LATCH makes it easy to secure & tighten the base. When you're on the go without the base, securely install the seat using the European Belt Guide. Get it here>>