Spring is here and summer is around the corner: time to dress your babe in that pristine white eyelet gown or perhaps a crisp new christening outfit. You keep these items hanging in the closet in anticipation of when you can break them out. It's the big day and baby naps, baby feeds, baby is ready to get dressed. You carefully put the outfit on and pick up baby only to see that facial expression and hear that dreaded sound.
Oh, and by the way – there's something on your shirt.
You know what we're talking about: the diaper blow-out. Has this happened to you? Well, we have the cure to your poopy wardrobe malfunction ails: the award-winning BabyBackups.
Utilizing a hypoallergenic, wedge-shaped pad, BabyBackups fits securely to any diaper brand to effectively absorb and contain excess liquids, eliminating messy clean ups and ruined clothing. If you want to keep your baby (and you) clean, fill that diaper gap with BabyBackups. BabyBackups is a disposable pad that adheres to a regular diaper and keeps the poop where it belongs.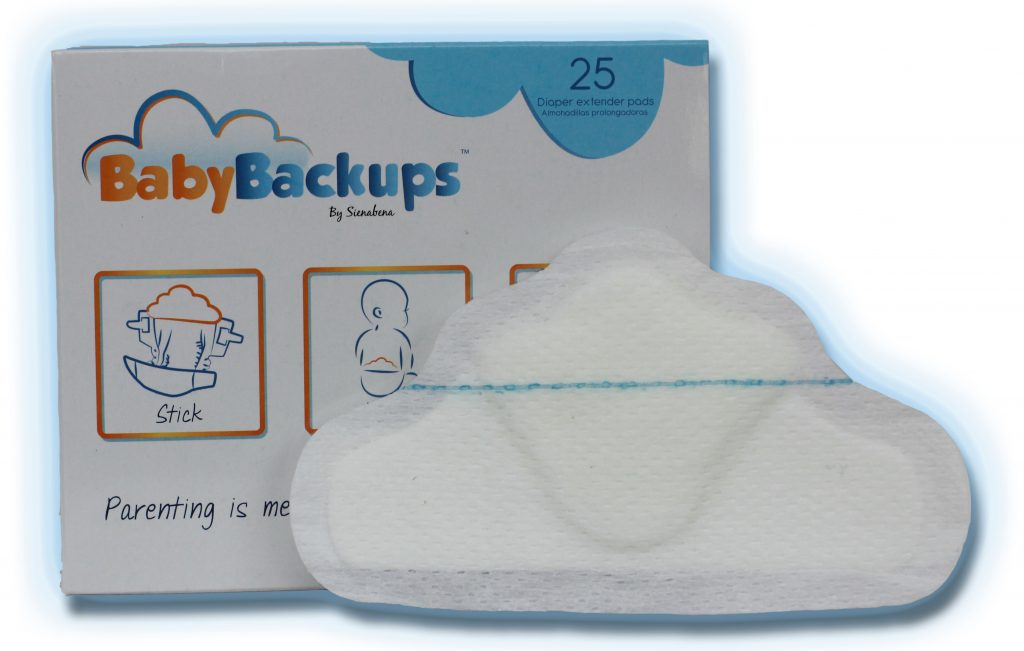 Here are some tips that the folks at BabyBackups put together to help make changing a diaper a bit easier and cleaner.
Set the mood. Don't startle your little bundle of joy in the middle of the night by turning on a bright light to change a diaper. Use a low wattage blue light bulb instead of a white light bulb to keep the room darker. It provides enough light to let you do what you need to do but doesn't trigger party time for your baby.
Keep them occupied. Keep a special toy nearby to let your child play with while changing their diaper. Keeping them focused, even for just 30 seconds, will allow you to at least get them cleaned off and ready for a new diaper.
Wrap the wrap. Lay a new diaper under the old diaper before changing it. In the event that you missed a spot on her little tush while wiping it, the mess will end up on the new diaper instead of the changing area.
Avoid a tinkle fountain from your little guy. Keep a cloth diaper around the changing table so that you can quickly toss it over your little guy's privates if he starts to let loose. Or simply use a wipe.
Keep the mess where it belongs. Protect your baby, their clothes, and the changing table from messy diaper blowouts by using BabyBackups. Put one on at night and wake up to a clean baby and crib in the morning, even if your little one was trying to work one out while in dreamland! Plan ahead and apply a few BabyBackups to new diapers in advance so you're always prepared.