Today we are featuring a guest post from our favorite nursery e-design service, YouthfulNest!
YouthfulNest is a service that matches you with an expert nursery room designer for an entire custom room design. Their e-design service helps expecting parents find more ease and joy in nesting. Let a YouthfulNest Design BFF de-stress the process of designing a nursery. Taking the guesswork out of choosing the right products for your specific style and budget. All at an affordable price.
You can check out their services on our shop and sign up for your own specialized nursery design package.
---
Oh girl, here we go! This fresh, feminine nursery designed for a mom of three boys is so ready for her spotlight. It started with a blank canvas and bloomed into a whimsical space full of flirty fauna in pinks and greens.
We started following Megan Sullivan on Instagram a couple years ago. She was already following YouthfulNest and we appreciated her likes and comments on our work. When we learned she was pregnant with her fourth child, her first baby girl, we reached out to her and recommend our eDesign service.
THE GIFT OF TIME
Megan has her hands full with three young boys, is a real estate expert undergoing a huge home remodel, and is also the co-founder of The Local Moms Network. An organized community that strives to give moms the gifts of time in cities across the country, currently in 30 states. Let's just say she had her hands full. It was our goal to give Megan the gift of time by helping her plan and design her nursery.
​It was also all happening during the heart of a global pandemic due to the invasion of covid-19. Megan had worked with a traditional interior design in the past but this time needed a contactless option for the health and safety of her and her family. Our completely virtual series allowed just for that.
A FEW OF OUR FAVORITE THINGS
Megan was already thinking to purchase our services and landed on the Biggie eDesign package exclusively sold on the Gugu guru website. From there we paired her up with YouthfulNest Design BFF Jolene Fontaine.
Megan already had her eye on a particular wallpaper and the rest of the room sprouted up from its style and color. The Frida print in pink by Pepper Home captured Megan's heart. And even though there were a couple moments spent considering another style this flirty print stayed on top.
THE THREE NURSERY ESSENTIALS
With the color and style direction set, the designer started pulling in the three essentials; glider, dresser and crib. A few of our favorite brands wanted to contribute to our design and gifted premium pieces to the nursery.
First, we have the Stokke Sleepi crib taking center stage in front of the wallpapered wall. With a Tiktak Design custom crib mobile dangling over this cozy sleep space.
Then we move over to mom's haven for all things baby, the glider. The Compass Rocker was selected from Project Nursery. The curved body in a creamy plush upholstery is luxurious and supportive. We loved the touch of pink from the rose gold metal legs.
The other top spot any parent looks to be functional and stylish is the changing area. The Schooner dresser was found on Paynes Gray. This piece is a beautiful blend of retro and modern styling, featuring brass metal accents.
ABOVE AND BEYOND
With the three essential nursery spots nailed down, there was one more spot that was important for the family to incorporate in the room. With all the little brothers wanting to get in on welcoming their baby sister to the family we needed a spot for them and other guests to sit. This meant the need for additional seating. Originally we selected the Natural Daybed Boho from CB2. Then it was delivered damaged and a replacement was unavailable for weeks. We quickly sourced a few other styles and it was The Mid-Century Daybed from West Elm was ready to ship and fit the bill for both form and function. A clean line daybed lined with plush pillows from Paynes Gray and One Affirmation.
With all the main functionality covered let's move on to some fun details! We can almost hear those adorable baby giggles as baby Scout is pushed by those big brothers in her macrame swing from Emma and Finn. When baby Scout is tired of play, it's time for snuggling up with her new BFF, a plush Narwhal creature, and listening to his story, both from Slumberkins.
BEFORE & AFTER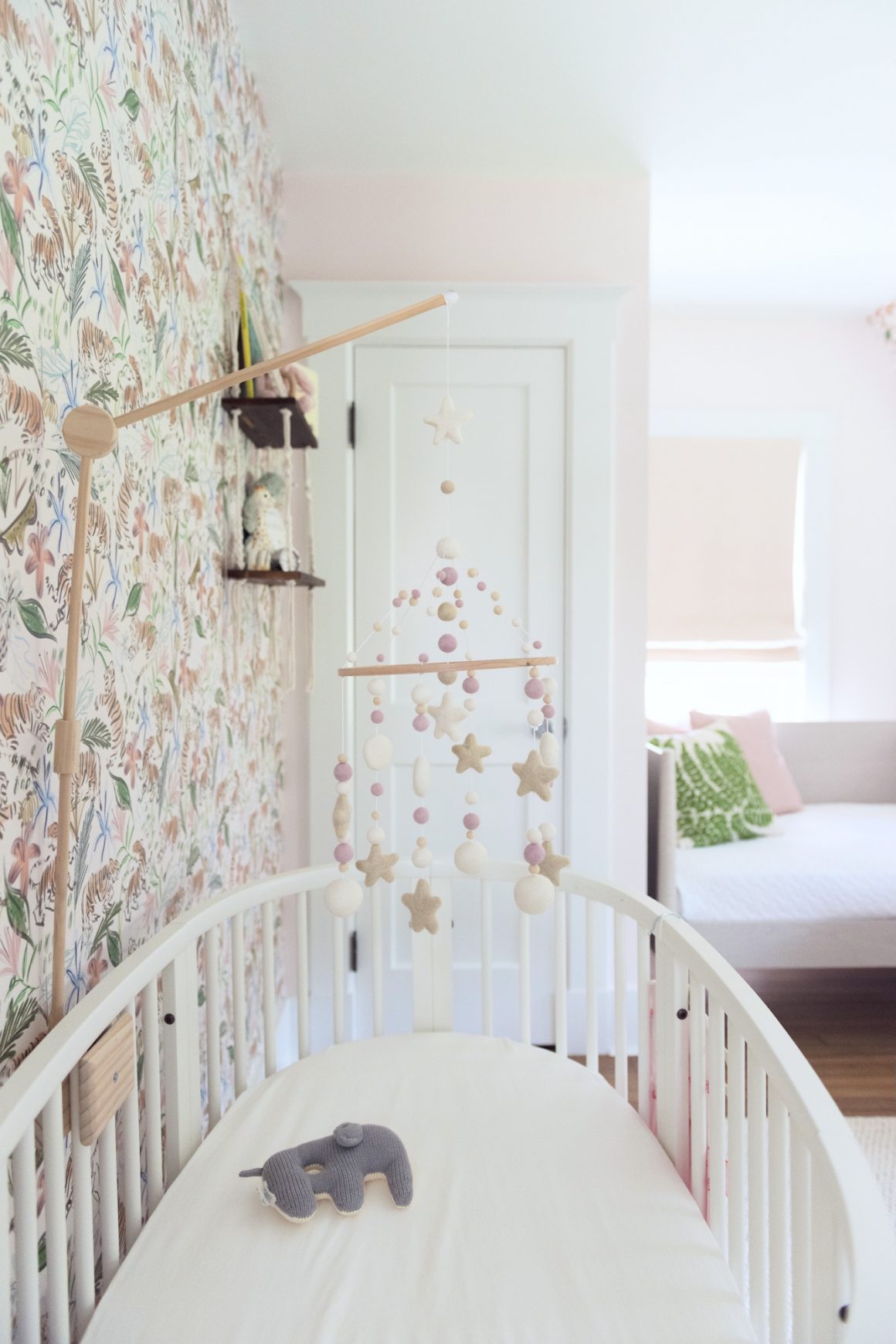 ​ROUND OF APPLAUSE
We can't take all the credit for this fabulous nursery room reveal. The fact is Megan and her install crew are ultimately responsible for taking their designers' product and styling recommendations and installing it all themselves. As you can see they did an impeccable job.
Our best wishes to this lovely family and welcome to the world Scout Sullivan!
–XOYN
---
Thank you to YouthfulNest for this guest post and don't forget to check them out on our shop and follow them on Instagram for even more nursery design inspiration!