Maybe you're buying things to help round out your baby's nursery or layette. Maybe you're purchasing some gifts for your friend's new arrival. Whatever the case, we've scoured through the options to find the best, trendiest, coolest, and most helpful gifts for new arrivals.
Let's check them out now!
Baby Gifts for the Nursery
Rookie Humans Enchanted Meadow Standard Size Crib Sheet – $38.00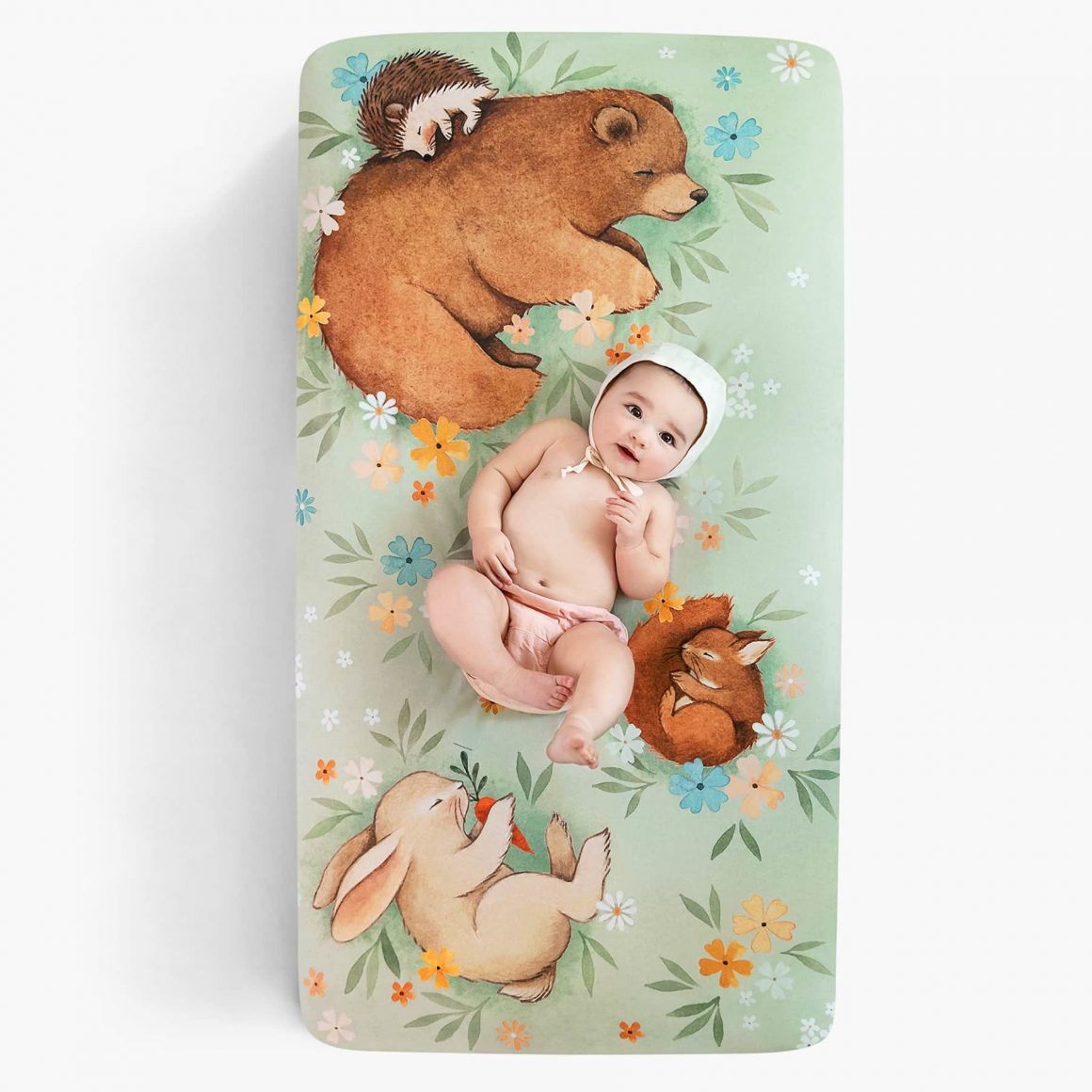 These crib sheets from Rookie Humans take sleeping baby photo opportunities to the next level. Since the cute factor is printed on the sheet, they keep your baby safe without any added stuff in the crib. They come in a variety of prints, but this meadow print feels earthy and free.
Stamp My Feet – Black Herringbone – $38.00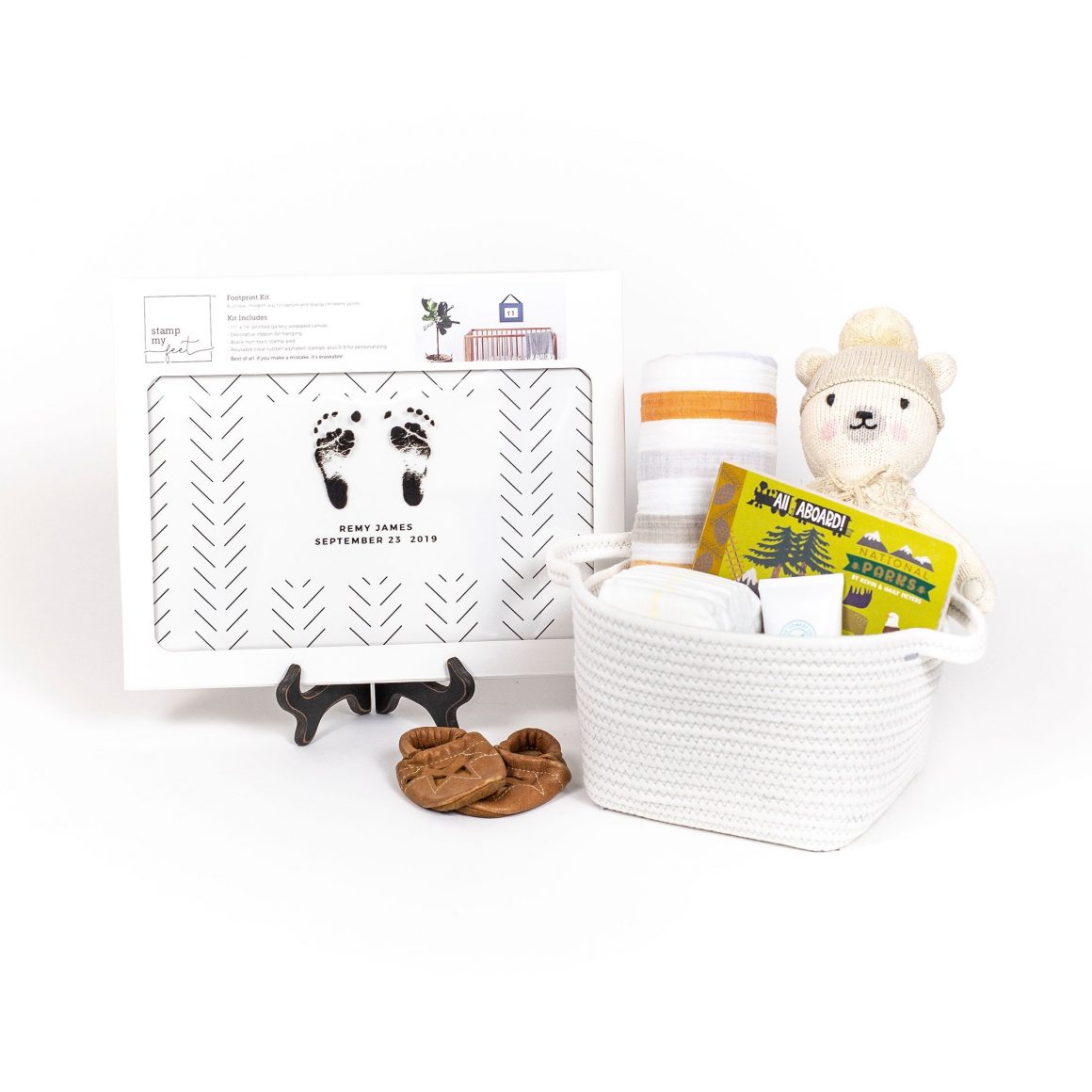 You'll want to take this gift with you when your little one is on the way. That way you can dip your newborn's feet into the non-toxic ink pad and get those fresh footprints as soon as possible. The gender-neutral herringbone design would look great in your baby's nursery or displayed proudly in your living room.
Rookie Humans Crib Sheet and Swaddle Bundle – Moon's Birthday – $63.00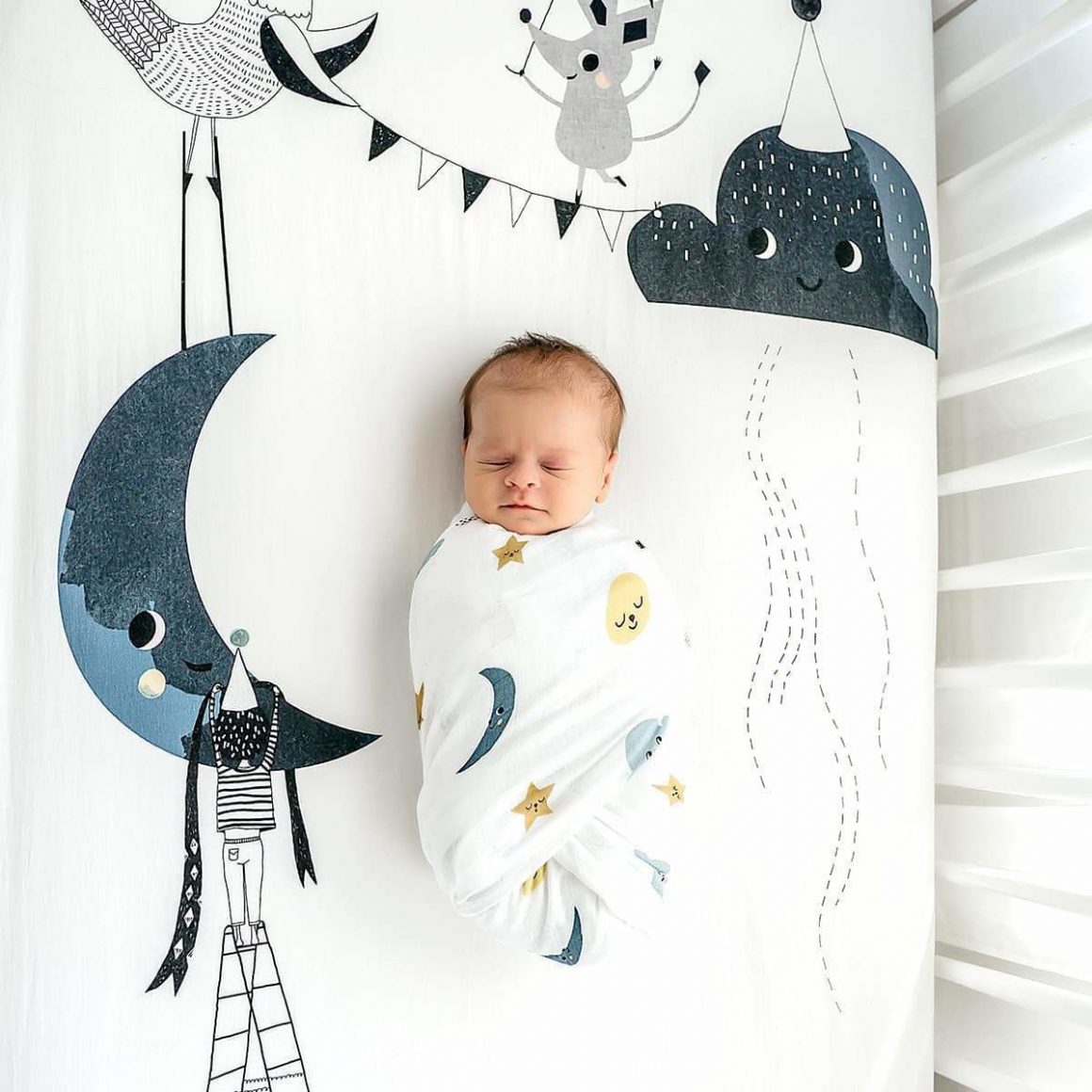 This is another crib sheet from Rookie Humans, but it comes bundled with a bamboo swaddling blanket in a coordinating pattern. The moon pattern is… out of this world.
Animal Spots Swaddle from Solly Baby – $23.00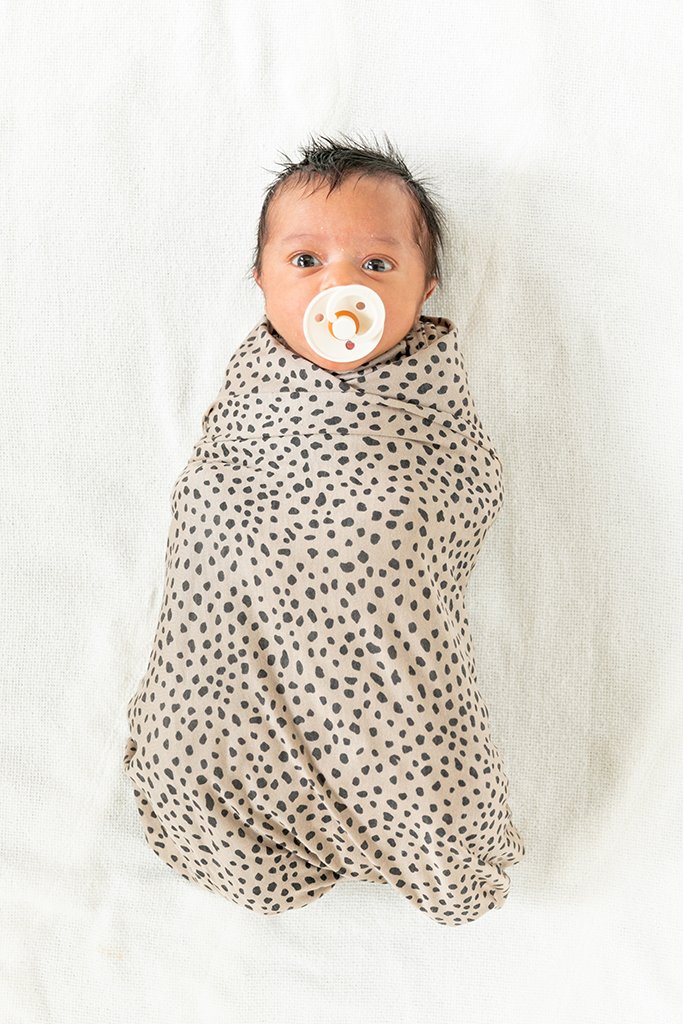 You can never have too many swaddles for your new arrival. We love all of the options from Solly Baby, but this animal print one feels both on trend and next level. It's both neutral and bold in addition to being comfortable for your baby.
Nanit Pro Complete Monitoring System (+ Wall Mount) – $379.00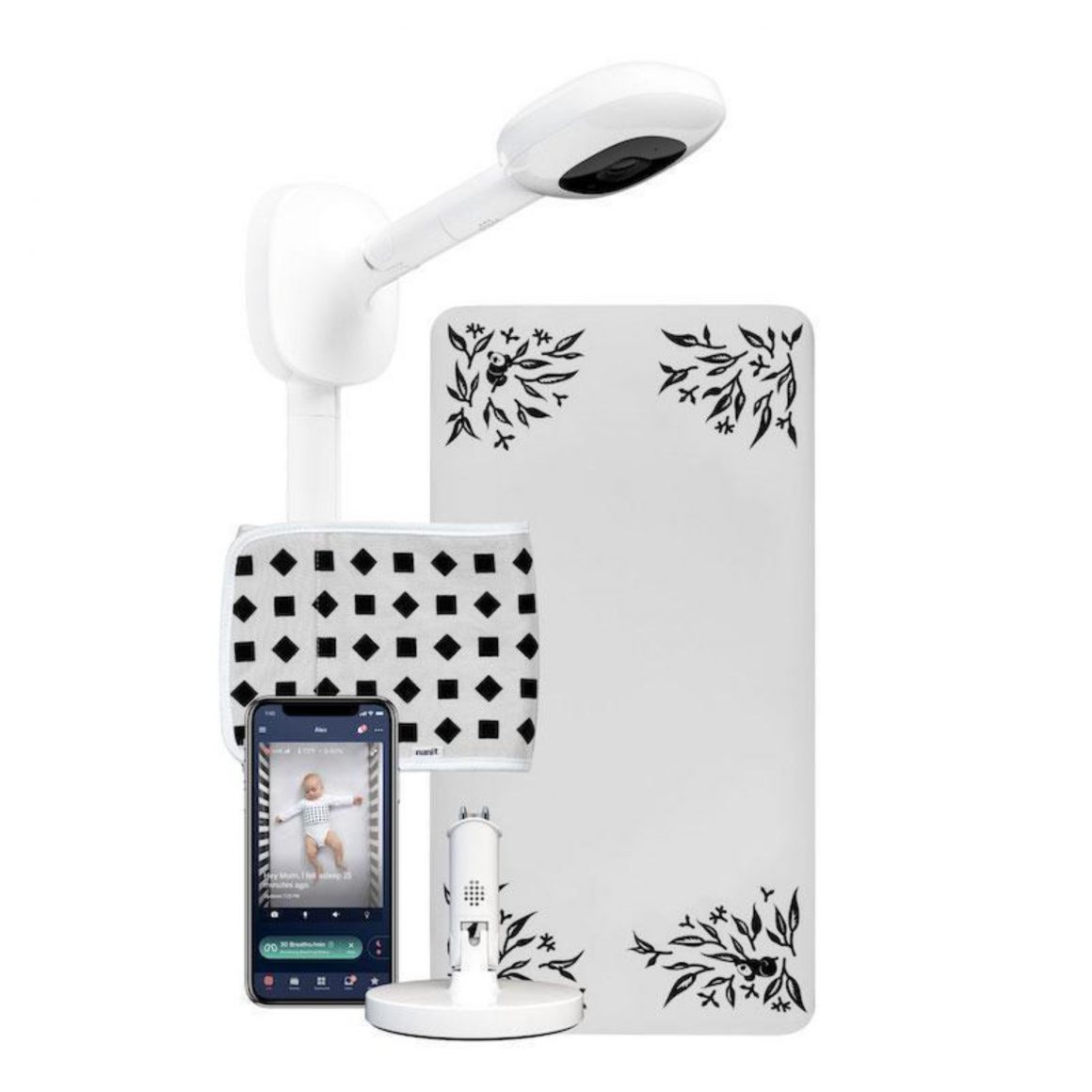 This baby monitor is unique, offering everything from breathing safety to growth measurements. Combine the included smart sheet with the tools in the mobile app to track your baby's growth over time. The included breathing band also monitors your baby's breathing for peace of mind.
Toys & Books to Give As Baby Gifts
Big Little Universe Special Delivery Box (Newborn+) – $69.99
Each box from Big Little Universe comes with an assortment of things your newborn will love, including a surprise. This one has a lion lovey, a pacifier clip, a bath mitt, a bib, and a surprise animal.
Melange Collection Crochet Llama – $18.00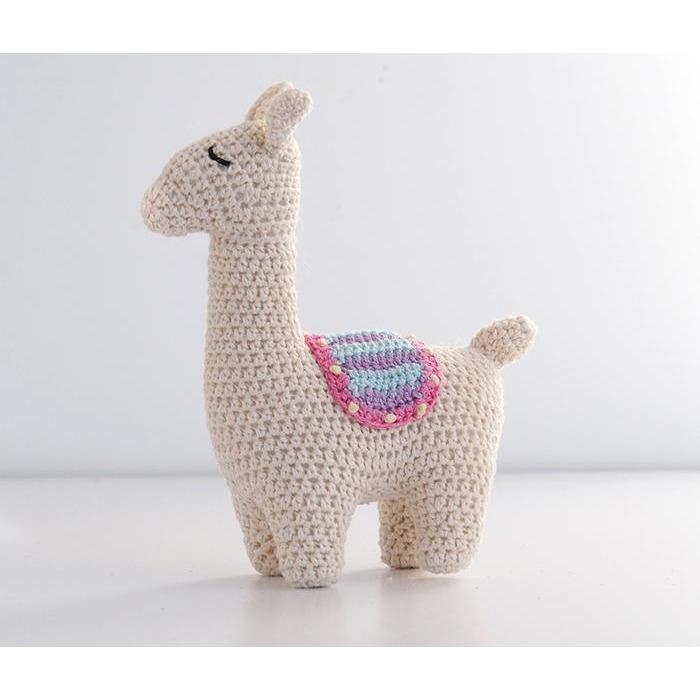 Every baby needs a lovey. Why not get a little creative with their first option? This llama from Melange Collection is not only adorable and unique, but was handmade in Armenia with seed money from Save the Children to create jobs and help promote Armenian crafts.
Mouse Loves Pig Crinkle Baby Toy – Mandala – $18.00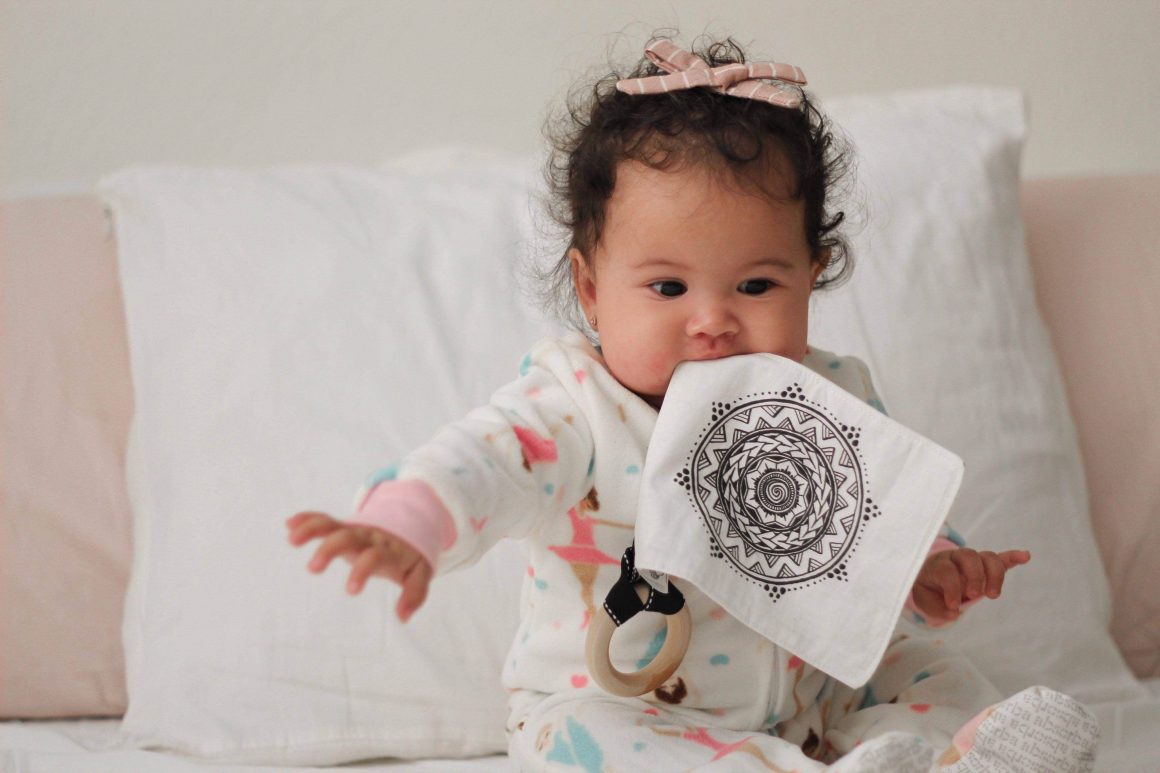 This crinkle toy checks off multiple boxes for baby toys. The black and white design is good for your baby's brain development. They'll enjoy the sound as they learn to play with their hands. The organic teething ring can also be removed so both pieces can be washed separately.
Workman Publishing – Boyton Favorites Book Set – $23.85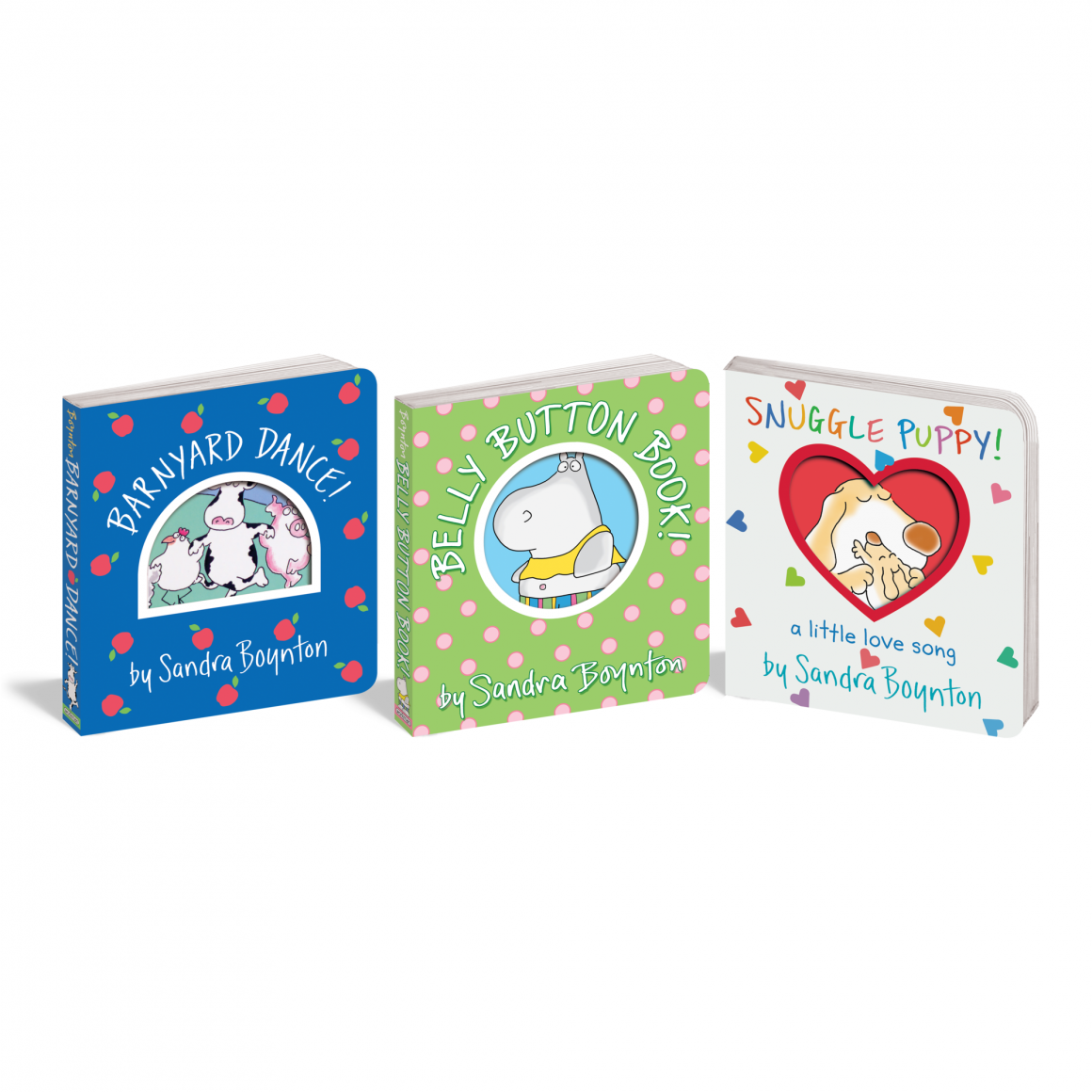 Books always make a great baby gift, but there's nothing better than Sandra Boynton's books. These three–Barnyard Dance, Belly Button Book, and Snuggle Puppy–are three of her most beloved classics. A warning: You may refer to all belly button's as "Bee Bo" for eternity. Just go with it!
The Looker Play Kit from LOVEVERY – $80.00 per play kit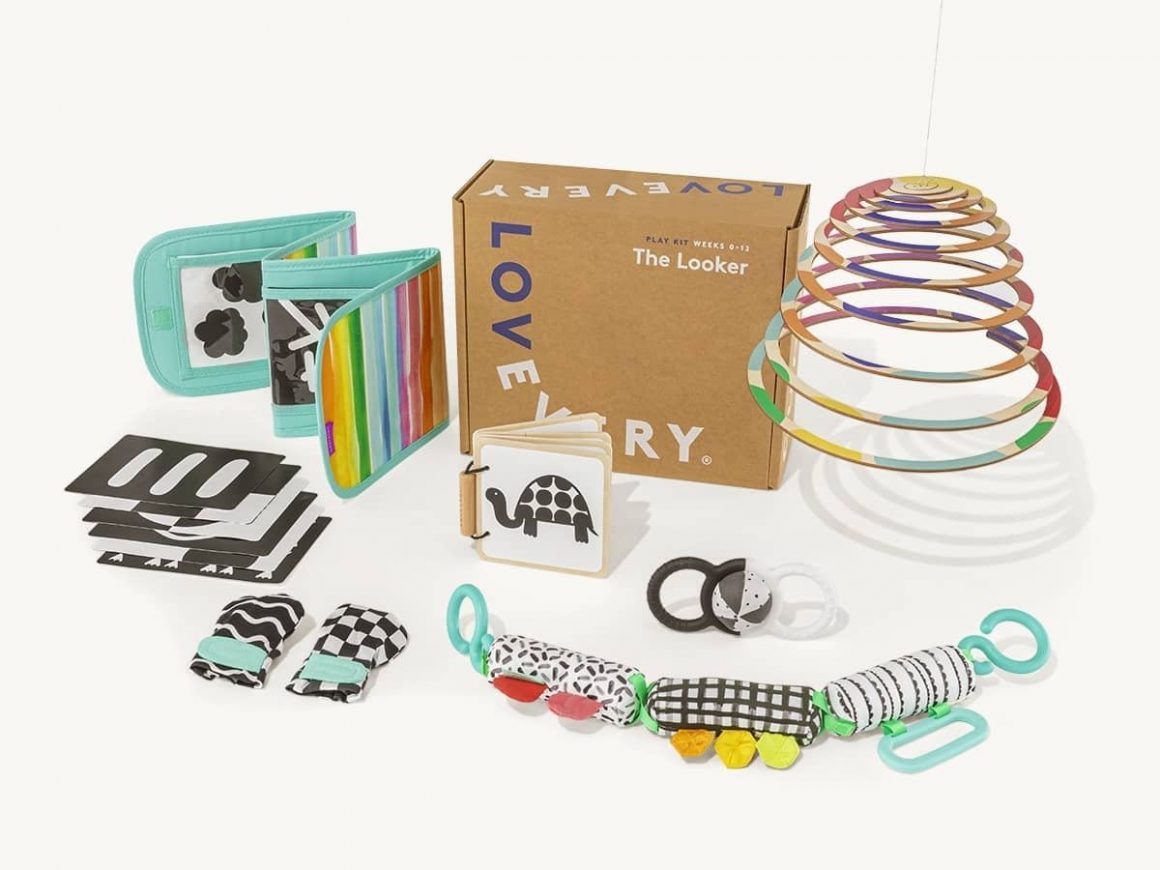 Play kits from LOVEVERY bring unique toys to your home every two months. Start your newborn off with The Looker play kit which focuses on building new brain connections with high contrast designs.
Great Clothing Options for Baby Gifts
ergoPouch Cocoon Swaddle Bag 0.2 TOG – $29.99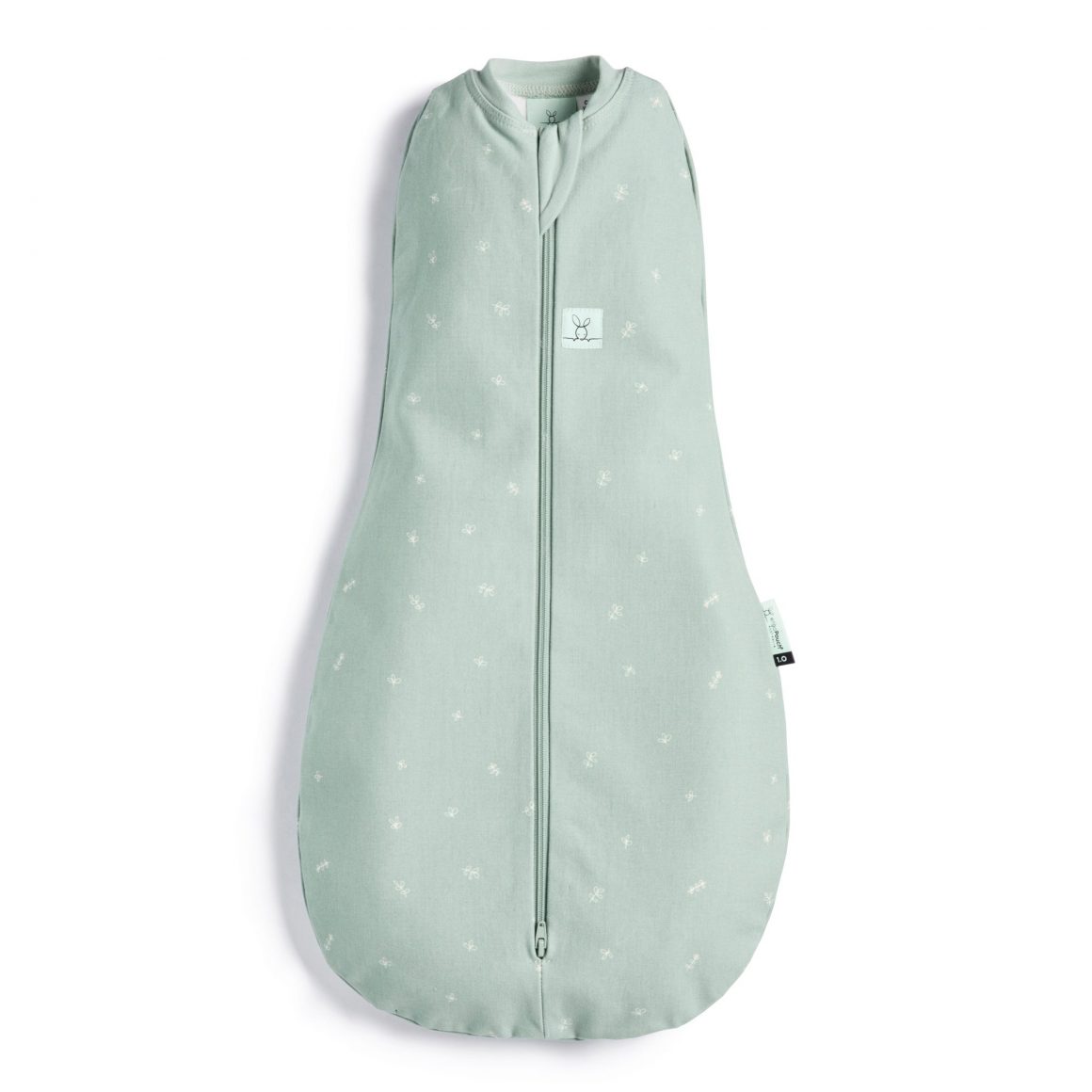 Help your baby get to sleep with this cocoon swaddle bag. We love that it's both easy to use and difficult to escape from while sleeping. The TOG rating means that it can be used on its own in rooms with temperatures from 75°F + with no extra blankets, making it a safe sleeping option.
ergoPouch Arm Warmer Cardigan – $26.99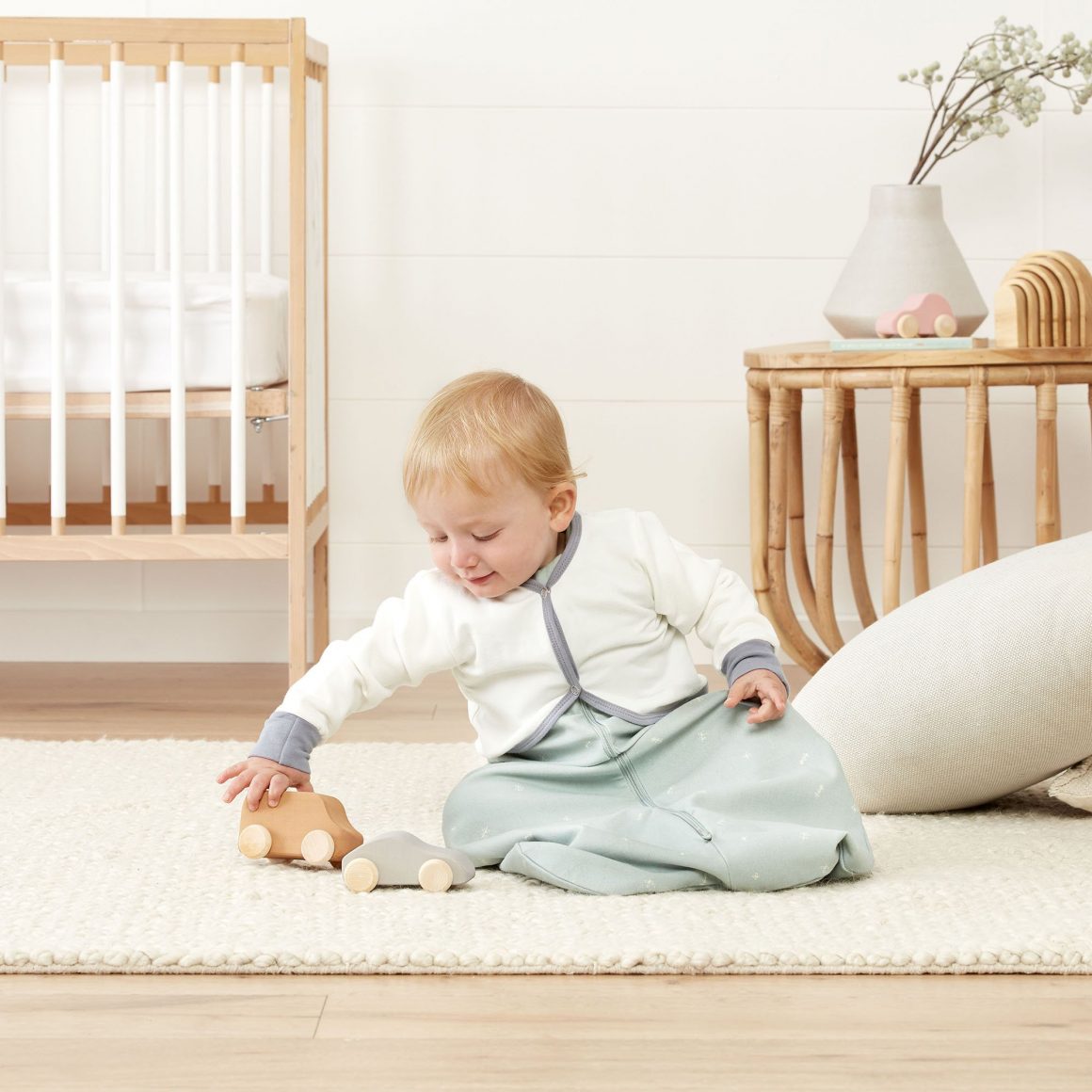 Worried about the temperature for your little sleeper? Want something to keep them a little warmer when you wake up early on cool fall mornings? Grab one of these cute arm warmer cardigans to throw over their sleeveless swaddle bag.
Gabri Isle Mustard Muslin Romper – $45.00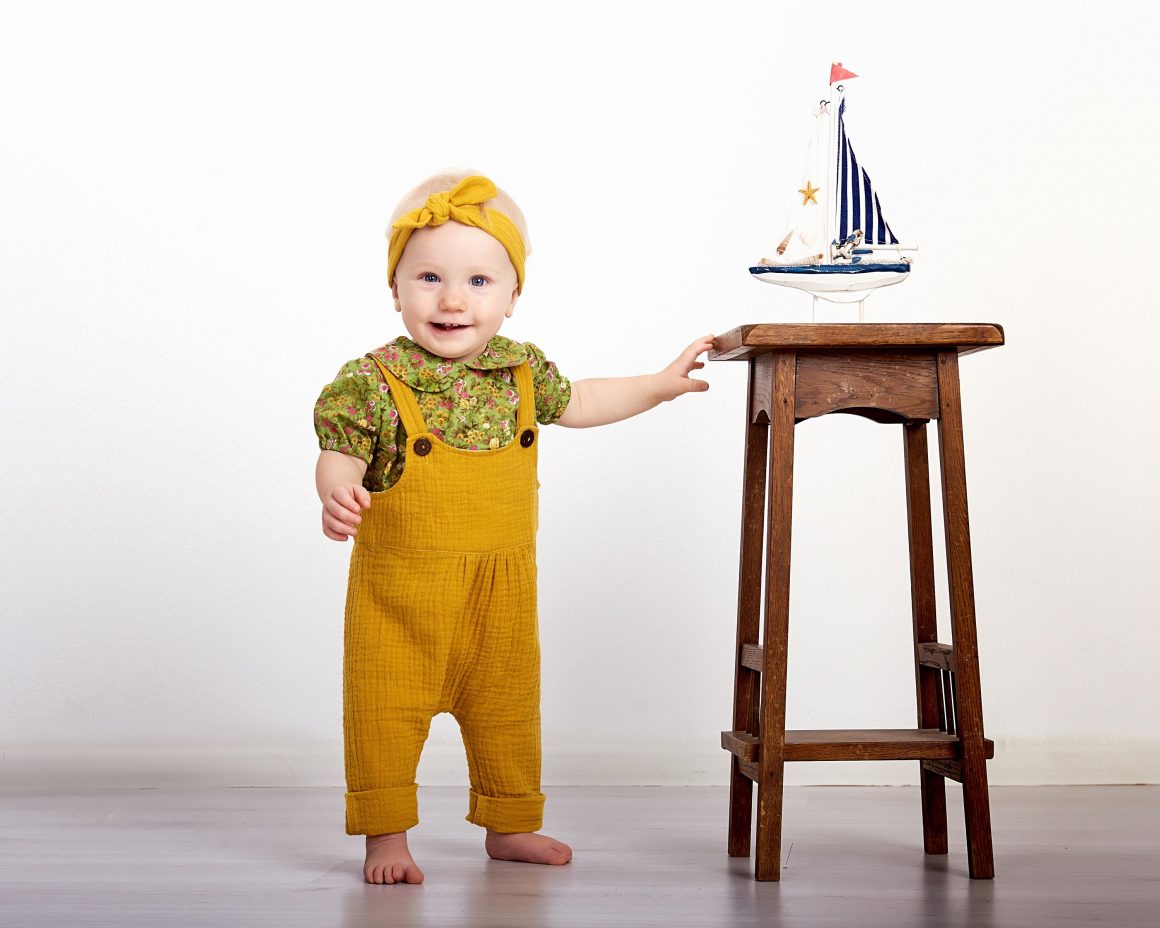 Every baby needs some bibs. Make it fashion by adding some fall color and brown buttons. They would be cute over a floral, striped, or solid top.
Baby Says Black Baby Moccasins and 8-pack Marker Set – $39.99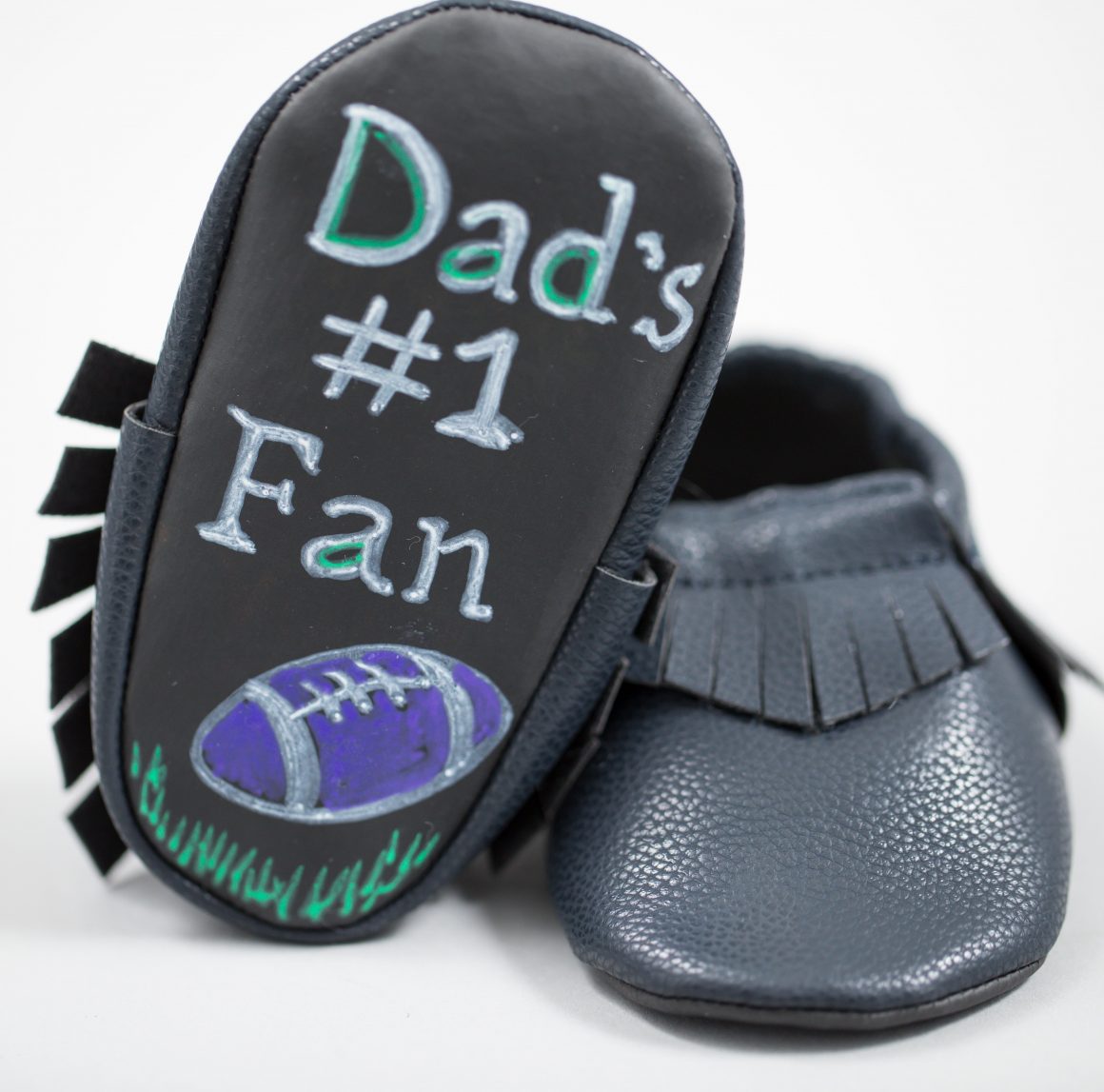 What makes cute baby shoes even cuter? Personalizing them with your own message. Whether your little one is Dad's #1 Fan or you're in the mood to recreate the message on Woody's cowboy boot, these moccasins will be a hit. The best part is that the messages wipe off with liquid dish soap, allowing you to keep creating for months to come.
Zippered Footie from Kyte Baby – $33.00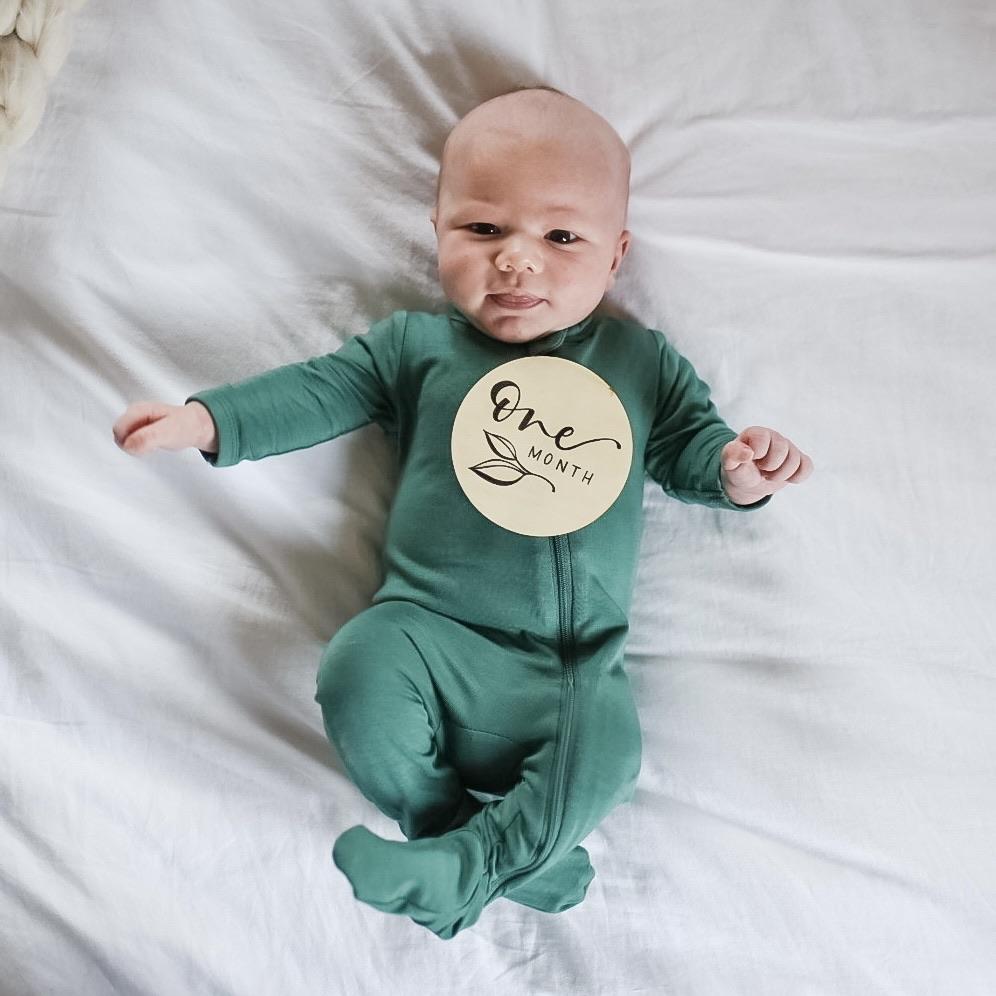 These footie pajamas are made from bamboo rayon and feel as soft as butter. Your little one will love sleeping and playing in this comfy set. They also come in a variety of colors, but this bold emerald works year round.
Baby Gifts for Health, Wellness & Feeding
Babymoov Hygro Plus Humidifier – $79.99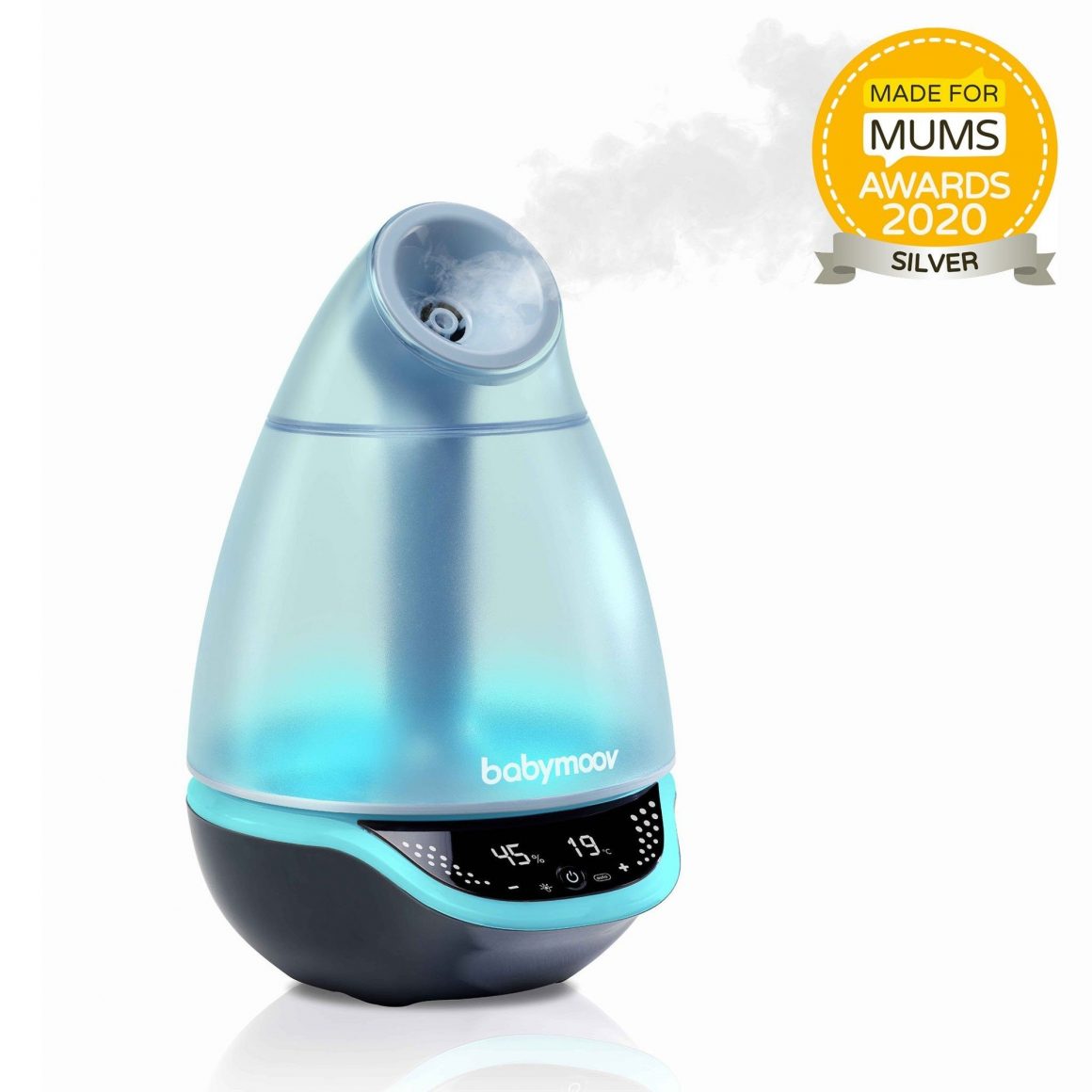 This humidifier is smart. It shuts off when the room reaches the desired humidity level. It also displays the temperature in the room, so you'll know your baby will be comfortable all around.
Dr Noze Best Noze Bot Baby Nasal Aspirator – $119.00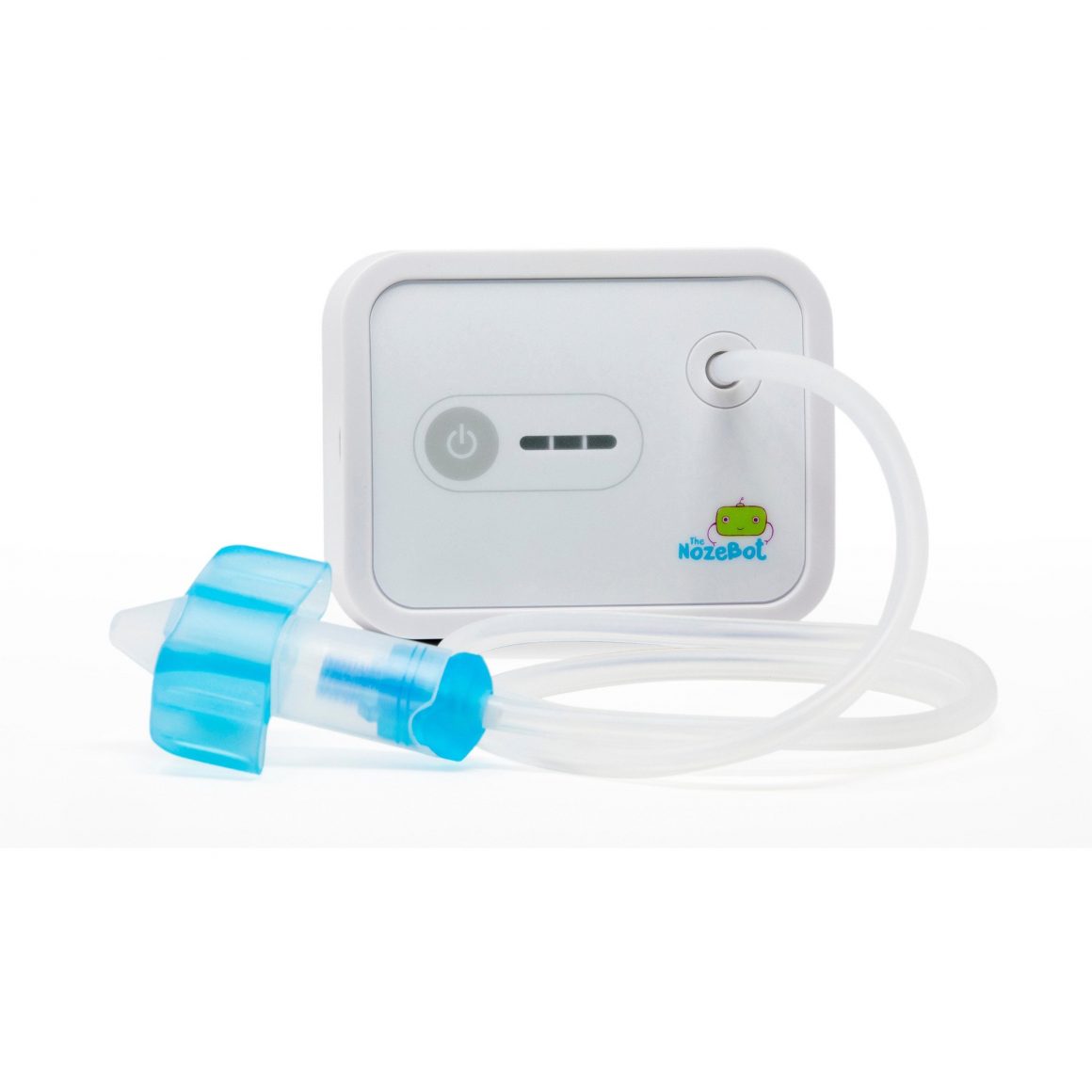 While this particular gift might not be your baby's favorite, it is a handy tool that will help keep them breathing well. It offers three levels of hospital-grade suction and is easy to clean. As an added bonus, it is HSA/FSA eligible.
Earth Mama A Little Something For Baby – $25.99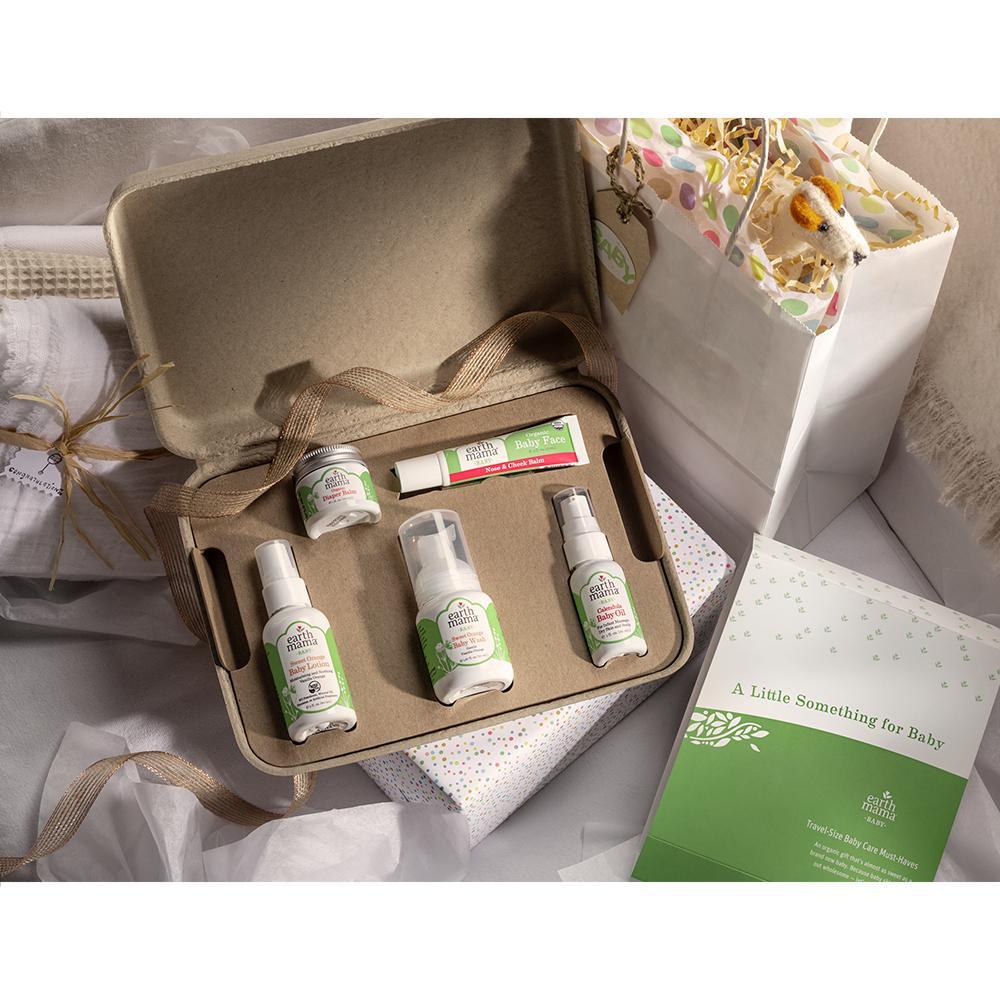 This gift pack includes organic diaper balm, sweet orange baby lotion and baby wash, calendula baby oil, and an organic baby face, nose, and cheek balm. Your little one will smell fantastic with these safe products.
Kiss Kiss Goodnight Baby Essentials Bundle – $74.00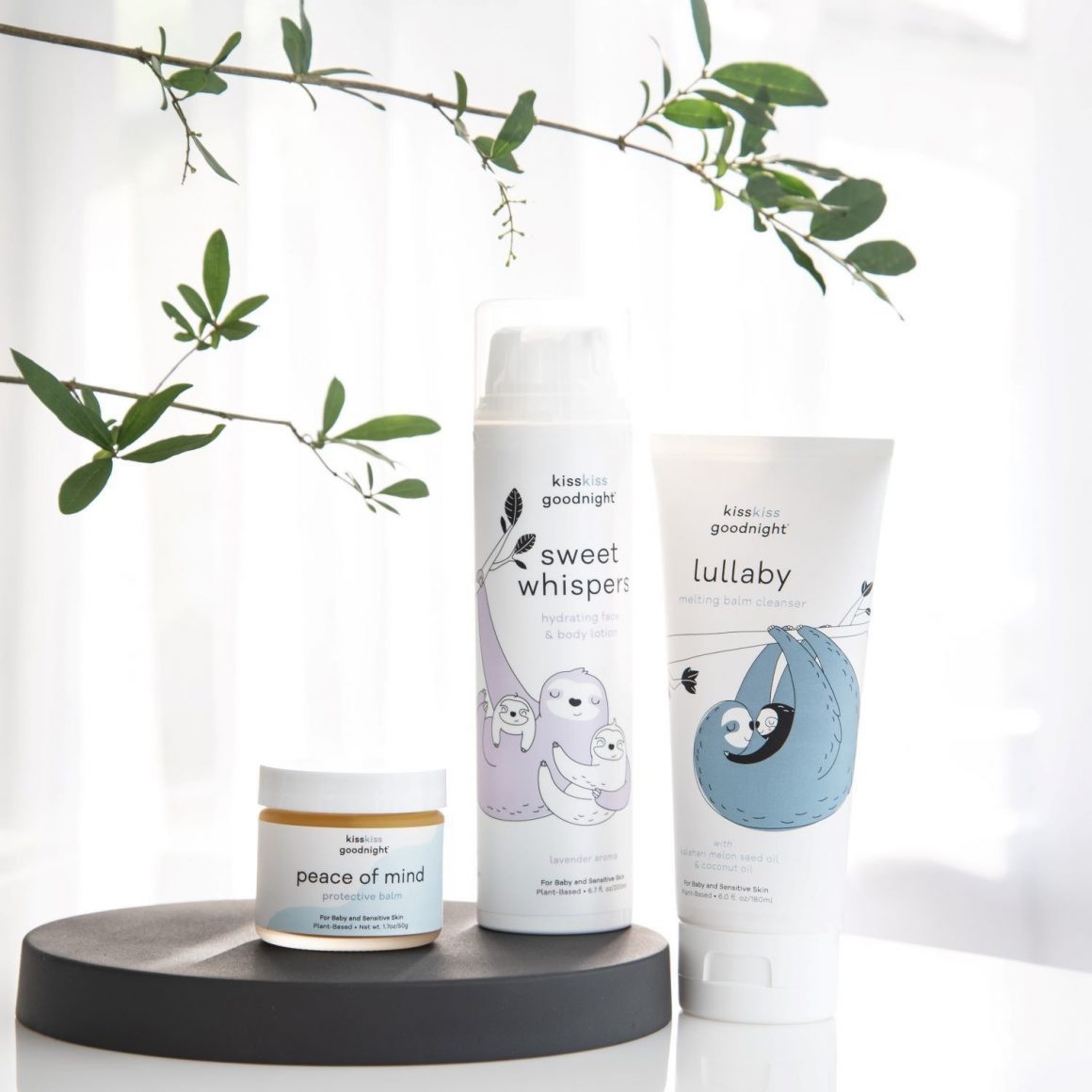 This three step process will help you create a bedtime routine with your baby, sending both mama and baby off to dreamland in peace. It comes with a melting balm cleanser, a hydrating face and body lotion, and a protective balm.
Lavelu Lounger Baby Sink Bath Insert – $38.00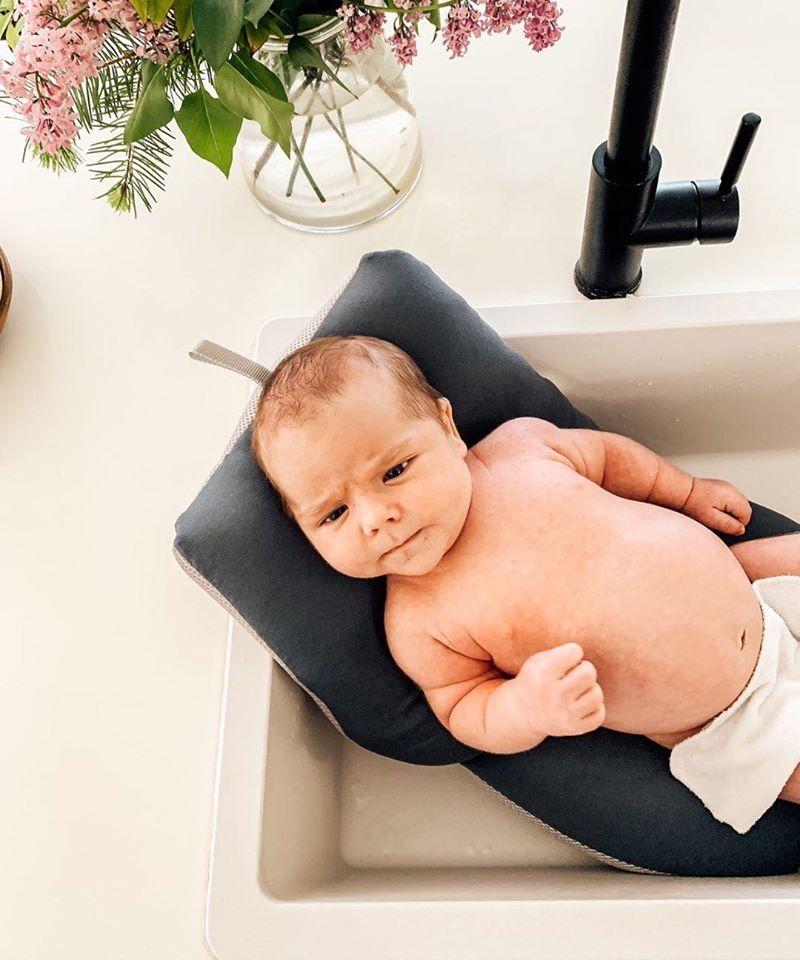 Help your little one learn to love bath time with this insert. This lounger is made of waterproof material which keeps it from becoming waterlogged and heavy. It fits in any type of sink, so you can take it with you wherever you go.
Hooded Towel Set from LouLou Lollipop – $35.00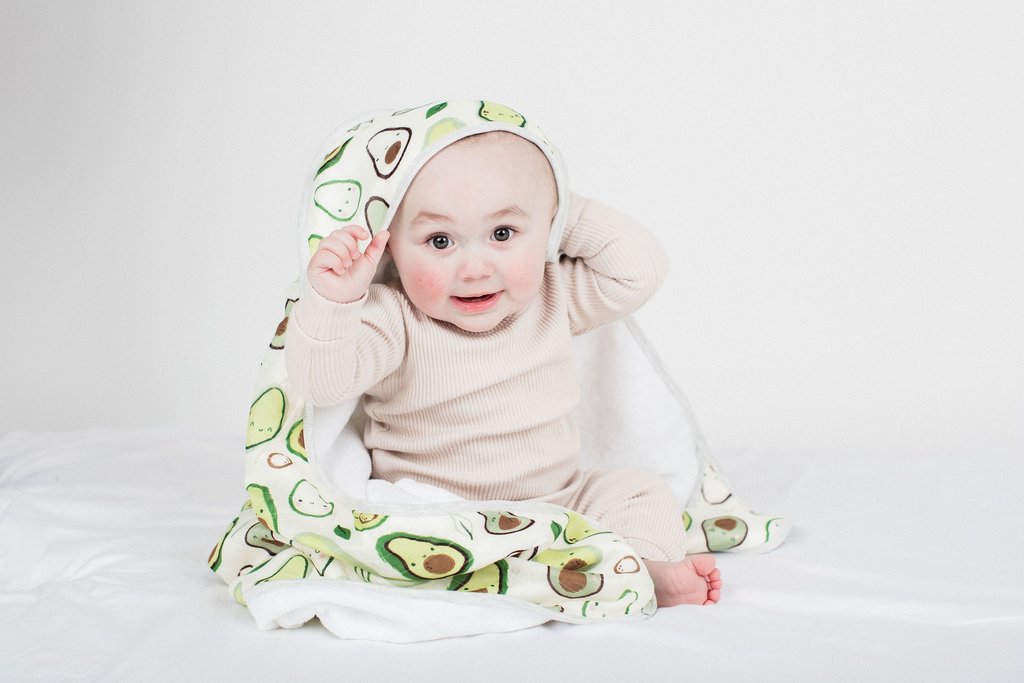 There's nothing quite like wrapping a baby up in a hooded towel, all fresh and clean after a bath. The hooded towel and washcloth sets from LouLou Lollipop add an extra level of cute with prints that will make you smile. This avocado print definitely tops the chart on the cute factor.
The Essentials Gift Set from Tubby Todd – $62.00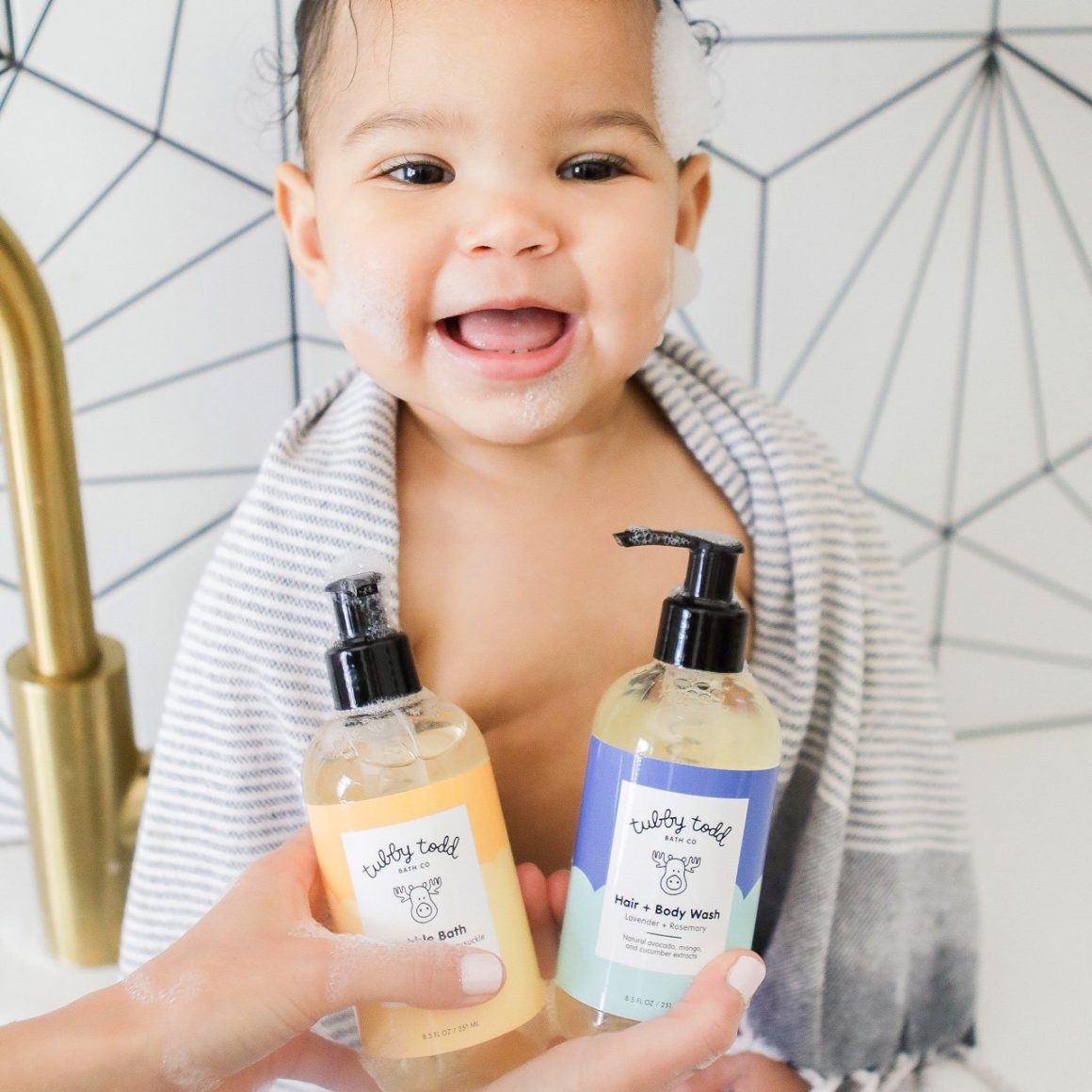 This gift set has four essential bath and bedtime products. You'll get a hair and body wash, all over ointment, everyday lotion, and even a bubble bath. The products range from fragrance free (the ointment) to soft, soothing scents sure to help your baby drift off to dreamland after their evening bath.
Feeding Baby Gifts
Babymoov Mom & B Pillow – $39.99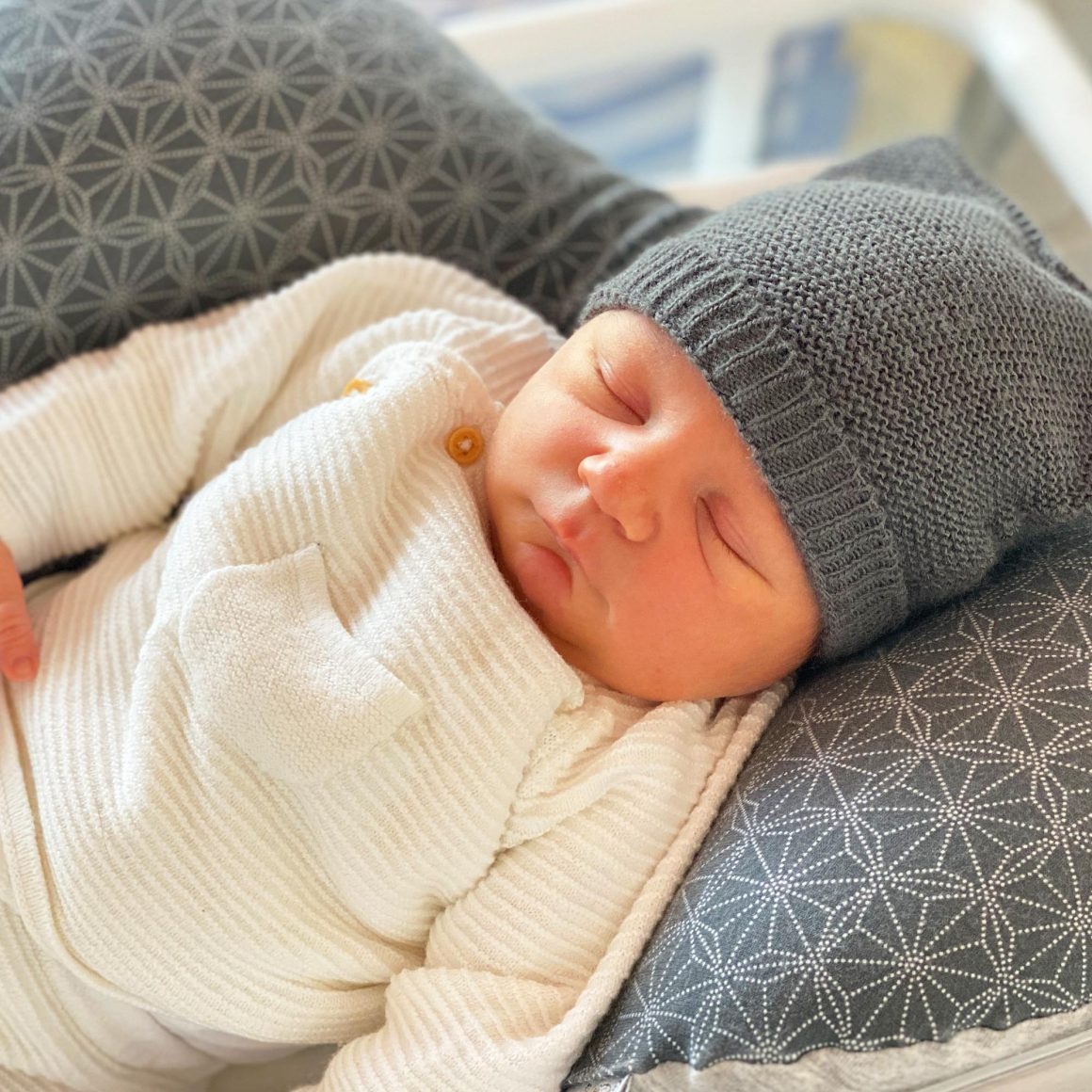 Help make feeding time easier and more comfortable for both parents and baby with this feeding pillow. It will help keep baby in place as you spend time together.
Green Sprouts Stay-dry Newborn Bib & Burp Set – $37.99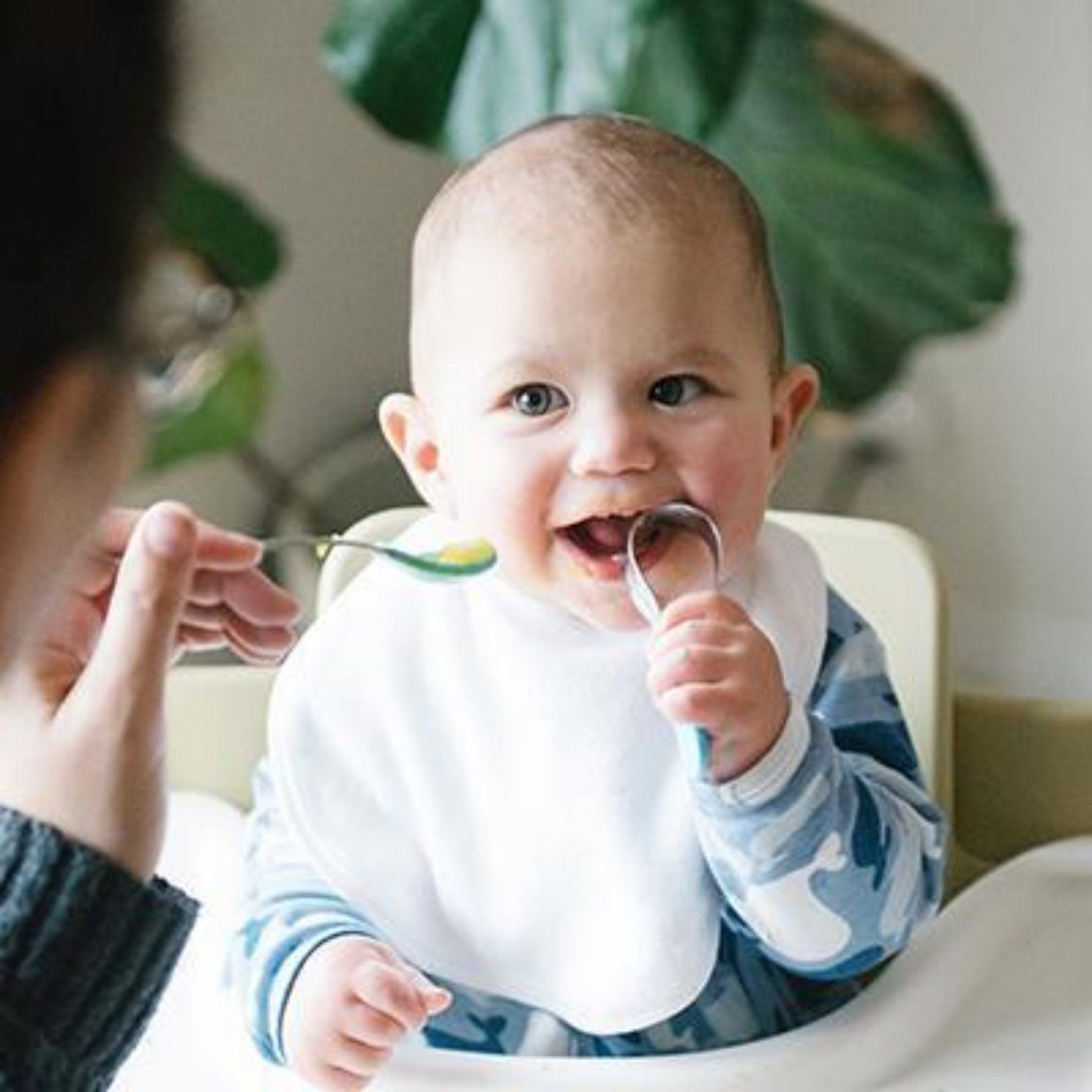 These bibs and burp cloths have a waterproof inner layer to help keep moisture away from your baby's skin. As your baby grows into eating solid foods, you can move from using the burp cloths to the handy bibs. We like that this gift set covers multiple stages.
First Foods Set from ezpz – $34.99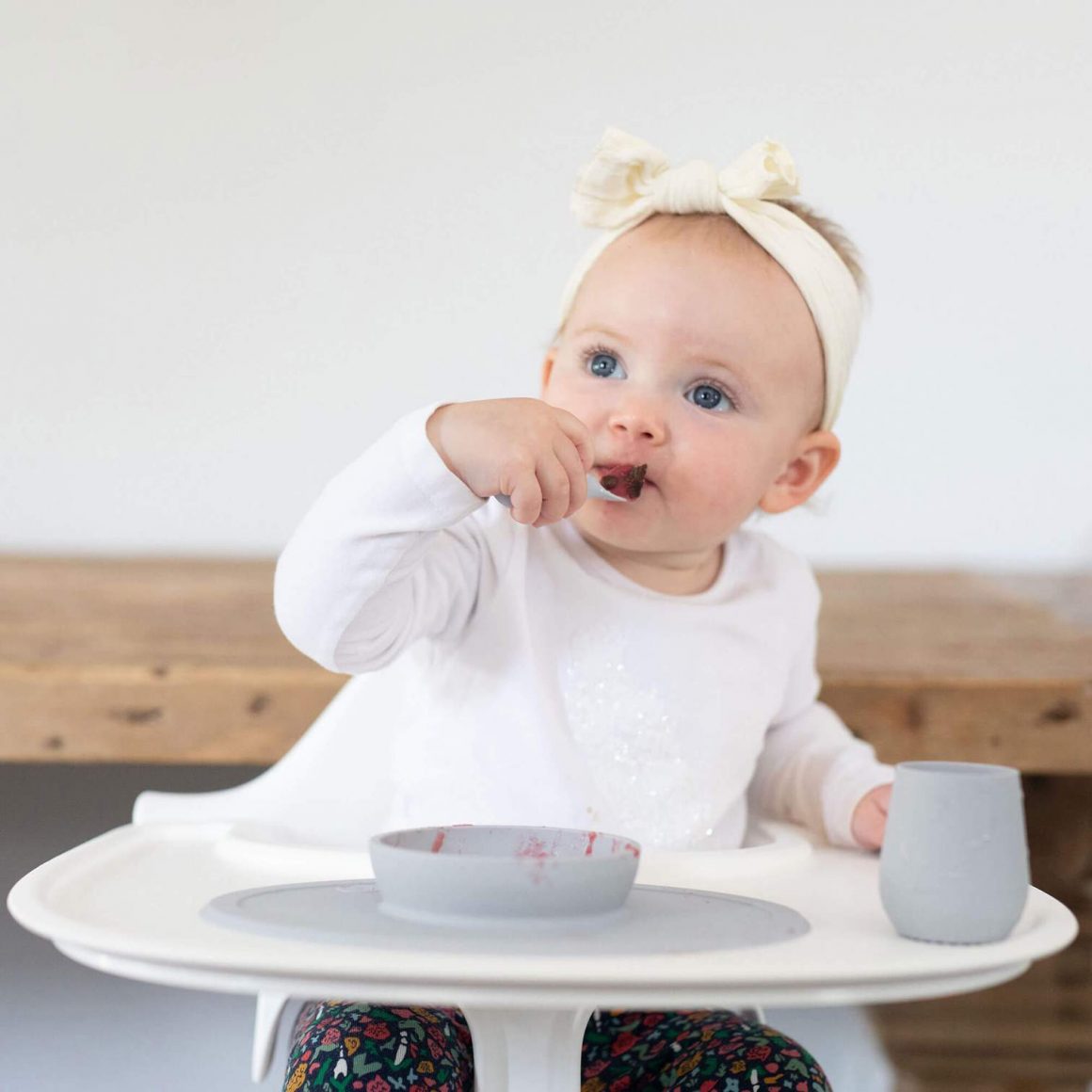 Playing off of the last gift, as your baby grows into solid foods, you'll definitely want to grab this first foods set. You'll help your baby learn independence as they eat with a little less mess than other options.
More gift choices:
25 Gift Ideas for a 2-Year-Old
Ultimate Gift Guide: Ages 2-5
Ultimate Gift Guide: Ages 0-2