By Maria West
Happy National Breastfeeding Month! If you're like me and celebrating by spending hours a day nursing or pumping to feed your baby, then you deserve extra cheers in August. Through the end of August, use code BAM20KB for 20% off on Kindred Bravely's website.
Luckily for mamas like us, Kindred Bravely just released a new bra style to join their already loved breastfeeding gear: say hello to the Minimalist Hands-Free Pumping & Nursing Plunge Bra.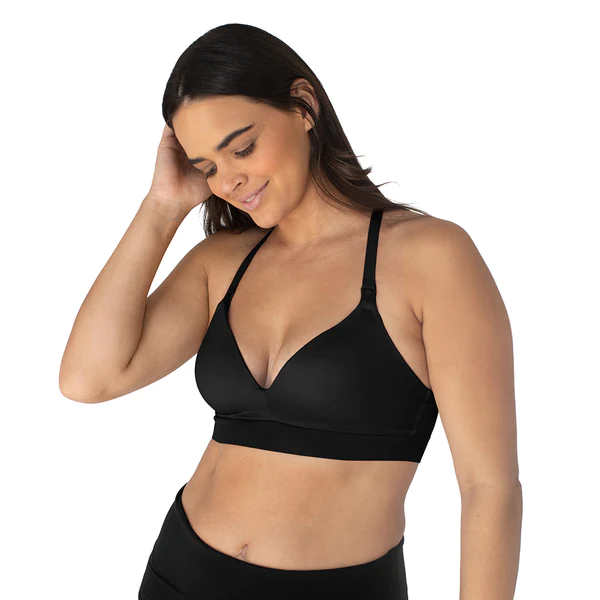 Let's dive into why we love Kindred Bravely's new Minimalist cousin of their best-selling Sublime® Hands-Free Pumping & Nursing Bra and how you can use a pumping bra as part of your daily wear.
Pumping bra vs. nursing bra
If you're a new or expecting mom, you likely have nursing bras out the wazoo (and let's be honest, they're comfy to wear way past the breastfeeding stage). Nursing bras and camis allow moms to unclip the breast covering for babies to access from any angle.
If you're a nursing or expecting mom who works away from your baby or likes a date night every once in a while, you'll probably use your breast pump. Pumping bras come with nipple cutouts (not unlike Regina George's Mean Girls look) for the flanges to access your breasts while being held in place. Many pump bras are bulky, strapless, and require changing for every pump session.
Kindred Bravely is well-known for disrupting the uncomfy nursing bra market with their soft, all-day-wear line of nursing and pumping bras. Their line is available in a wide range of sizes XS – 3XL, with busty sizes, which are designed specifically for DD/E cups and above. The new Minimalist bra is smooth enough to wear under anything and easy for nursing or pumping access.
When to wear a pumping bra
Wear your pumping bra when you anticipate needing to pump, like at work or on a date night. If you're exclusively pumping (EP), get a few different colors so you always have a clean bra on hand (the Minimalist comes in Black and Lilac Stone colors).
Kindred Bravely's products nail the mix of comfort and function. That means you can wear either the Sublime or Minimalist bras throughout the day like any other bra (even under formalwear!).
Outfits to pair with your pumping bra
Though the Sublime® Hands-Free Pumping & Nursing Bra is easy to access and set up your pump parts, the clothes on top can make or break your pumping experience. Here are some outfit ideas for what to wear when you pump that can go from office to date night:
[UGC video can have different outfits]
A tunic or oversized shirt
A dress that pulls or clips down easily
A button-up top
Tops, tees, and hoodies made for nursing and pumping
A stretchy nursing cover if you prefer to stay discrete
Features we love about the Minimalist bra
The best feature of the Minimalist bra is fixed padding (cue the applause from every woman ever). That means no more bunching or losing pads in the washer. This bra gives an underwire look of designer bras without the pokey underwire.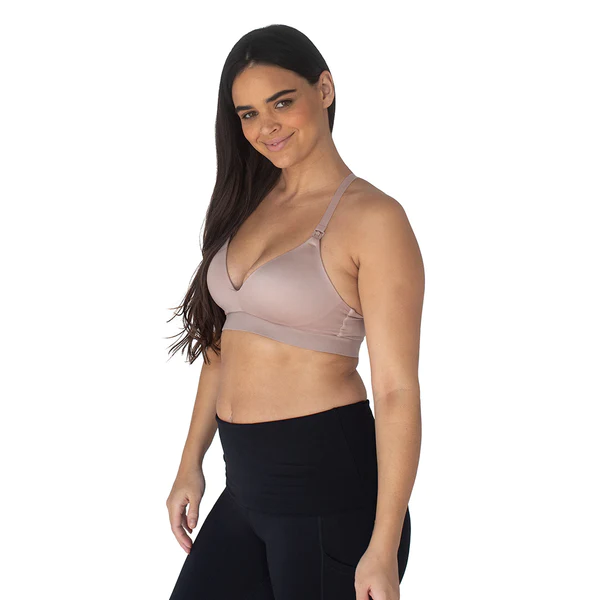 The Minimalist is moderate support with lighter pump flange support than its counterparts. The bra itself has a lower profile and coverage (a sexier plunge neckline) and stretches for maximum comfort. Here's a comparison of Kindred Bravely's pumping bras:
Kindred Bravely has done it again with their release of the Minimalist Hands-Free Pumping & Nursing Plunge Bra, and we can't wait for Gugu Guru moms to try it out!
Thank you to Kindred Bravely for making this sponsored post possible!