Hey, Everyone! It's Monica – founder of Gugu Guru and I am taking to the blog today because I want to personally tell you about this incredibly innovative breastfeeding testing product – Lactation Lab. If you're a Type A breastfeeding mama, who is information hungry or a breastfeeding mama who has deep interest in Health & Wellness – this product is 100% for YOU (and we have a discount code at the end of the post for Gugu Guru readers.)
Do you know your breastmilk?
A couple months ago, I was introduced to Stephanie Canale, M.D., the founder of Lactation Lab. Stephanie told me about her "a ha moment" and how the idea for Lactation Lab came about when she was returning to work as a breastfeeding mom, and couldn't figure out why her daughter was not gaining weight.  She went to multiple resources to gain an understanding of the quality of her breastmilk and realized that nobody was testing breastmilk in this way.
Later on Stephanie discovered that she had iron-deficiency anemia and hereditarily low B-12 levels. What was unfortunate was that it was too little, too late – her daughter had developed some health issues. Stephanie couldn't help but wonder if her daughter would not have developed these issues if Stephanie had the information that she needed about what her breastmilk was lacking.  Stephanie envisioned a home testing kit that would analyze breast milk, empower moms and therefore result in healthier babies – and Lactation Lab was born.
The analysis Lactation Lab gives moms is analogous to a food label or nutrition panel for your breastmilk. More importantly, the company also provides the resources and support to understand that analysis and what if anything you can do to improve on your breastmilk. So you don't get the results and say, "Ok, now what?"
Here is one mom's testimonial: "I always assumed 'breast is best' but being a vegetarian, wanted to ensure my milk was providing optimal nutrition for my baby girl. The Lactation Lab test was eye-opening! I learned where my milk was falling short and was also given the tools on how to correct the deficiencies. I feel fortunate to live in a time where a test like this exists."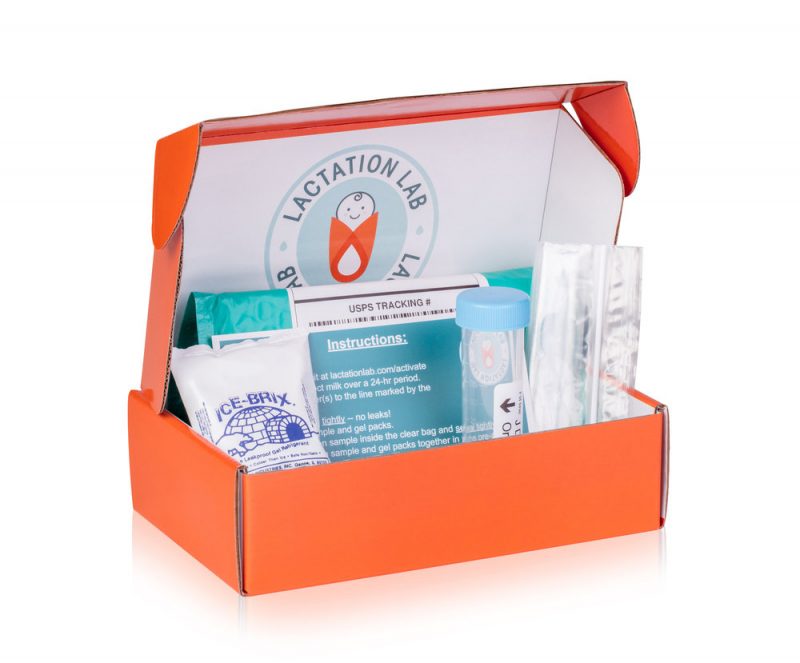 Now, if you're like me and a little skeptical about having TOO much information and making yourself anxious about things you don't need to be anxious about, one thing that I found very interesting is that Lactation Lab sees that moms who find that their breastmilk is perfect and just as super nutritious as it's supposed to be are encouraged by the results and aim to breastfeed longer.
Of course, I am not breastfeeding anymore so I sought out a real Gugu Guru mama, Shawna, to give it a try.  Here's what Shawna had to say in her own words:
This product was SO cool. I absolutely LOVED this product. It was super simple to use – upon arrival the package was complete with instructions and packaging / shipment information. Within a few weeks I got a comprehensive write up about the makeup of my milk. There were a lot of very important mentions that I will definitely take into consideration now and for when I have my next child.
It is so important for women to understand how diet and supplements can enhance the nutritional impact your milk has on your baby. And this service is something I would recommend to all new moms! Having this information is insightful and empowering.
If you're a breastfeeding mama, check out Lactation Lab and learn more on their website here: https://www.lactationlab.com and be sure to use GUGU20 for 20% OFF your first order.