The Love to Dream Swaddle UP is not a typical, conventional swaddle. It does not keep baby's arms down along the side or crossed over the chest, as with traditional swaddling. Instead, it has "wings", allowing baby to sleep in a more natural Arms UP position. The snug fit and Arms UP positioning help relax baby's startle reflex, and encourages babies to self-soothe by giving them this access to their hands. Self-soothing means more sleep.
Old Concept, New Twist
The Love to Dream Sleep System begins with the Swaddle UP. The three-stage program is designed to make babies and toddlers feel calmer and sleep soundly during naps as well as at night.
Babies like the coziness of being swaddled, and the Swaddle UP is a new take on traditional swaddle blankets. The ground-breaking design encourages babies to suck on their little hands or rub their noses, while sleeping in a more natural position with their arms UP, feeling relaxed and comforted.
Naturally Temperature-Regulating
Love to Dream sleeping garments are assigned a TOG ranking based on the amount of warmth they offer. To put it simply, the higher the TOG, the warmer the material. The Love To Dream Original, Stage 1 swaddle has 1.0 TOG fabric, suitable for moderate temperatures and room temperatures ranging from 68°F to 75°F. It has one single layer of fabric, reducing the risk of overheating! If baby sleeps warm, Love to Dream also offers a Lite 0.2 TOG version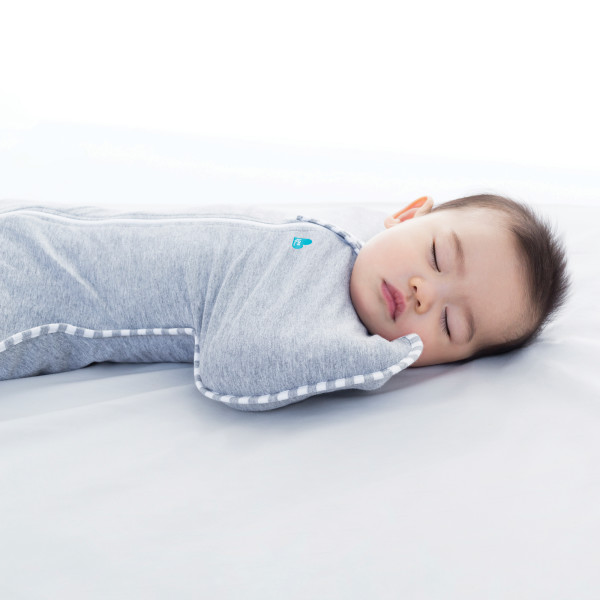 Patented Wings
The revolutionary design with patented wings enables babies to sleep more comfortably, with their ARMS UP™. When babies are first born, they often break out of traditional blanket swaddles, because they are used to having their hands by their face in the womb and don't like their arms stuck down by their sides. Medical evidence has found that when infants are able to self-soothe, they sleep for longer periods of time. The Swaddle UP™ is designed to be used from day one and will assist parents in laying a solid basis for sleep from birth.
Twin Zipper for Easy Diaper Changes
When baby needs a diaper change, the swaddle's twin zipper feature, one on the top and one on the bottom, will minimize the disruption and allow you to quickly change baby's diaper with ease. The zipper on the bottom is particularly useful for night-time diaper changes. You can change baby without having to fully remove the sleepsuit by unzipping the twin zipper from the bottom.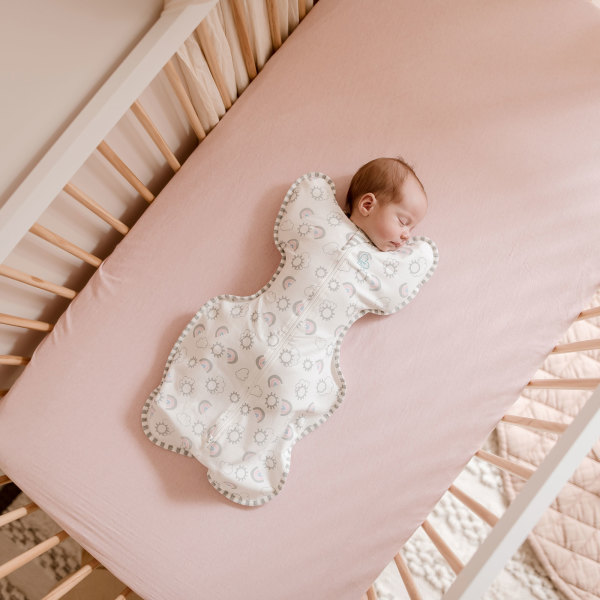 Safety
Swaddle UP is certified 'hip-healthy' by the International Hip Dysplasia Institute. The swaddle allows the full range of recommended flexion for hips & legs, allowing for proper hip development while keeping baby safe and comfortable.
Love to Dream is proud to be working with First Candle as Safe Sleep Guardians, helping the organization raise awareness around Safe Sleep for Babies, decreasing the number of SIDS and other sleep related deaths. We all know that babies shouldn't sleep with loose sheets or blankets, but in a "naked crib". The Swaddle UP is safer for your baby because it replaces the traditional swaddle that may come loose or unravel during sleep, causing a hazard. The swaddle is also easy to use, and is much quicker than folding a baby in a traditional swaddle. Yet, it still provides the comfort, snug feeling that babies like. This helps the baby sleep better, which means more sleep for parents too!
When baby begins to roll, Love to Dream offers multiple stages as baby grows to help ensure safety, while still sleeping soundly. This means more sleep for parents…and we'll take that any day of the week!
Thank you to Love to Dream for making this sponsored post possible.