This week's fab mom is twin mom Heather Stoeckel Karpinsky of Baby A & Baby B.
GG: Tell us about your product and how you came up with the feeding set?
HSK: We were so excited when we found out we were expecting twins. The news came as a big surprise and so did their arrival. Grant and Gavin were born at just 31 weeks after I developed preeclampsia. When they were born, I did not get to hold them. They were rushed immediately into the NICU and I remained in the operating room praying. That day started my journey as a mother of twins and the experiences below gave me the idea for the Twin Feeding Set.
Stopping the Spread of Germs: When we were able to go home after 6 weeks in the NICU, we were very happy and nervous. My babies had entered into this world as warriors and I wanted to do everything in my power to protect them. Leaving the strict rules of the NICU and heading home made me very worried about exposing Grant and Gavin to sickness. Parents of premature babies know that colds can be harsh and in some cases cause permanent damage to a premature baby's developing lungs. When my son Gavin got a cold at just 6 months old, I did everything in my power to ensure he got better quickly and that Grant did not get the same cold.
Keeping foods separate due to allergy: Being a parent makes you want to do the best for your children. I wanted the best and most healthy foods. I started making purees at home. It was a great way to save money and ensure only the best ingredients were used. We soon discovered that Grant loved anything with apples and Gavin did not. Gavin would get an upset stomach when he ate anything with apple. So ensuring their foods were not confused became important.
Making things a little easier: Feeding twins is so different than feeding a singleton. I always felt so silly juggling separate bowls and spoons while frantically trying to feed my boys. I also felt weird using the same spoon and bowl when both boys were healthy. It was a stressful experience and I hated making them wait so long in between bites. I searched online to try to find something that would make the process easier, but was unable to locate anything, so I started looking into doing it myself. These circumstances gave me the idea for the twin feeding set.
The Twin Feeding Set provides two mouthpieces to keep germs from spreading and two matching bowls that make it easy for parents to measure how much food each child has consumed. The Twin Feeding Set is also easy to hold and allows the parents of multiples to feed both children without juggling separate bowls and spoons. We started using the first model of the twin feeding set for my boys when they were 7 months old and they have yet to spread a cold or germs. We tested out the product for 6 months before we started to sell them online. The twin feeding set has enabled them to eat their favorite foods at every meal. It was a dream come true for us because it turned a stressful time into an enjoyable time for everyone.
GG: What is the best part of being a mompreneur?
HSK: The best part of being a mompreneur is connecting to other parents of twins. It makes me a better mother and I love hearing their stories. Becoming a mother to twins is my life's greatest blessing and being able to use what I have learned from my past experiences has been truly wonderful.
When I graduated from Albright College in 2002 I started working at MBNA, a bank based in Wilmington, DE. I took a position in customer service that taught me to "think of yourself as a customer" and "success is finding a better method." When MBNA was sold, I took a new role in development at the University of Delaware. I helped to raise money for scholarships, programs, and research. The birth of my twins altered my plans and going back to work was not possible. My salary did not cover the cost of daycare and coupled with my husband's hectic career as a helicopter pilot we agreed it was best for me to stay at home with my boys.   My focus was on nurturing and caring for my twins, however part of me missed working. When I discovered how simple changes to the products I already used everyday would make parenting twins a little easier my journey as a mompreneur began.  Being a mompreneur has given me the best of both worlds. It enables me to be at home with my boys while letting me use my experience in customer service to help others. My new role has helped me grow personally and professionally while connecting me with parents of twins from around the world.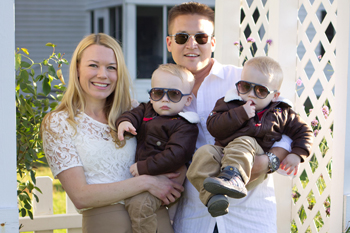 GG: How do you balance it all?
HSK: I take it one day at a time and always do my best. Balancing is almost impossible with twins! You can plan and prioritize and then something can happen that changes all of those plans. I am so lucky that I have a great support system (my husband, mother, father, friends, and my entire family) that I can always count on. The day of my first large order my son Grant had an allergic reaction that caused a severe asthma attack and I rushed him to the hospital. Without the help of my mom and my husband I would have failed in getting my orders completed that day. I would never want to let anyone down, so doing things all by myself would be impossible. It takes a village.