Meology by Shaklee offers Prenatal supplements that can be used at any point during your pregnancy journey, whether you are actively trying, already pregnant or postpartum and breastfeeding. 
Meology Prenatal
Meology Prenatal delivers 23 essential vitamins and minerals including folic acid, iron, iodine, and calcium, plus omega-3s and choline. It's a science-backed, safe, proven lineup of products, delivered in convenient daily packs to support the body's journey into motherhood. No multiple bottles / easy grab and go.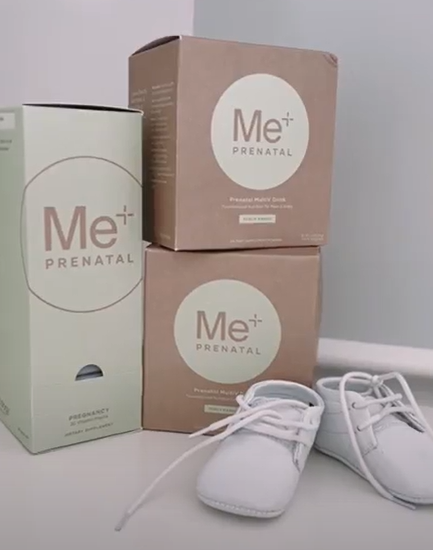 And it is customizable. Each monthly plan includes:
Prenatal MultiV Drink – A powerful, great-tasting multivitamin drink mix packed with critical vitamins and minerals to help prepare your body for pregnancy.*
MultiM Tablet – Your multivitamin supplement's supplement. This multimineral is packed with nutrients essential to every stage of your motherhood journey.
Omega-3 Gellys™ – Chewable 300 mg Omega-3 prenatal vitamin gummy with superior absorption technology.*
Plus, you can add on Targeted Solutions to Alleviate Personal Discomforts often experienced during pregnancy:
CoQ10 – 1 softgel for fertility and conception support*​
Stress Relief Complex* – 1 caplet to help relieve tension and stress
Chewable Cal Mag Plus – 2 chews for occasional discomforts of pregnancy, including leg cramps, sleep challenges, and mild indigestion.
Stomach Soothing Drops* – For occasional morning sickness or upset stomach.
Optiflora® DI – 1 capsule for digestive and immune support
Vita-D3® – 1 tablet to support the nutritional content of breast milk​
Here's how it works
First take a short assessment and instantly receive recommendations based on what phase of your pregnancy journey you are in. Add any extra vitamins you might need to your cart and get Meology shipped directly to your door.
High Standards, Clean Ingredients
All Shaklee products undergo a screening process that surpasses even the standards of the United States. All products come with a 100% money-back guarantee—no questions asked.
Here's why we love it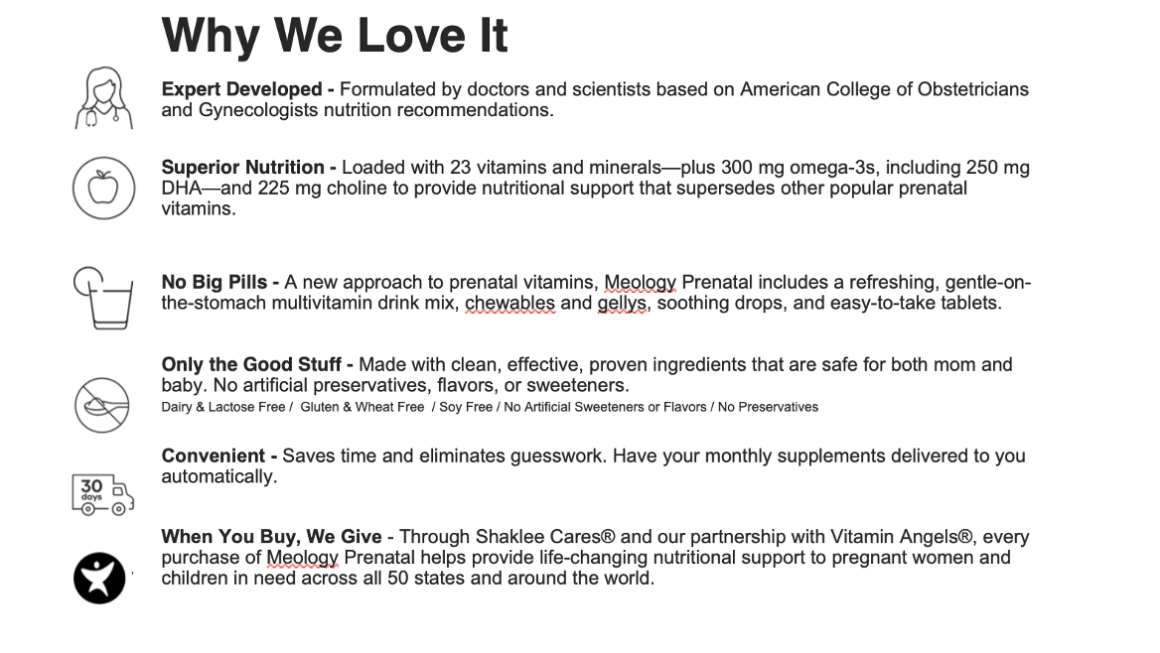 Here's what Moms are saying
"It's easy to take, and gentle on the stomach"
"I love that I can recommend one product line for preconception, pregnancy and postpartum"
"It helps support the core nutritional needs of pregnant and breastfeeding women"
"It helps keep you hydrated which is great for milk supply"
Check out Meology by Shaklee for your pregnancy and postpartum wellness needs.
Follow @shakleehq on Instagram for
more nutrition, lifestyle, and product information.
*These statements have not been evaluated by the Food and Drug Administration. These products are not intended to diagnose, treat, cure, or prevent any disease.
---
Join our Mom Creator community by signing up for our email list and receive paid and gifted opportunities with your favorite baby and kid brands in your inbox weekly!
Interested in becoming a mom content creator or influencer but don't know where to start? Join our monthly coaching membership specifically designed for mom creators.