This is our third post in Gugu Guru's New Mom Series, where we provide helpful information for new and expecting moms about preparing and registering for baby. For this Preventing Infant Congestion feature (or in layman's terms – "how to unstuff a baby's stuffy nose"), we have partnered up with new mama Ciera Hudson, Crane USA and Jennifer Bright Reich of Mommy MD Guides. MommyMDGuides.com and the Mommy MD Guides book series are filled with tips that doctors who are also mothers use for their own families.
Why Do Babies Get Stuffy Noses? Babies can get congested for a number of reasons, but this time of year the most likely culprit is a cold. There's good reason we call it the "common cold." In the first year of life, most babies have up to seven colds. This means that Mom is likely to have up to seven colds this year as well.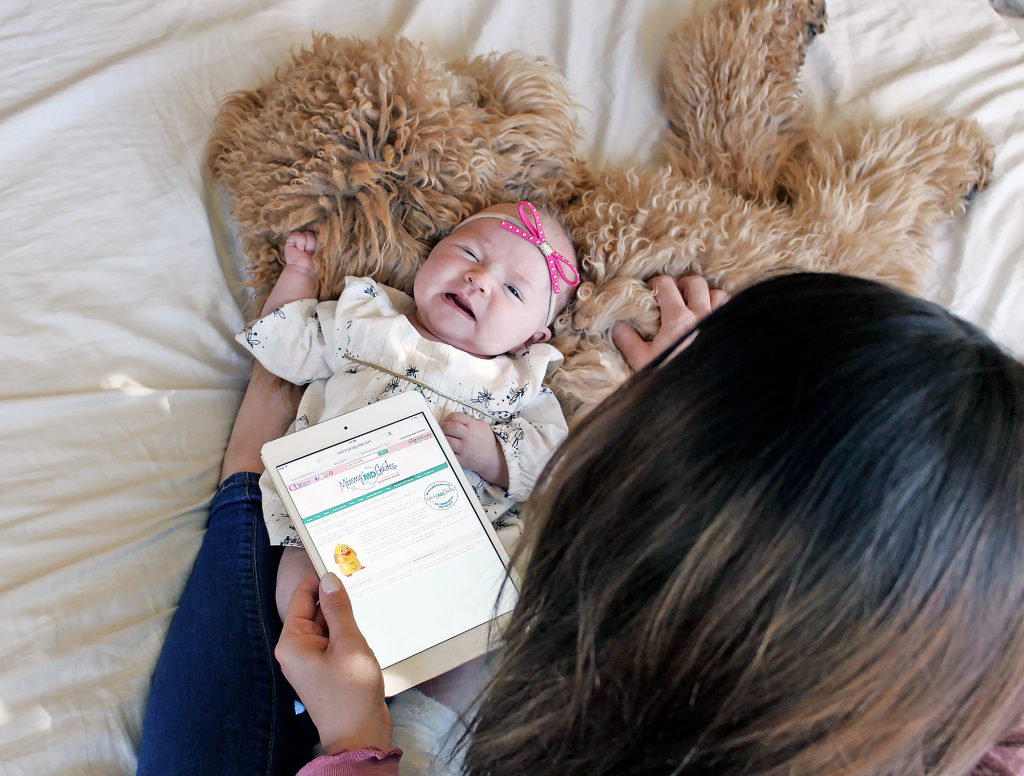 "Babies' immune systems aren't mature yet, plus most babies spend a lot of time in the company of other babies and kids, who aren't always so good about washing their hands," says Rallie McAllister, MD, MPH, a family physician, mom of three, and coauthor of The Mommy MD Guide to Your Baby's First Year. A cold is simply an infection of the upper respiratory tract, including the nose and throat. Colds are caused by viruses. In babies, the most common signs of a cold are a runny nose and nasal congestion. Of these, the more troublesome symptom for babies is congestion—because they have to breathe through their noses. Babies are obligate nasal breathers meaning they breathe through their nose for the first 4-6 months.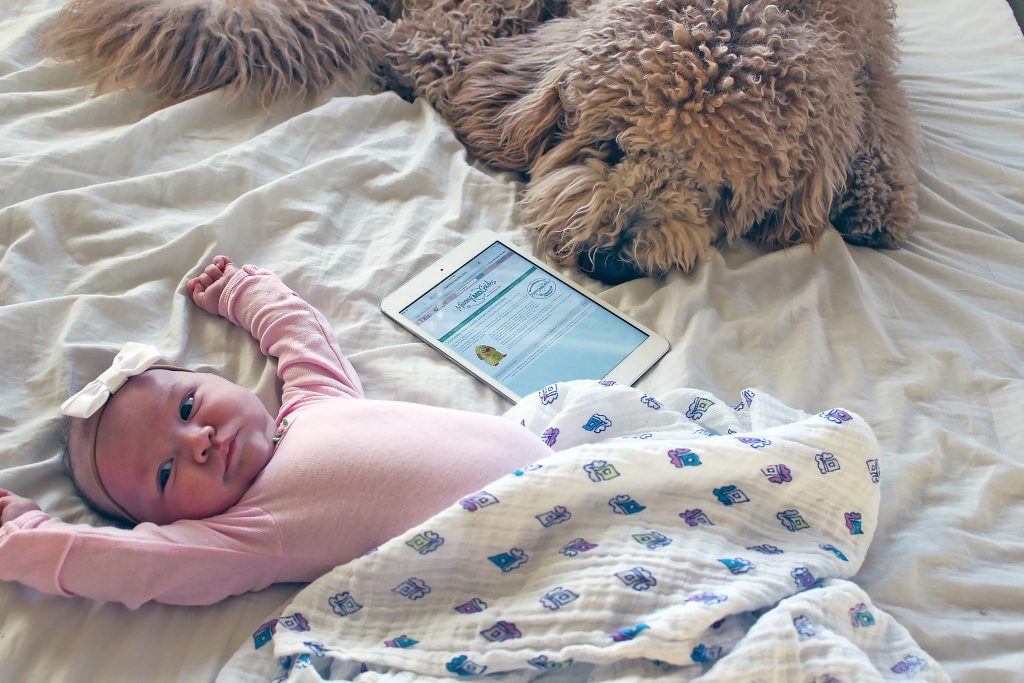 Here's how you can help your baby breathe easier:
Run a humidifier. Moist air is easier to breathe. Humidity also makes it easier to get the mucus out of your baby's nose. It's an effective, natural alternative to medications for cold. The Crane Ultrasonic Humidifier is both quiet and effective. The extra humidity helps them to breathe easier, meaning they can sleep better and eat with less frustration helping them to be better equipped to fight off a cold. Babies also do not have the ability to clear their noses on their own so the humidifier helps with this as well.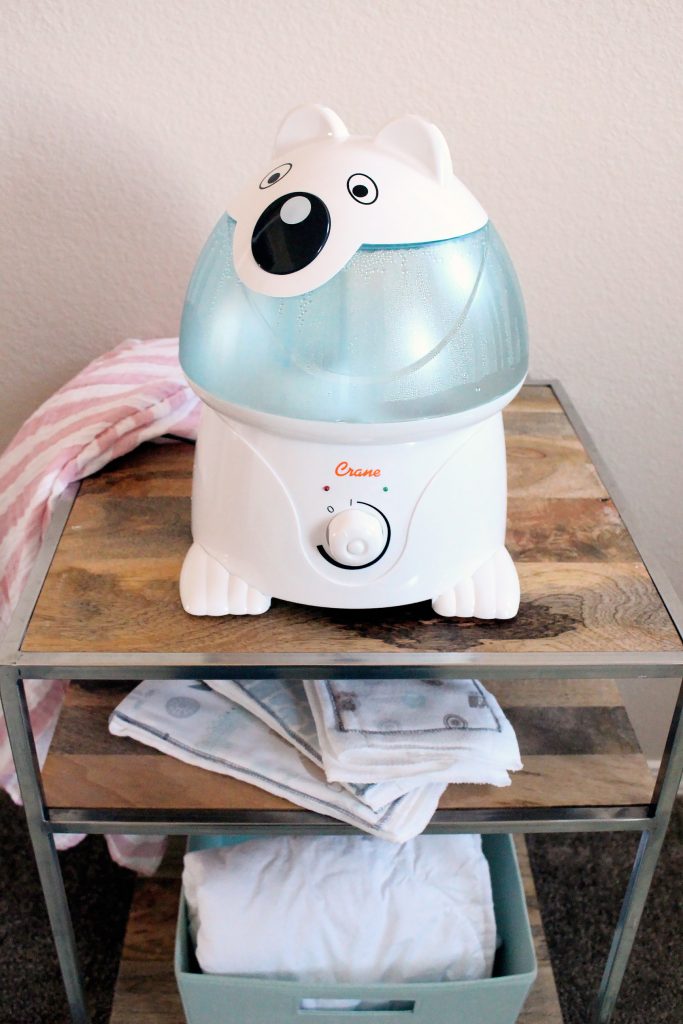 New mom to her beautiful baby girl Marloe, Ciera Hudson selected the Crane Adorables Humidifier in the polar bear design for her daughter's nursery.  It fits right in with the on-trend pastel color palette and décor (we also spy a Lorena Canals machine washable rug in Hippy Mint in this chic nursery!)
What Other Things Can I Do To Help My Baby With Congestion?
Use a bulb suctioner to clean out your baby's nose. She won't like it, and neither will you, but it will help.
Spritz saline in your baby's nose. "In my babies' first years, I didn't give them any drugs for a cold," says Hana Solomon, MD, a pediatrician and author of Clearing The Air One Nose At A Time: Caring For Your Personal Filter. "To help to ease their nasal congestion, I'd mix up a saltwater solution in a clean glass. Then I'd gently and slowly insert 10 to 20 drops of the salty water into the baby's nostrils while she's in an upright position, let it sit for a few minutes, and then suck the mucus out really well with a nasal aspirator. After that, my babies would nurse better, sleep better, and feel better."
Or you can buy an over-the-counter nasal saline spray. The devices with a quick squirt action are best because it's over and done with before your baby has time to get upset about it.
Elevate the head of her crib but putting books or blocks under the crib's legs. Do NOT put pillows or blankets or toys in your baby's crib.
Give your baby lots of extra love! Cut yourself some slack too. It's not easy to have a baby with a cold.
When Should I Call the Doctor? Besides being uncomfortable for babies, stuffy noses can pose more serious problems. Congestion can make it hard for babies to nurse or drink from a bottle, so watch your baby closely for signs of dehydration, including dry mouth, crying with few or no tears, fewer than four wet diapers per day, going four to six hours without urinating, or if the soft spot on your baby's head looks sunken or flatter than usual. Whenever your baby is sick, keep a close eye for signs of infection, such as a fever or crankiness. These warrant a call to your pediatrician's office.
Bios Jennifer Bright Reich is a mom of two sons and coauthor of The Mommy MD Guide to the Toddler Years, in Allentown, PA.
Ciera Hudson is a lifestyle and style blogger. Follow her and her adventures into new mommy hood on her Instagram at @YoursTrulyCiera
{Disclaimer: The information provided here by Mommy MD Guides or on MommyMDGuides.com is not intended to replace the diagnosis, treatment, and services of a physician. Always consult your physician or child care expert if you have any questions concerning your family's health. For severe or life-threatening conditions, seek immediate medical attention.}