One of the reasons pregnant mamas love registering on Gugu Guru is that we simplify every product into a very real life scenario and category. We know that registering can be overwhelming, which is why we are here to hold your (possibly swollen) hand and walk you through all the different categories when it comes to new-parenthood. The first stop in newborn land is what we like to call "Newborn Lockdown" – Newborn Lockdown describes those very early few weeks when you literally don't leave the house, whether it's because you're healing, breastfeeding, exhausted, or simply too nervous to take that tiny baby into the giant world! We've gathered together some of our favorite products for surviving those first few weeks on lockdown – and if you're not registering or pregnant, we highly recommend buying some of these items for your new mama friend (you can thank us later!).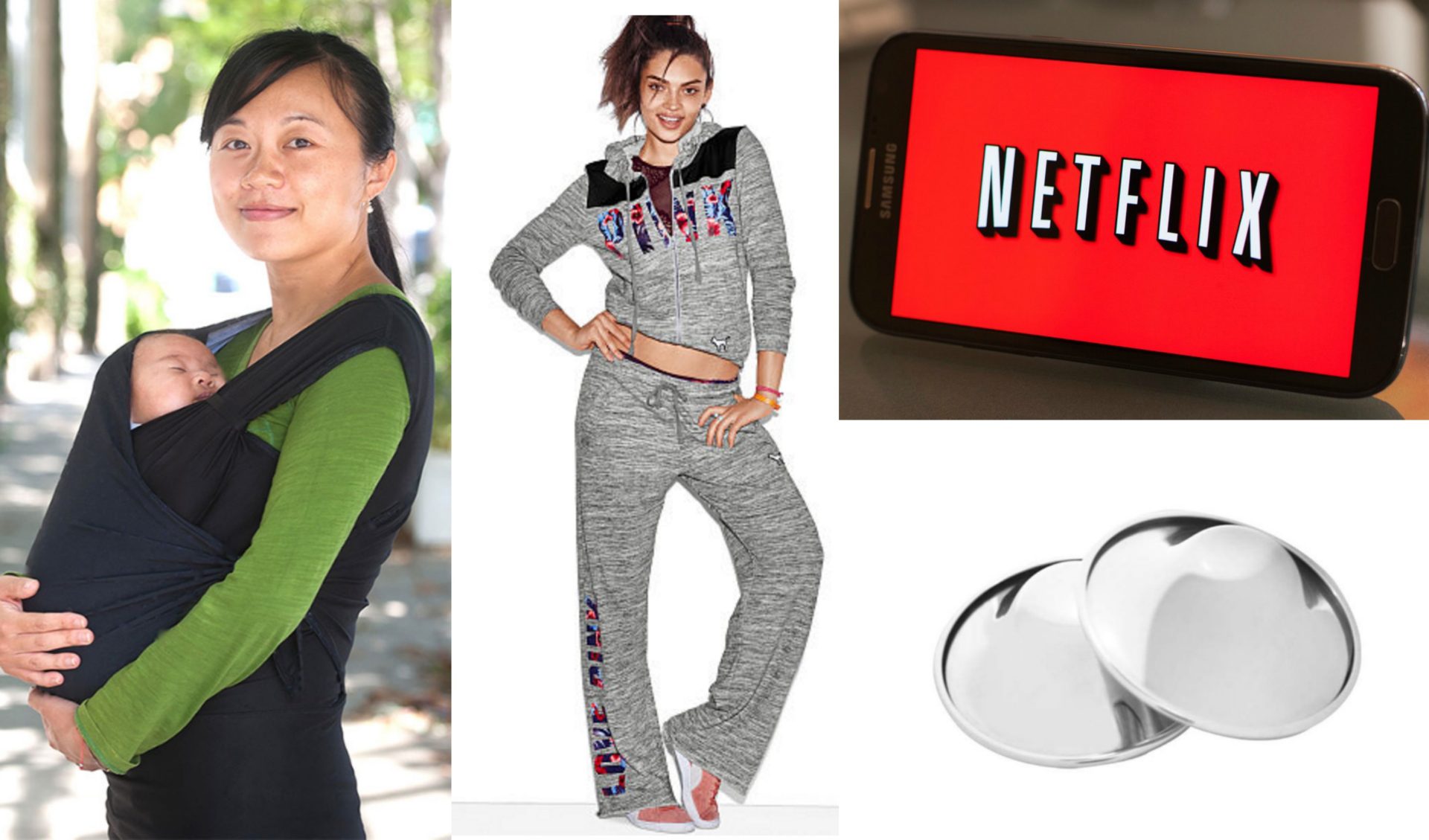 For Mama –
Nesting Days Carrier: In those very early days of newborn-hood, it seems like baby never wants to be put down! The Nesting Days Carrier is unique in that it can be worn two ways – wear it at home (and get a chance to use your hands again!) for skin-to-skin time with baby; it also helps pull in your stomach muscles and provide tummy support. Or, use it out and about over your clothing for a hands-free way to carry baby close to you.
Victoria's Secret Hoodie and Sweats: We know all you want to do is lie around with the baby, so why not look adorable doing it? We are loving these super soft "Boyfriend Pants" and hoodie from Victoria's Secret – plus, the hoodie makes whipping your boobs out for breastfeeding all day long so much easier!
Netflix: Don't have a Netflix account? You need one now – you'll be spending many, many long hours rocking, feeding, and shushing a baby, the least you can do is binge watch The Gilmore Girls while you do it! (We highly recommend Dawson's Creek and Felicity, too!). A Netflix account makes a wonderful baby shower gift, as well – mama can even watch on her phone late at night!
Silverette Nursing Cups: Are you breastfeeding your newborn? Check out Silverette Nursing Cups, which are small nursing cups made out of 925 silver to help protect the nipples while breastfeeding.  Silver is a natural antimicrobial and anti-inflammatory element and it heals and prevents cuts, wounds, cracks, soreness and infections. These cups are essential for anyone who is having problems with painful nipples or want to use them as a precautionary measure. They are completely easy to use and no creams or lotion are needed.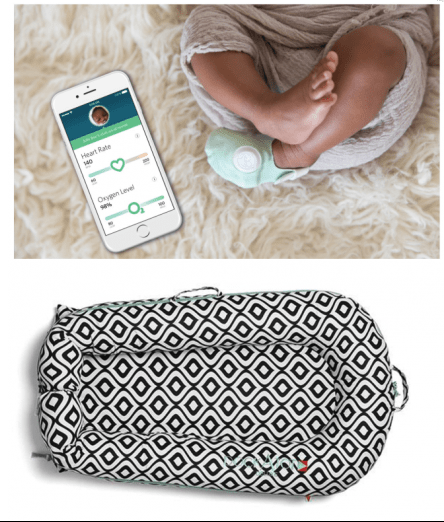 For Baby – 
Owlet Baby Monitor: It's nerve-wracking to bring home a newborn baby, especially for first time parents! It seems as though many parents are even too nervous to fall asleep because the baby seems so tiny and new – but, Owlet Smart Sock is here to help. The Owlet Smart Sock is a bootie which your infant wears, and uses hospital technology called "pulse oximetry" to monitor your baby's breathing. The Owlet monitor relays the information and connects to your smartphone, so even if you're cooking dinner downstairs, you can check on your baby's breathing.
DockATot: The DockATot is a completely unique and versatile product for babies to lounge, relax, or play in. The unique shape and design allow babies to comfortably rest, play, snuggle and log in some tummy time. The idea is that your little one feels snuggled in a safe haven that feels a lot like the womb. The bumpers are made with a special air-permeable fabric that makes DockATot particularly worry-free. The DockATot is very lightweight and perfect for families who travel!
To register for these items, head over to our registry page and add them (and many, many other must-have items) to your personalized registry!