Beauty editor and new mom, Marina Klimasiewfski, shares her experience of using the new Oilogic line…
Before I became a mom my ideal outing would be to a place that both serves crafty cocktails and paints elaborate designs on nails at the same time. Essentially, double-fisting poison. This is actually still how I'd prefer to spend an afternoon. Yet hypocritical as it may seem, a baby line with words like "organic", "natural", and "OTC-certified FDA approved plants" appeals to me. Even if I'm not 100% sure what all those things mean.
Since my son is so tiny (14 pounds 13 ounces now!) and seemingly pure, every single new thing that touches his body feels like a major life decision. Meanwhile, each day he changes. I'm constantly adjusting to what he needs to be comfortable and happy, all while avoiding gratuitous chemicals.
Oilogic is a line based on using natural remedies, particularly essential oils, to cure the many minor maladies of infancy and early childhood. I'm particularly into the fact that I can pronounce and identify the ingredients (I know what sunflower oil is!). I've been using some of their products on my son for the past month, and here's my experience: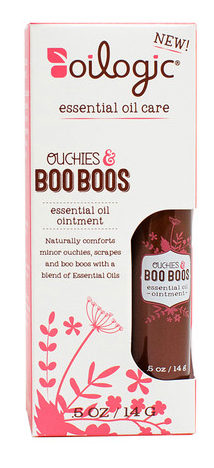 Ouchies & Boo Boos Essential Oil Ointment – my son has discovered that he has hands. And he wants those hands in his mouth all. the. time. Except sometimes he misses his mouth. So in the past two weeks he's gotten a new scratch on his face every day (and yes, we cut his nails, thank you, strangers in the grocery store for asking!). This salve helps scrapes heal faster. A blend of essential oils like sunflower, olive and coconut with vitamin E, and free from artificial color or dye, I felt very comfortable putting it on my son, even his face. I was also very happy to find it did help his little cuts heal within a day or two. This a definite re-buy for me, as I suspect we will be using it through toddler-hood. $9.99.
Slumber & Sleep Bundle of Joy – is a trio including Slumber & Sleep Essential Oil Vapor Bath, Calming Cream, and Roll-on Oil. The products have a slightly heady, earthy-minty scent, likely from the rosemary oil, that I happen to love. It's a welcome switch from the typical "baby" scented bath products. If my husband and I come home from work to a particularly boisterous baby we bathe him in the vapor bath (a light oil), give him quick rub with the cream, and dab his inner wrists and behind his ears with the oil. It's not a miracle cure, but this ritual does seem to calm him down. $24.99.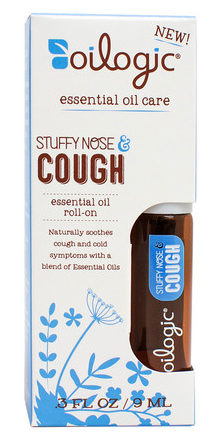 Stuffy Nose & Cough Essential Oil Roll-On – while we thankfully haven't suffered any full-on colds yet, periodic sneezing and coughing do occur, especially now that the flowering plants are in full bloom outside. This fragrant oil helps to clear up my sinuses, so it's become more of a whole family remedy than exclusive to baby. $9.99.
The line also includes an Essential Oil Roll-on Bundle of Joy (set of 5), Itchy Eyes & Sneezes Roll-on, Bug Bites & Itches Roll-on (which I plan to test this summer), Relax & Calm Roll-on, and Stuffy Nose & Cough Bath Vapor. All products available at Oilogiccare.com.