Weighted blankets are proven in clinical studies to alleviate stress or anxiety and help promote a deeper, longer sleep.  The reason why? Weighted blanket therapy can help increase Serotonin and Melatonin levels overnight.  Sleep is the holy grail for new parents and babies alike.  Parents want babies to sleep well because a good night's sleep is imperative to baby's health and development. Of course, we as parents want babies to sleep because parents also – sometimes desperately – need sleep. Weighted blankets can be game changers for your household slumber. We're excited to tell you about two weighted blankets – one for parents and one wearable swaddle / blanket for baby – that will help the whole family get the sleep they need.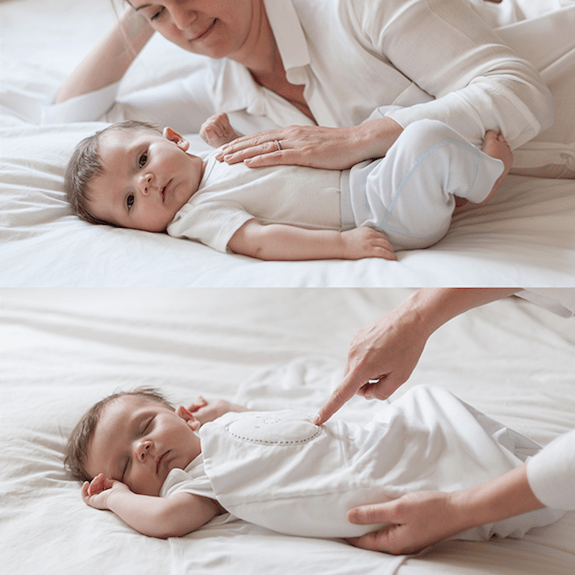 First up: baby and the Nested Bean Swaddle. Because of the clear benefits, Nested Bean identified that babies tend to sleep better in your embrace or with your palm on their chest. They also understand that this is obviously not always possible so Nested Bean created a one of a kind, award winning swaddle for babies – the Zen Swaddle. The Zen Swaddle simulates the pressure from your touch with lightly weighted pads on baby's chest and sides.
There are two options for the Zen Swaddle – The Zen Swaddle Classic is one layer of fabric, which means it is perfect for warmer months. At a very affordable price, you can have many of them, so baby won't miss one night of sleeping well! The Zen Swaddle Premier has a double layer construction, which makes it perfect for cooler months. The Classic Swaddle features traditional baby light baby colors, while the Premier has more of a modern touch. The Swaddle is longer than most swaddles, making it most cost effective, as it will last your baby well into 6 months. They are 100% cotton and machine washable, and come in a variety of colors and patterns.
But, the best part of the Zen Swaddle? Parents who've tried the Zen Swaddle report their babies fall asleep easier and stay asleep longer within 1 to 3 nights. Win win for everyone! (Head over to Nested Bean to purchase a Zen Swaddle and receive 15% off with the code GUGU15.)
Next up: parents. Super, super important note that we have to stress here first – the weighted blankets shown here are intended for adult use. Do NOT use these blankets when you have an infant in the bed with you, especially a child under 20lbs.
The Weighted Blanket from Brookstone uses the same comforting pressure as a loving hug to elicit sensations of calmness and relaxation. Evenly distributed weight provides optimal coverage and a safe, snug feeling for any individual.