It's no secret that babies love to be swaddled, as it helps them feel snug, as if they're still in the womb. The Love to Dream Swaddle UP was invented by a mother who couldn't find the perfect swaddle blanket on the market, so she took to creating one herself. The Swaddle UP is a totally unique design, and parents love it for so many reasons. Its features are lengthy, and Love to Dream considered not only the baby's sleepytime needs, but the needs of the entire family, as well. Read on to learn more about the Love to Dream Swaddle UP and why it's a sleep time essential item.

Love to Dream realized that traditional swaddling is often difficult for new parents to master, and often the swaddle unravels throughout the night, which leads to baby "escaping" and waking up! Love To Dream™ has revolutionized swaddling so that everyone can swaddle correctly, every time, so babies will have a safer, more comfortable sleep. Love To Dream's Swaddle UP is the only zip-up swaddle that allows the baby to sleep in a more natural position with arms UP. 

Babies naturally want to sleep with their arms up near their faces for self-soothing (sucking on their hands and touching their faces, which helps babies to sleep better and longer), however traditional blanket swaddling forces their arms down or across their chest. To conquer this, Love To Dream™ created one-of-a-kind sleep products for every chapter of a young child's life. The snug fit makes your baby feel secure & helps to calm their natural startle reflex. 

Love to Dream also considered families while creating the Swaddle UP and wanted to make the sleep time experience as stress-free as possible. The Swaddle UP helps parents swaddle their baby quickly and safely every time and eliminates excess loose fabric in the crib. Plus, the genius two-way zipper for easy diaper changes and hip-healthy design allows hips and legs to flex naturally.

From the waist down, a hip-healthy design allowing hips and legs to flex naturally, so baby can comfortably move around without the worry of anything near baby's face, such as a blanket. Since their hands are covered, but accessible, the Swaddle UP baby swaddle is ideal for babies with sharp little fingernails since they can soothe themselves by rubbing their cheeks without the worry of scratching themselves.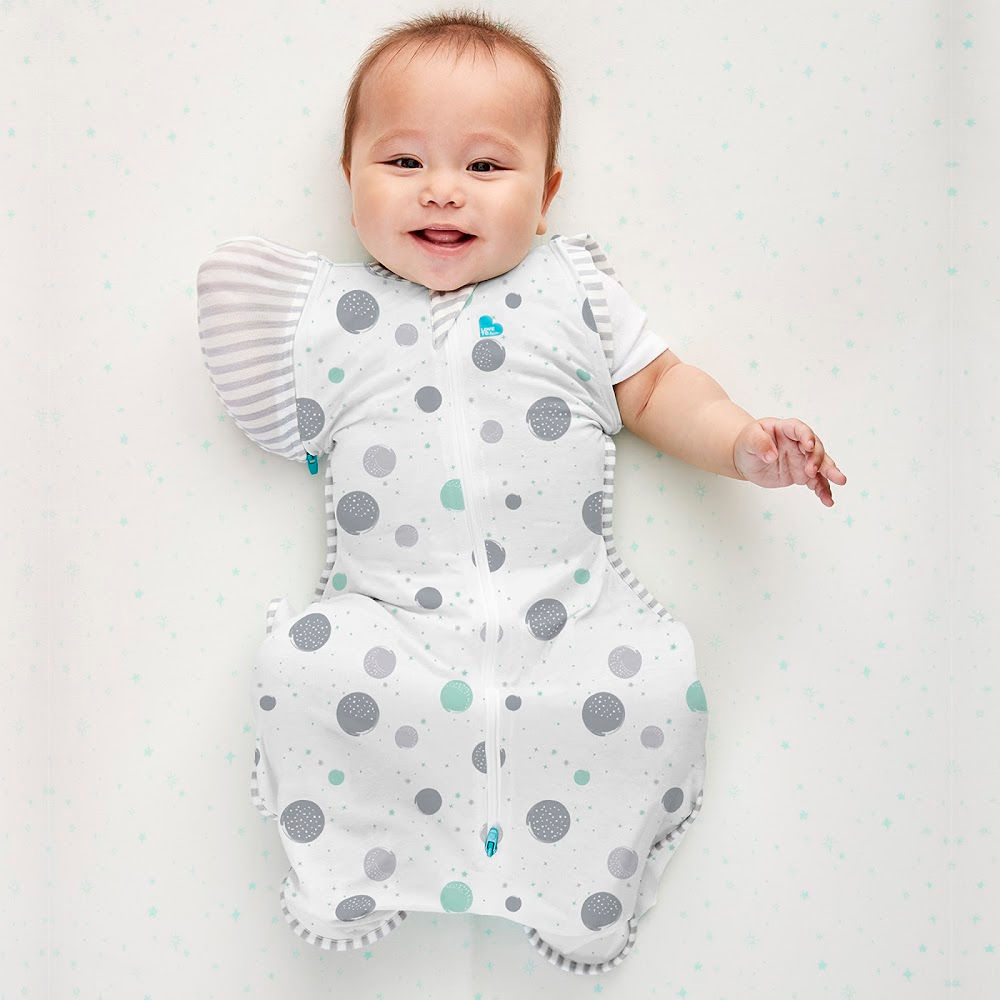 When your baby begins to outgrow the Swaddle UP and is ready to move on to the next phase, its time for the Swaddle UP 50/50 Transition Swaddle. This style is designed to gently help babies adapt from a swaddle towards the arms-free independence of a sleep bag – and it is the perfect transition from any type of swaddle, not just the Love To Dream. The Love to Dream Swaddle UP and Transition Bag are must-have sleep time essentials for any baby; with a ton of patterns and colors, they are a perfect baby shower gift, too!
Read more about the Love to Dream Swaddle UP here, too!
Thank you to Love to Dream for making this sponsored post possible!