Meet Tejari: organic, plant-based superfood protein blends. These nutrient-dense, convenient, yet delicious options don't include empty calories, tons of added sugar, or cheap ingredients. They're incredibly easy to incorporate into smoothies, baking, and beyond. Some of our Gugu Village mamas volunteered to test them out for us, and they were all huge fans of their products.
Read on to see what they have to say!
Sarah H: I am so thankful I found Tejari brand protein powders. They are definitely the best out there, and we have tried quite a few. I love that Tejari is plant-based, organic and has no added sugar. We use them mostly for smoothies, but I have put them in pancakes for my kids as well as baked goods, like banana bread. My favorite blend is the blueberry spinach and we use it daily in our smoothies. We have tried almost all of their flavors and you just can't go wrong. Golden Banana is great for baking and I've even sprinkled their new vanilla blend straight on fruit or yogurt! Because most of their ingredients are just fruits and vegetables, they actually taste good compared to other protein powders out there.
Jessica G: My daughter who was already picky eater was recently diagnosed with a dairy allergy. It's been a struggle to find things she will eat that have the nutritional value and protein she needs that are dairy free and actually taste good. I made her a shake with the Tejari Cacao powder, it mixed in well with her coconut milk without any clumps and I added a banana for sweetness. It tasted amazing and she actually drank her whole cup that I gave her. We are looking forward to trying the other sample flavors in some baked good and trying more shakes. I think our search is over to find a nutritious option for my daughter, thank you Tejari.
Samantha F: I really enjoyed the Tejari protein sachets! I decided to try mixing the Cocoa flavored mix in my morning coffee, which was an excellent idea. As odd as it might sound, the slight hint of banana in the powder gave my coffee a really enjoyable flavor. I loved that it tackled my hunger first thing in the morning- I tend to not like a big meal when I wake up, but as a new mom, I am often quite ravenous! The Golden Banana smells just as awesome as it tastes and was a fantastic addition to oatmeal. I also used it to make delicious cookies thanks to a recipe on the Tejari site! The blueberry spinach blend was great mixed into a homemade açaí bowl with fruit. My daughter really enjoyed the strawberry flavor when I mixed it in with her smoothie popsicles. I love knowing she's getting an extra boost of healthy protein when she's having a "treat."
Alyssa J: Thanks to Gugu Guru and Tejari for giving me the chance to test out Tejari's plant-based, superfood protein powders! I've dabbled in protein powders in my smoothies before, but I always ran into roadblocks because I'm sensitive to dairy – meaning all those whey-based powders were a no-go! Then I tried plant-based alternatives, but they tasted awful (looking at you hemp!). Tejari's superfood blend made with pea protein is a great solution for my family because it delivers on taste and is safe to share with everyone, including my littlest ones! We love sharing a pitcher of smoothies when that afternoon snack craving hits, and I'm glad I can serve the same product to my 2 year old with a dairy sensitivity without worrying that the powder is packed with extra fillers that aren't safe for him. I love all the other recipe recommendations that Tejari provides too! I would never think to swirl the Organic Cacao protein powder into my hot chocolate or Golden Banana protein powder into my oatmeal – game changers! As someone who struggled with gestational diabetes and now prediabetes, I really need to focus on balancing my carb intake with protein, so Tejari's recipes are perfect for my needs. Plus, Tejari doesn't have added sugar, which is even better for my family's health! We'll be keeping these superfood protein powders handy in our family's pantry from now on!
Christine C: I am always on the hunt for healthy ways to add more fruits, veggies and protein to my day and it's a huge bonus when I find something that also works for my kids (ages 3, 5, 7). I received 4 samples of the Tejari blends: Strawberry, Golden Banana, Cacao, and Blueberry + Spinach. Quality and transparency of ingredients is very important to me so the fact that these are organic and contain simple, easily identifiable ingredients was an immediate plus. And I also read on their website that they eliminated all plastic from their new packaging, which is incredible – companies that are trying to do right by our planet are ones that I want to support! As for the product, I like how easy it was to use the product in a variety of ways – a few variations that we tried included Strawberry Applesauce, Blueberry + Spinach Acai bowl and a Cacao Banana smoothie. I found them all to be delicious (no weird aftertaste!) and my kids fought over every single concoction I came up with. It's so simple to mix into yogurt or oatmeal or pancake mix to give an added protein boost and keep us all feeling satisfied after a meal. There are also a lot of great recipe ideas on the website for things like energy bites, granola bars, protein truffles, muffins and more – I can't wait to try them out!
Monique A: I have tried three of the four products thus far. The banana, strawberry and blueberry/spinach. I enjoy the fact that these products have natural ingredients, minimal ingredients, and can be used in a variety of ways. For example, I made the strawberry pancake recipe included in the package and I made smoothies with the other two flavors. I was really appreciative that there was not an after taste and that you could decide on how much or little you wanted for the flavor. And I felt like the flavors were a great substitute for fruits I did not include in my recipe and enhanced fruits that may have already been in the smoothie. I would appreciate some more direction on the packaging and/or website on how much to use in generalities. I felt like was trial and error. This way you do not waste and you can accurately balance flavors. One thing I greatly appreciated was the resealable packaging, that was super helpful.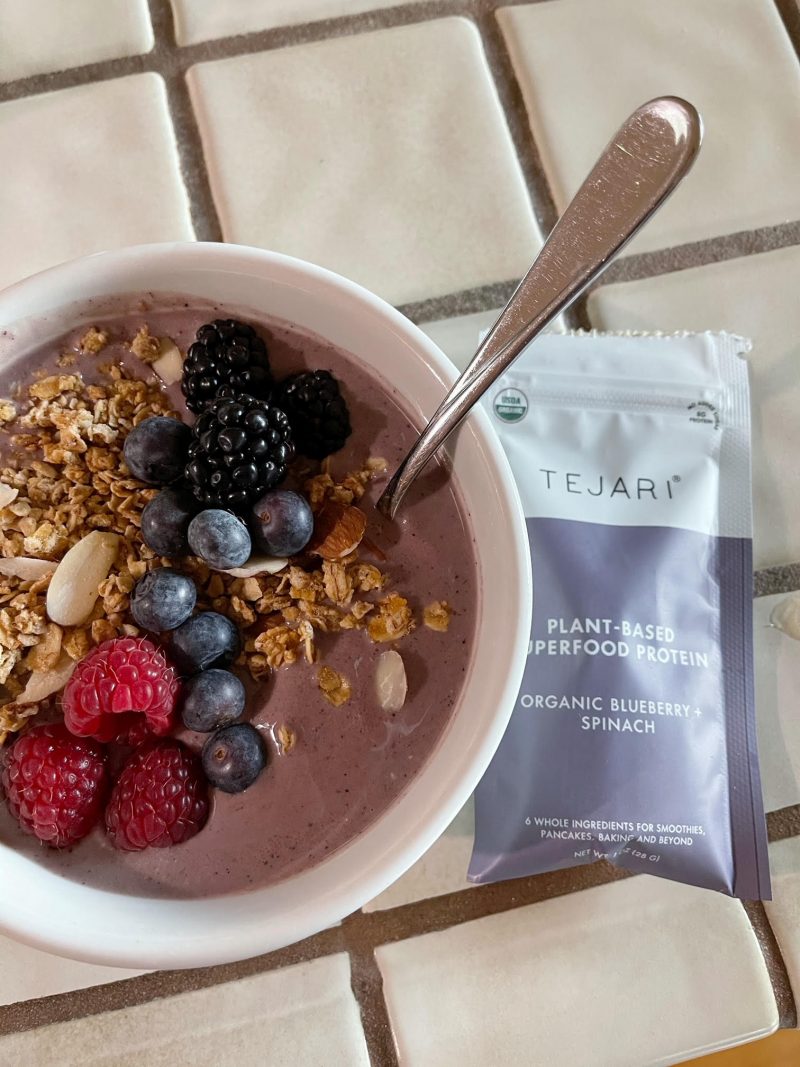 Denalee M: My family and I absolutely love the Tejari protein blends. Smoothies are a staple in our house and my three year old is a picky eater so I'm always looking for ways to boost his nutrition. He loved every single smoothie we made with the Tejari packets but of course the cacao was his favorite. My 11th month also loved them. With her, we sprinkled some of the packet into her oatmeal. She was a big fan of the strawberry. My husband and I enjoyed the golden banana as a late night treat. Not only were these packets delicious (which is hard to find in protein powders) but I could also feel good about sharing these with my family because of the clean ingredients and no added sugar. Needless to say, I've already placed an order for more 🙂
Katie D: I really enjoyed all flavors of Tejari protein! The ingredient profile was super intriguing to me because it is incredibly difficult to find good-tasting protein powders that aren't sweetened in some way. I haven't wanted to give my 14 month old any sugar alternatives like stevia just yet so unflavored collagen has been the only introduced to her. I can honestly say we loved all the flavors! We added some to pancakes, to smoothies, and even energy "bites" and she loved all of it. With such minimal, wholesome ingredients, these really feel more like whole FOOD packs than supplements. If I have any constructive criticism, it would be for Tejari to include that more in their marketing! If each serving of their blueberry + spinach flavor contains 1.5 cups of spinach and 17 blueberries, I think that should be front and center!! I'd also love them to be available for sale on Amazon.
Tiffany L: I really like the simple and clean ingredients list to Tejari protein powders. I think it is more of an enhancement than a flavoring. They are a great way to add protein to meals, drinks, and smoothies. The cacao is easily hidden in chocolate milk or pudding from picky kids! You could also add any of the flavors to yogurt or oatmeal.
Shelby G: We have LOVED the Tejari superfood proteins! Definitely going to be a staple in our house. They are perfect for just about anything from smoothies, to adding some extra nutrients to snacks for our 2 year old. Our favorite so far is the organic golden banana but it all depends on what you're mixing it into. We've added it into peanut butter for snacks or sandwiches and it doesn't change the consistency at all. It just adds such a delicious flavor to it! On top of everything, I have peace of mind knowing my son is getting some nutrients he would be missing without the Tejari superfood proteins. He's a picky eater at times so the fact that we can hide these easily in foods he will eat is a game-changer.
Read more and shop at www.tejariandco.com.