Traveling with little ones can certainly be an interesting journey, which is why we love any product that can help keep kids both entertained and organized during travel. We are huge fans of the Go Happy Kids Travel Tray, check out these real mom reviews below: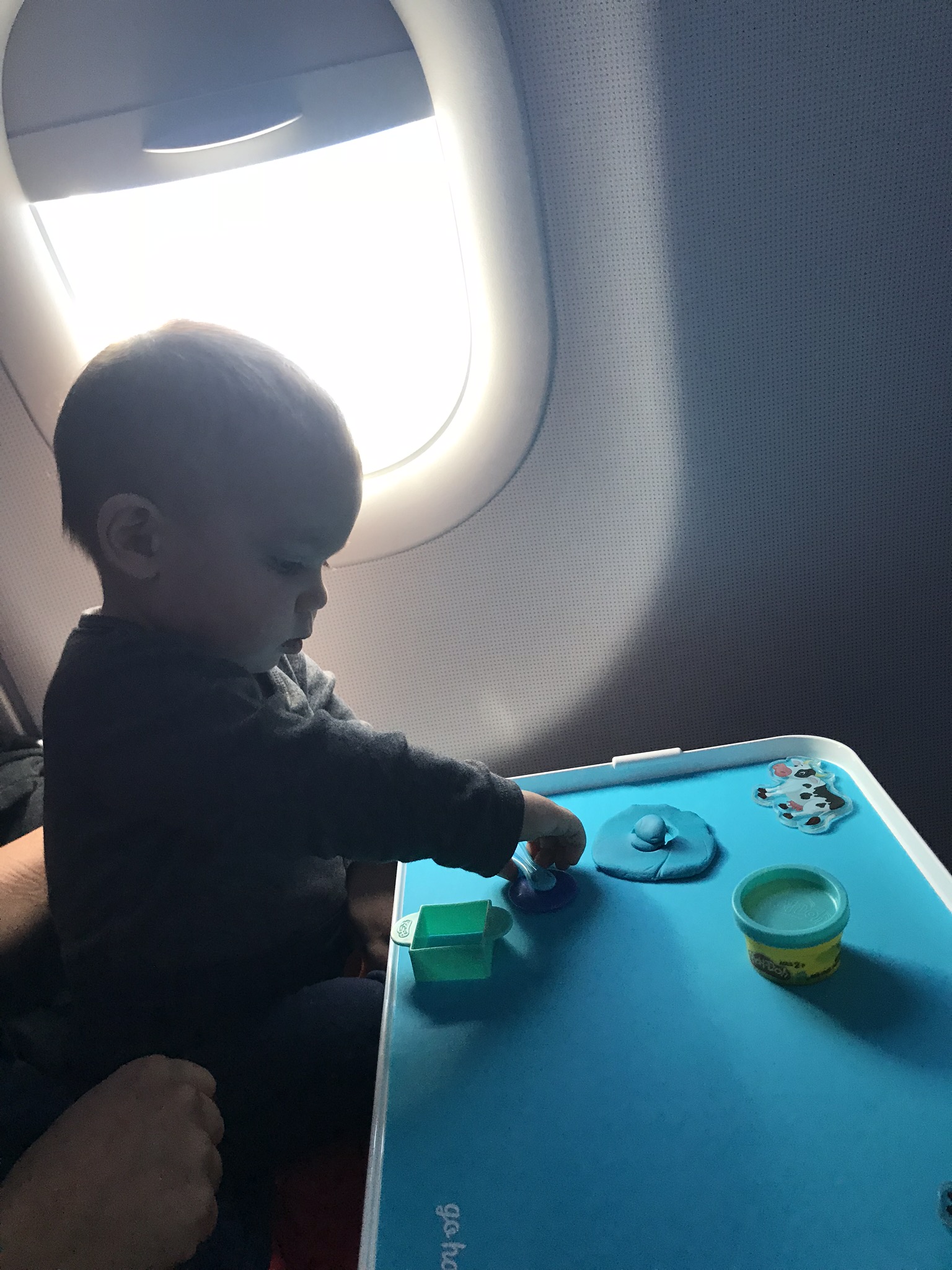 April: I recently had the opportunity to try the Go Happy Kids Travel Tray on a flight from NYC to LA with my nine-month-old little one. The first thing that occurred to me when I used the tray was that this product was clearly created by a parent. It's the type of product you don't even realize you need until you're settled in on a flight with your little one and their snacks and toys are rolling off the small (and dirty) airplane tray. I also really liked that the tray has a slim profile that easily slips into a backpack, comes in a washable drawstring bag to protect it while not in use, and has a removable silicone cover that makes washing it super easy. You and your baby will both be happy with the Go Happy travel tray!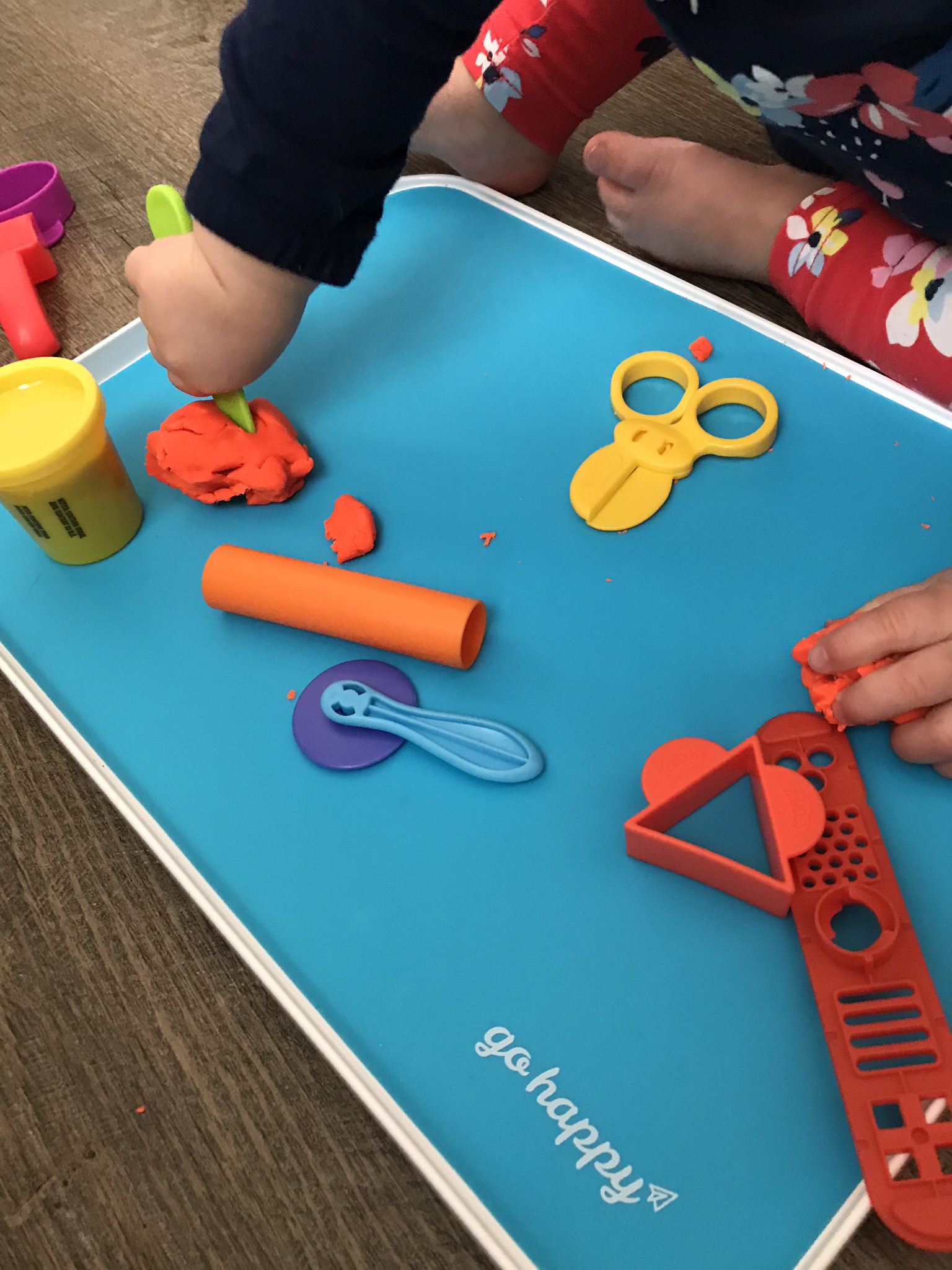 Erica: We love the versatility of this tray. Whether at home or on the go, the tray serves us well for Playdoh, snacks, reading, and coloring. The non-skid mat is great for travel or just unsteady toddler hands. It's designed with sturdy, high-quality materials. It packs away well in the laptop pocket of a backpack. So many ways to use this!
Tiffany: I love this tray and so does my son! It works great to keep the crumbs contained!! It has a nice border to keep toys from falling off the edge easily! The strap can be a little tricky when stretching it a little farther but holds well! I wish it could clip onto the tray though. It came with a nice and sturdy carrying bag too! The tray and silicone liner both wipe off easily and the tray has a nonslip grip on the bottom for use on a table or other flat surface. All in all this tray makes eating and playing on the go much more convenient! This tray will be great for  any trips.
Brooke: We love the Go Happy Kids Travel Tray! It's so convenient and easy to clean. My daughter was able to play with her play-doh on the coffee table without getting it into all the crevices or on the carpet. It has also been perfect for holding our snacks while we cuddle up to watch a movie on the sofa. 
Denalee: The tray was great on the plane! We had the bulk head seat so it wasn't the normal tray but the travel tray still sat well on top of the plane tray. The adjustable strap kept it in place really well especially when Mikey was done and wanted to push it away quickly (it didn't budge). We used the tray for eating and playing. There was plenty of room to play with play doh, stickers, and eat all at once. Plus when we had to fold of the plane tray to reach our bag or move it was really nice to not have to pack everything up or try and hold everything in our laps. The travel tray made it really simple to just pick up all the stuff at once and then easily put it back. Not only did the tray make the flight easier but we actually used the inside silicone part as a mat to eat off of at restaurants on our trip. It doesn't stick as well to the table as mats made for this purpose but it works and was one less thing to worry about packing. 
Lauren: The Go Happy Kids Travel Tray was a fantastic addition to our travel bag. The tray kept germs away and snacks and crayons close to my toddler! The strap and grippy material on the bottom of the tray prevented it from moving around during use. 
Alyssa: I was so excited to test the Go Happy Kids: Travel Tray. On a recent plane trip I felt like I was constantly trying to retrieve things that rolled off the regular airplane seatback tray and this product seems to fix that problem with its silicone mat and lip around the edge. No more rogue crayons! Not to mention, it covers the regular tray completely and securely so you don't have to worry about germs and wiping everything down with disinfecting wipes before your kid eats their snack. The handy travel pouch is a nice feature to transport the clean tray around. 
Molly: There's no question that traveling with kids can be difficult. Control some of the chaos, plus art supplies, cheerios, and toys with this sleek travel tray. With a universal raised edge and extra grippy bottom, it easily stays put on standard airline tray tables to keep kids plane essentials off the germiest surfaces and away from the floor. From air to at home, it's perfect for particularly messy or tiny crafts, (think playdoh to beads). My kids (13,5,3) also use it for snacking and coloring. Bottom line, it's a great, sturdy surface to use for work or play. Made from BPA-free plastic with a fully washable silicone liner that helps to secure and reign in all manner of travel distractions, the Go Happy Kids Travel Tray is a constant companion when on the go. I keep mine in the back pockets of the car for my two youngest kids to grab as needed. As a mom who spends a considerable percentage of my day picking up things that have fallen on the ground, rolled under a table or disappeared under a seat, the Go Happy Travel Tray is an activity/snack time lifesaver.
Check out these related travel posts:
The Best Travel Car Seat for Infants and Toddlers
Eco-Friendly Toddler Must-Haves for Traveling Families
Gugu Gift Guide: Family Travel Picks