Monti Kids makes at-home Montessori learning easy and impactful. Montessori learning involves a series of specially designed toys that address a child's cognitive, physical, linguistic, social and emotional development. Reading is a vital part of Montessori learning and has been shown to improve language skills and provide benefits that last throughout a child's entire education.
Our Gugu Village testers were able to try the Monti Kids Infant Preview and Wooden Book. They had access to Monti Kids Infant learning module, which was created to correspond with the Special Edition Wooden Fruit Book. Testers were able to glean useful tips and watch a video on fostering early literacy skills. Here's what a few of our Gugu Villagers had to say about the Monti Kids Infant Preview and Wooden Book.

This Monti Kids Wooden Book is perfect for infants! It's so well-made, with easy to turn pages and simple photos of fruits. My son isn't eating much yet but still really enjoys looking at the pictures as I teach him the fruit names. It's also very easy for him to look at it on his own, as the design fosters independence. I can tell that the simplicity is appealing to him.
-Carrie M.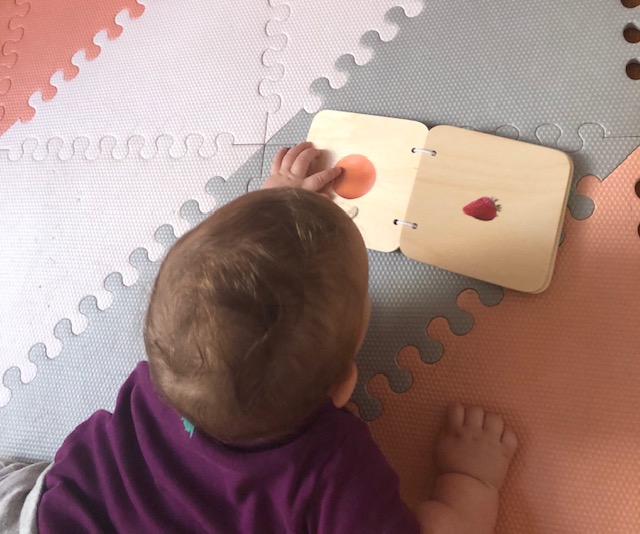 At 11-months, my little one is just starting to take an interest in books so I was very excited to have the opportunity from Gugu Guru to try the Monti Kids fruit wooden book.
To be honest, I have always been interested in the concept of Montessori learning but with everything else we are trying to do as moms, I felt overwhelmed on how to immerse myself in the concepts and introduce it to my child. I LOVE that Monti Kids provides an easy to digest and quick video on how to best introduce the book to your child to make it fun and maximize learning.
With no words in the book I was pleasantly surprised at how much my child would engage with the imagery pointing to each fruit as we flipped through. Since we received it I have spotted my child seeking it out himself to flip through – which is a big win in my book (pun intended).
The simple and beautiful Monti Kids wooden book and the easily digestible educational videos are helping me win at parenting!
-April A.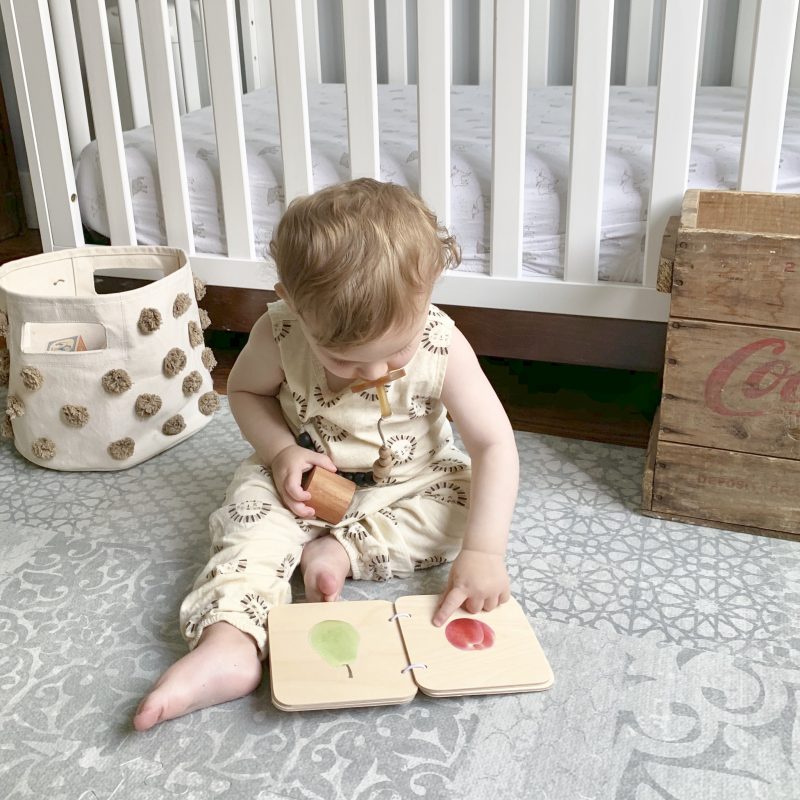 We had the pleasure of testing out this wooden book by Monti Kids. The book is very nice, well put together! He really enjoyed looking at it and didn't pinch his fingers at all! The book is fun and simple. Easier to focus and learn about each fruit. The book is lightweight and easy for him to hold. A little tough for him to separate the pages but he is 7 months!
-Tiffany B.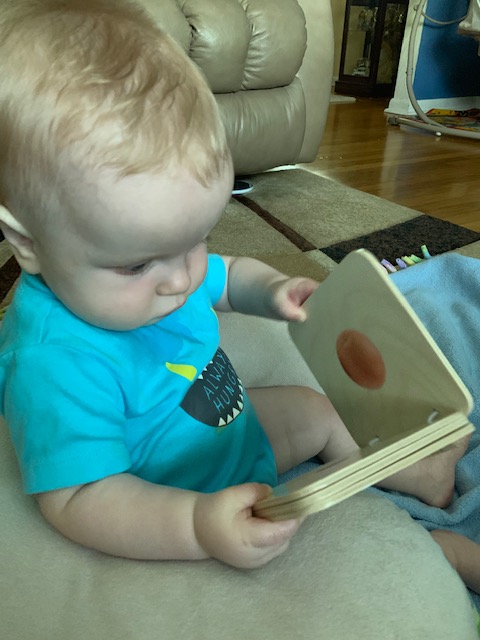 Thank you to Monti Kids for providing our Village Testers with the Wooden Books and access to the Infant Preview. To learn more about Monti Kids or purchase the Infant Preview and Wooden Book, click here. This bundle will only be offered for a limited time. If you are redirected to the Monti Kids homepage, the bundle has sold out.
The Village Reviews: Nanobébé Flexy Pacifier
The Village Reviews: Gabri Isle
The Village Reviews: Evenflo Balance Glass Bottles