Colombian-American film and television actress, activist and mama, Zulay Henao took a trip to her home country of Colombia over the holidays. Gugu Guru was so excited to get her geared up for a successful vacation with her toddler daughter, Kennedy, that she shares with her fiancé actor Kevin Connolly.  Here, Zulay shares the products that made her trip smooth sailing with a toddler in tow:
Ok we did it! We traveled internationally, to Colombia, my birth country for the holidays with extended family, multiple babies and two travel legs each way! CRAZY, but we did it and we did it well!
Leading up to any large , overwhelming and long distance trips there is always so much planning, logistics etc. involved it is easy to forget the small intricacies that come into play when traveling with a toddler. In my case, my daughter Kennedy is 19 months old and is DYNAMIC, HONEY! HA, HA, I mean that in the best way! She is active and loves to explore. Here is the bottom line, traveling with any child of varied temperaments and personalities will come with its challenges! Thank God for the internet, friends, and amazing brands who can offer advice and products that truly save the day!
I of course went straight to my first-time mom, go to resource for all things baby. Yep, you guessed it- Gugu Guru, and they did not disappoint.
Amigas, here are my top SUPER STAR brands and products that can make your next trip more enjoyable for both you and your little one(s)!
First on my list!
This stroller hit all of the checkmarks for me and far exceeded my expectations.
airplane compliant
lightweight at 13.4 lbs!
easy one hand fold (seriously)
and as CHIC AS CHIC gets…
The JOOLZ AER maneuvers beautifully. Kennedy especially loved the bumper bar, as she is very independent and loves to have autonomy and agency to move around!
Medellin is a huge city with a lot of attractions that require a lot of tight space maneuvering, like small pueblos, cobble stone streets and tiny coffee shops. The JOOLZ was amazing for it all! It was so lightweight I was able to push with one hand and enjoy a cup of cafecito while taking in all the beauty around me! Check out this coffee shop in Santa Fe de Antioquia, a stunning colonial cobblestone town just 35 miles outside of Medellin.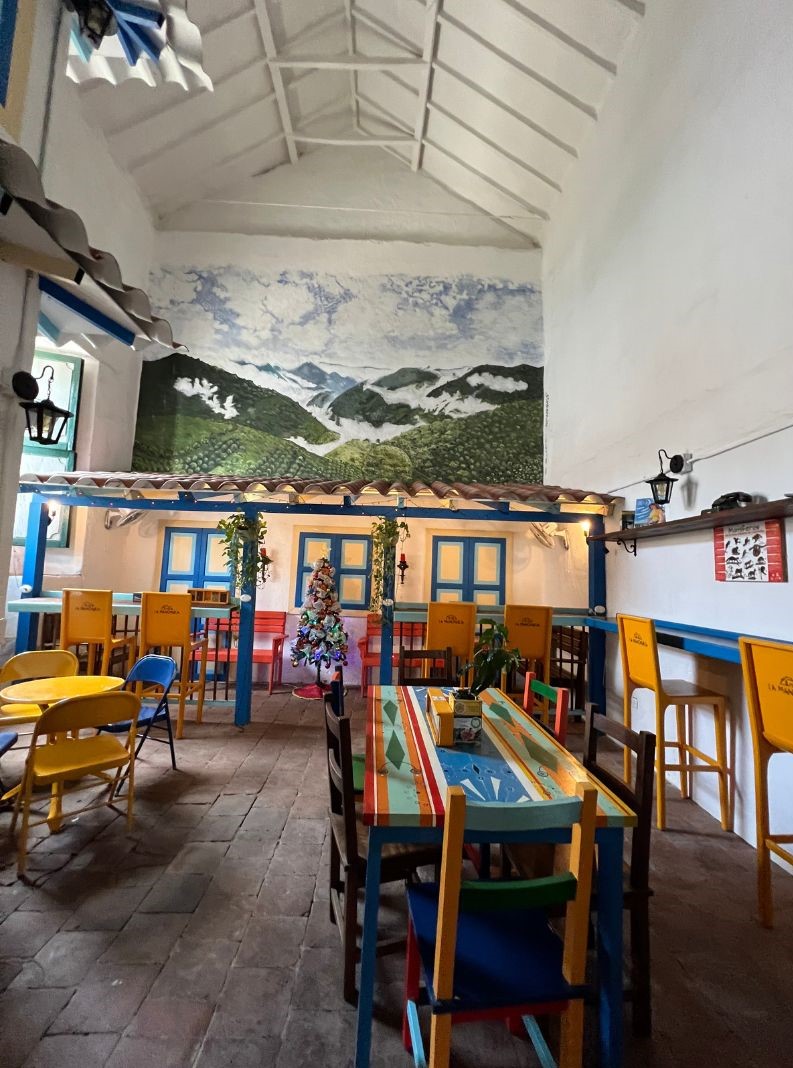 This stroller is award winning and uses sustainable products which is a win win, and there is no compromise in comfort, design and storage space. I loved the sage green and Kennedy was comfortable for both sightseeing, and yes, SLEEP!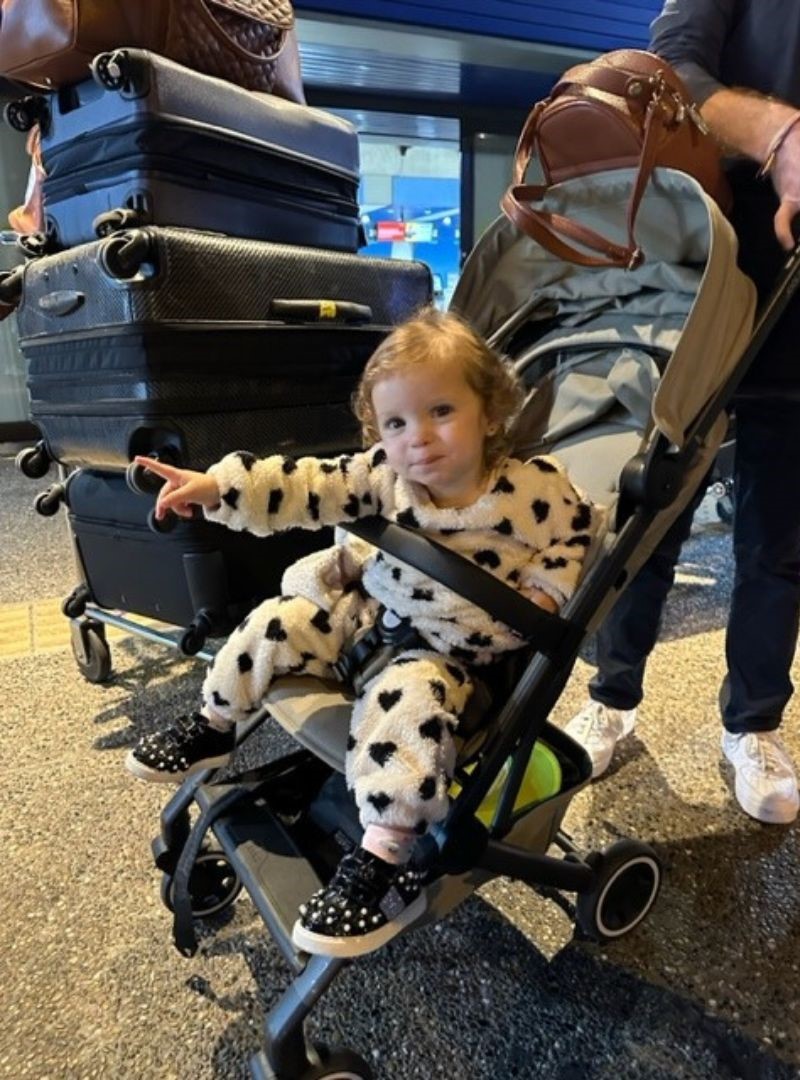 Medellin features a lot of outdoor attractions that require a substantial amount of walking. We started at the Comuna 13, a barrio once considered one of the most dangerous cities in the world run by drug cartels, is now considered a beautiful kaleidoscope of art and culture. Afterwards, we headed to a night out on a Chiva (a Colombian party bus) to see the world famous Medellin River Christmas light exhibit. Of course we did both, back to back! After 15 years of not visiting, we all wanted to witness the growth and evolution of the country.
For these types of outings you need a back up plan! You can only expect a baby to sit in a stroller for so long, right?
It is award winning and ergonomically designed to support full baby weight and protect mamas back!
I can't fully express how grateful I am for this product! This would have been an entirely different trip had I not been able to walk around with Kennedy comfortably. I have dealt with lower back pain due to an injury when I was in my twenties which has been intensified since giving birth via c-section! (If you're in this boat with me, DM me, let's start a support group!) We went from the Comuna 13 tour to our night out on the Chiva. With multiple walkable stops throughout the Medellin River, the back and hip support, as well as minimalist design for less baggage and overall obstruction of fashionable outfits (lol, yes this matters to me) was great.
A+ on this product all around! The carrier also includes storage space for your phone or diaper changing essentials. I loved our beautiful and colorful CHIVA! This picture was taken in front of one of many beautiful murals in Comuna 13 , that depicted peace and love!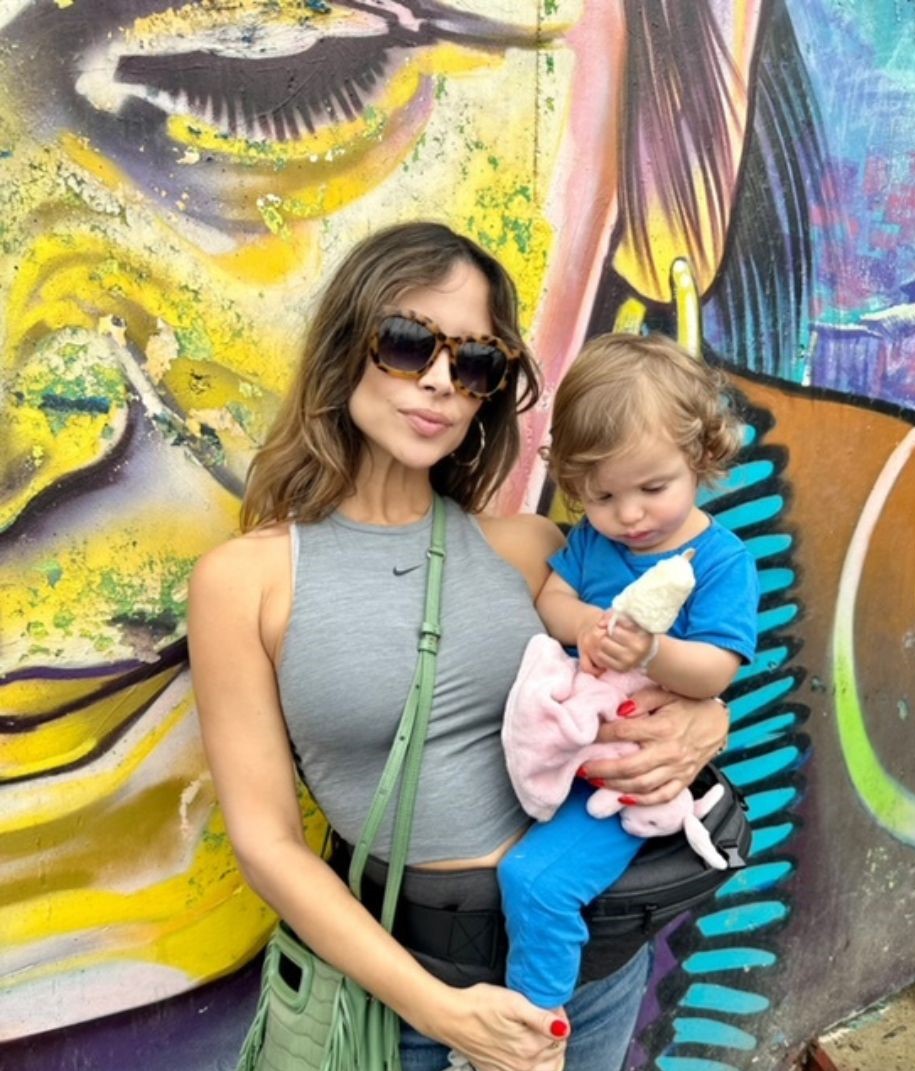 Next on my baby travel SUPER STAR line up
The Luli Bebe Diaper Bag + travel set! Let me start with the obvious, Luli Bebe made sure that style & elegance were not compromised. The matching diaper bag, travel bag and snack bag are beautifully designed and all made of vegan leather!
This is clearly a mom owned business because they covered it all! The Monaco diaper bag is lined with wipeable satin (very luxe), has enough compartments to keep yourself organized (we all know how difficult this can be). My favorite features are the stroller straps that made it super easy to attach to my JOOLZ and I love that I could easily carry it multiple ways.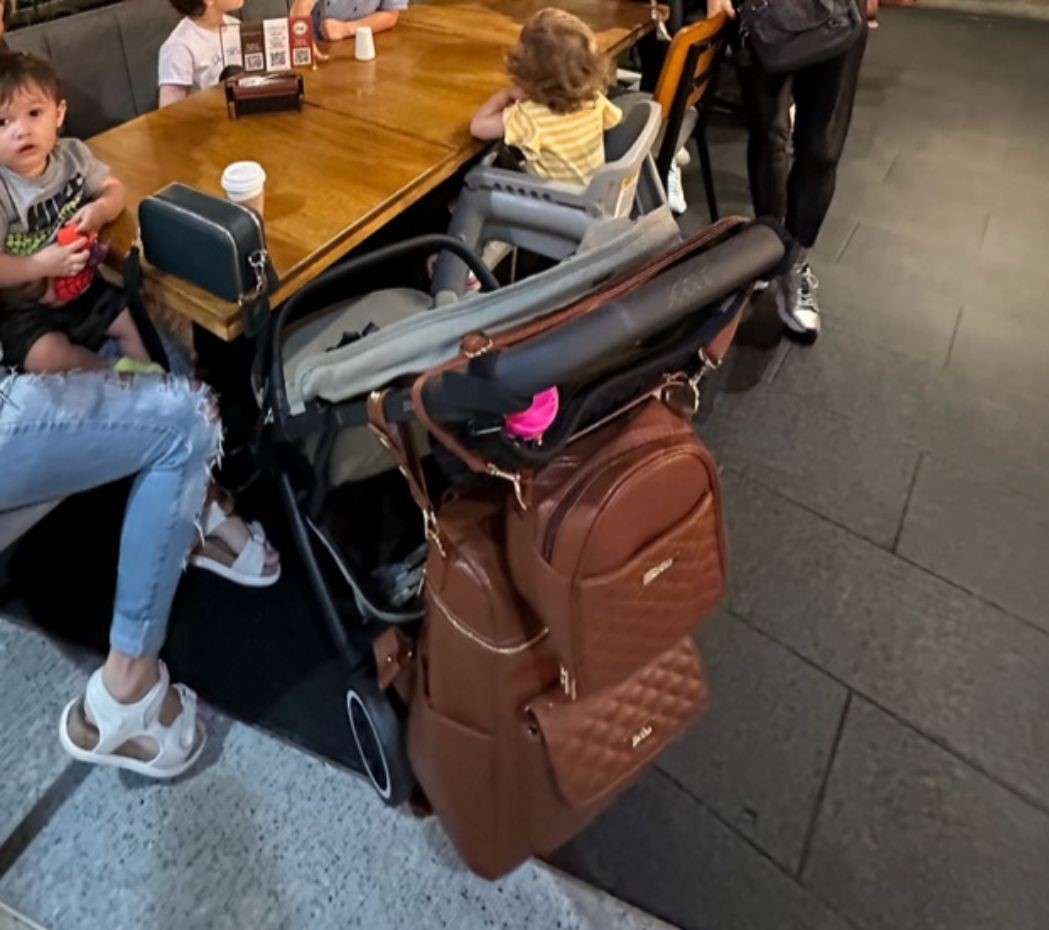 I absolutely loved the snack bag, which as you can see from the above picture is also versatile enough to configure for stroller or carry in other ways. This snack bag is not small by any means, I was able to pack juice boxes, fresh fruit, milk, and perishable pouches for the long travel days and everything was kept fresh/cool/hot. This is my favorite item of the set!
The Monaco travel bag (not pictured) was a life saver, as we did a lot of weekend trips to different pueblos and fincas (country homes). It was spacious enough to fit both my stuff and Kenny's for a weekend trip without the need for extra luggage!
This was at our 4 hour layover in Mexico City! I was able to offer Kennedy a variety of fresh Once Upon a Farm and Little Bellies snacks while waiting in line to go through immigration.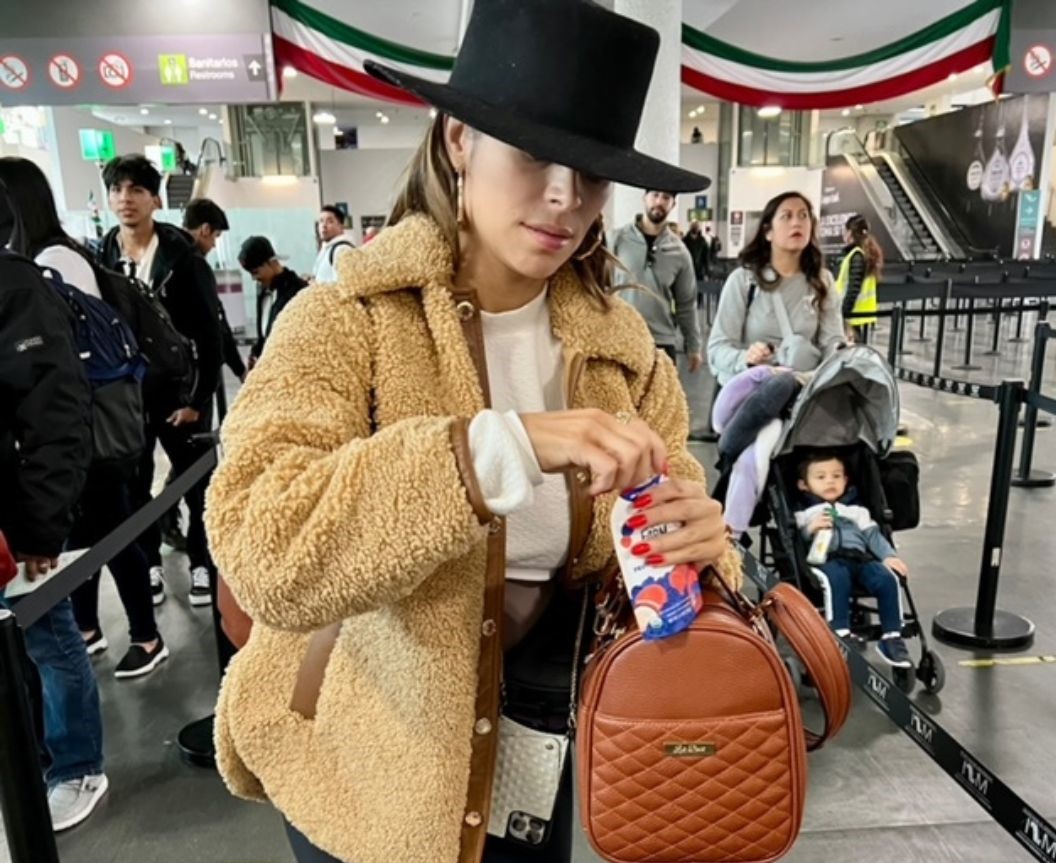 A few must haves while traveling with a toddler
Toys, sanitizing wipes, more toys, snacks and a baby massager (YES, READ ON).
Thanks to PlanAire, I was able to safely sanitize all travel spaces and beyond. They're made with 99% plant based ingredients & no added alcohol or ammonia. I conveniently carried their spray bottle in my stroller caddy to safely disinfect all surfaces and sanitize messy, curious hands. The wipes were great as well.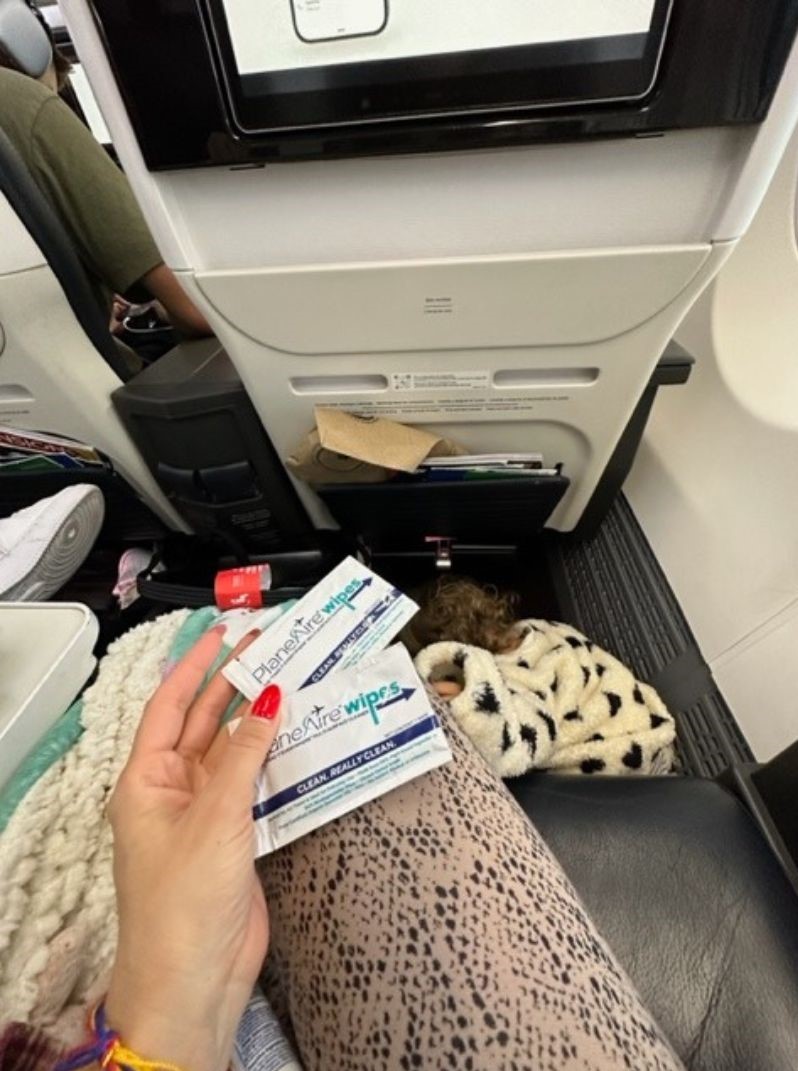 Toys for Travel
A variety of toys are a mom's best friend from long flights to hotel rooms and beyond! Kennedy is a big fan of stickers, we love you Mudpuppy, thank you! Here she is enjoying stickers, puzzles, and toy time!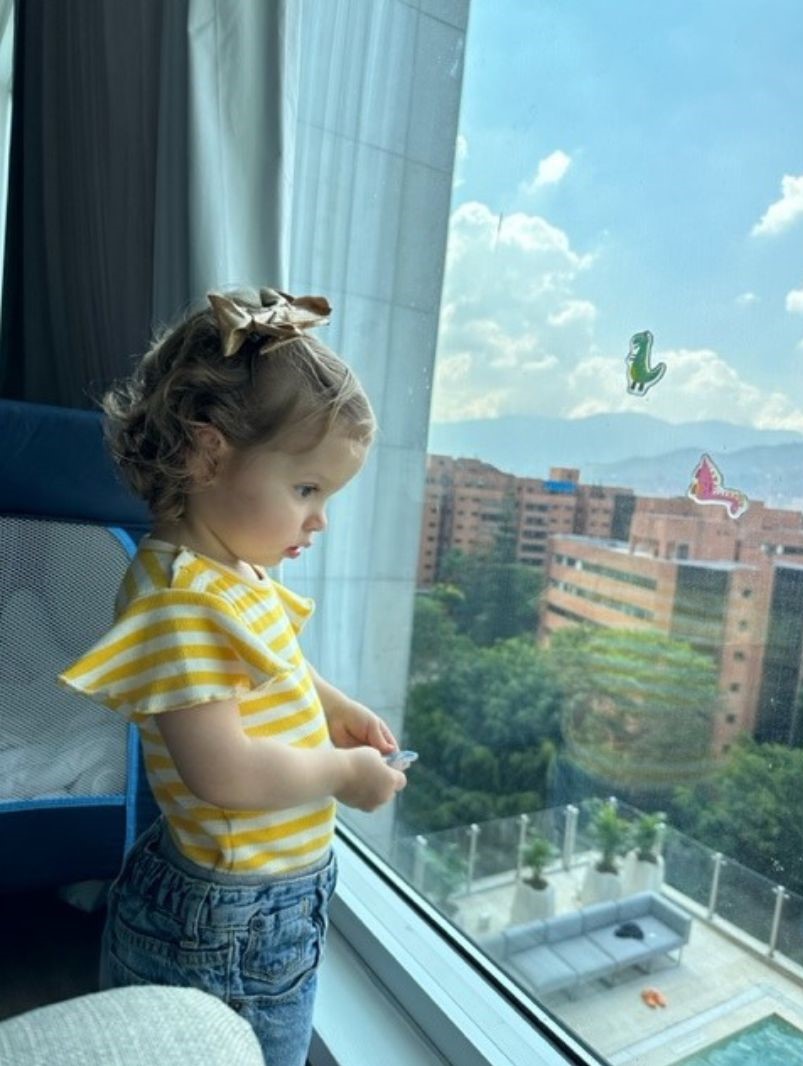 And now meet KAHLMI the worlds first baby massager! In full transparency I was hesitant at first, but I was intrigued. I first introduced Kahlmi at home after a small tantrum, which is how they suggest you do it and it was magic! Her sad face suddenly turned into a soft gentle and relaxing smile.
This handheld baby massager was developed by a certified infant massage instructor and approved by pediatricians and wellness experts. Here is Kennedy enjoying a gentle, self-administered massage while sitting in Medellin traffic. Genius!
Until next time my beautiful Medellin!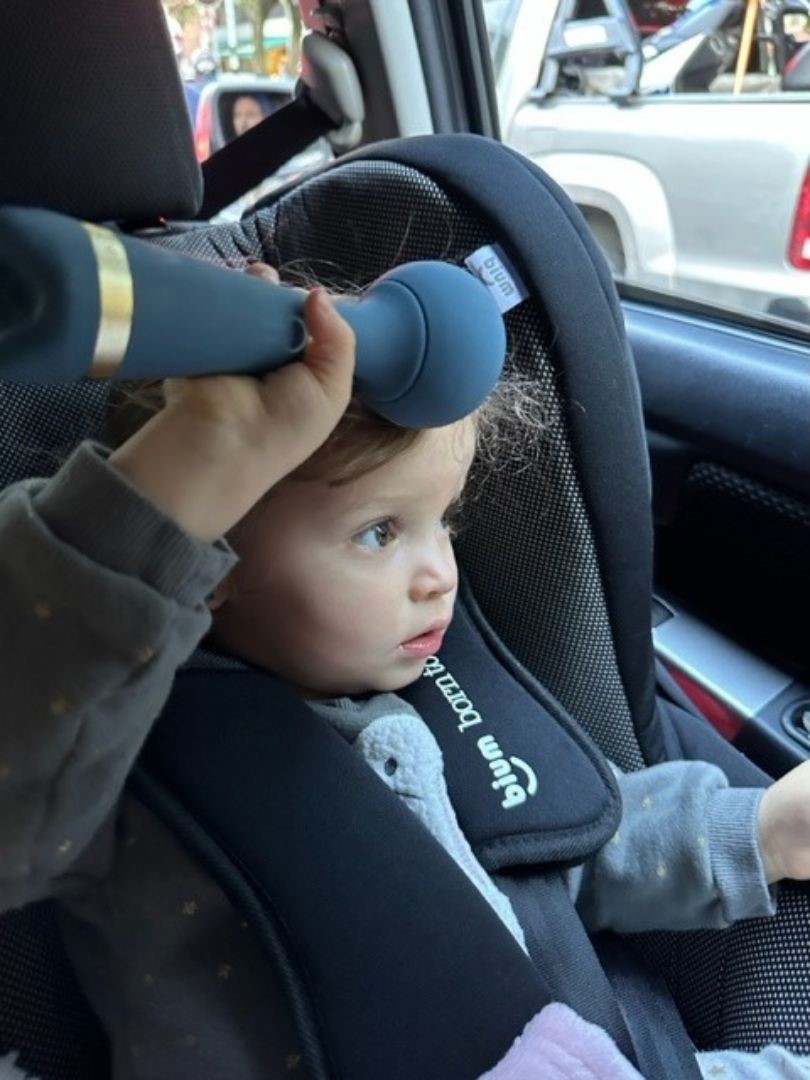 THE END & happy traveling!
I hope you enjoyed my list of SUPER STAR baby travel recommendations! Thank you so much Gugu Guru for doing what you do and taking all of the guess work and anxiety out of shopping for baby products. Period!
Thank you to Zulay Henao for writing this guest post!
---
Join our Mom Creator community by signing up for our email list and receive paid and gifted opportunities with your favorite baby and kid brands in your inbox weekly!
Interested in becoming a mom content creator or influencer but don't know where to start? Join our monthly coaching membership specifically designed for mom creators.