– Sponsored Post-
We know that it can seem overwhelming to register for everything you may need for a baby; so, we've broken all the necessities down into your Top 5 Must Have Essentials for every category you may need. Today we're covering the Top 5 Must Have Essentials for Mom's Hospital Bag; don't forget to add them to your registry!
See also: Top 5 Must Have Essentials for Baby's Nursery, Top 5 Must Have Essentials for Baby's First Flight; Top 5 Must Have Essentials for Baby's First Night Home; Top 5 Must Have Essentials: Fisher Price Baby Gear; Top 5 Must Have Essentials for Sleepless Nights 
One of the questions we get asked non-stop is what are the essentials a mom needs to pack in her overnight bag for the hospital. We just helped Whitney Port pack her bag, and if you head to the post, there's a free packing list for you, too! We picked these essentials because we've been there, done that and know what the basics you'll need are to make your labor and delivery a special memory.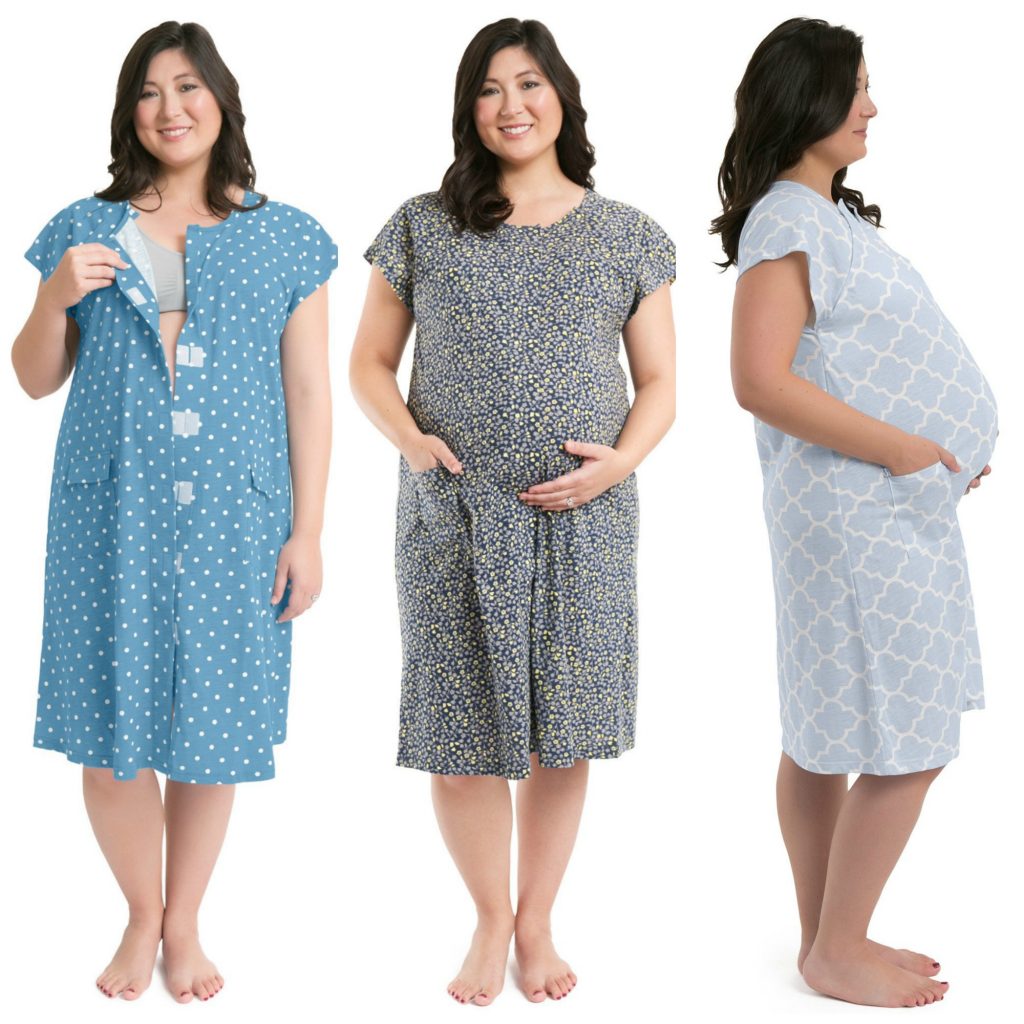 Kindred Bravely, The Bravely Labor and Delivery Gown: When you settle in to the hospital to start the labor and delivery process, most likely you will be handed a gown to wear during labor. Many women choose not to wear the hospital's gown and decide to wear something of their own, but this can be tricky, as often there are wires, epidurals, needles, and more, and the doctors and nurses need access to all parts of your body. Lucky for you, Kindred Bravely, known for their super soft maternity and nursing pajamas and bras, have thought of everything with their new Labor and Delivery Gown. With pockets for your phone as you pace the halls during contractions, to easy access flaps in all places, and most importantly, easy access for immediate skin-to-skin with your new baby. It comes in a bunch of adorable patterns and will surely make you feel a lot more put-together and "human" during labor and delivery.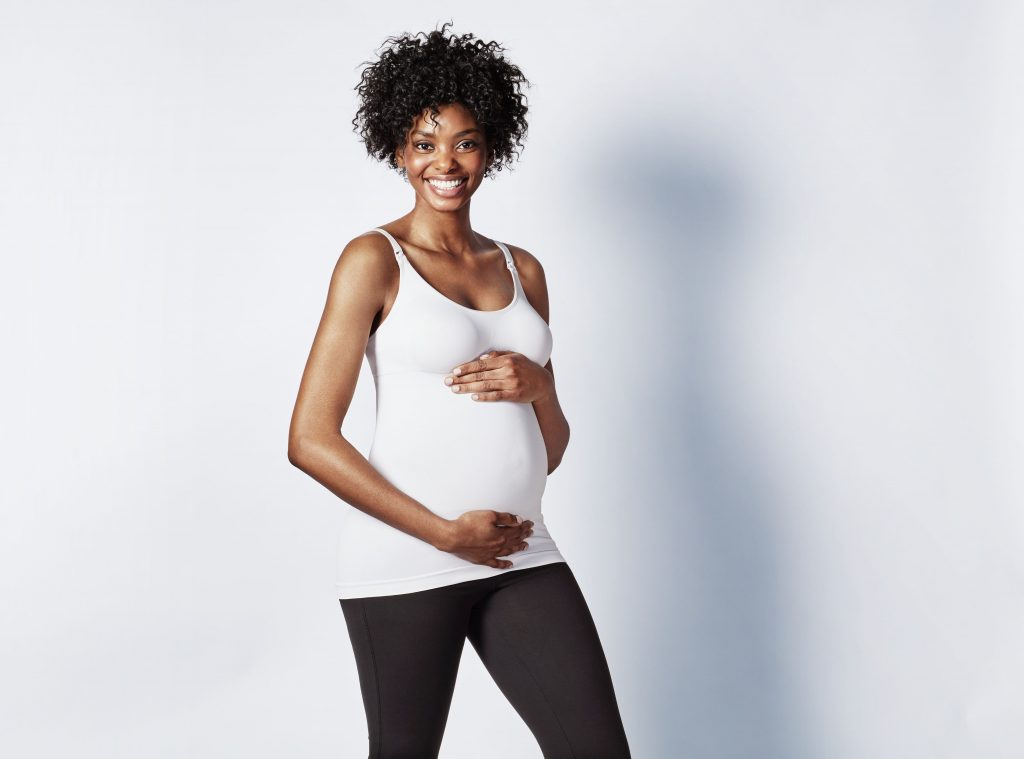 Bravado Designs, Body Silk Seamless Nursing Cami: After you deliver the baby, you're going to want to put on some "real clothes," but also need access for breastfeeding. We're big fans of the Bravado Designs' Body Silk Seamless Nursing Cami, because it will look great on you when guests come to visit and you can easily nurse in it too. The Cami is full length, and smoothing, so even though you just gave birth, you will feel put-together. The Body Silk Seamless Nursing Cami also features a Body Silk Seamless nursing bra knitted inside, so there is no need for a bra and a cami! The luxuriously soft and seamless fabric will delicately hug your sore body, and there is no back closure and it is wire-free, so you can comfortably cuddle with baby and sleep.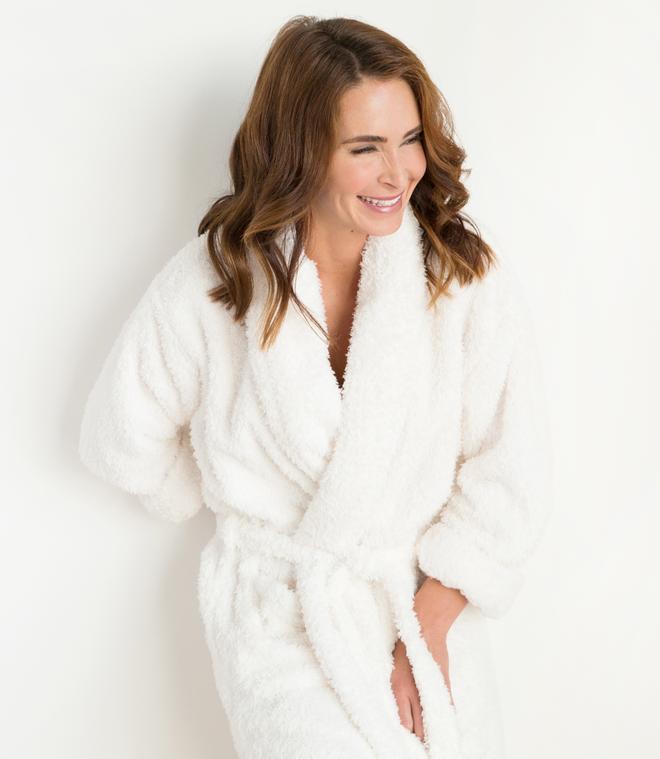 Little Giraffe Robe: There's nothing more you're going to want to do than cuddle up in a clean, fresh robe and snuggle your baby. Little Giraffe Robes are a must have essential for your hospital bag! Their Stretch Chenille Adult Cover Up robe comes in three colors and is super soft. It's sophisticated enough looking that you can receive guests in it, but comfy enough for breastfeeding and snuggling. Sometimes the hospital gets chilly at night, and you don't want to lug a blanket into the hospital, so a comfy robe is your answer!
Headbands: Often times, during labor and delivery, you're going to be lying down, sweating…for hours. Your hair will become a mess, we promise. Our editor is a huge fan of stretchy headbands to push the sweaty hair off your face and make you feel a little cleaner. We're huge fans of the sweat wicking headbands from Brady Bands. These babies do. not. move! The last thing you want to be worried about is something sliding down your face. Plus, they come in such amazing styles. And, we love that Brady Bands gives back – 10% of every purchase is donated to childhood cancer research.
Thank you to Kindred Bravely, Bravado Designs, and Little Giraffe for making this sponsored post possible.