We are so excited to introduce you to pregnant mama, and new guest blogger, actress Angelique Cabral! Angelique is best known for her role as Colleen on CBS' Life In Pieces, but is no newcomer to the Hollywood scene. She recently found out she is having a little girl this fall and Gugu Guru is thrilled to help her with her registry; Angelique will be guest blogging on Gugu Guru all about pregnancy and new mom life – welcome, Ang!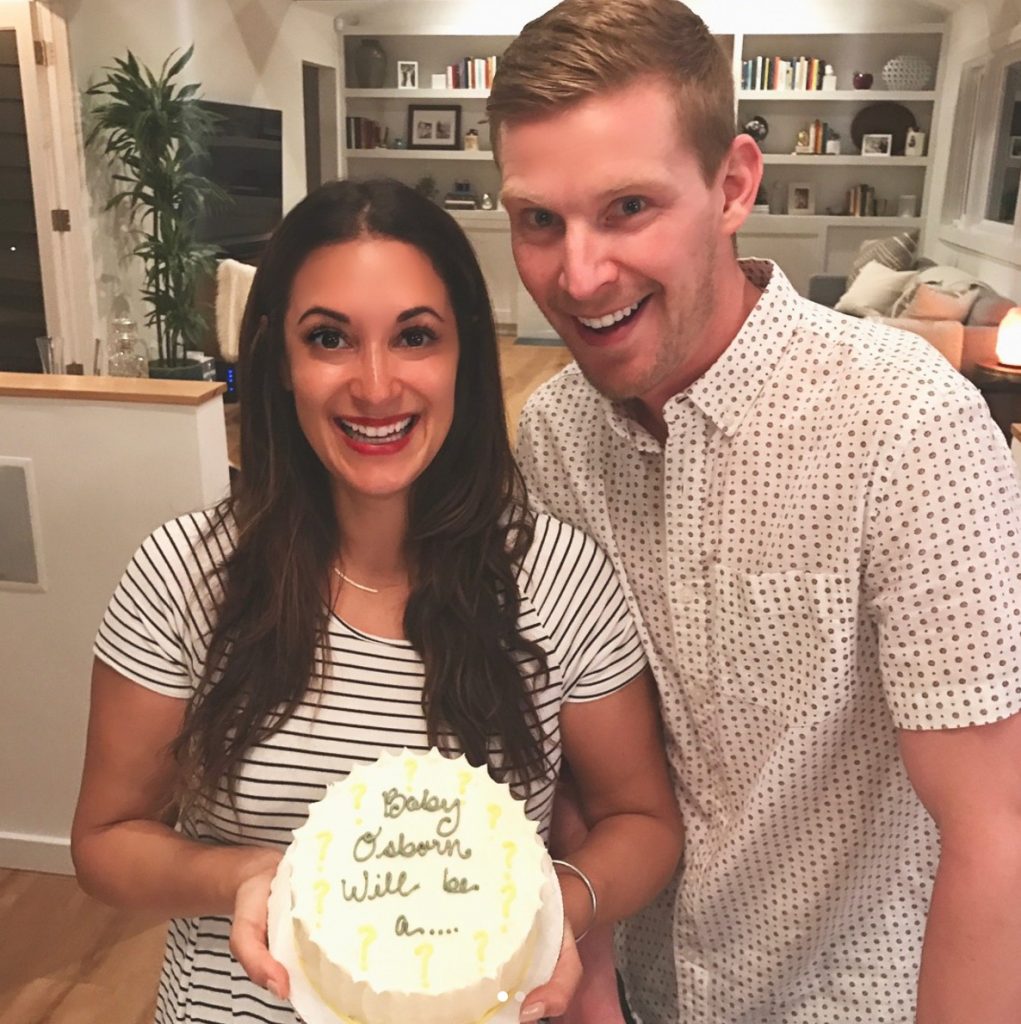 Hiiiiiiieeeeee! First, you should know a bit about me: I am an actress, currently starring on the CBS sitcom, "Life in Pieces." I play a quirky, hot mess girl named Colleen, who is based at this point almost entirely on me, ha! As an actress, social media is a huge part of who I am and what I do, and this new invention of #snapchat and #insta-story (I'm old so to me it seems like the cool new thing) has really been a game changer. I find it's a way to relate directly to my audience and share a bit of my daily life with the world. If you follow me (you can follow Angelique on Insta here), you will see that I'm a hot mess and that I am probably just like you!! I run out of gas! I love coupons! I love rosé #AllllllDay!!!
So I figured why not do this with my pregnancy? The first few months were torture, trying to "hide" it on social media, especially when I drink pretty much whenever I am allowed to or is socially acceptable. And this was the first thing my fans noticed: the absence of wine and/or a margarita in my hand!! Yikes!! But then I came out with my pregnancy in a cute Gender Reveal video that ET did, and the rest is history. I am now free to share every last amazing, magical, disgusting, real detail of my pregnancy! Lucky you!!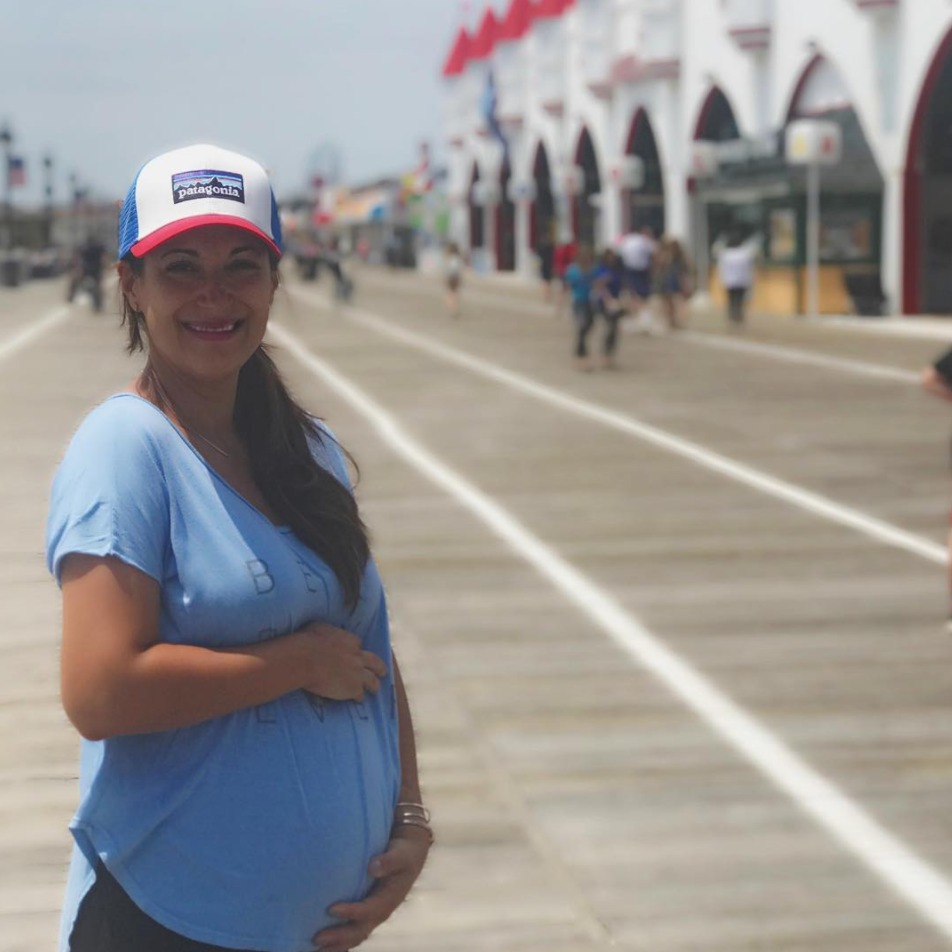 Now, the first thing that was a concern for me, as an actress and also as a vain (mid) 30-something who is always on a diet trying to lose those last 5 lbs, was MY WORKOUTS!!! What was I gonna do now that I was pregnant?! I scoured the internet (more on that later, but it's dangerous and I just spiral deep) and overall it said to take it easy and not do hard core workouts; that it can affect the baby, you can bleed, etc. They basically treat pregnancy as a handicap. The problem with this is that I am very hard core. Like, my whole life, I have jumped from one hard core activity to another: marathons, Kung Fu, Bikram, Hot Vinyasa, cross fit etc. Since college I have worked out 5 to 6 days a week, often double workouts. It makes me feel good but also allows me to eat/drink pretty much whatever i want which let's be honest is the point (wink!).
So instead of living in fear,  I listened to my doctor and my trainers at Tracy Anderson, and kept doing what I have been doing for the last 3 years: 2 hour workouts in roughly 87 degree rooms with 80% humidity. Hard core!! I also have incorporated intense hiking (my fave is Fryman Canyon in LA) and walking around my neighborhood, at least 5 miles a day.  Cause bottom line, Mommy has to go back to shooting her TV show roughly 2 weeks after giving birth, so I can't just not workout! It's simply not an option!! So I've kept doing what I've been doing, and guess what?! I'm fine! My pregnancy has been perfect! Baby is amazing! And no GD, no preeclampsia, no swelling! And I feel amazing! [editor's note: this is Angelique's fitness plan, which she mapped out with her doctor – please consult your doctor if you're pregnant and would like to know more about working out!]
Except in my workout clothes (womp womp). 
Ya. My clothes don't fit. Like, not at all. Like somehow, overnight, my tight little body just expanded. The first thing that became a real problem, real quick were my boobs. They took on a life of their own. They were HUGE. Like, I'm normally a full A cup or maybe small B, but my overnight by boobs FELL OUT OF MY SPORTS BRAS and I'm looking at a D! and then my rib cage expanded roughly 4 inches so no shirts or tanks fit and I was miserable in my workouts.
Then my growing belly betrayed my workout pants. I thought for sure I would be okay in my LuLuLemons until at least the 3rd trimester. I mean, the whole point of $120 dollar spandex is to stretch right? WRONG. There is, in fact, a maximum they stretch and they were uncomfortable almost immediately, pushing into my abdomen, making any workout torture.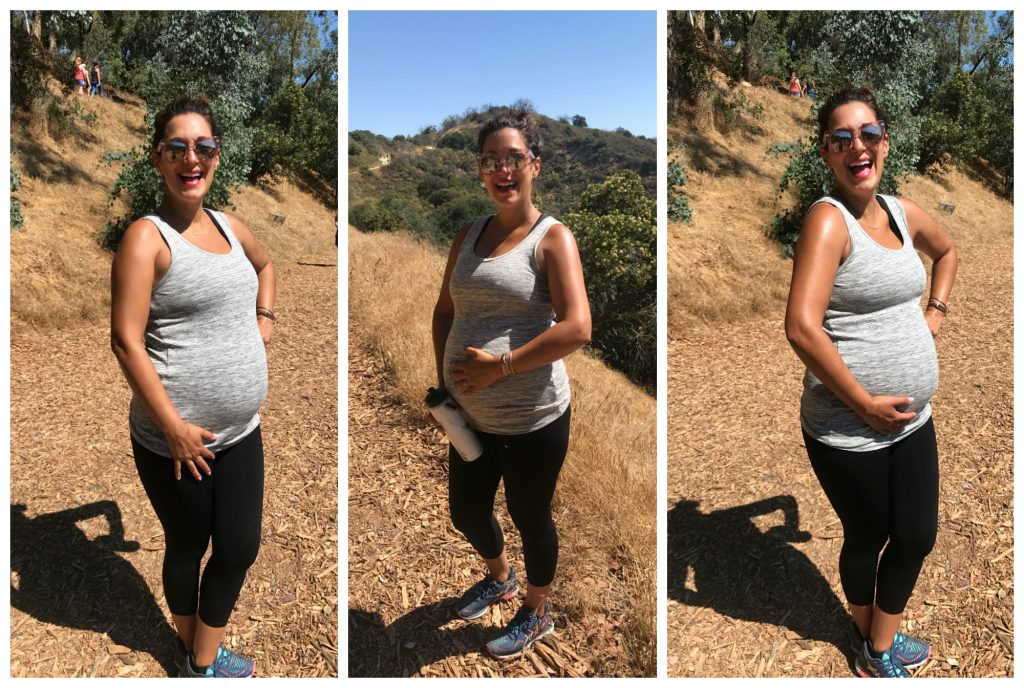 Here's the 411 on bras: Bravado Ballet Bra and Body Silk Seamless Yoga Nursing Bra are my fave for just life. They are comfy and make you feel feminine and human and not like an overstuffed cow.  I am obsessed with the Boob Designs sports/nursing bra 'cause let me tell you, it keeps the girls IN and TIGHT and gives you great cleavage. Boob also has an amazing long spandex nursing tank top that I wear almost every day. Even though I'm not nursing yet, it fits better than anything I've found and makes me feel cute during my workouts, which let's be honest, is why we all workout, ha!!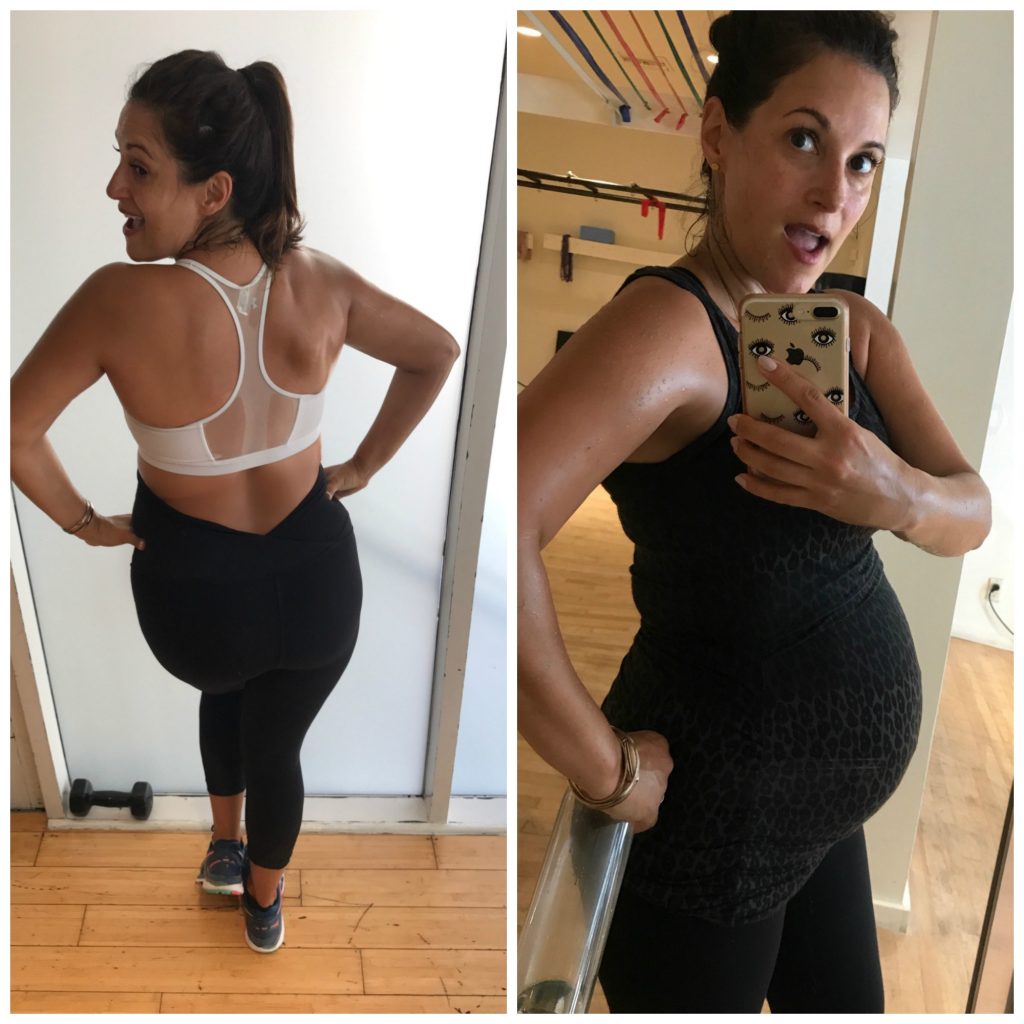 (left) Ingrid and Isabel Pants, (right) Boob Designs Tank Top and Belly Bandit Leggings 
Now for leggings: Belly Bandit leggings are my dream. They are supportive and cool and comfy for daily wear, and makes my growing belly feel and look so cute!! For my hard core workouts, I love Ingrid and Isabel workout leggings, they are thicker and really hold you in while doing cardio, and they have this cute V in the back that is sexy and fun! I literally get compliments on them every time I wear them. They also have this fold down option if you want your belly to be on display so you can show it off. But during my workouts I prefer to keep it up and protect my belly. Ingrid and Isabel also has a full line of tanks and dresses that I have been living in, even to events and red carpets! (Sidenote: I'm a big fan of "body con" during pregnancy, it shows off you bump and makes you look less humungous if you wear tight fitting clothes vs. baggy stuff).
So, there ya go. My first blog!! That wasn't so bad!!! I hope it was fun and helpful to y'all since let's be honest, we are all just doing our best, trying to figure our growing bodies out. I'm 27 weeks in, and every day there are new surprises and I can't wait to share them all with you. It really helps being able to chat it out, and I'm excited to hear from you!
Tweet me
or
tag me on insta
and tell me whatcha think of my workout picks, and tell me your faves!
Til next time!