-Sponsored Post-
When the Gugu Guru team came across Happer Baby, and their bibs and towels, we knew we wanted to share their cuteness with everyone. It's no shocker that Happer Baby was started by parents, as the products are all perfectly designed for ease, efficiency, comfortability, and of course – to make a good baby photo. Babies need things, like bibs and towels, and Happer has designed these essential baby items with adorable designs, and the utmost attention to practical details.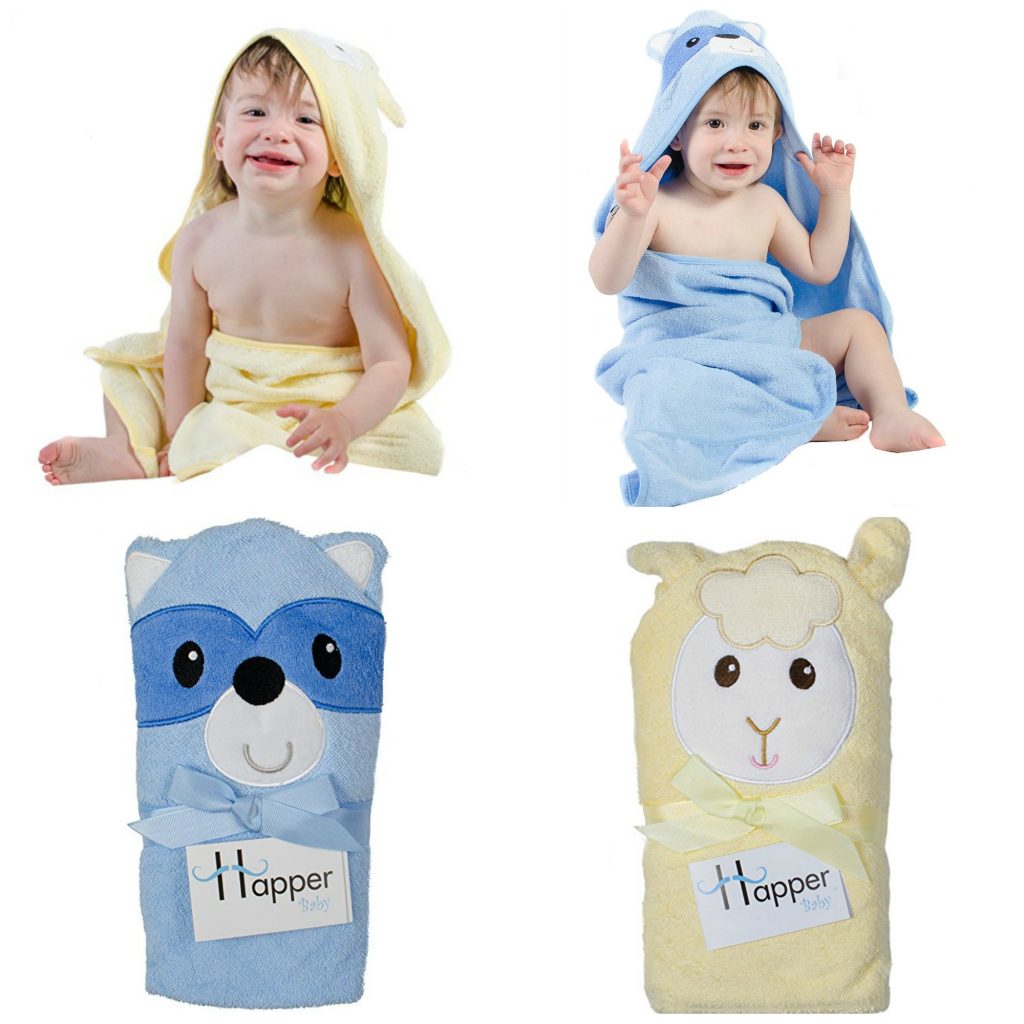 Happer Baby Hooded Baby Towel Blue Raccoon; Happer Baby Hooded Baby Towel Yellow Sheep
The hooded bath towels are made of 100% soft absorbent terry cotton, and will make your baby feel warm, cozy and dry after each bath. We're a big fan of hooded towels, because it helps keep baby and toddler's heads warm after a bath – especially in winter weather (however, this can also be used by the pool in summer and the hood is great for wrangling wet hair!). One of the main reasons we loved these towels was their size! It can sometimes feel silly to buy a bunch of cute hooded towels for a newborn, only to find that they grow out of them within a week; but, these Happer Hooded Towels are 31×35 inches, which means it will fit newborns, infants and toddlers. Plus, the large size is great to wrap them up and keep them warm. These make a perfect baby shower gift, as they are practical, adorable, and easy to ship directly from Amazon!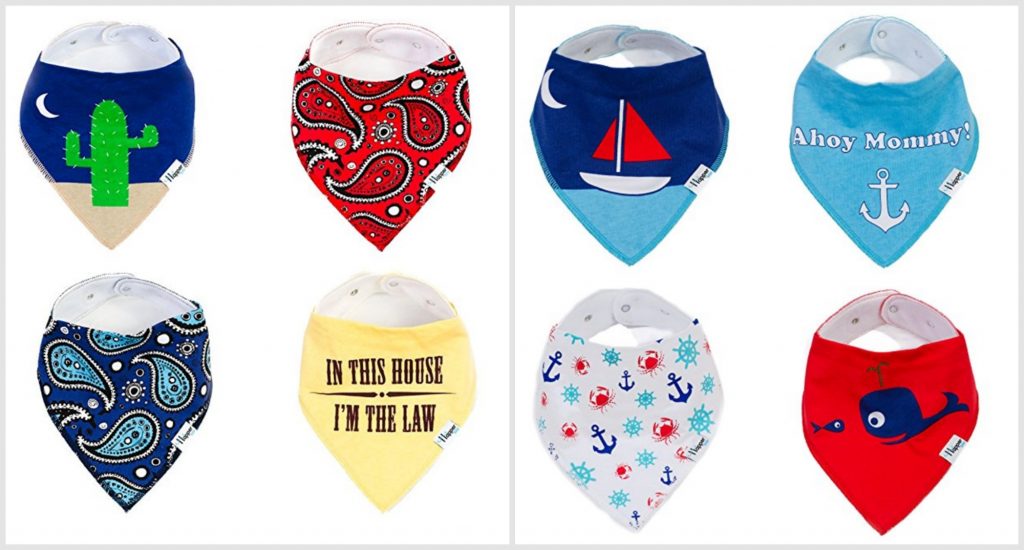 Happer Baby Bandana Drool Bibs, Western; Happer Baby Bandana Drool Bibs, Maritime 
When it comes to bandana bibs, it's important to find ones that are not only (obvi) cute, but also super comfortable on baby, and super absorbent, too. This is not always easy to find, yet, Happer Baby seems to hit the mark on all accounts. Made of 100% absorbent organic cotton on the front and 100% polyester fleece on the back, these are sure to absorb all the drool and spit up from your little one, making your life so much easier because won't have to change their clothes a hundred times a day! We all know how much teething babies drool, and if the drool-soaked clothing sits too long on sensitive skin, it can cause a rash. It's important to have a handy bib to absorb all the wetness.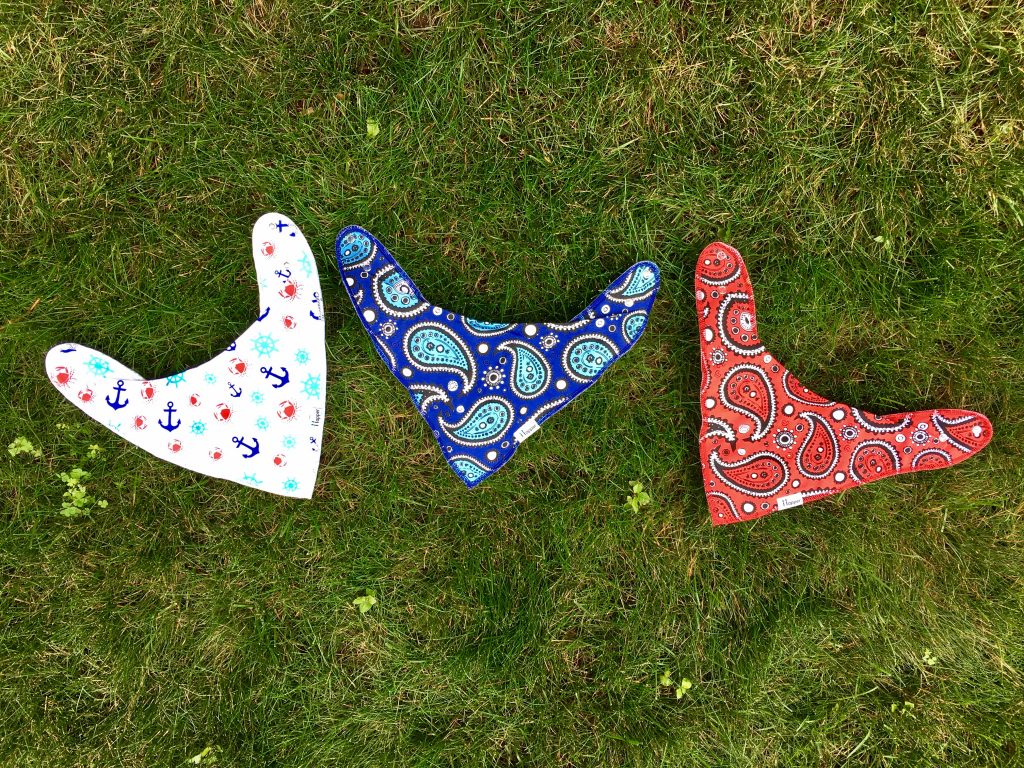 We're loving that the Happer Baby Bib Bandanas are adjustable as well. The adjustable snaps, instead of Velcro, don't irritate babies' skin or cause allergic reactions, plus, they are hard for babies to undo and take off. The bib bandanas will fit babies ages 3-24 months. The styles and designs are all gorgeous, with vivid colors and intricate details. They really don't look like bibs, but more like fashion accessories! Each set (western and maritime) comes with four different bibs, so you don't have to do the laundry everyday. They all match in their own way, so if you're traveling, you can simply bring a set with you.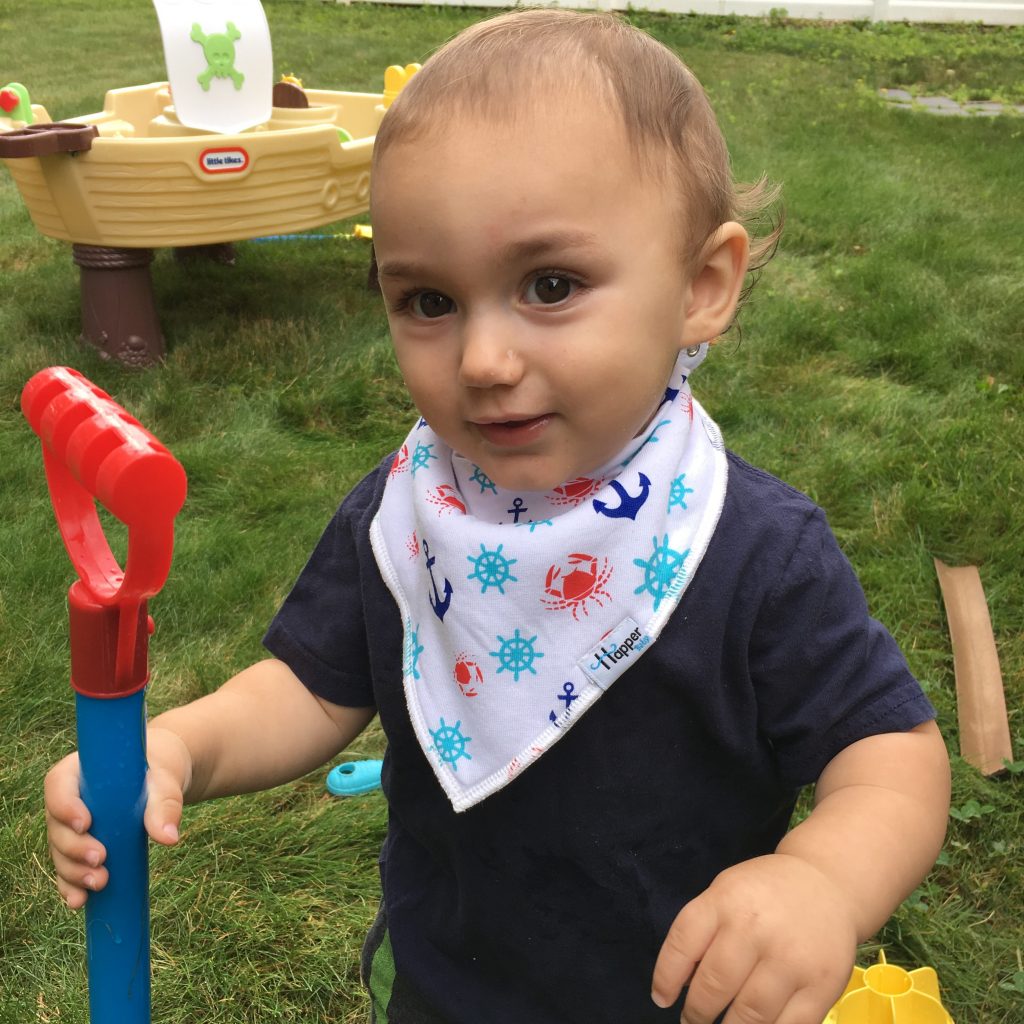 These bibs make a wonderful baby shower gift. Happer Baby also makes red and blue newborn caps, so you can send matching hats and bibs to anyone to celebrate a new baby. Also, an ideal gift for twins, as there are 4 in each set of bibs. The bibs are ideal for year round use, easily washable, and utterly adorable.