Editor's Note: I first came across the Atomic Moms podcast when Jordan Reid was on it, and I immediately fell in love with Ellie's kind soul and soothing way with words. I appreciated how incredibly non-judgemental she is and both laughs and cries along with her guests. So, you'll have to excuse the fan-girling (mom-girling?) on today's post – Ellie is here with her Hot Mama Summer Must Haves, as she is literally due any day now with her second baby. Also, head to the bottom of the post to stream her most recent episode with Dr. Harvey Karp! Take it away, Ellie…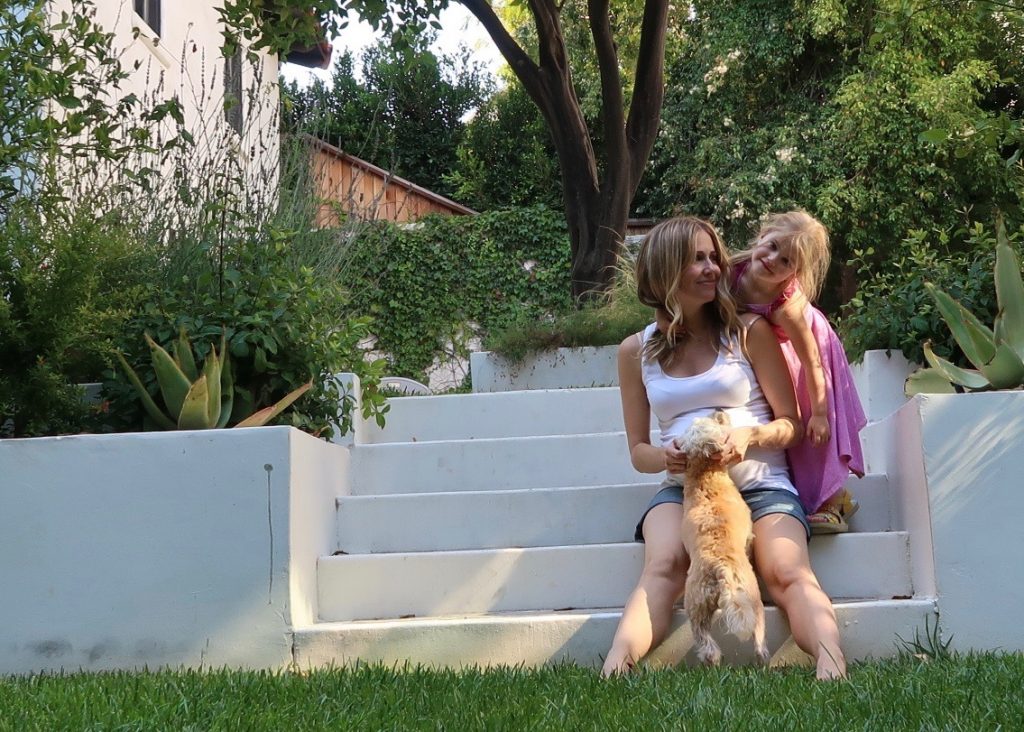 Hi! I'm Ellie Knaus, host of Atomic Moms podcast. Our second summer baby girl is coming any day now! I'm excited, exhausted, and extremely sweaty. I packed up my hospital bag during this weekend's L.A. heatwave while fantasizing about the chipped ice I can order in the maternity ward. But before I go into labor, I wanted to share with you all my summer must-haves that are making my summer pregnancy a little more enjoyable!
Ruby Rockets Rock-It Red Frozen Veggie and Fruit Pop
This is one food item my preschooler and I can agree on. (Why oh why, do they turn into such little food critics?) These super healthy, gluten free, vegan, popsicles are dairy free, have no added sugar, and are only 25 calories. You know what? I'm going to take a blogging break and waddle over to the freezer to have one right now.
Okay, I'm back. And this popsicle is delicious.
Panasonic Close Curves Bikini Shaper and Trimmer
I can't see anything below my bump. And I definitely don't want to get a bikini wax right now. But it's summer! And as my mom-friend Marie declared, "In pregnancy, buoyancy is a must." I ordered this bad boy online, hopeful that I'd be able to wade in a pool without having to explain puberty to preschoolers. Let's just say this bikini trimmer was an interesting trust exercise with my husband. And I'm raving about it because I didn't end up in the ER.
Patchology Eye Revive FlashPatch 5 Minute Hydrogels – 5 pack
There is nothing more cruel than third trimester insomnia. I toss and turn at 3 a.m. agonizing over the fact that this is my last chance for uninterrupted sleep for the next several months. And yet, between the hormones, the belly kicks, the hot nights, and the bathroom trips, my puffy eyes don't stand chance. Whenever I need to feel a little less like a 37 weeks pregnant Stay Puft Marshmallow Man, I slap on these chilled under eye masks and pretend like I'm getting ready for an awards show. I will be getting a trophy when this baby comes out, right?
It's described as "one size fits all", and I'm excited to report that includes my 9 month pregnant belly. It's the most comfortable summer dress ever. It's long and flowy (read: it doesn't stick to my butt), and made of fuss-free machine washable cotton. I splurged on this little number when Christy Dawn collaborated with Little Minis so my preschooler and I could wear matching dresses. Go ahead and judge me for tricking my daughter into reenacting my Laura Ashley mother-daughter memories of the 90's. (P.S. my fashionista three year-old LOVED it!) And now that I'm pregnant, and nothing else in my closet fits, this pretty dress is in heavy rotation. Another bonus: with the front snap, I'll be able to nurse in it. It's definitely the fanciest item of clothing covering my bump, but considering I can wear it before, during, and after pregnancy, and that it's made with deadstock fabric (read: kind to the environment) and created by seamstresses making a living wage in Los Angeles, I feel really good about it.
St. Tropez Self Tan Luxe Facial Oil 
I got some not so cute sun-kissed brown spots on my cheeks during my first summer pregnancy, so this go around, I'm playing it safe. I slather on sunscreen in the morning and use this luxe facial oil at night to get my pregnancy glow on. I mix it with my moisturizer for an even application. It's paraben, sulfate, and phthalate free, and the bottle lasts forever.
Ello Water Syndicate Water Bottle 
Hydration is key in pregnancy and so hard to keep on top of in the summer months. The Ello BPA-Free Glass Water Bottle with Flip Lid is my new best mom friend. It's so easy to clean. And it's the only water bottle ever that hasn't leaked in my purse! It's embarrassing how many text threads my mom friends have devoted to raving about their Ello. It's like our mom version of slap bracelets or Pogs (remember Pogs?)
May all you hot mamas enjoy the rest of summer and stay cool out there! Join our summer conversations with parenting experts and best-selling authors on Atomic Moms podcast.  I'd love to hear your summer must haves on @Atomicmoms and Facebook!
Stream my recent interview with world famous child expert Dr. Harvey Karp below and subscribe to the podcast here.