-Sponsored Post-
It's always super exciting to enter the world of starting solid food with your baby, isn't it? However, it's great to be prepared when you start solids and we're here to make sure you have everything you need. We know that it can seem overwhelming to register for everything you may need for a baby; so, we've broken all the necessities down into your Top 5 Must Have Essentials for every category you may need. Today we're covering the Top 5 Must Have Essentials for Starting Solids.
See also: Top 5 Must Have Essentials for Baby's Nursery, Top 5 Must Have Essentials for Baby's First Flight; Top 5 Must Have Essentials for Baby's First Night Home; Top 5 Must Have Essentials: Fisher Price Baby Gear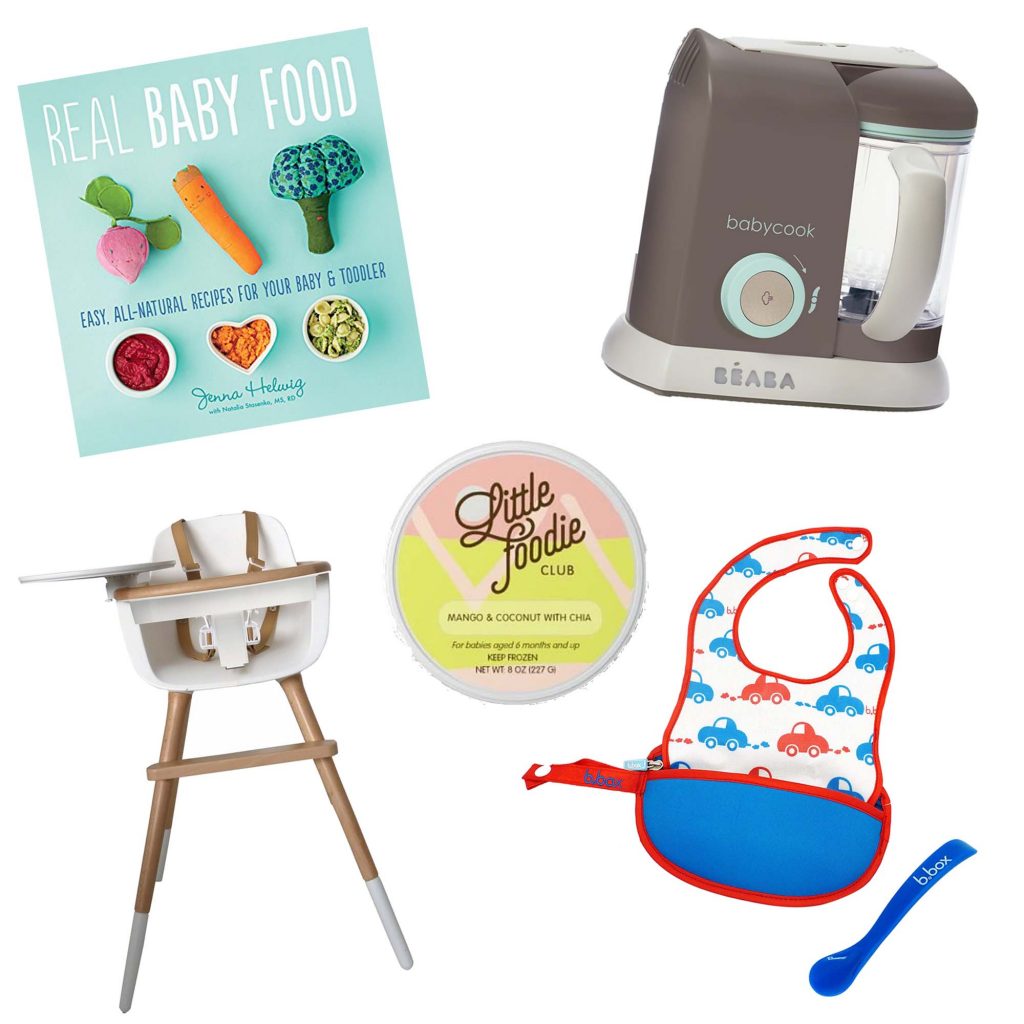 1. b.box baby Travel Bib: We know, it's a little unusual to post a travel bib for starting solids, but you're going to want to be able to go out to eat with baby, so we love that this bib can do double duty as an at-home staple, and for on the go. This cool travel bib and spoon has baby covered, literally. And there's no need for zip lock bags – after baby has finished eating, pop the spoon inside, fold the bib into the catcher and zip closed. Then when you get home, just wash and dry it ready for your next adventure. BPA, Phthalates and PVC free. The modern designs are super cute, and we can stand behind this bib, as our team uses it for our own kiddos!
Also seen: Product Discovery, travel bib
2. Micuna OVO High Chair: When it comes to where your baby will spend their time eating, you want the high chair to be comfortable, easy to clean, and also not a total eyesore. We're huge fans of the Micuna High Chair; we know this chair is on the higher end of prices, but it is a long-term investment into your child's love of eating. Plus, it converts to a toddler chair! It features a round removable side tray and solid lacquered beechwood, with a seat made from rotation molded plastic. It has a white /natural fabric harness and can be pulled up to the table, so baby can join in on the fun, too. 
Also seen: DIY Fringe Bibs with See Kate Sew
3. Little Foodie Club: As much as we want to say we will make all of our baby's food from scratch, it just isn't always realistic. Enter, Little Foodie Club! Little Foodie Club is a subscription service that delivers fresh baby food straight to your house! Their baby purees are the real deal: handmade from fresh organic ingredients and free from anything artificial, sugar or salt. The recipes are unlike anything else on the market – and there simply is no other service with a similarly diverse and unique range of flavors that takes care of a baby's complete dietary needs.
4. Beaba Babycook: For the times when you have an afternoon free to make baby food, we're big fans of the Beaba Babycook. The Beaba Babycook is a 4 in 1 baby food maker, which will not only make your life infinitely easier but help you save money in the long run, as well. With its patented steam heating system, you can prepare fruits, vegetables, meat or fish from raw to any stage baby and toddler food in 15 minutes. It features a large 4.7 cup bowl with graduation markings for easy measuring and mixing, so you can invent delicious and nutritious purees for your little one.
Also seen: Foodie Finds: Beaba Babycook; Baby Registry Ideas for Adoption; A Foodie Mom's Registry
5. Real Baby Food: Easy, All-Natural Recipes for Your Baby and Toddler by Jenna Helwig: It's always great to have a healthy and helpful cookbook ready to go in the house, which is why we are big fans of Jenna Helwig's Real Baby Food Cookbook. Helwig, the food editor at Parents magazine, makes the art of creating baby food so simple, even for busy moms and dads. She guides you through the early days of simple foods, to adding spices, meats, flavors, and even multi-flavor blends like Salmon, Kale, and Sweet Potato Smash. With over 100 meals in the book, your little one is sure to have a head-start on their culinary palate!
Also seen: A Foodie Mom's Registry
Thank you to Micuna and b.box baby for making this sponsored post possible