-Sponsored-
When it comes to having a baby girl, new mamas often love to find their personal style with the pink clothes and accessories. There are so many gorgeous essentials for baby girls out there, but we rounded up our top 5 must have essentials for a baby girl, especially for those moms who love to get out of the house!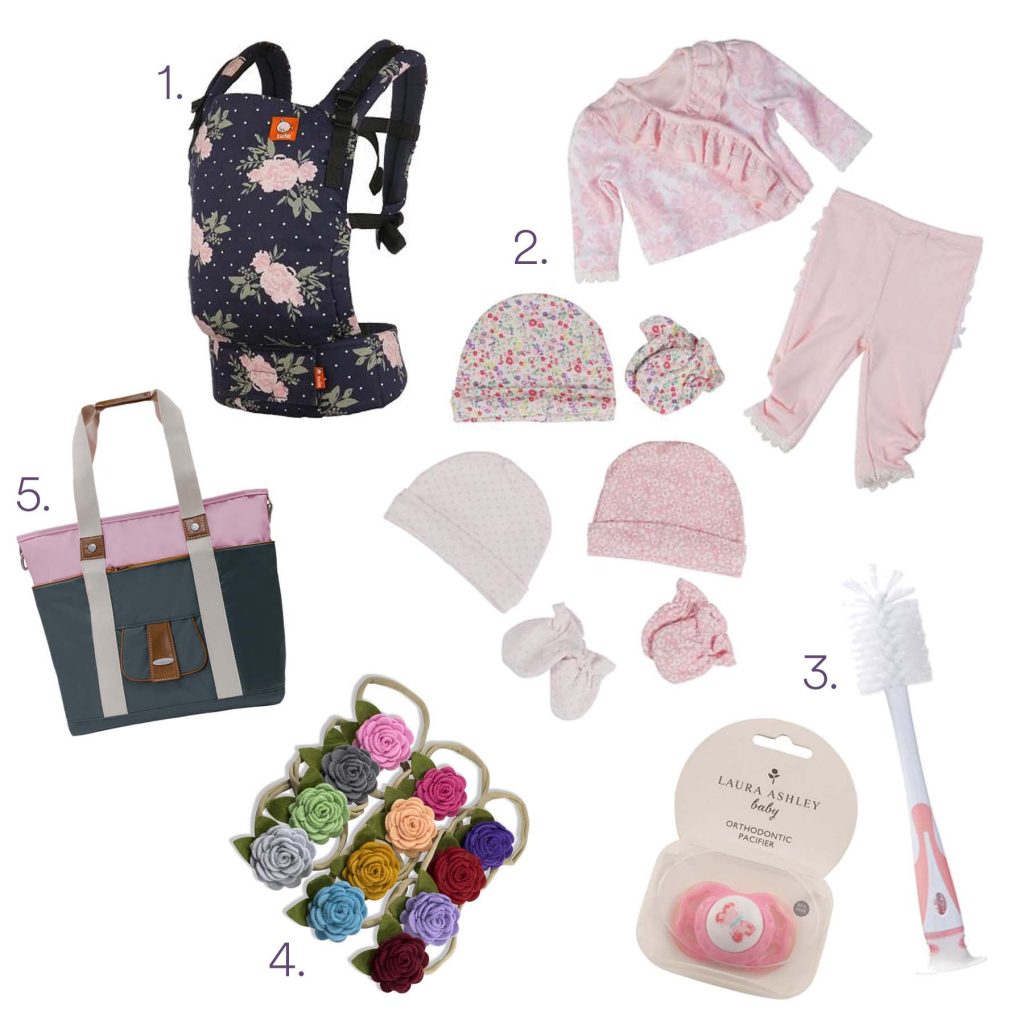 1. Tula Free-to-Grow Carrier: We've written about this particular Tula before, and our editor is a personal fan for her baby. Transition into parenting easily with the Baby Tula Free-to-Grow Carrier, the best, easy-to-use, stylish carrier that comfortably carries your baby from 7 to 45 lbs without an infant insert. Enjoy multiple ergonomic carry positions with an adaptable panel that adjusts in width and height to fit your baby at any stage, and fully adjustable shoulder straps and waistband for optimal comfort for you. Baby Tula has become extremely popular for offering the best baby carriers that are distinctly simple.
2. Laura Ashley baby clothing for a newborn: No one tells you how a) small newborns are and b) that they love to scratch themselves. Why not get lovely little scratch mittens with a gorgeous floral design from an old favorite, Laura Ashley? We are big fans of the Laura Ashley baby collection (they also make bottles and accessories), and think that their hats, mittens, and kimono top and pants are not only must-haves for the new baby, but must-haves to bring to the hospital with you! Both the hat and mitten set and the kimono tulle style top with pants are made from the softest pima cotton, sure to be super soft on even the most sensitive of new baby skin.
3. Laura Ashley baby accessories: You can't be fully prepped for a baby without a bottle brush and pacifier – and we love the lovely designs from Laura Ashley. The delightful BPA free pacifier has a sweet butterfly on it, and the bottle brush is sure to perk up any kitchen sink. Laura Ashley also has a variety of baby bottles, featuring the floral designs Laura Ashley is known for.
4. Baby Headband: It has become so popular to put a headband on your baby girl right away! We are fans of Zelda Mathilda, who have a ton of different styles to choose from.
5. Vilah Bloom Diaper Bag: When it comes to diaper bags for baby girl's, we're fans of mixing pink with other colors, so you can use the bag for other babies, too! This Vilah Bloom Harbor Side Tote has a ton of room, pockets, and even a wipes holder on the outside, so you don't have to search all over your bag for wipes!
Thank you to Laura Ashley for making this sponsored post possible.