One of the questions we see all the time in our mom groups online is "how do I even start baby on solids?" We know that anything food related can cause great anxiety for parents, so we're excited about today's guest blogger. Little Foodie Club is the brainchild of Kerstin Kühn, an international food writer, who has traveled and eaten her way around the world for more than 10 years. When it came to feeding her daughter Maxine, she realized the importance palate-training plays in raising a child who loves to eat vegetables and is willing to try new foods. So Kerstin developed her own range of baby purées with a culinary touch. She's here today with some helpful and easy tips for making the introduction of solid food seamless and fun for both mama and baby. You can find Little Foodie Club on Facebook and Instagram.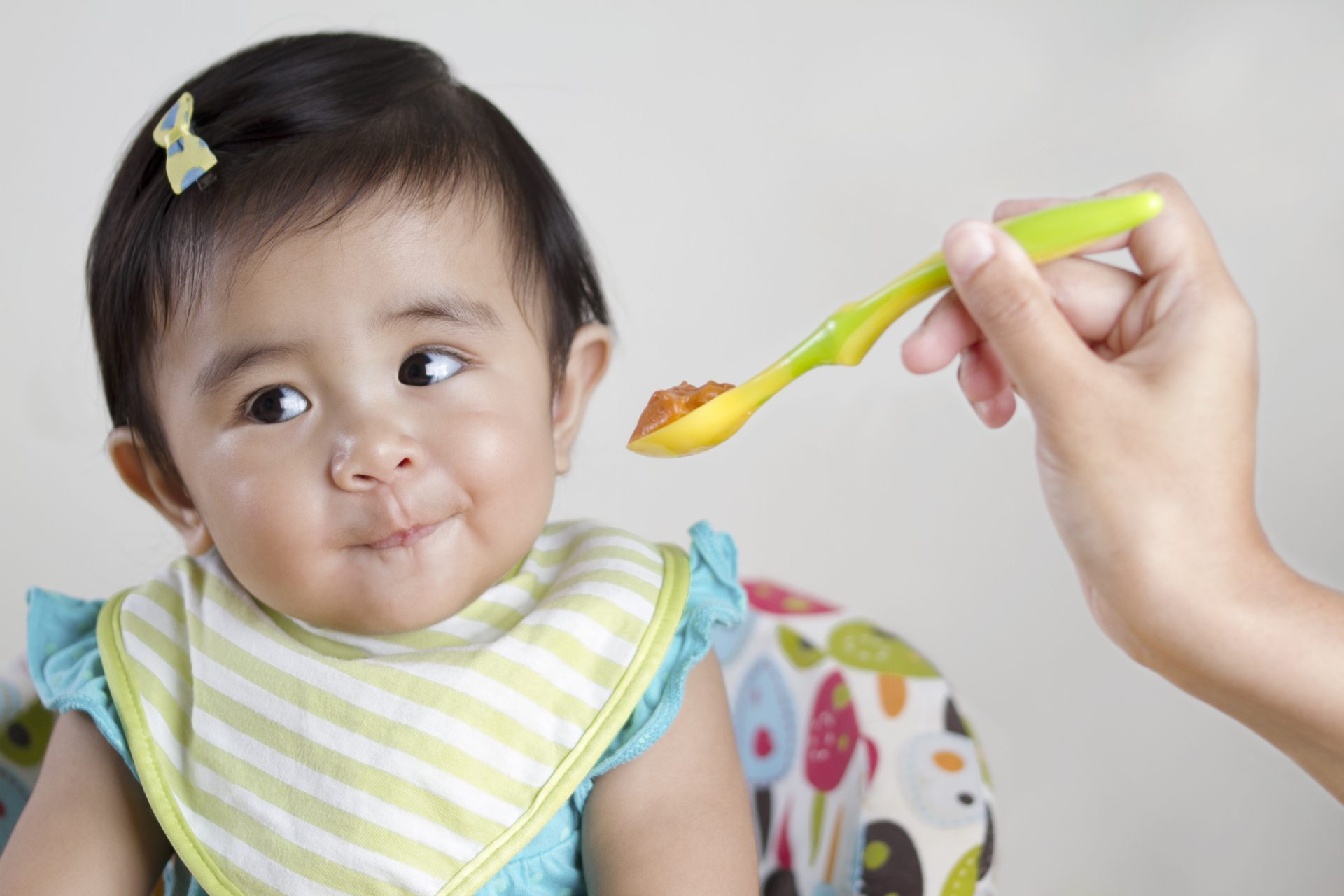 Starting solids is one of the most exciting and fun milestones in a baby and new parent's first year of life. But it's also such a minefield of different opinions and contradictory information that it can quickly turn into a source of anxiety. Do you start with rice cereal or vegetables? How often can you safely introduce a new ingredient? Are nut butters and gluten safe? What if your baby chokes or has an allergic reaction?
It is essential you consult your pediatrician before starting solid foods, ensuring your baby is ready and there are no underlying food intolerances to worry about. But once you've been given the go ahead, you can let the fun begin. Here are a few tips on giving your baby the best start to a lifetime of happy, healthy eating habits.
WHAT YOU'LL NEED
Highchair
Feeding spoons
Plastic bowls
Bibs
Blender
LET THE FUN BEGIN!
It's important for you as the parent to stay focused on building your little one's positive relationship with food. Here are a few tips on how to turn mealtime into fun time:
Highchair happiness: In the week before you start solids, sit your baby in the highchair and play games so there is a fun association with it.
Don't worry: Your baby senses your emotions and will pick up on your excitement or anxiety. So try not to stress during mealtime.
Make faces: Smile, open your eyes and mouth wide and show your baby how excited you are that he or she is eating.
Talk about the food: Explain what your baby is eating by naming the ingredient, its color, smell and taste.
VEGETABLES AND VARIETY
Babies are very receptive to new tastes during the transition to solids foods so the more variety you introduce right from the start, the better. Research from the University College London found that starting babies on a variety of simple vegetables – i.e. one ingredient purees – during the first 15 days of introducing solids makes them significantly more willing to try, accept and like new vegetables later on.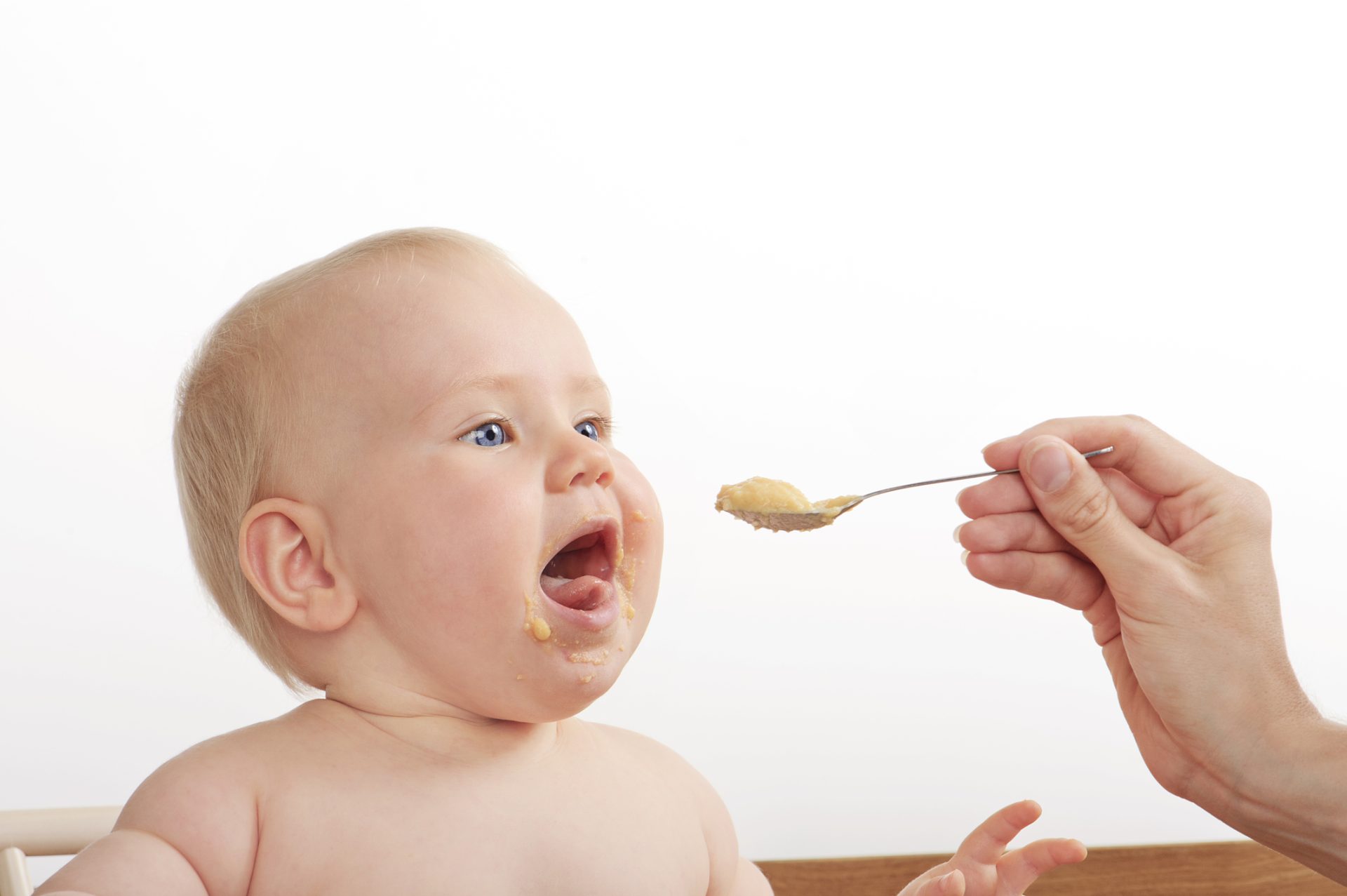 WHAT ABOUT ALLERGIES AND THE THREE-DAY RULE?
Unless there is a strong family history of food allergies – in which case you should consult your pediatrician – you can confidently expose your baby to a new ingredient every day. The most recent scientific research suggests that the earlier potentially allergenic foods like peanuts or gluten are introduced, the less likely a baby is to develop an allergy later on.
AVOID RICE CEREAL
Experts don't recommend starting with rice cereal as this has virtually zero impact on a baby's taste development and very little nutritional value to boot. Studies have even suggested that babies who are first given rice cereal are more likely to be obese later in life and grow up to prefer processed over fresh foods.
FIVE FIRST FOODS TO START WITH:
Avocado: Loaded with essential vitamins, minerals and good fats, all of which are great for a developing baby, avocados are easy to digest and simple to blend – simply blitz with a few drops of water, breastmilk or formula.
Broccoli: The king of vegetables – packed with minerals (iron, calcium, magnesium, zinc and potassium) as well as vitamin C and B-complex vitamins – is a really great food to get your baby into as early as possible.
Carrots: Bright and colorful and packed with goodness, carrots are a brilliant first baby food. They are an excellent source of beta-carotene, which turns into vitamin A in the body and contain fiber, iron, calcium and vitamin C.
Pears: One of the least allergenic of all foods pears contain good quantities of fiber, making them great for digestion. If a little hard, simply poach in water for a few minutes before pureeing.
Zucchini: This summer squash is a wonderful first food as it's mild tasting rich in B vitamins as well as lutein and zeaxanthin, which are excellent for promoting good eyesight. Steam for a few minutes until soft and blend.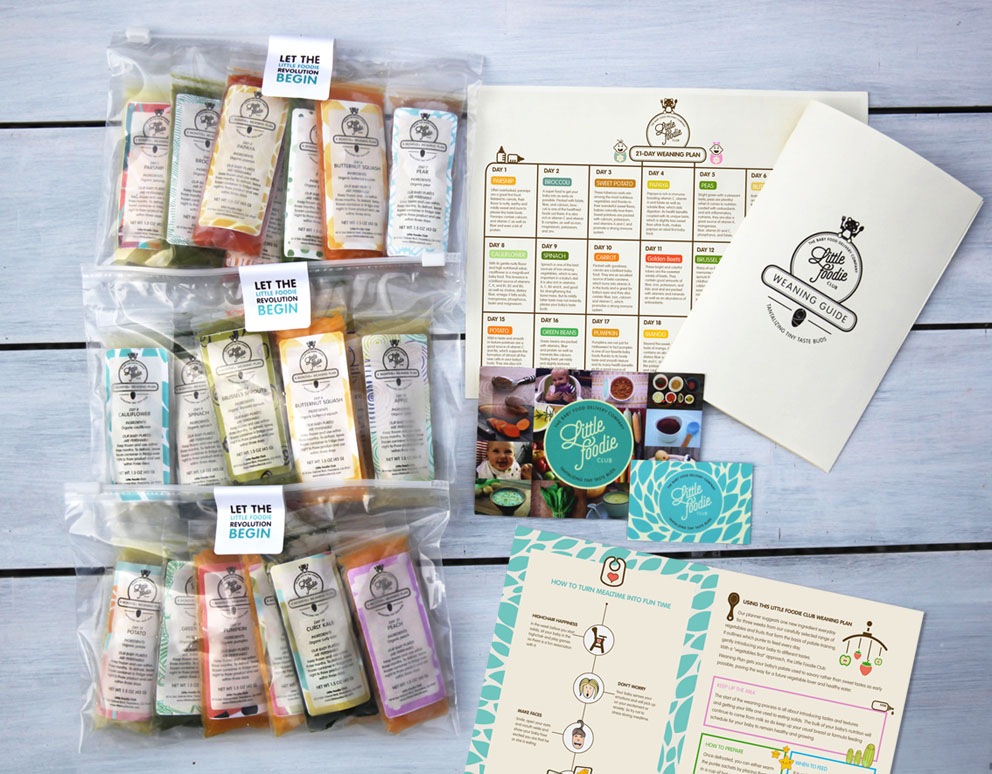 At Little Foodie Club, we understand that starting solids can be daunting. That's why we have designed the Little Foodie Club 21 Days To Solids Plan: to help, support and enable parents to introduce their baby to solid foods with confidence and ease. Use promo code GUGUGURU17 and get $10 off.
More Foodie Inspiration: