Being a parent on-the-go, with a little babe in tow, requires a ton of travel gear: diaper bag, bottles, breast pump, nipple cream, formula, extra everything—and of course, a playard that works with your need-a-third-hand lifestyle. Luckily, 4moms® (the brilliant minds behind the epic mamaRoo) created the best travel crib ever, the 4moms Breeze Plus. We're obsessed and think you will be too.
Most playards require a second person to help lift the awkward sides, and you need to remember the sequence of instructions (the sides or floor first?), or it won't stay open. The hard-to-remember instructions + sleep deprivation are not the greatest mix.  
You want a reliable, simple, solo-parent-friendly setup that can be done in seconds—especially when you're wearing your baby, holding them in your arms or watching them cry from a few feet away. The 4moms® breeze® plus is the best travel crib because it provides this and more.
Its one-push open and one-pull close feature is a GAME. CHANGER. The instructional video will blow you away—it's so easy. Plus, the all-in-one care station makes this the best portable crib for grandma's house, the park and more. The removable bassinet and changer are simple to assemble, and bring the comfort of your home to every destination.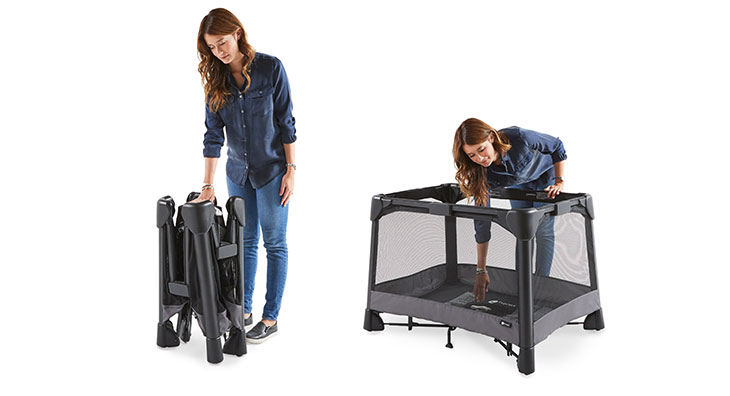 Not only can you take this amazing playard everywhere, you can use it around your house. Set it up in the kitchen to enjoy cooking again, try it in the bathroom while you shower—it's an amazing addition to any home with a little babe.
As you can see, we are loving this gem of a playard. It also comes with a convenient travel bag to free your hands up for your other precious cargo. Oh, and did we mention it's easy to clean? Most messes (and we know there will be plenty) can be taken care of with a wet wipe or cloth.
At $299.99, the 4moms® breeze® plus is priced a little higher than some of the portable cribs available, but its simplicity makes it totally worth it (to us). Let us know what you think in the comments below!
Thank you to 4moms for making this sponsored post possible.