When a new baby comes along, it's tempting to stay put in the Newborn Lockdown stage and hunker down with Netflix, but often times there are other kids to tend to, dinner to be made, and maybe even those evening walks with your favorite dog as the sun goes down. With a wrap carrier for baby, you can resume your active lifestyle postpartum and keep baby close in the wrap carrier! The Baby K'tan Active Carrier is a wrap carrier essential for baby registries of all lifestyles, whether suburban or urban, working mom or stay-at-home, the Baby K'tan Active wrap carrier is your ticket to keeping up with all of your favorite activities and events, whatever your active style.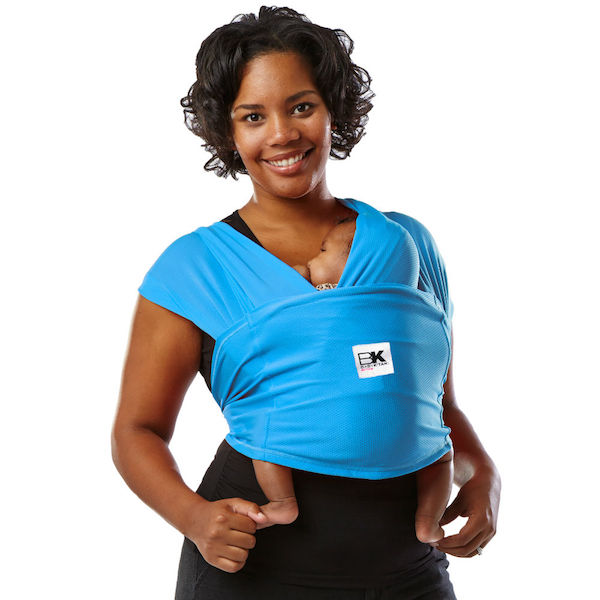 One of the reasons we're such big fans of the Baby K'tan Active wrap carrier is that it is incredibly easy to use. The Baby K'tan Wrap Carrier has a patented double-loop design that's quick and simple to put on and take off with no buckling and no fussing with rings or snaps. Just slip it on like a t-shirt and comfortably carry baby from birth to toddlerhood in 5 different wearing positions. Plus, it is washable and very easy to travel with; no giant pieces of fabric or buckles to tuck into your diaper bag; it's basically like packing an extra t-shirt!
The Baby K'tan Active wrap carrier is ideal for parents who love to get outside and stay active; it may seem that you would get overheated while carrying baby in a wrap carrier, but not with the Baby K'tan Active wrap carrier. The Baby K'tan Active carrier is made from a hi-tech performance fabric that wicks away moisture and sweat while blocking over 90% of the suns UVA and UVB rays – keeping baby and mom extra cool and protected when out and about. Furthermore, the Baby K'tan Original carrier is made from 100% all-natural cotton fabric, so you will stay cool and baby won't get overheated in the wrap carrier. Each carrier type is available in a variety of lovely colors and patterns, so you are sure to find something which fits your personal style!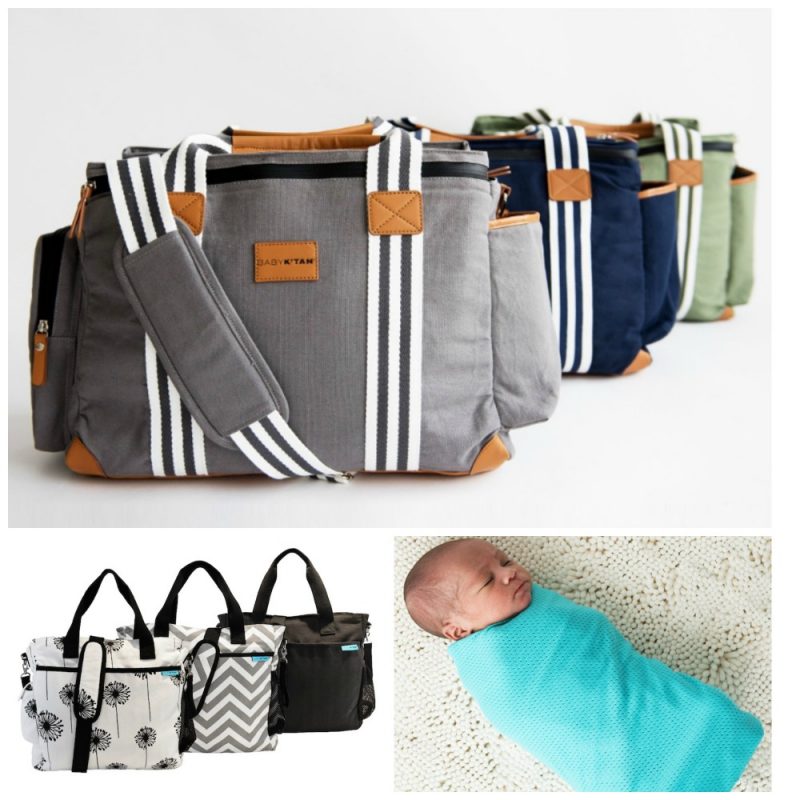 Baby K'tan Weekender Diaper Bag, Baby K'tan Newborn Swaddle, Baby K'tan Diaper Bag
We're big fans of Baby K'tan because their mission is to make life easy for parents, whether it is with their simple wrap carrier which feels like a t-shirt, their Weekender Diaper Bag which holds pretty much everything you may need (and the kitchen sink), their Baby K'tan Diaper Bag which features 2 antibacterial pockets, 2 insulated bottle pockets, exterior water bottle and cell phone pockets, built-in antibacterial wet bag, and more, or their Newborn Swaddle, made of an innovative breathable stretch fabric – when it comes to essentials for your baby, Baby K'tan truly has you covered.
Check out some of our other posts featuring Baby K'tan:
New Year, New You with Baby K'tan
Top 5 Must Have Essentials: Baby's First Airplane Flight